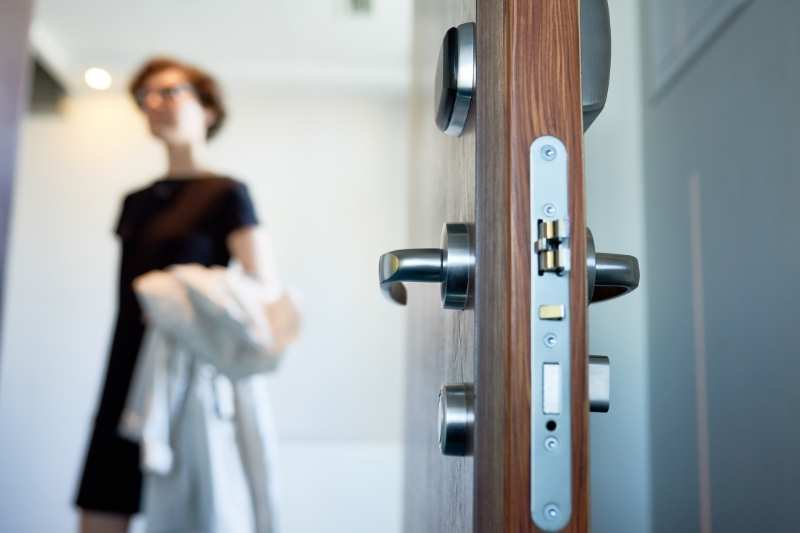 From building owners and operators to installers and integrators, anyone in commercial real estate should know a thing or two about commercial door locks. After all, they're one of the most important components of maintaining a secure property.
So, if commercial locks are a mystery to you, keep reading!
After reading this guide, you'll better understand the many types of commercial door locksets available and how they work. You'll also learn tips for choosing the right locks for you or your clients' buildings and discover the best commercial locks on the market.
Navigate this buyer's guide:
What are commercial door locks?
Commercial door locks are any mechanical or electronic locks that are graded for commercial use and ideal for commercial settings, like offices, businesses, industrial facilities, and other commercial real estate.
In contrast to locks used in residential properties, commercial locks need to handle the unique demands of commercial real estate. Often, commercial grade door locks are particularly secure, durable, and convenient for several tenants — sometimes dozens or hundreds — to use daily.
Watch how ButterflyMX works:
About commercial grade locks
Commercial grades are industry standards that guarantee the quality and specification of commercial door locks. Lock grades help developers, contractors, locksmiths, owners, and operators choose the best hardware for their unique buildings.
Grades are determined by the Builders Home Manufacturers Association (BHMA). The BHMA is accredited by the American National Standards Institute (ANSI) to enforce these lock grades.
Every commercial lock is graded based on:
Function
Application
Security
Durability
Cycles (how often the lock can be used before it needs to be replaced)
Material
Finish
There are three grades of commercial door locks.
Grade 1
Grade 1 locks are the strongest, most durable, and most secure locks available. These heavy-duty commercial door locks help maximize security and can withstand twice the amount of use as grade 2 or 3 locks.
Grade 1 locks are common in both exterior and interior doors in schools, hospitals, and other businesses where security needs are high.
Grade 2
A commercial grade 2 lock is a mid-range lock, a step down from grade 1 locks in terms of security and durability.
They're most often used at:
Exterior entrances with low or medium traffic
Interior entryways that require high security, such as storage rooms with valuable equipment
Grade 3
Grade 3 locks are standard locks that are ideal for all other light applications. You'll typically find grade 3 locks installed on doors in residential buildings, low-security offices, and low-traffic rooms like supply closets or break rooms.
Takeaways
Commercial door locks are locksets that are graded for commercial use.
The Builders Home Manufacturers Association grades every commercial lock on a scale from one to three.
If you need high-security commercial door locks, go with grade 1 or grade 2 locks.
What are the different types of commercial door locks?
Now that you know about commercial locks and how they're graded, let's explore the various commercial door lock types.
The six most common types of commercial door locks are:
1. Mortise locks
A mortise lock is a lock that requires you to cut a pocket (aka the mortise) in the door to house the lock body.
Mortise locks consist of:
The lock body, which is what you install inside the mortise cut-out in the door.
The lock trim (aka the lever or knob).
A strike plate to reinforce the holes in the frame.
The keyed cylinder, which enables the lock/unlock function.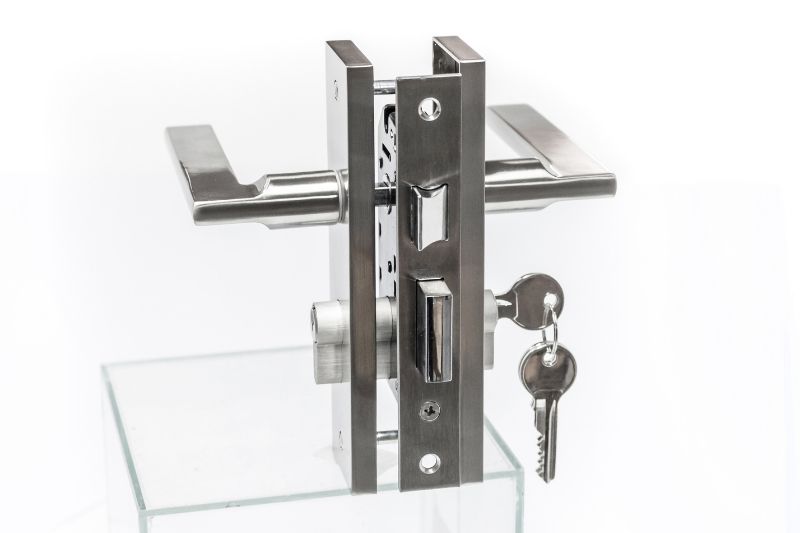 2. Cylindrical locks
In contrast to mortise locks, cylindrical locks are locksets that you install through the door. Most cylindrical locks have either a lever or a knob handle.
To install a cylindrical lock, you just have to drill two round holes in the door. As a result, cylindrical locks are particularly quick and easy to install.
Pro tip: If you choose a cylindrical lock, choose a lever style. Avoid using cylindrical knob locks because they may not comply with ADA requirements.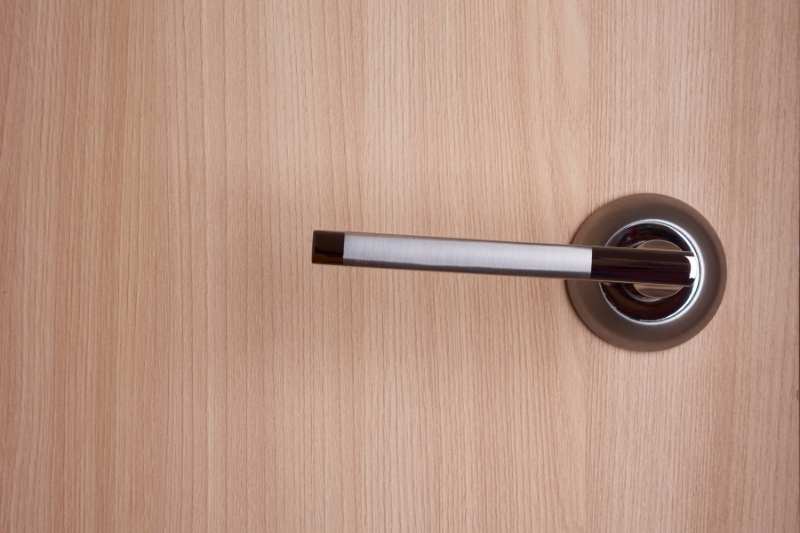 3. Electric strikes
Electric strikes are locks that operate mechanically and replace the traditional door strike with an electrical one.
The strike uses a hinged metal latch to hold the door in place — in other words, to keep the door locked. When the lock receives an electric signal, it moves the metal piece and thus unlocks the door.
Electric strikes require something to trigger their motors, such as a:
Keypad
Key fob or card
Wireless sensor
Good to know: Electric strikes require another device, such as a lockset or panic bar. This ensures that people inside the building or room can unlock the door in the event of a power outage.
4. Magnetic locks
Magnetic locks — also known as maglocks — use magnets and electricity to keep the door locked.
Maglocks consist of:
An electromagnet that attaches to the doorframe.
A metal armature plate that attaches to the door itself.
Similar to electric strikes, maglocks also require a separate device to trigger them to unlock. When triggered, the maglock loses its magnetic charge, which unlocks the door.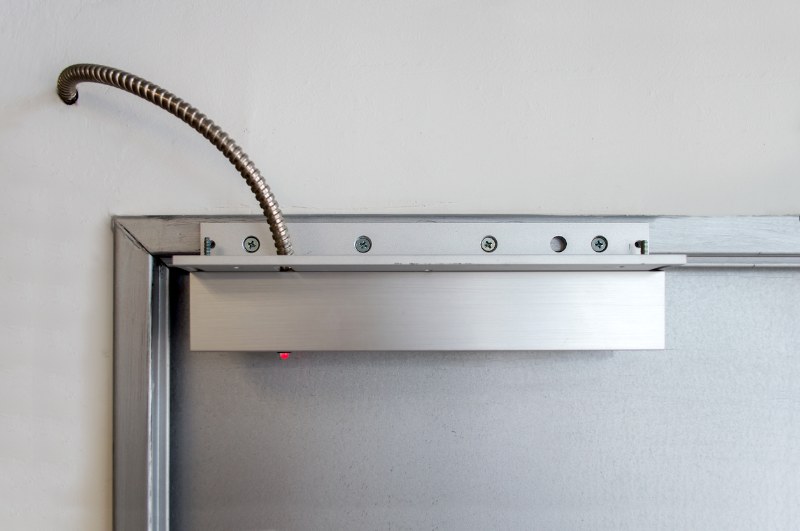 5. Keyless commercial door locks
Commercial keyless locks empower users to unlock the door without a physical key. Keyless locks are generally powered by electricity, and some even connect to the internet. And despite their name, some keyless locks do have a keyhole for physical keys as a backup entry method.
Three common types of keyless electronic commercial door locks are:
Commercial keypad door locks
A commercial door lock with a keypad allows users to enter a PIN code instead of using a physical key to open the door. Most of these locks have a keypad with numbered buttons or a touchscreen interface with numbers built right into the lockset.
To set up PIN codes with the lock, you'll either have to program them on-site with the lock hardware or use software to program codes remotely.
Watch how the ButterflyMX keypad works:
Commercial key card door locks
A commercial key card lock allows users to unlock a door by scanning a programmed card instead of using a physical key.
Most key card locks rely on RFID technology to send signals between the lock's reader and the user's card. The lockset has a built-in RFID reader. Building staff programs each key card before distributing them to tenants.
Good to know: A commercial key fob door lock system is essentially the same as a key card lock! The only difference is that users scan a fob instead of a card to gain entry. Otherwise, operation is the same.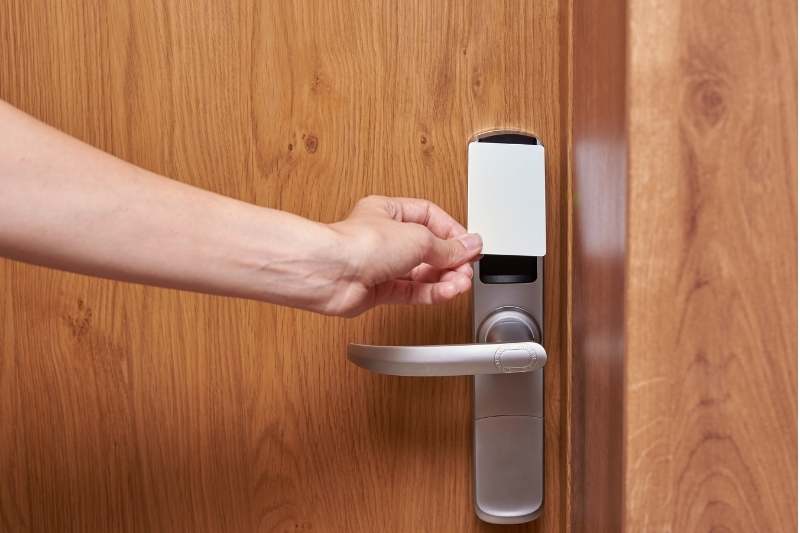 Biometric door locks
A commercial biometric lock is any lock with a biometric reader. These locks allow a user to scan their fingerprint or even their face to unlock doors. Biometric locks are often used in high-security settings, but they do pose privacy concerns to many users.
6. Commercial smart locks
A commercial smart lock is a modern type of electronic lock that connects to the internet and empowers users to unlock the door with their smartphones. Most commercial smart locks pair with a mobile app that users download to their phones.
Keep in mind that if you opt for a smart commercial WiFi door lock, you'll need to ensure your building has a strong, reliable WiFi signal. Otherwise, the lock could perform poorly and frustrate tenants.
The benefits of commercial smart locks include:
Tenants don't need to carry keys.
Building staff doesn't need to hand out physical keys or fobs. Instead, tenants use their own smartphones as credentials.
Authorized tenants can lock and unlock the door remotely.
Tenants can send their guests virtual keys or digital access codes to facilitate simple visitor access.
Automatic door locks
Many smart locks are a type of commercial automatic door lock because they can automatically lock or unlock during specific times. This is ideal for business and retail settings because owners and operators can guarantee that doors automatically lock after business hours.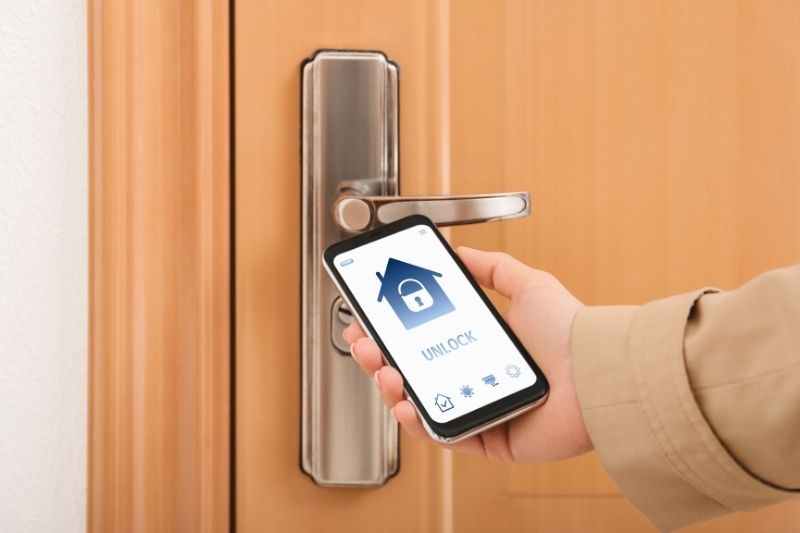 Takeaways
Mortise and cylindrical locks are two common mechanical lock options.
Electric strikes and magnetic locks are two lock options that require electricity and additional hardware, like locksets or panic bars. They're ideal for access points controlled by intercom systems.
Keyless commercial locks are electronic locks that can be opened without a physical key.
Commercial smart locks offer the most convenience because you can unlock them with a smartphone.
Tips for choosing the right commercial door locks
Now you know about all the different types of commercial locks. But how do you choose the right ones for your business, office, or building?
You should look for locks that are:
Secure: Regardless of where you're installing the locks, you'll want to maintain security. Unless the locks are for low-security supply closets, look for commercial grade 1 or 2 locks.
Convenient: Avoid clunky, cumbersome commercial locks that are difficult to use. Always consider the tenant experience when choosing locks.
Smart: Physical keys are a thing of the past. Today, most tenants seek smart commercial locks that pair with a mobile app, enabling smartphone-based entry.
Able to integrate with other access control technology: Chances are you have other access control solutions in your commercial building. So, improve the tenant and staff experience in your building by investing in commercial locks that integrate with other devices.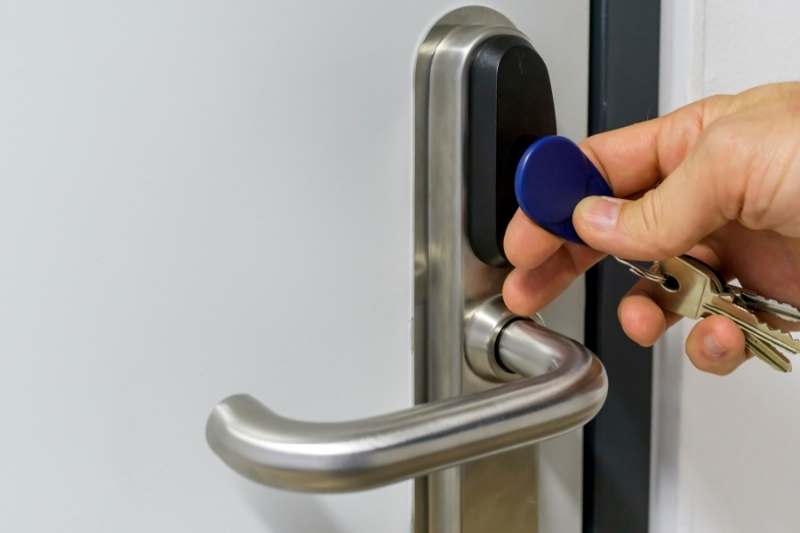 What are the best commercial door locks?
The best commercial door locks are smart locks that empower tenants to lock and unlock doors from a smartphone.
Smart locks offer the best of both worlds by enhancing security and convenience.
| Feature | Benefit |
| --- | --- |
| Remote lock/unlock | You can control access from anywhere, even if you're not on-site. |
| Entry log | You can review every time the door was opened, who unlocked it, and what the unlocking method was. |
| Automatic lock/unlock settings | Seamlessly control access during specific times and days. |
| Smartphone-based entry | Ditch physical keys and fobs. You won't have to program fobs, cut keys, and collect credentials from former employees or tenants who don't renew their leases. |
By investing in commercial smart door locks, everyone wins. Building owners and operators can do their jobs better, while tenants and employees enjoy a better experience accessing and navigating the building.
Smart lock brands worth considering include:
Integrate your commercial smart locks with ButterflyMX
If you want to make access smarter at doors within your commercial building, it's worth simplifying access at your property's entrance, too.
While smart locks won't cut it for your front door or other primary entrances, a smart video intercom will. And the ButterflyMX commercial video intercom is the perfect solution for commercial buildings, offices, and businesses that want simple yet secure access.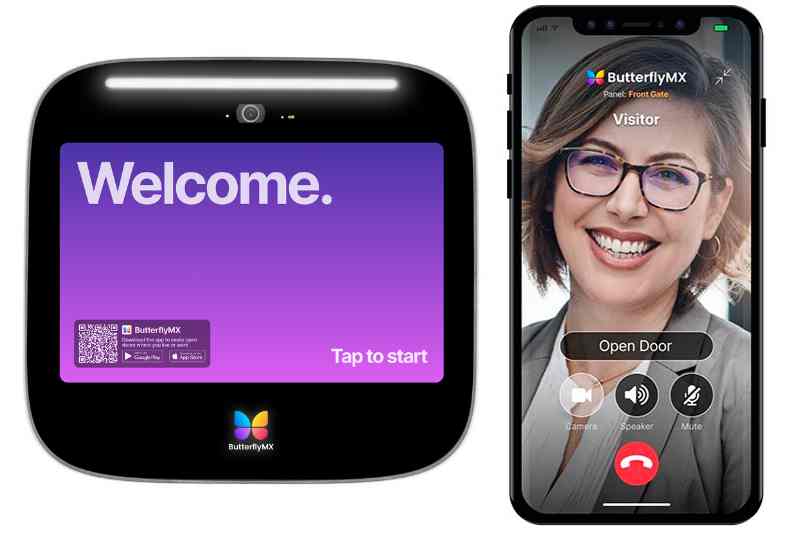 With the ButterflyMX commercial intercom, you can:
Remotely grant access to visitors and delivery carriers.
See who's requesting access before letting someone in through the 156º wide-angle camera.
Open doors and gates with a smartphone from the top-rated mobile app.
Manage and customize access permissions according to your property's unique needs.
Boost your commercial property curb appeal with the alluring, bright LED screen.

Not worry about tampering or weather because the intercom is both vandal-resistant and weatherproof.
Best of all:
ButterflyMX integrates with over 80 commercial smart lock makes and models to streamline access into and throughout your property. That means building managers can adjust access permissions for every access point from one convenient platform.