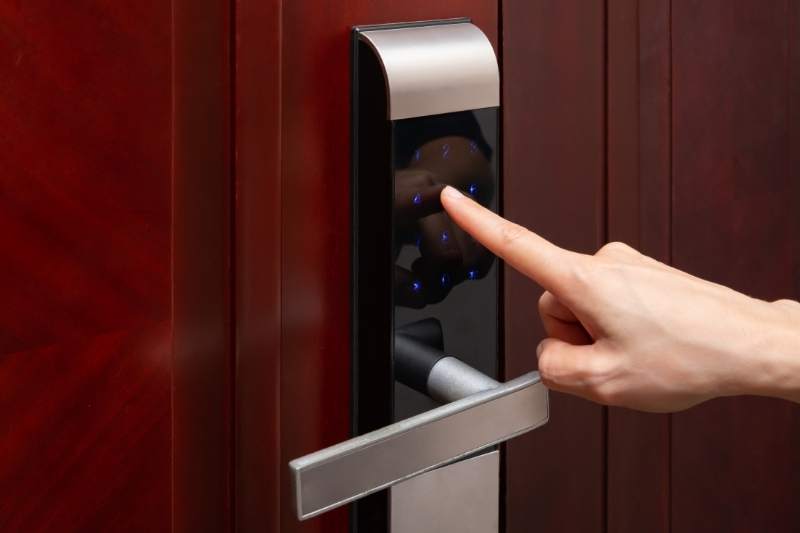 Office smart locks give you the freedom to go keyless at your commercial building by allowing you to open doors with technologies like smartphones, smart watches, or tablets. Using smart locks at your office is a great way to simplify the property access experience. You can install office smart locks at doors to private offices, shared amenity spaces, parking decks, and more to modernize access at your business.
Read on to learn how commercial smart locks can benefit your business today.
In this post we cover:
What's an office smart lock?
Office smart locks are electromechanical, internet-enabled locks designed for doors throughout office buildings. The primary benefit of smart locks for office doors is that you can do away with physical keys, key cards, and key fobs. Instead, a commercial smart lock allows your employees to open the door with their smartphones or a PIN code.
With this in mind, install office smart locks at any door or entrance where you seek to control and modernize access. That includes a variety of areas like conference rooms, shared amenity spaces, parking garages, and more.
How much does an office smart lock cost?
The cost of an office smart lock typically ranges from $250-$400, but can be upwards of $1000 on the higher end.
Do smart door locks work without WiFi?
Certain smart lock models require WiFi, but there are several office smart locks that don't require an internet connection to work.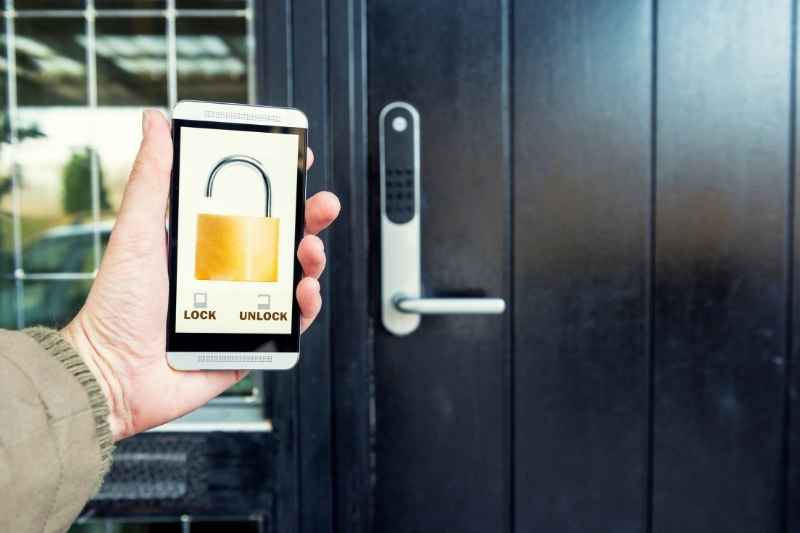 What happens if your smart lock battery dies?
If your smart lock battery dies, you'll still be able to unlock the door with a traditional lock and key.
And don't worry too much about your smart lock battery dying — you'll get an alert several weeks in advance when your smart lock's battery is low so you can replace it promptly. As a result, this will give you plenty of time to purchase new batteries or recharge existing ones.
How secure is an office smart lock?
Smart locks are quite secure because they're tamper-proof and allow you to grant or revoke access permissions remotely. An office smart lock with a steel deadlock pin is the most secure choice because it can't be easily picked or pried open like conventional locks.
What's more, office smart locks give you real-time notifications, allow you to monitor door entry logs, and manage passcodes for guests for additional security.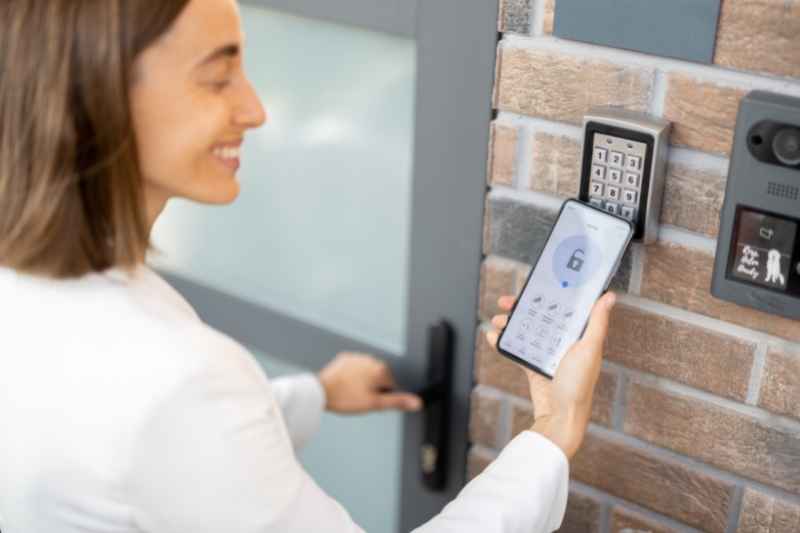 How are office smart locks used in the workplace?
Office smart locks are used in workplaces to keep doors locked for security while ensuring a convenient way for tenants, staff, and employees to navigate the building.
Additionally, smart locks for commercial properties save time and money for building management because they no longer have to cut keys for every employee or leave doors unlocked, which poses a security risk. Instead, tenants can use a simpler credential — like a PIN code or a smartphone app — to unlock doors.
What's more, building staff or business management can easily adjust access permissions for each employee, ensuring that each individual only has access to the spaces they're authorized to enter.
You can create a seamless access experience by installing smart locks on doors to:
Discover the many ways to open doors and gates with ButterflyMX:
Private offices
Install office smart locks at individual offices and designate unique door codes for individual employees. Smart locks are great for private rooms in open floor-plan offices, ensuring that only authorized employees can gain access.
What's more, most employees prefer using their smartphones for keyless access because it spares them the hassle of carrying around physical keys.
What's more, if an employee with a private office leaves the company, management can easily revoke their office access and grant permissions to a new employee.
Shared coworking spaces
As remote work becomes more common, more workers are opting to use shared coworking spaces. These spaces empower remote workers to work collaboratively and get out of their homes for a change of scenery. Office smart locks are a great solution to modernize access in coworking spaces.
As a result, by opting for smart locks instead of traditional locks and keys, commercial property managers and owners can seamlessly facilitate access to buildings and rooms within it. They can also track who's coming in and out of their offices.
Office amenity areas
If your office has a fitness center, focus room, cafe, or any other amenity space, using smart locks in these areas makes it easy for employees to use their smartphones to access those shared spaces.
Additionally, you can even monitor real-time door entry activity to ensure that visitors and guests aren't abusing amenity privileges that are intended for employees.
Supply closets
If your commercial building has supply closets or a designated room for private documents, installing smart locks on those doors can boost security. Use smart locks to monitor access for storage and supply spaces by limiting who can access them and when.
Parking decks
A smart lock can streamline access at parking decks and garages. If you have a high-traffic office building, utilize smart locks to ensure that only authorized users can get into the building from the parking garage and vice versa. As a result, this will reduce the likelihood of theft or loitering.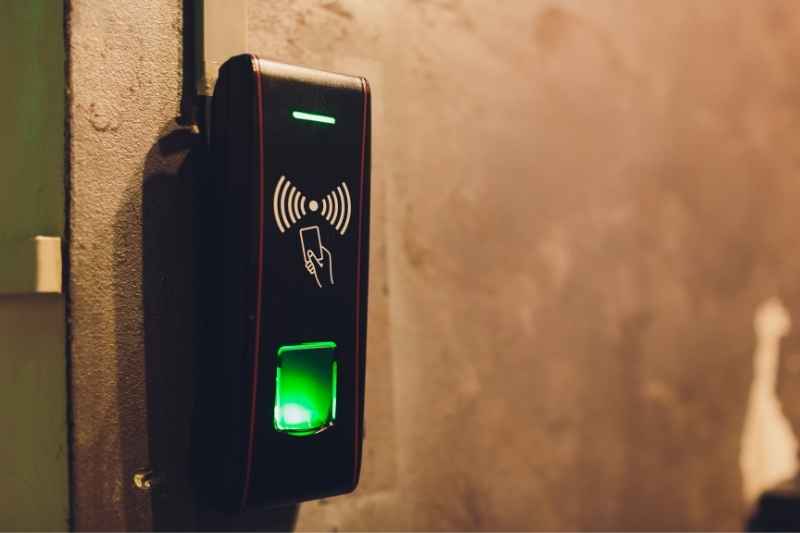 What are the benefits of an office smart lock?
Office smart locks give property managers, building owners, and tenants the freedom to manage access from anywhere. They also provide a cohesive access control solution for offices by integrating with other smart technologies and proptech solutions.
Some of the greatest benefits of office smart locks include:
Monitor real-time access logs: Know who accesses a certain room and when.
Control access permissions: Decide who can access certain areas by managing credentials for authorized users.
Grant or revoke access permissions at certain times: Allow access at certain times (for example, 9:00 am – 5:00 pm) so there's no unauthorized access after office hours.
Manage access remotely: Allows business owners who own several buildings throughout the country to manage access from anywhere.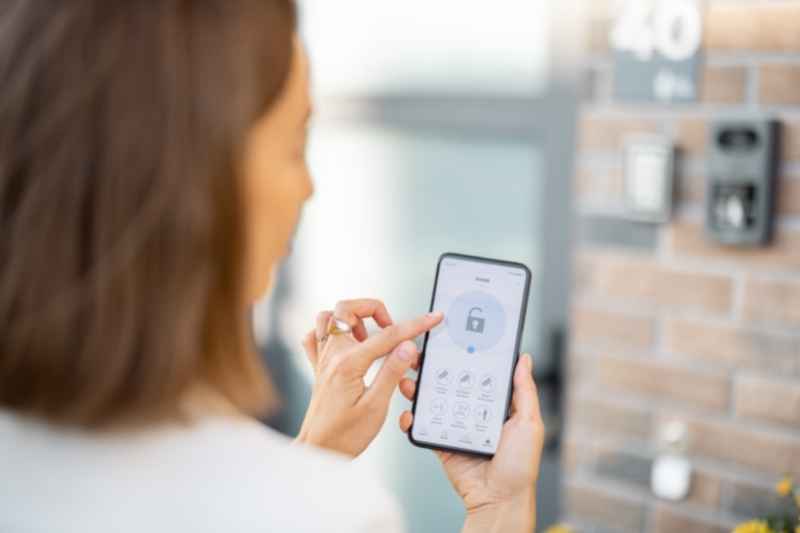 How do you install an office smart lock?
The smart office lock installation process usually involves removing your previous locking mechanism (whether it's a traditional deadbolt, magnetic lock, or commercial strike). However, some smart locks can be installed on top of your existing deadbolt.
Once the lock has been installed, you'll just have to make sure it has fresh batteries and set the access permissions. For best results, hire a certified installer to complete the installation process.
Do locksmiths install smart locks?
Yes, a certified locksmith can install office smart locks at your commercial building.
Best keyless door locks for office
If you're looking to implement office smart locks at your commercial building, there are plenty of great options to choose from. With this in mind, consider where you plan to use smart locks and what your property's needs are when choosing locks for your building.
Here's a round-up of the top 5 office smart locks:
August WiFi smart lock: Best integration with several smart technologies (smart lights, thermostats, temperature control) and has voice control.
Kwikset Halo: Best with fingerprint scanning.
Nest x Yale lock: Best for small offices and accommodates up to 25 users with alarm management.
Schlage smart lock: Best with Bluetooth and WiFi compatible deadbolt.
Kevo Bluetooth smart lock: Best keyless touch-to-open smart lock.

1. August WiFi smart lock
Pros:
Easy to install over an existing deadbolt
Integrates with a variety of smart technologies
Sleek and compact design
Works with Alexa, Google, and Siri voice commands
Auto lock and unlock
24/7 activity log
Cons:
May lose connectivity when you're not at the building
Short battery life of 3-6 months
Pricey at $230
Read the full August Wifi smart lock review »
2. Kwikset Halo 
Pros:
Quick and easy install
Multiple ways to unlock including fingerprint scanning
Compatible with Google Assistant and Alexa
One-touch locking
Cons:
More expensive than most- costs $240
Short battery life
Not as durable as other options on this list
Limited third-party integrations
Not compatible with HomeKit or IFTTT
Read the full Kwikset Halo smart lock review »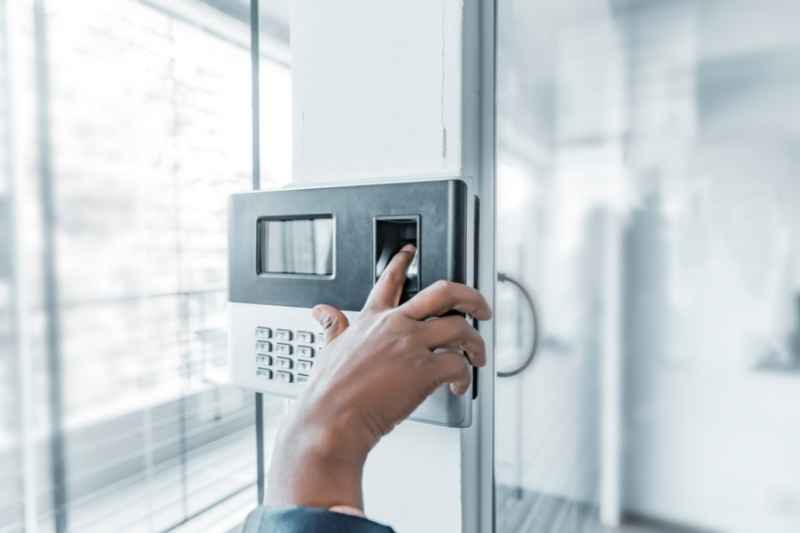 3. Nest x Yale lock
Pros:
Simple to install
App is convenient and easy to use
One-touch locking capabilities
Rechargeable batteries
Cons:
Doesn't integrate well with other smart technologies
Pricey, ranging from $249 without Nest Connect and $279 with Nest Connect. Nest Connect is required for remote access.
Read the full Nest x Yale smart lock review »
4. Schlage smart locks
Pros:
Sleek and sophisticated design
Long-lasting batteries (1 year+)
Built-in alarm technology
Integrated with Z-wave technology
Integrates well with third-party products
Cons:
Not compatible with HomeKit
Pricey and can cost anywhere from $150 for basic models to $500 for upgraded models
Read the full Schlage smart lock review »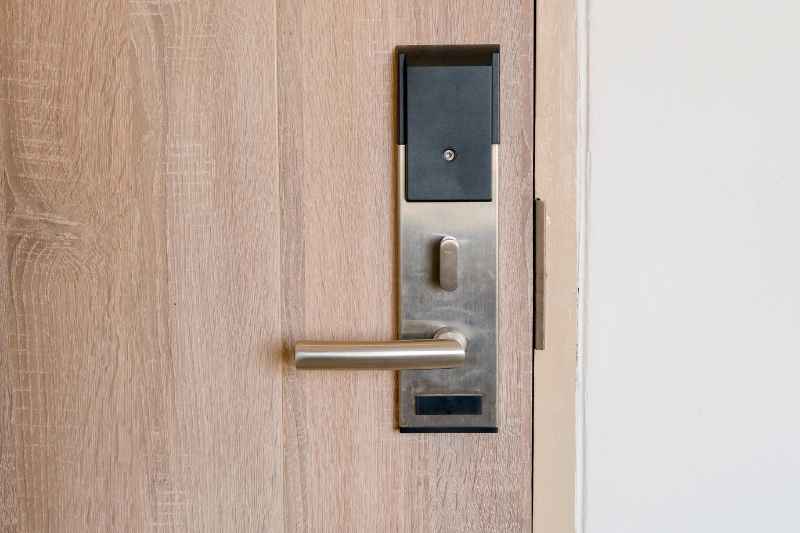 5. Kevo Bluetooth smart lock
Pros:
Beautiful design
LED technology
Real-time notifications
Touch-to-open
Unlimited guest keys
Cons:
Slow and can take up to 30 seconds to verify a user
Doesn't support Alexa
Not tamper-resistant
Costs $219
Integrate ButterflyMX with your office smart locks
If you're considering smart locks for your office building, take your building's access experience one step further by investing in ButterflyMX access control solutions like our commercial video intercom and keypads.
What's more, ButterflyMX integrates with 80+ smart lock models. That means that when you install ButterflyMX devices in your building, you can connect them to your smart locks and empower tenants to unlock every door within the office from one convenient mobile app.
Watch how ButterflyMX works:
Takeaways
Smart office locks eliminate the costs of key cards, fobs, and physical keys by allowing tenants to use their smartphones to unlock doors.
You can use smart office locks to grant access without compromising security by designating temporary or permanent PIN codes to employees and visitors.
Office smart locks empower business owners to manage access, receive real-time notifications, and monitor door entry logs remotely.