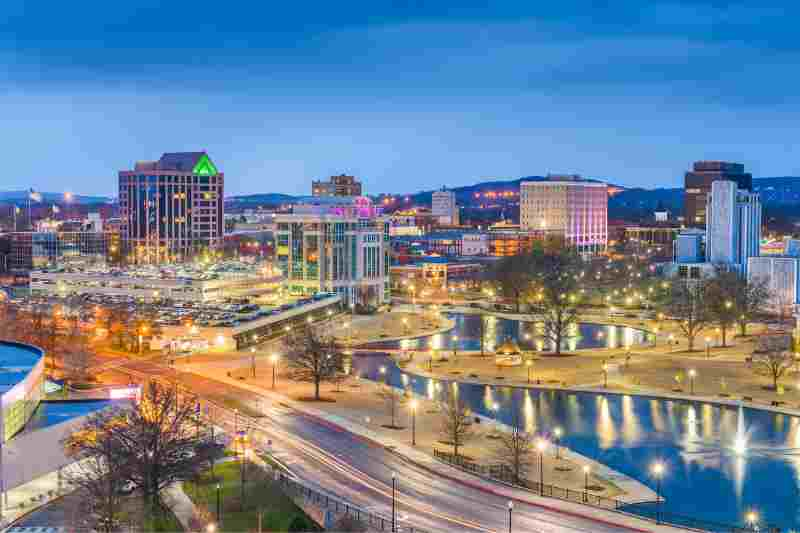 Key takeaways
The three highest-rated security companies in Huntsville, Alabama are K&K Audio Video, The Flying Locksmiths, and Vector Security.
Things to consider before hiring a security company include partnerships, costs, certificates, experience, and reviews.
Many properties in Huntsville can benefit from access control and security systems, including multifamily, retail, commercial, and gated communities.
The best security access control system in Huntsville, Alabama is ButterflyMX.
Finding the right security and access control partner for your Huntsville property requires careful consideration. Whether it's protecting your business, multifamily property, or gated community, the importance of a robust security system cannot be overstated.
Below, we've put together a list of the top three security companies in Huntsville, Alabama to help you install or repair your security system. We also cover the types of security access systems in Huntsville and the best access control system in Alabama,
This post covers:
Which security company is the best? Top 3 companies in Huntsville
Many Huntsville access control companies will cater to your security needs. These include camera installation or access control installation and repair.
The best companies for security system installation in Huntsville include:
1. K&K Audio Video
Google rating: 5 stars
K&K Audio Video touts a knowledgeable crew of installers and security professionals trained to help you with your security needs.
They offer:
Security camera repair and installation
Automation services
Surveillance system installation
Security camera replacement
Free estimates
2. The Flying Locksmiths
Google rating: 5 stars
The Flying Locksmiths have a well-rounded service menu, including installations for commercial and residential properties.
Services offered include:
Access control installation and repair
Security system repair and installation
Locksmith services
Smart lock installation
Intercom system services
3. Vector Security
Google rating: 4.7
Vector Security offers a robust service menu plus an easy-to-navigate website with intuitive appointment scheduling.
Vector also offers:
Commercial and residential security services
Access control installation
Alarm systems
How do I choose a security company?
Now that you know the best security companies in the Huntsville area, it's time to evaluate how to choose the best team for your needs.
Things to consider before hiring a security company:
Partnerships and affiliations. Choosing a company with a reputable partner program will ensure you're getting the best systems on the market at a good price.
Overall cost of services and hardware. Before signing a contract, ensure that whoever you hire has a detailed list of their costs. Likewise, research to ensure the hardware they're selling is fair market value and not marked up.
State licenses and certificates. Ensuring that a security company is adequately licensed and certified is important because it protects you from assuming responsibility for any damages.
Years in the business. The longer a company has been in business, the more likely it will be the most knowledgeable choice. They'll also be able to offer more insight for you during the consultation process.
Negative and positive reviews. Reading reviews is a must before hiring someone to install or repair your access security system. Both positive and negative reviews will give you a full picture of what to expect from someone.
Discover how access control works with ButterflyMX:
Best types of security access systems in Huntsville, Alabama
Many kinds of properties can benefit from access control and security in Huntsville. These include multifamily properties, retail and commercial spaces, and gated communities. Read on to discover what types of properties are good candidates for a robust security access system.
Common security access systems in Huntsville:
Huntsville parking access control
Vehicle access control is perfect for any gated community, parking garage, or property parking lot in Huntsville.
With the best parking access control systems, authorized vehicles are fitted with a windshield tag or authorized tenants are given a gate key fob and parking pass. Vehicles with the appropriate windshield tag are scanned by a vehicle reader, which prompts the gate to open. Likewise, when the gate key fob is pressed, the gate opens.
Huntsville multifamily property security
Multifamily properties in Huntsville range from small suburban apartments to downtown high-rises. No matter what the size of the space, a video intercom empowers residents to seamlessly enter the building or grant access to their guests using their smartphones.
Further, video intercoms can be installed at any door or gate. As a result, it's easy for residents and staff to remotely grant access to visitors, service providers, and delivery couriers.
Overall, an access control system in your Huntsville multifamily property will make it easy for visitors to request access while also allowing authorized residents to enter the property conveniently.
Huntsville commercial security system
Not only is Huntsville home to a wide range of museums, restaurants, and natural scenic sites, but it's also one of the top up-and-coming markets for tech talent in the United States! So, make sure you equip your commercial space with the best secure access control.
Most commercial security systems consist of a CCTV security camera to use as surveillance. While this is a good option for monitoring activity on a property, it's not an absolute solution to access.
On the other hand, a keypad is simple to use, sleek, and easy to install. Like a video intercom, a keypad can eliminate the need for keys and fobs. All your tenants will need is a PIN code or a smartphone to access their building, garage, or gate.
What is the best security access control system in Huntsville?
The best security access control system available in Huntsville, Alabama is ButterflyMX.
With ButterflyMX, you get a versatile combination of integrated products, plus a streamlined online portal, a highly-rated mobile app, and a tenant directory.
The best ButterflyMX access control products include:
Keypads and readers. Property managers and residents can use the ButterflyMX smartphone app or personalized PIN to access their building or amenities.
Vehicle access control. Gated vehicle entry is streamlined with the ButterflyMX vehicle access control system. Each user places a windshield tag on their vehicle. Then, they're granted entry when the ButterflyMX vehicle reader scans their tag.
Video intercom. The ButterflyMX video intercom is the perfect solution for any residential or commercial property. Tenants can easily open doors and gates or grant guest access using their smartphones.