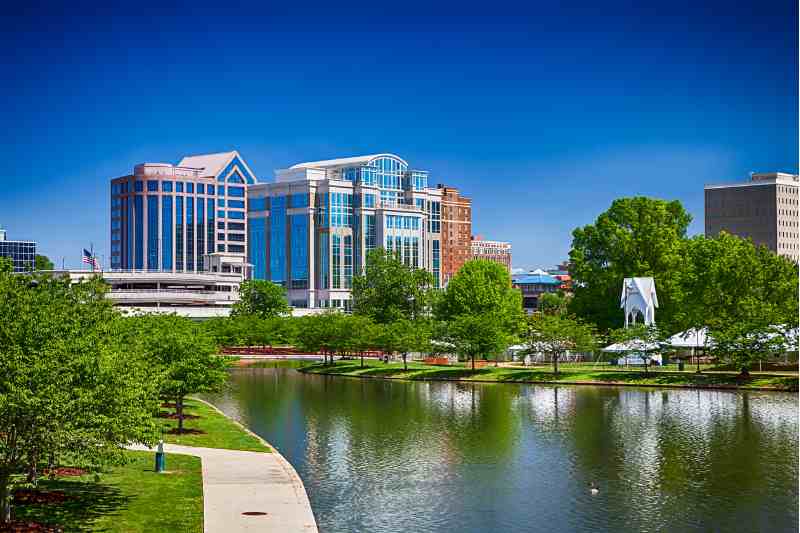 Multi-tenant property owners and managers in Huntsville, AL need a way to manage access to their properties without hindering convenience or security. But that's a tall order! Luckily, there are several access control systems in Huntsville to choose from.
This guide walks you through how to find the best access control system for your multifamily or commercial property in Huntsville. It also lists the best Huntsville access control installers and repair services. Finally, discover the best access control system.
Navigate this guide:
How to choose an access control system in Huntsville
U.S. News ranked Huntsville the #1 best place to live in 2022-2023. As a result, neighborhoods across the city — from Five Points to Hampton Cove — are gaining steam and growing in population.
So how do you set your rental apart from the rest in a rapidly growing market?
The right access control system can help! By delivering a seamless access experience, you'll vastly improve the tenant experience and set your building apart from competitors.
When buying an access control system, consider the following:
Weather: The weather in Huntsville varies from hot, muggy summers to short but cold and wet winters, so look for hardware that's IP65 rated to withstand any weather conditions.
Deliveries: You've probably noticed more and more packages being delivered to your building year-over-year. So, make sure your access control system has built-in solutions to accommodate access for delivery carriers.
Remote system management: Huntsville is a growing market, so if you've got several buildings in your portfolio, you'll want an access control system that you can manage and update remotely. Look for cloud-based access control systems that allow you to add or remove tenants and adjust access permissions without being onsite.
Learn more about access control systems:
Huntsville apartment access control
If you own or manage an apartment building, you know you need a way to keep your residents safe — and that means ensuring only authorized people can enter the building.
But you don't want to inconvenience your residents either. You want to deliver a seamless access experience that allows residents to easily grant access to their visitors and delivery carriers.
So, consider the following apartment access control solutions for your building:
Video intercom
Mobile access control system
Smart locks
Huntsville commercial access control
Commercial buildings and offices need controlled access, too. By investing in the best Huntsville commercial access control system, you'll prevent unauthorized people from entering the property while ensuring seamless access for tenants, employees, and service providers.
Common office and business access control solutions include:
Key fob readers: Card and fob readers are common in offices because they allow management to distribute a cheap credential to each employee. Then, if an employee quits, their fob can be deactivated to prevent future access.
Keypads: A keypad is a viable alternative to a key fob system that eliminates the need for physical credentials.
Elevator controls: When a tenant grants access to a visitor at the building's entrance, they might only want the visitor to be able to access a certain floor. With elevator controls, you can ensure that guests can only ride the elevator to the floor of the tenant they're visiting.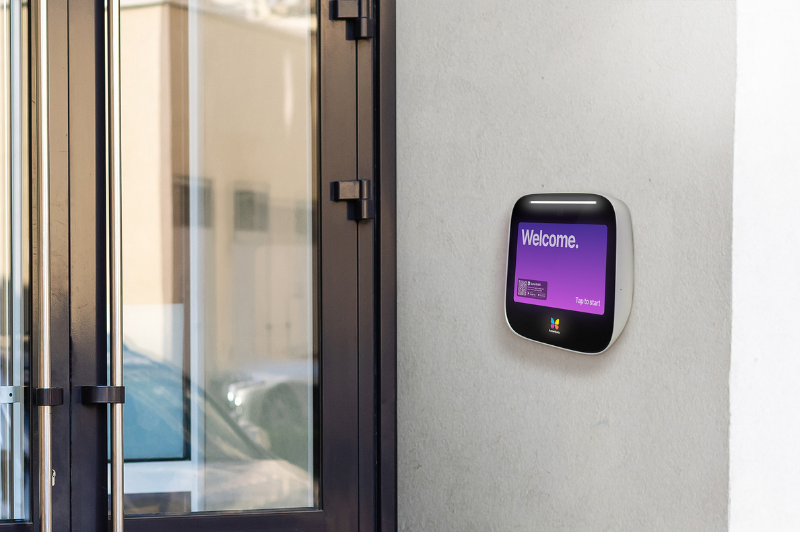 Huntsville gate access control
Gated communities are growing in popularity in Alabama.
And whether your property is a residential gated community or a commercial building with a gated parking garage, you need a gate access control system.
To control access to your gated property in Huntsville, install a video gate intercom at your front gate. This way, visitors and delivery carriers can easily request access from residents or staff via video call.
And for entrances where only tenants need access, consider a vehicle reader and windshield tag system. This form of vehicle access control requires residents to place a small sticker on their windshields, which the vehicle reader scans. Overall, this system enables fast, hands-free access for residents.
Best Huntsville access control installers
If you're ready to choose and install an access control system, you'll have to find a trusted installer first.
Here are 5 of the top-rated access control installers in Huntsville: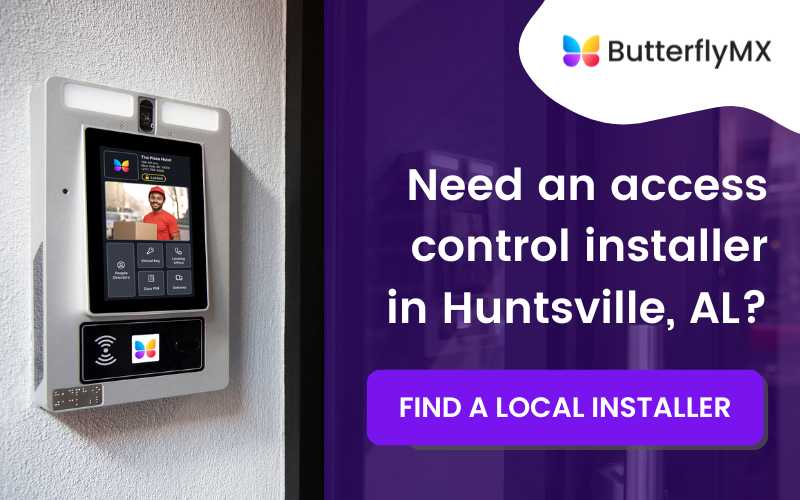 1. Smart Alarm Solutions
Google rating: 4.9 / 5
Serving everything from small residential properties to large commercial buildings, Smart Alarm Solutions is committed to providing quality equipment that meets each customer's security needs.
Smart Alarm Solutions offers the following services:
Smart home automation
Alarm systems
Video surveillance
Access control
Smart Alarm Solutions specifically focuses on offering state-of-the-art access control solutions, namely cloud-based and smartphone-powered systems.
The company can help you install any of the following equipment:
Card readers
Keypads
Electronic door locks and mag locks
Request-to-exit motion detectors
Door controllers
Emergency exit buttons
Smart Alarm Solutions appears to offer free quotes, so contact the company if you need an estimate for your access control installation in Huntsville.
2. ADS Security
Google rating: 4.7 / 5
ADS Security is committed to boosting security at homes and businesses. Though the company serves several states in the southeast, ADS has a large presence in Alabama, with eight different offices throughout the state.
Whether your goal is to protect a specific room, remotely grant access to visitors, or manage access to your entire building, ADS Security can help you find the right access control solution.
ADS can also help you integrate your access control system with their video surveillance and security services. Then, you can streamline all of your ADS products from the ADS mobile app for easy access to all of your devices from anywhere.
3. Locktec, Inc.
Google rating: 4.5 / 5
Since Locktec is licensed, bonded, insured, and NTC (National Training Center) certified, you can trust their team to get the job done right.
Although Locktec is a locksmith service provider first, the company also offers a variety of security services.
Locktec can install and maintain:
Security cameras
Card access systems
Video surveillance systems
Alarm systems
Electronic gate systems
Access control systems
Safes
When you choose Locktec for your access control installation, they'll help you choose the right system for your building, whether that's keypads, fob readers, or mobile access systems.
4. CommSec Communications
Google rating: 4.4 / 5
Established in 1983, CommSec has decades of experience to back up its services.
Although CommSec Communications specializes first and foremost in business telephone systems, they also offer a variety of security services, including access control installation.
Go to CommSec for products and services like:
Digital alarms
Video-based security systems
Access control systems
VoIP/digital telephone solutions
Data cabling
P.A./intercom system installation
CommSec sells and installs some of the leading access control systems on the market, offering a variety of options from keypads to fob readers.
5. State Systems
Google rating: 4.2 / 5
State Systems is a self-proclaimed "total-protection company." Although the company is based in Memphis, TN, State Systems does have an office in Huntsville.
State Systems offers several services, including:
Fire protection
Pressure washing
Security solutions
Communication systems
Structured cabling
If you're seeking added security, State Systems can help you design a system tailored to your building. Their team starts with a consultation to learn your business's needs, then recommends the best web-based, mobile-based, and IoT systems available.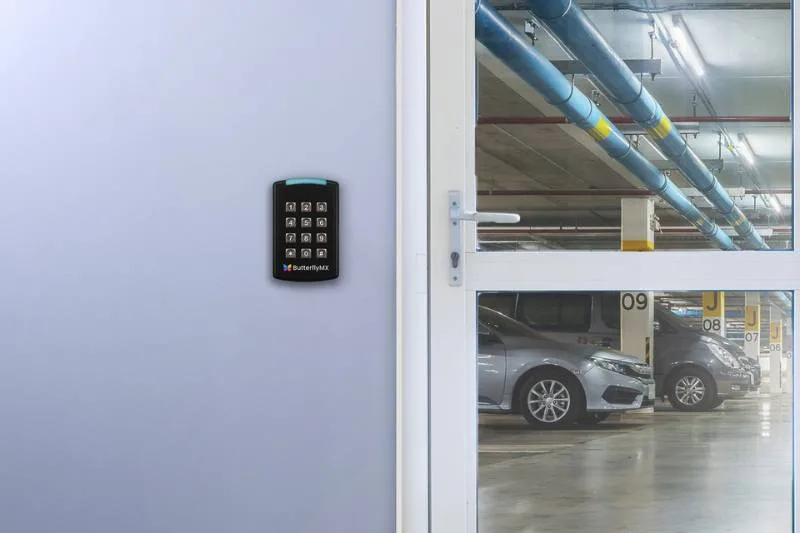 Access control system repair in Huntsville
Does your property in Huntsville already have an access control system? If the system isn't working well, it might be time to repair or replace it.
You might need to repair your access control system if you notice:
Issues with the hardware, like screen glitches or malfunctioning buttons
Poor audio or video quality with your intercom
Readers struggle to scan fobs or cards
Cost of access control repair in Huntsville
Access control system repair costs in Huntsville range from $100 to $1,000 or more. Repair costs depend on the extent of the problem with the system.
For example, if your card reader is damaged, it may cost just a few hundred dollars to fix or replace that single device. But if there's extensive wiring damage, you may need to spend thousands of dollars replacing the wiring. At that point, consider replacing the system altogether!
Best access control repair companies in Huntsville
The Flying Locksmiths – North Alabama: As a nationwide company, The Flying Locksmiths can be trusted to deliver reliable service. The North Alabama team offers access control repair and replacement services in Huntsville.
Locktec: In addition to installation services, Locktec also offers maintenance and repair services for access control systems in Huntsville, Madison, Hampton Cove, Decatur, and beyond.
Koorsen Fire & Security: With locations in Alabama, Tennessee, Kentucky, Indiana, and Ohio, Koorsen's Huntsville team can be trusted to inspect your access control system and repair or replace it as needed.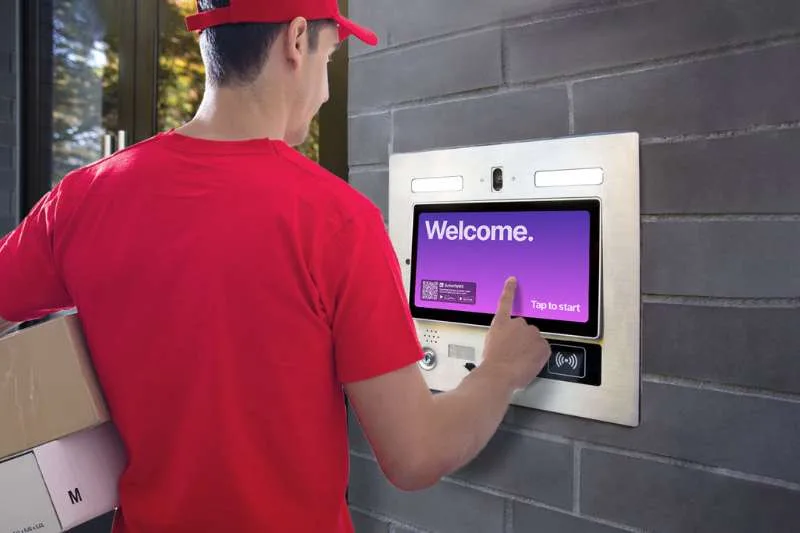 Best access control system in Huntsville
The best access control system in Huntsville is ButterflyMX.
ButterflyMX delivers the best access control solution for buildings throughout Northern Alabama because it creates a unified access experience. That means residents can use the same credentials — their smartphones — to enter the building and navigate the spaces within.
ButterflyMX's mobile-first approach to access control makes it easy for residents to unlock doors and gates remotely, and for property staff to manage the entire system remotely.
ButterflyMX's suite of access control products includes:
Video intercom. Perfect for front entrances. Allows visitors to request property access via video call. Residents can remotely open the door or gate using a smartphone.
Keypads and card readers. Simple, easy-to-use readers for seamless access. Perfect for interior doors, auxiliary entrances, garages, and shared spaces like amenities. Residents can unlock doors and gates with a fob, PIN code, or smartphone.
Vehicle access system. Designed for vehicle access points, like gates and garages. Consists of a vehicle reader device and windshield tags, which residents place on their cars. Enables fast, hands-free vehicle access.
Elevator controls. For multistory buildings. If you install a ButterflyMX video intercom at your front entrance to control visitor access, you'll want to also install our elevator controls to ensure visitors can only access the floor of the tenant they're visiting.
Smart locks. ButterflyMX integrates with many of the leading smart locks. Enables easy, smartphone-based access to apartment units and shared spaces.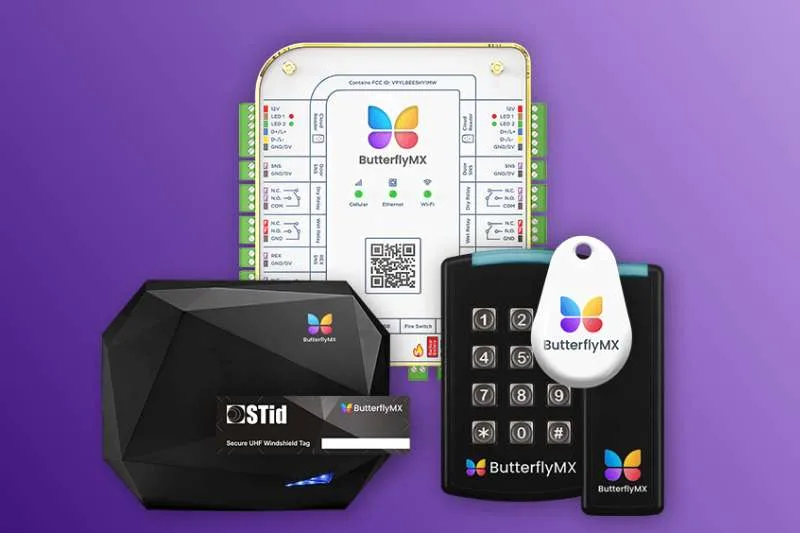 Takeaways
Multi-tenant properties in Huntsville need access control systems to maintain security while delivering a convenient access experience.
Consider the type of property, weather conditions, deliveries, and remote system management when choosing a Huntsville access control system.
5 of the top-rated access control installers in Huntsville are Smart Alarm Solutions, ADS Security, Locktec Inc., CommSec Communications, and State Systems.
The best access control system in Huntsville is ButterflyMX.