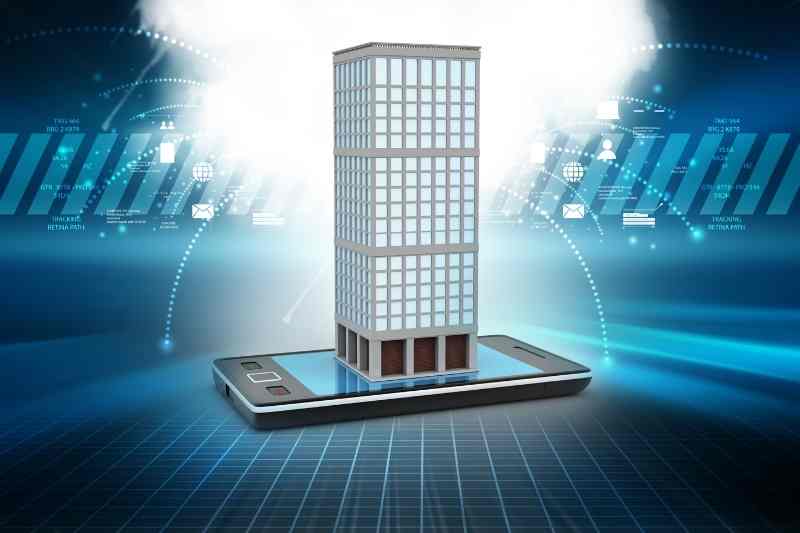 Key takeaways
A smart building uses the Internet of Things to automate building processes.
Benefits of a smart building include higher return on investment, energy efficiency, increased security, better occupancy rates, and a longer building lifespan. 
Four easy proptech to install to turn your building into a smart building include smart sensors, package management systems, building-wide access control, and solar-powered electricity.
Nowadays, "smart" describes almost everything: watches, phones, TVs, and even refrigerators. And if you work in real estate, you've most likely also heard the term "smart building" being tossed around.
But what exactly is a smart building, and how do you create one? Well, you've come to the right place! Read on to discover what a smart building is, how to build one, its benefits, and the essential proptech devices to enable it.
In this post, we cover:
Discover the top 5 smart gadgets that wow residents:
What is a smart building?
A smart building is a property that uses Internet of Things (IoT) devices to automate building processes, streamline property management, and improve the tenant experience. All devices are connected to a central platform so that building administrators can easily control and manage all the building's moving parts in one place.
What's more, smart building technology collects important data about the property that can be used to optimize its environment and operations. For example, the data your smart devices generate can provide insights into usage patterns, trends, and energy efficiency.
Smart building examples
Despite popular belief, smart buildings don't exclusively mean new and modern buildings. Older buildings are often retrofitted with smart technologies and solutions, extending their useful life and even lowering their carbon footprints.
Here are three popular examples of smart buildings:
Empire State Building in New York City: Despite being completed in 1931, the Empire State Building has been entirely retrofitted with smart technology over the past decade or so. Today, it includes wireless sensor technology that automates temperature controls, electricity conservation, and occupancy data collection.
Sheraton Los Angeles San Gabriel: The Sheraton Hotel in Los Angeles — opened in January 2018 — employs robots to greet guests and assist with luggage services and building navigation. They can even open doors and take themselves to charging stations when they're low on battery.
Apple Park in Cupertino, CA: It's no surprise that tech giant Apple's headquarters is one of the most energy-efficient buildings in the world. The building has high-tech ventilation systems that automatically regulate the temperature while minimizing costs.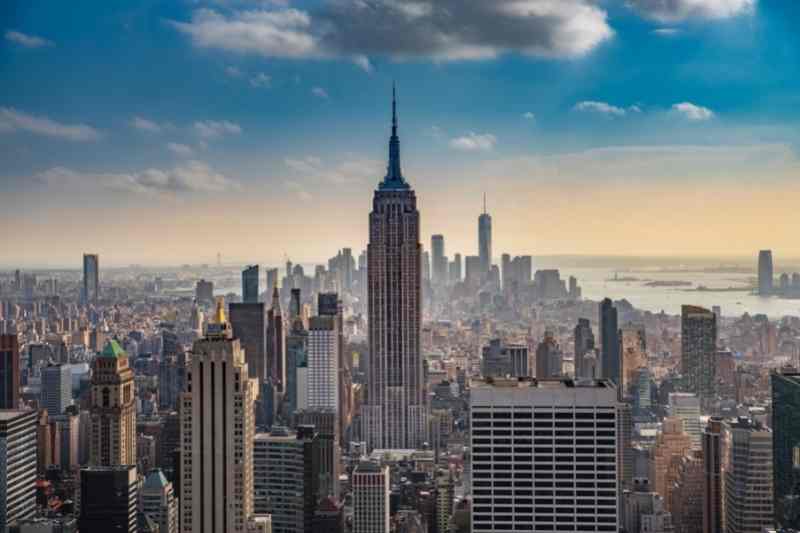 Industries with smart buildings
The most exciting aspect of smart buildings is that every industry in real estate can incorporate them. If the property has electricity and an internet connection, it can become a smart building.
Here's how each type of property can enable a smart building environment:
Multifamily: Install cloud-based access control solutions to simplify property access for residents, staff, and visitors at apartment buildings.
Commercial: Implement front desk software systems to automate visitor management and check-in procedures at office buildings.
Gated community: Install smart intercoms at gated entrances to enable smartphone-based entry and reduce wait times.
Industrial: Equip warehouses and self-storage facilities with smart keypad access control systems for a secure and easy entry method for vendors and customers.
Watch how ButterflyMX works in a smart building:
How to build a smart building
As a property developer or construction manager, you're always looking for smarter ways to get the job done. And as technology continues to be a significant part of our lives, you'll want to ensure your projects have the correct infrastructures in place to adapt smart building technologies.
No matter the type of building, it should foster a smart, eco-friendly, and convenient environment for people to live, work, and visit. This section walks you through the basic steps to creating a smart building.
Steps to constructing a smart building:
Lay the basic foundation for smart connectivity
When planning the construction, ensure Ethernet cable and AC power outlets are near doors, windows, appliances, and other access points. You may want to install 5G small cells throughout the property.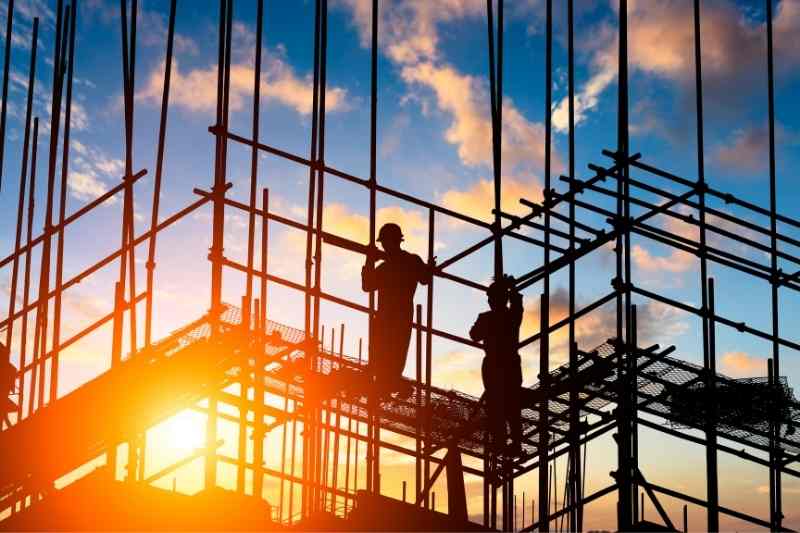 Use durable and eco-friendly construction materials
At the core of all smart buildings is energy efficiency. So, it's crucial that the building meets the criteria for the green building certification your construction firm is associated with, such as LEED (Leadership in Energy and Environmental Design).
Consult with proptech specialists for recommendations
Installing certain smart building devices will be at the discretion of the property management firm. However, you can install some devices from the get-go. Consult with a smart/green building specialist to identify the smart devices and systems best suited for the property.
Pro tip: Vetting your smart building technology installer is undoubtedly the most important step in the installation process. So, ask trusted partners for recommendations, request references from similar jobs they've completed, and ensure they're certified installers.
Teach property owners & managers how to use smart building devices
Demonstrate how to use smart devices and software for property owners and managers. Educate them on the importance of analyzing the data from the building's proptech and using the findings to make necessary changes or adjustments.
The property management company might also hire a chief smart building officer to manage, research, and deploy smart building solutions and strategies.
Watch how ButterflyMX improves the resident experience:
5 benefits of a smart building
Building smart developments and retrofitting older buildings with technology have countless benefits. In addition to attracting modern tenants, smart buildings lead to higher profitability and occupancy rates.
The top five benefits of smart buildings are:
1. Higher ROI
Smart building systems and infrastructures have a high entry price, meaning that the costs of acquiring and installing smart devices can run high. However, the return on investment is fast, and smart buildings end up experiencing higher ROI than traditional buildings.
A higher ROI means you'll have more business and higher profit margins. Property investors love seeing high returns quickly after acquiring a property. And the word will spread that your developments have great portfolio performance. So, more investors will want to invest in your future projects.
2. Greater energy efficiency
Each year, we as a society need to face the harsh realities of climate change. And as you may already know, the real estate industry is unfortunately responsible for a whopping 40% of global carbon emissions. This is why in 2008, the U.S. real estate industry adapted the Environmental, Social, and Governance (ESG) criteria for potential property investments.
The ESG criteria gave birth to the modern concept of smart buildings. And developers and construction teams began to take these guidelines seriously when building new buildings.
How the ESG criteria apply to smart buildings:
Environmental: Analysis of property's energy consumption, waste, and carbon emission. The intelligent building management system collects the necessary data to analyze.
Social: Ways that the property fosters a community with tenants, staff, and the local community and promotes social responsibility and well-being.
Governance: Ethical practices that help in running building operations. This includes compliance with federal, state, and local laws, as well as transparency about financial or policy changes.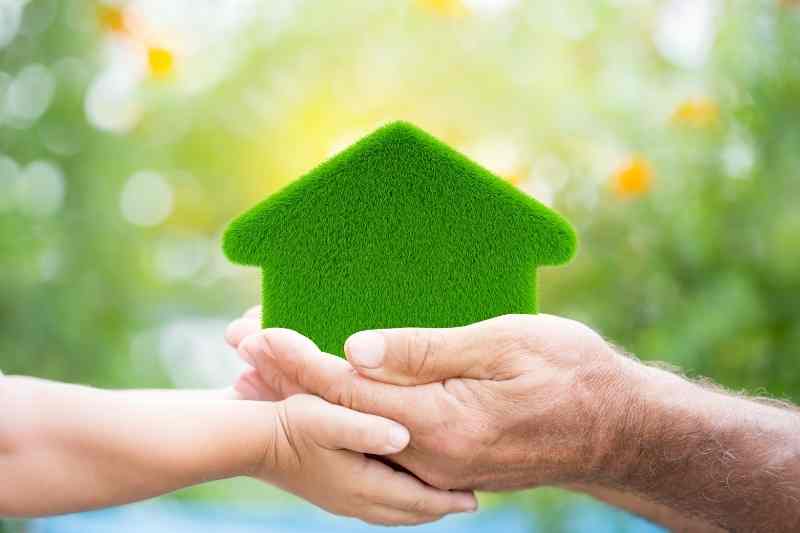 3. Better property security
Smart buildings also mean smarter security. Security doesn't apply only to the tenants or staff in the building but also to the building itself. And technology plays a major role in preventing potential security breaches.
For example, intelligent smoke detectors can prevent fires from spreading by turning off the gas system immediately. And sensor technology is agile enough to catch trespassers or vandalists even before they commit a crime. You and your contractors put in tremendous hard work to build these properties, so you want to ensure they're built to last.
4. Improves occupancy rates
A core component of every smart building is its ability to gather data from the sensors and devices installed. These data generate powerful insights on room and space usage and occupancy rates of each area of the building.
Down the line, property managers can use the data to optimize underutilized spaces and eliminate wasted resources. The goal of every building is to be occupied and used to its maximum potential. Otherwise, the building will unnecessarily absorb limited resources, including land.
Making the building smart is a big selling point in itself to attract tenants. Whether it's a place to live or work, people want their environment to match the technologically advanced society they're living in. And people will be drawn to buildings that were built and developed purposefully.
5. Elongates building lifespan
When developing a smart building, it's imperative to incorporate a circular design so it can easily be recycled, reused, and repurposed. You're well aware of how much time, effort, and money it takes to develop a new building.
So, you should develop any new property with the idea that its use will constantly change. An excellent way to future-proof a building is to make it easy to implement new technology. Another benefit is that the buildings don't have to be demolished when they reach the end of their useful life. Future developers can easily repurpose and retrofit them.
Top 4 proptech to install in your smart building
With many proptech devices on the market today, it might seem overwhelming to choose the best ones for your smart building. Whether you install smart devices during the development process or recommend them to potential owners or managers, you should explore the options available to your property.
The top four proptech to consider installing in your smart building are:
1. Smart sensors for energy management
A significant portion of a building's operating costs comes from energy usage. Luckily, smart sensors provide you with data-driven solutions for lowering energy consumption. For instance, they automatically adjust lighting, ventilation, and temperature according to your building usage patterns and room occupancy levels.
Not only does smart energy management save you money, but it also increases the value of your property. According to EnergyStar, a 10% decrease in energy usage leads to a 1.5% increase in NOI, which in turn raises the value of a 200k square-foot property by $500k.
This demonstrates that simply using smart sensors to manage energy usage goes a long way. You'll be making your building more eco-friendly while lowering operating costs and increasing its investment valuation.
2. Efficient package management system
People rely on online shopping to get both their essentials and luxury needs in the modern age. As a result, all kinds of buildings — residential, commercial, and industrial — receive and process high volumes of package deliveries every day.
Constructing a new building with a package management solution is the smartest and most efficient way to prepare the building for deliveries.
The most stress-free and cost-effective package solution is to dedicate space for a package room. The size of the package room will vary depending on the building type and size.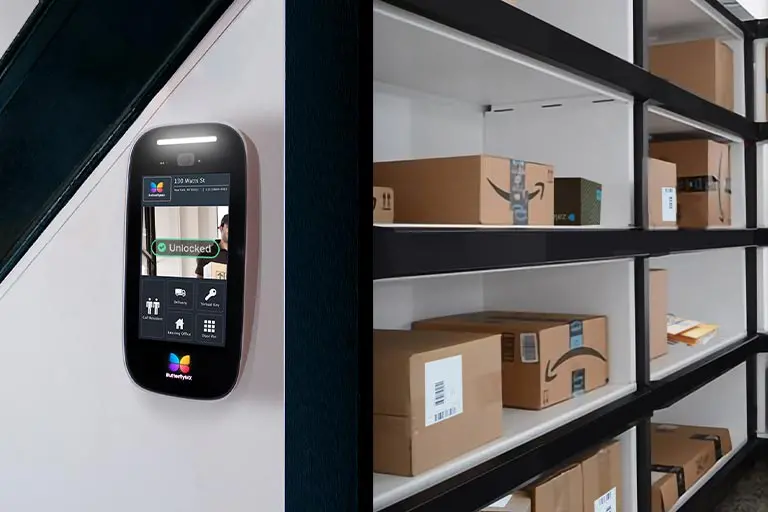 But the essential considerations to keep in mind when designing a package room are:
Make sure the room is large enough to fit all different sizes and quantities of packages.
Ensure that the layout and tech infrastructure incorporate a temperature-regulating system or refrigeration for perishable food deliveries and storage.
Ensure the room is enclosed by a door where ownership or management can install an access control system to secure packages and prevent theft.
3. Building-wide access control system
A building's access control requirements extend beyond the front door. All multi-tenant buildings need controlled access to certain rooms and areas. And what's better than having a unified access control system throughout the entire building?
You can build a highly attractive property for potential owners and investors by equipping it with infrastructure that simplifies access control installation. This can be achieved by ensuring all doors come equipped with a door release mechanism and all corners of the building can quickly connect to the internet.
For example, a smart video intercom system enables convenient keyless entry into the building or through the gate. Tenants, staff, and visitors can either use their smartphones or unique PIN codes to enter the property.
The intercom also enhances building security. Tenants can visually confirm who's requesting access to their building and prevent any unwanted entries. For the most robust security solution, choose an intercom that takes a photo every time someone accesses the property. This way, building staff or law enforcers have an audit trail to review if needed.
4. Solar-powered electricity
You've probably heard of devices like smart lights, blinds, and thermostats as solutions to creating an energy-efficient building. But why not go one step further and build an eco-friendly, energy-saving property from the ground up?
Solar power is one of the cheapest and most effective ways to power any building. By installing solar power panels or grids, you'll enable the facility to receive its source of electricity from solar energy and heat generated from the sun. And since the building will create its own energy, the possibilities for proptech installations and integrations are truly limitless.