Depending on how you define "smart," the concept of smart buildings has been around since the 17th century.
Since then, technology has evolved tremendously. One of the big drivers of building automation is the rise of digital computers in the latter half of the 20th century. Around this time, we started to see a significant shift from high-touch to high-tech in multifamily housing.
And of course, the advent of smartphones at the start of the 21st century gave birth to the smart apartment buildings of today. Now, smart building technology ranges from intelligent HVAC systems to smart video intercoms. Read on to learn more about smart buildings and why it's worth making your building smarter.
In this post, we'll cover:
Discover the top 5 smart apartment gadgets that will wow residents:
What are smart apartment buildings?
Smart apartment buildings are homes that integrate smart amenities, building automation solutions, and property management into one connected building system. These devices are all connected and communicate with each other via the Internet of Things (IoT).
Smart devices enable you to remotely monitor and manage access control systems, appliances, and other devices throughout the property. All these cloud-based devices come together to create one integrated technology ecosystem for your building.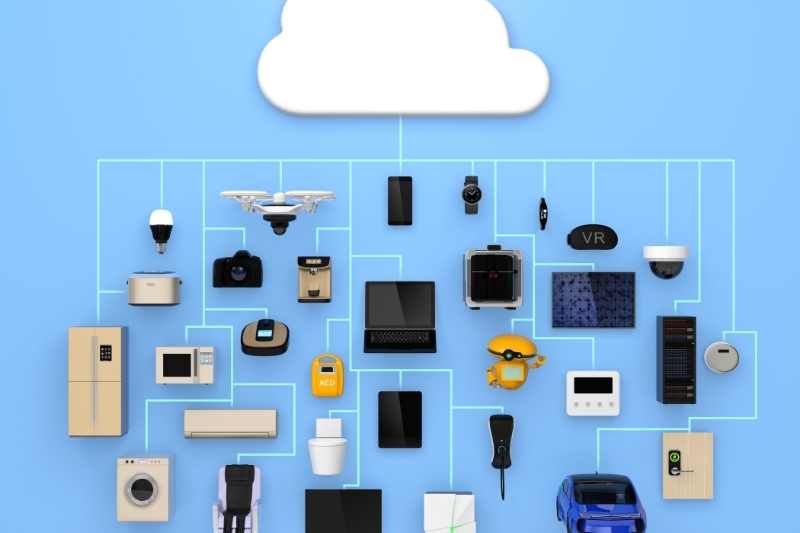 3 characteristics of a smart apartment building
Although it's not set in stone, there are three general characteristics that make a smart apartment building "smart." Of course, as technology rapidly advances, the definition of a smart building is also bound to evolve.
The three elements of a smart apartment building are:
1. Cloud-based software
In a smart apartment, all devices and building systems are connected through cloud-based software. When your building's technology operates with cloud-based software, you can access data and update systems anytime, anywhere. Plus, the software automatically updates all connected devices.
For example, let's say a new resident moves into your building. Instead of entering their information into each system manually, all you have to do is enter it once, and it automatically updates across all your connected platforms.
For instance, you could integrate these cloud-based devices:
An apartment intercom system
Building directory or CRM
Communication tools like Slack for automatic notification of entry event
2. Property management technology
A property management system (PMS) is an essential part of any intelligent apartment.
A PMS automates mundane tasks for building staff, like collecting rent and managing resident maintenance requests. This saves time for property managers and staff so they can focus on things that matter, like organizing community events and providing high-touch services for residents.
What's more, choosing a property management system that integrates with your access control system or other proptech amenities can further automate processes and create a seamless living experience.
3. Smart amenities
Last but certainly not least, a smart building needs to be designed with smart apartment amenities! Smart amenities empower residents to control their living environments with their smartphones.
Examples of smart amenities include:
Smart lights
Smart locks
Voice-controlled appliances
Smart thermostats
According to the Pew Research Center, the vast majority of Americans – 81% – own a smartphone, and among those who live in smart properties, it's 93%. Furthermore, smart amenities are the top proptech solutions that residents and prospects look for in apartments.
In today's digital age, having smartphone-controlled apartment amenities is not a luxury but a necessity. Just like carrying a physical wallet is fading out, carrying keys or key fobs is also becoming a thing of the past. Also, as the concept of a touchless building gains traction, smartphones will further become an integral part of the way to interact with buildings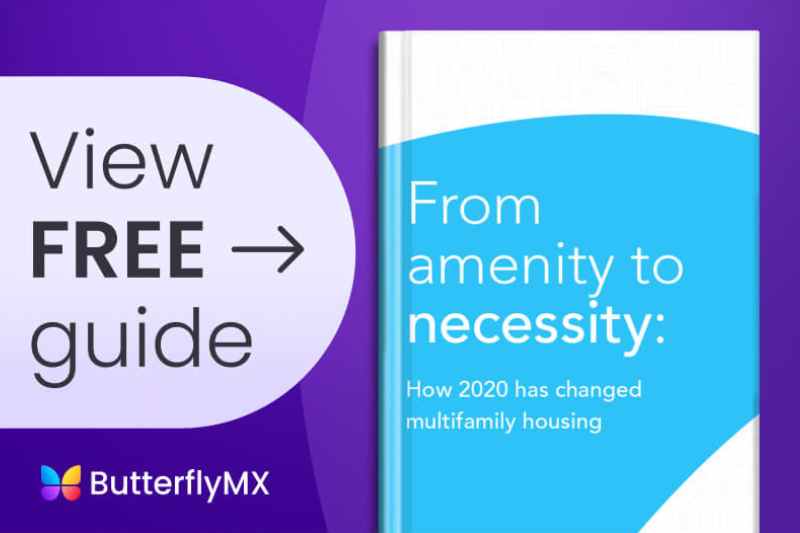 Benefits of living in a smart apartment building
Unlike luxury apartment buildings of the early 1900s, smart apartment buildings are accessible to a lot more people nowadays. Today, technology touches nearly every facet of daily life – from video-conferencing at work to ordering takeout on smartphone apps. So, having a tech-enabled apartment is within reach for most Americans these days.
The top three benefits of living in a smart apartment building are: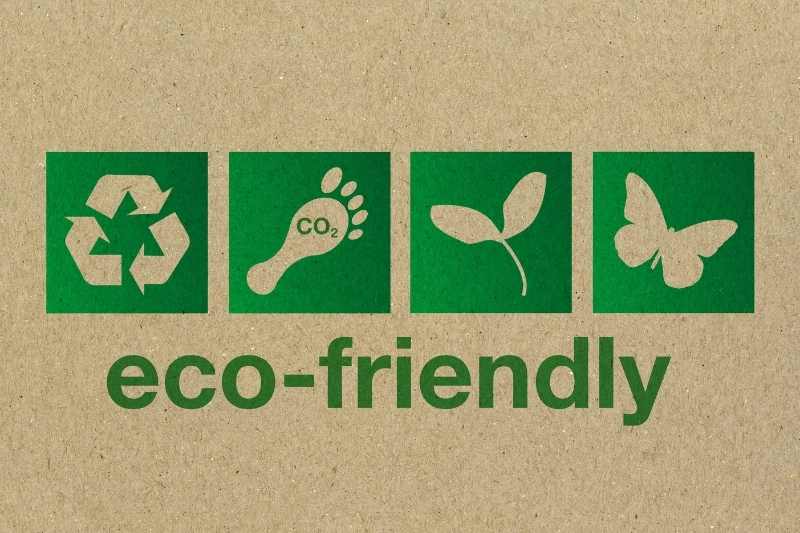 1. Cultivates an eco-friendly lifestyle
Smart appliances – such as refrigerators, lights, and thermostats – are known for being more energy-efficient than conventional appliances. These devices learn residents' behaviors and self-regulate their settings to match residents' lifestyles. For example, smart thermostats learn residents' behaviors over time and conserve energy whenever possible.
As a property manager or owner, you'll appreciate that you can easily monitor the building's energy and water usage with these devices. Not only will this ensure your property is energy efficient, but it will also save you money. Additionally, investing in these efficient solutions is one step toward securing a residential green building certification.
2. Makes residential life more convenient and comfortable
How many times have you unlocked a unit because a resident locked themselves out? Probably more times than you can count.
Keys can be easily be forgotten. But the one thing residents rarely forget to bring with them is their smartphones. As mentioned above, people today do nearly everything on their phones. So why not use smartphones to open building and unit doors? With smart apartment intercoms and smart locks, smartphones can literally be the key to everything.
Even more, smart apartments empower property managers and staff to have more quality face-to-face interactions with residents rather than doing paperwork or other manual tasks. By integrating property management systems with other building devices, you free up your time to plan and execute meaningful community-building activities.
3. Provides affordable property security solutions
Let's face it: having a doorman 24/7 gets pretty costly. But with smart amenities, you don't necessarily need staff working around the clock. For example, residents can let themselves and guests into the building after hours from their smartphones with a smart intercom system.
Also, setting up a package room enables couriers to safely scan and place residents' packages inside a locked room. This solution saves much more time and money than having property staff rack through mountains of boxes in the lobby.
Watch how ButterflyMX package rooms work:
Even more, smart buildings are so efficient that they're less expensive to build from square one. Since smart amenities automate many aspects of the building, it costs less to build and maintain. This is a huge benefit to the affordable housing market, making modern smart living accessible to the masses.
3 essential smart building proptech amenities
Now that we've gone over what smart buildings are and the benefits of living in them, let's discuss the essential proptech amenities that make apartment buildings "smart." Proptech refers to technology that streamlines any aspect of residential life.
Here are the three essential proptech amenities for smart buildings:
1. Video intercom systems
With a video intercom system for apartments at the front door, residents can grant property access to guests without even going down to the lobby. Residents can swipe, tap, or voice command to open the building door directly from a smartphone app. The intercom's video component empowers residents to verify the visitor's identity before granting access.
What's more, residents can use virtual keys to let family members or friends into their homes — even from across the world. Plus, video intercoms save audit trails of every entry event, adding an extra layer of security to your building.
2. Smart thermostats/blinds
As climate change increasingly becomes a threat to the planet, it's important now more than ever before to live as environmentally friendly as possible. You can start with one of the most straightforward solutions – regulating the temperature within the building.
Installing smart thermostats and/or smart blinds is the first step. As you may know, smart thermostats automatically regulate the room temperature based on your preferences,
In the same vein, smart blinds detect sunlight coming through the window and automatically close or open the shades based on your preferences. (You may want to let sunlight in during the winter to naturally warm up the room and close blinds during the summer to cool the room down.)
3. Smart locks
Not only are smart locks great for when residents accidentally lock themselves out of their units, but it also increases trust between residents and maintenance workers.
Instead of leaving a key for workers at the front desk and just hoping it gets returned, residents can assign virtual keys that open smart locks. Residents can determine if the virtual key is for one-time or recurring use and revoke guest access at any time.
Smart apartment buildings gave birth to modern living
The once far-fetched concept of the smart apartment building is, in fact, a reality today. Smart buildings wouldn't exist without the advent of the smartphone and its worldwide adoption. Investing in proptech and retrofitting your property to meet the needs of modern residents will put you ahead of the competition.