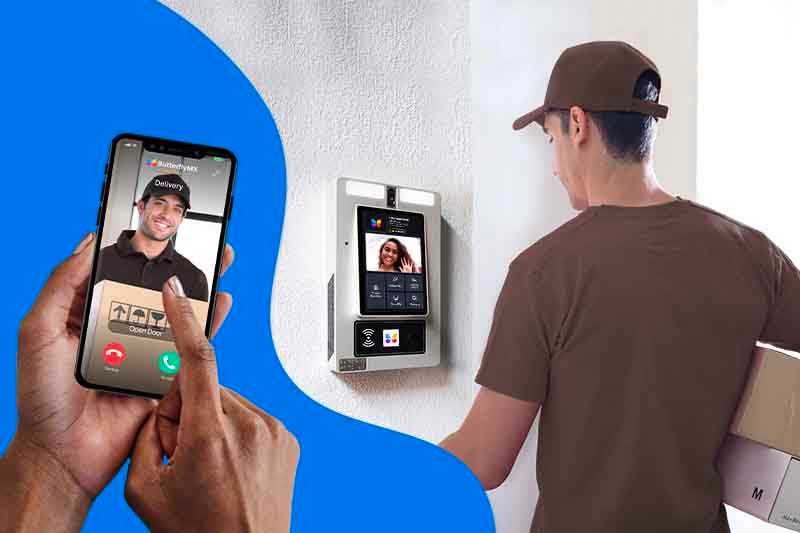 Key takeaways
Smartphone intercoms are modern intercom systems that pair with residents' smartphones for easy and remote access.
Smartphone intercoms allow for remote access, the elimination of physical keys, and easier guest management.
The best smartphone-powered intercom is the ButterflyMX video intercom, which features cloud-based software, a highly-rated mobile app, and date-and-time-stamped entry records.
Your goal as a property manager is to both secure your property and make sure it's as technologically proficient as possible. A smartphone intercom with a mobile app is a great way to modernize your property and simplify entry for your residents.
In this guide, we'll go over what a smartphone intercom is and how it works. Next, we'll cover the ways you can use it as well as the top benefits. Lastly, we'll explore the best smartphone intercom you should install at your multi-tenant property.
This post covers:
What is the best smartphone intercom?
The ButterflyMX video intercom is the best smartphone intercom available. Currently, ButterflyMX is installed in more than 10,000 properties — and has more than 20,000 five-star ratings.
ButterflyMX's smartphone video intercom offers:
Cloud-based software. The video intercom's software automatically updates, reducing maintenance concerns.
Elevator controls. After a resident grants access to a visitor via the video intercom, ButterflyMX's elevator controls automatically unlock key-fobbed elevators. This allows the guest to only access the floor of the resident they're visiting.
Delivery access codes. Property staff can assign delivery PIN codes to each carrier for easy access and guaranteed delivery success.
Highly rated mobile app. ButterflyMX's mobile app has thousands of five-star reviews for both the Apple and Android apps.
Virtual keys. Residents can send virtual keys (in the form of QR and PIN codes) to their trusted visitors. Virtual keys can be single-use or recurring use.
Two-way video calling. When a visitor calls a resident seeking access, the resident can choose to initiate a one-way or two-way video call.
Watch how ButterflyMX works:
What is a smartphone intercom?
A smartphone intercom is an intercom system that pairs with residents' smartphones, allowing them to control entry into a property.
So, residents can use their phones to unlock doors and gates and manage property access from afar. Additionally, when someone buzzes their unit, they can communicate with their visitor via their phone.
Typically, there's a corresponding mobile phone intercom app for each intercom provider. This includes a smartphone intercom app for Android, Apple, and other smartphone brands available to download.
How do smartphone intercoms work?
Smartphone intercoms connect to the internet and feature external hardware installed at the building's access points. This external hardware electronically locks doorways and gates.
After downloading a WiFi intercom app, residents can enter the building with a tap on the mobile app. Because their unique user credentials are programmed into the smartphone intercom's directory, this single tap releases the locks.
Alternatively, residents can gain access by entering a unique PIN code on the intercom's keypad.
How can visitors use smartphone intercoms?
When visitors arrive at a property, they look up a resident in the external directory at the main access point and give them a voice or video call. Then, the resident can see the visitor from their phone screen if the intercom features video and communicate with them.
Residents can also remotely let visitors into the building if they're not home. This is especially helpful if a resident needs to let in a service provider like a plumber, dog walker, or house cleaner.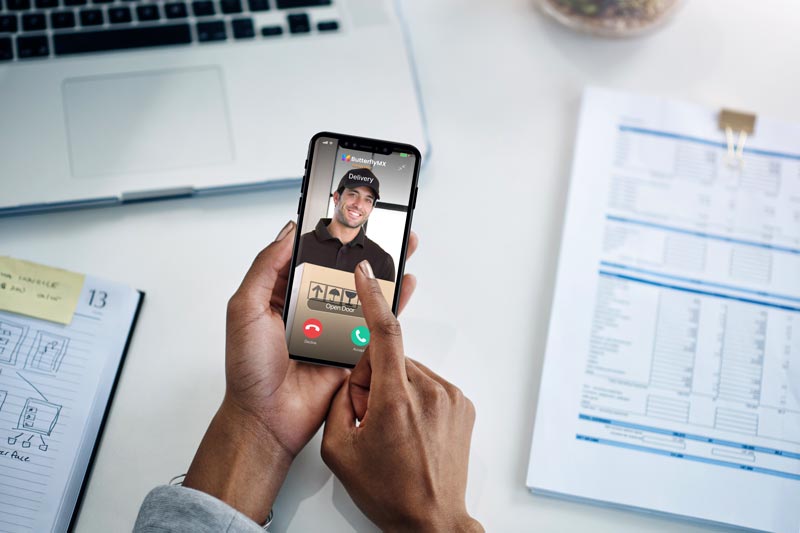 How can building staff use smartphone intercoms?
Staff enters the building the same way as residents. However, they have access to administrative features through the smartphone intercom app that residents cannot access.
Thanks to cloud-based technology, staff can remotely:
Update the resident directory.
Assign access PIN codes to delivery personnel.
View and monitor all entry events.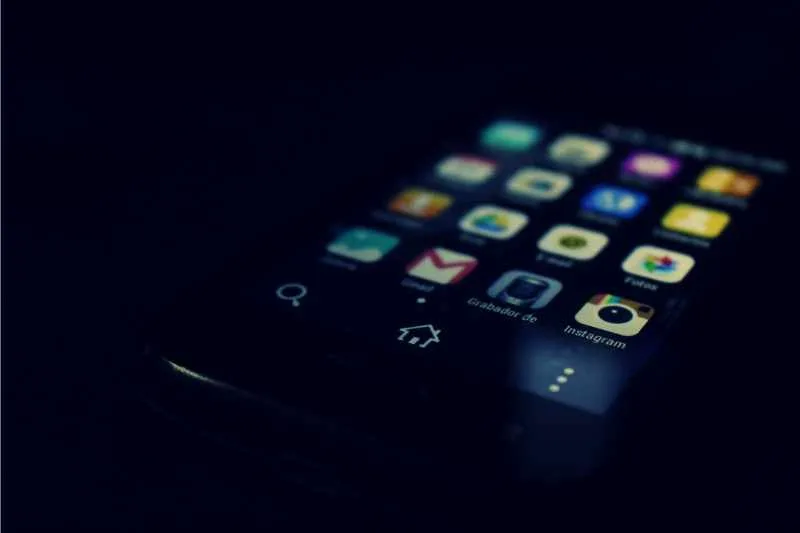 Can I use my phone as an intercom?
In many ways, your mobile phone does act as an intercom. However, it's not the sole piece of hardware needed. A mobile phone is only one component of a smartphone intercom, as there does need to be physical hardware at the entryway. That way, visitors can actually request property access from residents.
What are the benefits of smartphone intercoms?
85% of Americans own a mobile phone. In fact, many of us use our phones for nearly every facet of our lives. And an increasing number of people even work from their smartphones!
Smart devices litter our homes, and each one can be controlled by an app on our phones. Entry to your property should be no different.
Additional benefits of smartphone intercoms include:
No more keys. You no longer have to deal with residents who lost their keys (or charge them for the replacement).
Faster entry times. Residents can enter the building much faster by tapping their phone (which is likely already in their hands) as opposed to fumbling around for their keys.
Remote entry. Residents can let in visitors remotely; there's no maximum distance limit for permitting access to the building.
Recorded entry. The intercom records the time and date of each entry event. Residents and staff can view this entry log from the smartphone intercom app.
Cloud-based software. All aspects of managing the intercom can be done right from your mobile app. This includes adding and removing residents' access credentials from the system.
Easy installation. These intercoms eliminate the need for in-unit hardware because residents interact with the intercom from their phones. Additionally, this is cost-effective because you don't have to run wires throughout your building.
Appeal to younger renters. Younger generations use their smartphones more than ever. By appealing to them, your building comes off as sleek and modern.