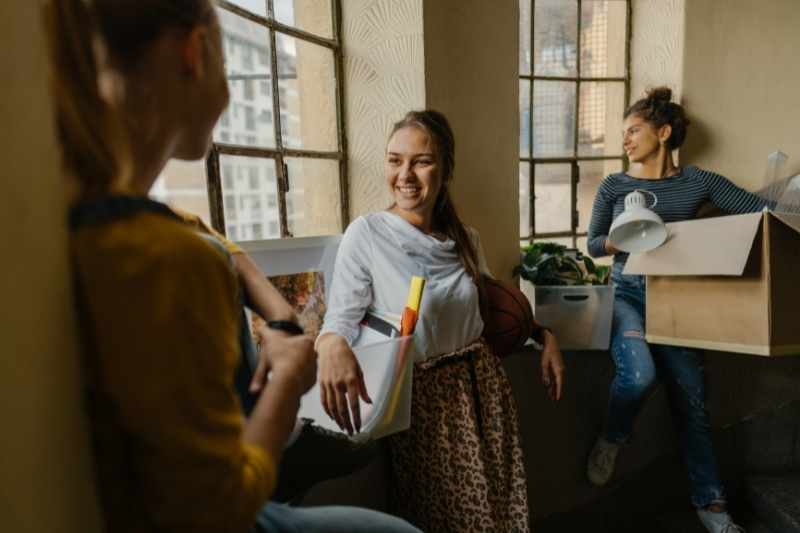 These days, student housing developers must incorporate students' preferences and unique needs into student housing design. Gone are the days of dormitories fitted with bunk beds and wall-mounted desks. Instead, the standards of your student housing design should create a welcoming, productive, and modern environment.
In this post, we go over common elements of student housing designs. Then, we cover the main objectives of good student housing design. Finally, we list the top five design trends that are shaping the student housing industry.
This post covers:
What are the most common types of student housing designs?
Student housing design has evolved substantially since the first American dormitories were built in the 1870s as fraternity homes. Now, student housing aims to accommodate all students instead of just members of the Greek system.
Nowadays, students primarily live in dormitories and student-only off-campus apartments. In fact, more students than ever opt to live on campus, resulting in an increased demand for college town rentals. As a result of this demand, most new student housing developments are high-occupancy dorms and student apartments.
However, there are many types of student housing designs, including:
Dormitories
Off-campus student apartments
Cooperative housing
Sorority and fraternity houses
Rental homes
Watch how the ButterflyMX package room works:
Is there a difference between dorms and student apartments?
The most prominent difference between dorms and student apartments is the tenants! Typically, dormitories are rented by underclassmen, while off-campus housing caters to upperclassmen. However, some first-year students opt for off-campus housing to save money.
In addition to the difference in demographics, dorms are less private than apartments. In dorms, students often sleep two to a room. Additionally, anywhere from four suitemates to an entire floor of student tenants must share a bathroom. On the other hand, off-campus student apartments offer private rooms and bathrooms.
Let's take a closer look at the differences between dorms and student apartments:
| Dormitories | Student apartments |
| --- | --- |
| Dorms cater to first-year students. | The typical tenant at a student apartment is an upperclassman. |
| Typically two or more students share a room. Additionally, bathrooms are shared by a suite of two rooms or even an entire floor. | Usually, each student has a private room and bathroom. |
| Most roommate placements are random. | While random roommate placement options are available, many student apartments allow tenants to choose their roommates. |
| Many community-building amenities are offered to connect tenants. | Community-building amenities are offered — however, they're less frequent than at dorms. |
| Because dorms are rented semester-to-semester, they qualify as short-term rentals. | Conversely, because off-campus student apartments stay open during campus closures including winter and summer breaks, they're traditional yearly rentals. |
| Rent is collected in full before each semester. | Rent is collected monthly. |
Student housing design objectives
While the differences between dorms and student apartments are vast, they share the same core objectives. The goal of good student housing design is to promote the emotional and physical well-being of tenants.
Here are the main objectives of great student housing design:
Providing community. Student housing should provide its tenants a true home-away-from-home. No matter how far into their education students are, community-building amenities are highly sought after. Well-designed student housing strikes the perfect balance between privacy and community while teaching students how to live away from home for the first time.
Enhancing campus safety. On-campus safety is one of the top concerns of incoming and continuing university students. As a result, good student housing design requires extra safety measures. Property access solutions like intercoms, keypads, and even package rooms provide well-rounded security for students.
Empowering education. While the experience that college provides is important, learning is the true reason they're there! So, equip your housing design concept with amenities that make it easier to study, complete projects, and earn degrees. These include community WiFi, study rooms, and quiet hours.
Providing accessibility. University students come from all backgrounds, ages, and physical abilities. So, your student housing property must be inclusive and accommodate differently abled students. Things like automatically opening doors, smart locks, and ADA push buttons are a great way to start.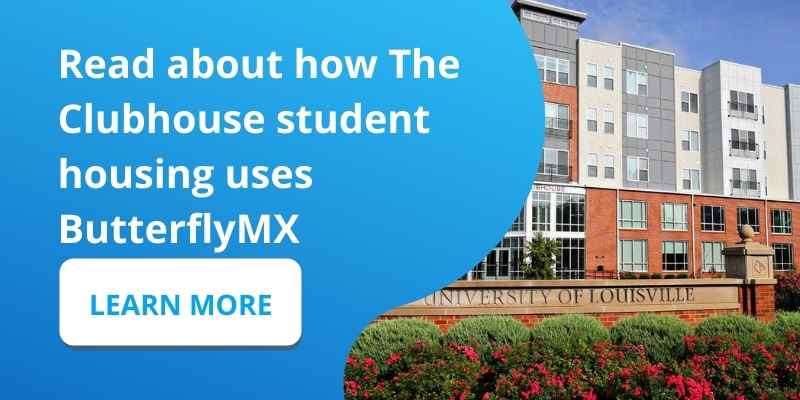 5 student housing design trends shaping the industry
What tenants want from student accommodation is constantly evolving. Today, students prefer housing that makes their lives easier. So, every aspect of your student housing design should serve the unique needs of university students.
Here are the top five student housing trends shaping the industry: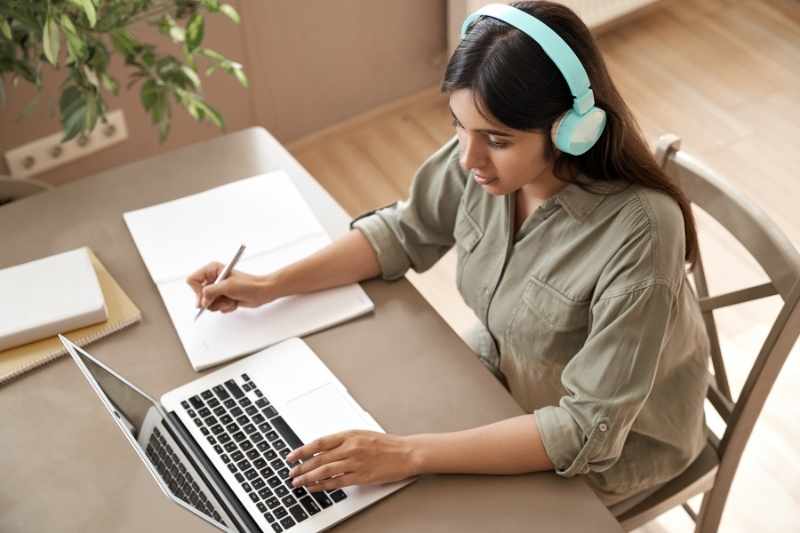 1. Managed WiFi
Incorporating fast, reliable internet into your student housing design is a must. In fact, a 2018 survey found that college students consider WiFi the most important amenity.
Managed WiFi is a community-wide cloud-based WiFi network with many access points. Unlike unmanaged WiFi, which caters to single-family homes, managed WiFi can handle many devices at once.
In addition, managed WiFi is:
Reliable: Internet service providers (ISPs) offer 24/7 support to fix internet connectivity at any time. This means students will never miss a deadline because of the spotty internet.
Scalable: Managed WiFi grows with your property. As more internet users populate your property, you can add WiFi extenders or hundreds of extra access points.
2. Package rooms
Today's college students grew up with quick, convenient delivery options. College students of the past purchased a majority of their supplies and books at an on-campus bookstore. Now, students order most of their books and supplies online.
As a result, your student housing design must accommodate this increase in important deliveries. One way to do this is by adding a package room.
Package rooms empower students to pick up packages at any time, regardless of their class or work schedules. Additionally, package rooms prevent theft. This way, students rest assured that their expensive textbooks are safe.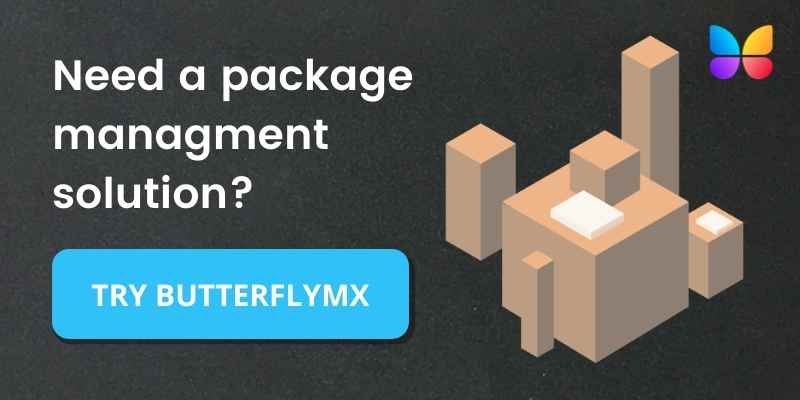 3. Outdoor community spaces
Creating spaces for students to socialize, study, rest, and exercise is key in student housing design.
Dormitories with included dining spaces offer an easy way to accommodate this need. Simply expand the dining hall to include an outdoor seating area or even build a dining area with large windows.
In off-campus apartments, however, you must intentionally create outdoor spaces. Building an apartment pool is an easy way to create an outdoor social space. However, there are ways to incorporate outdoor spaces without building or maintaining a pool.
Here are some ideas for outdoor community spaces to incorporate into your student housing design:
Courtyards with outdoor furniture.
Grilling areas where residents can plan and host community-building events themselves.
Rooftops offer an opportunity to create a posh community space. Just be sure to adhere to safety standards to prevent injury.
Floor-to-ceiling windows in common areas or units give your tenants the feel of outdoor space regardless of the weather.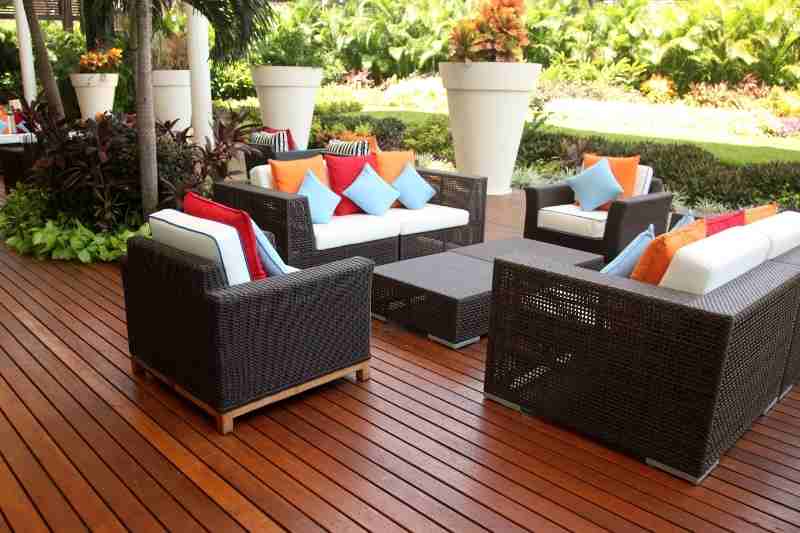 4. Proximity to student transit
Where you create a student housing development is just as important as its design. While many college students have cars, parking is often sparse on college campuses. So, students rely on campus bus and shuttle systems to get to and from campus. You must take this into account and create an inclusive architecture plan.
When planning a student housing development, you must plan for the property to be on or near a shuttle route. Alternatively, if your student apartment isn't on a shuttle route, you can opt to provide a private shuttle for your residents.
While this is a viable option, it's easier and more reliable to partner with the school. This way, you can build on an existing shuttle route or create a new route that includes a stop at your property.
5. Sustainable buildings
The global shift towards sustainability grows with each generation — Gen Zers are more focused on sustainability than anyone. Now that most college students are members of Generation Z, creating eco-friendly buildings is a necessity.
When developing a new student housing property, your focus must be on minimizing your environmental impact. But creating a sustainable building isn't one-size-fits-all. There are many ways to ensure your new development is sustainable — and to improve the sustainability of an existing building.
When creating a sustainable building, consider the following:
Incorporate elements of nature into your property through biophilic design.
Install solar panels to prioritize renewable energy.
Empower your residents to reduce their carbon footprints by providing recycling and composting options.
Invest in energy-efficient appliances like smart thermostats and smart windows.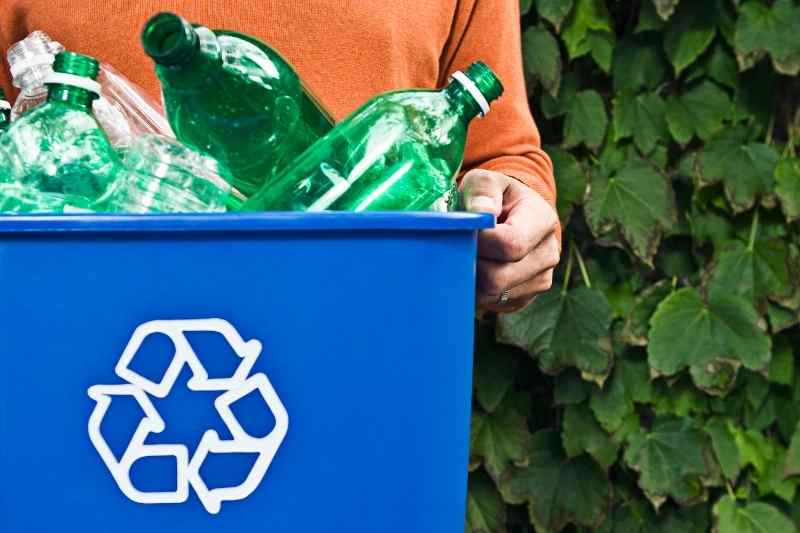 Takeaways
The COVID-19 pandemic has substantially changed the student housing industry. Now more than ever, student tenants look for housing that fits their wants, not just their needs.
There are many types of student housing designs, but dormitories and off-campus apartments are the most common.
Your student housing design should enable community building, enhance safety, and empower your tenants to pursue their education.
The top five student housing trends shaping the industry are managed WiFi, package rooms, outdoor community spaces, proximity to student transit, and sustainable buildings.