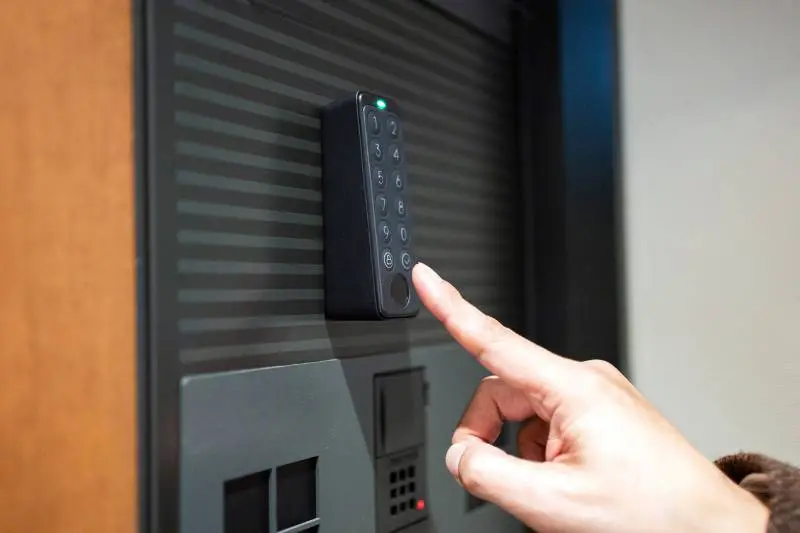 Key takeaways
Fingerprint door locks are used to increase the security of properties by replacing traditional physical credentials with biometric credentials.

Biometric door locks increase security despite booming in popularity and being readily available.

A better alternative to touch ID door locks is a comprehensive access control system like ButterflyMX.
Touch ID door locks, also known as fingerprint locks, are emerging security technologies designed to accept a biometric credential. As biometric door locks become increasingly popular, the number of options grows endless.
So, this blog will identify the best touch ID door locks. In addition, you'll learn the purpose of a thumbprint door lock and if they work the way they're meant to. Most importantly, you'll discover a better alternative to biometric door locks.
This buyer's guide covers:
Learn how smart locks play a role in access control:
What is the purpose of a fingerprint door lock?
The purpose of a fingerprint door lock is to increase security by using a fingerprint as a credential rather than a traditional physical credential.
Unfortunately, physical credentials are easily lost, stolen, or copied, leading to possible security breaches. So, by using a biometric keyless door lock solution, you can eliminate metal keys, key cards, or fobs.
As a result of switching to touch ID door locks, you cut the cost of replacing credentials while providing convenience and greater security to users.
Do fingerprint door locks work?
Yes, fingerprint door locks work by scanning the user's unique fingerprint and granting access upon verification.
For touch ID door locks to work, a user's fingerprint is first scanned and then registered. In most cases, fingerprint locks are paired with a companion app to set up. However, some biometric locks prompt setup on the lock itself.
Can fingerprint door locks be hacked?
Yes, it's possible to hack a fingerprint ID door lock.
Fingerprint door locks are built with intrusion-prevention measures. However, they're still capable of being manipulated for malicious purposes.
What's more, WiFi touch ID door locks are susceptible to cybersecurity threats because of their connection to the internet. Nonetheless, following cybersecurity best practices will significantly reduce the chances of hacking.
Can fingerprint locks be picked?
Yes, fingerprint locks that support metal keys can be picked.
Not all fingerprint locks support metal keys, but those that do, rely on them as an alternative credential. Although touch ID door locks are susceptible to picking, many implement anti-tampering technology to prevent such a problem.
5 best touch ID door locks
Biometric technology is now highly accessible for anyone looking to overhaul their security, causing a boom in products. Thus, finding the best fingerprint door locks is challenging. So, if you're unsure of which locks to choose, check out the list below.
The five best touch ID door locks are:
1. Sifely X Smart Lock
Sifely is home to a wide variety of smart locks for commercial and residential properties. The Sifely X Smart Lock is packed with features aimed at offering multiple ways of accessing your property. The Sifely X Smart Lock houses a fingerprint scanner in the handle, allowing you to quickly gain access to the property.
In addition to the fingerprint scanner, you can unlock the Sifely smart lock with a:
PIN code
Key card
Key fob
Metal key
Mobile app
Furthermore, Sifely's smart lock connects to the internet via a WiFi gateway, granting you remote capabilities. Users can unlock or lock the door remotely, grant access to visitors, or control the lock with a compatible voice assistant like Alexa or Google.
Pros:
Supports six types of credentials
Supports hundreds of passcodes and fingerprints
Connects to WiFi
Supports voice assistants
Battery level notice
Mobile app
Self-lock function
Cons:
Requires Sifely gateway for WiFi
Difficult to access the keyhole
Doesn't notify you if the door was left open
Pricing: The Sifely X Smart Lock is available for $129.99.
2. CatchFace Fingerprint Door Lock
The CatchFace fingerprint door handle encompasses a variety of smart lock features. Above all, the CatchFace's touch ID door lock can connect to the internet via a WiFi gateway. In turn, you can remotely manage your lock from anywhere using the mobile app.
Secondly, CatchFace has implemented multiple credential types into their biometric deadbolt. Aside from a fingerprint, users can unlock the door with a password, a smartphone, or a metal key. Not to mention, you can set up virtual keys to send guests when they need to access the property while you're away.
Pros:
Four ways to unlock
WiFi capabilities
Mobile app
Low battery alarm
Remote control capabilities
Cons:
Gateway required for WiFi
Pricing: The CatchFace Fingerprint Door Lock is priced at $119.99.
3. Geek Smart Fingerprint Door Lock
With more than 70 years in the lock industry, Geek Smart has developed a sleek and modern thumbprint door lock perfect for interior doors. You can quickly access any room by gripping the handle naturally and placing your thumb on the biometric scanner.
The Geek Smart Fingerprint Door Lock is battery-powered, requiring four AAA batteries. If the batteries die, a USB-C cable is included to connect the fingerprint door handle to a power source. Alternatively, you can always use the included metal key.
Pros:
Easy to install
Modern design
Alternate credential method
Affordable
Cons:
Doesn't connect to WiFi
No companion app
Only supports up to 20 fingerprints
Pricing: The Geek Smart Fingerprint Door Lock costs $89.99.
4. Wyze Lock Bolt
The Wyze Lock Bolt is a Bluetooth-enabled smart lock that is a modern replacement for your existing deadbolt. While it allows you to use your fingerprint to enter, the focal point of the Wyze Lock Bolt is the backlit keypad. You can input your passcode as an alternative to the biometric scanner.
Additionally, the biometric deadbolt lock is equipped with a slew of security features to give you peace of mind. For example, the smart deadbolt lock is pickproof and IPX5-rated, meaning it will withstand tampering and wet conditions. Plus, the auto-lock feature ensures your property is secure even if you forget to lock the door yourself.
Pros:
Fast installation
Supports alternative entry method
Waterproof and pickproof
Bluetooth functionality
Mobile app
Auto-lock feature
Affordable
Cons:
No WiFi capabilities
Doesn't support voice assistants
Pricing: The Wyze Lock Bolt costs $73.99.
5. Master Lock Biometric Padlock
The Master Lock Biometric Padlock is a great mobile lock solution for a variety of situations. Up to 10 different users may use their fingerprints to unlock the padlock. It's powered by a button battery, so it should last up to a year. In the event that the battery is low, the padlock will notify the light indicators around the scanner, and you may use the directional keypad to unlock it.
Pros:
Weather resistant
Long-lasting battery
Alternate entry method
Cons:
Most expensive option on this list
Only supports up to 10 fingerprints
No WiFi or Bluetooth connectivity
Unreliable fingerprint scanner when wet
Pricing: You can find the Master Lock Biometric Padlock for $171.94.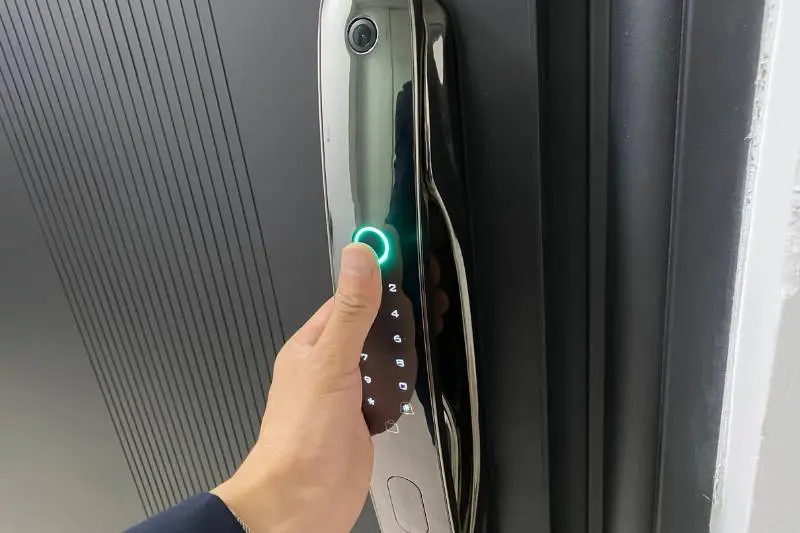 Alternative to touch ID door locks
A touch ID door lock is suitable for increasing the security of your property while offering greater convenience. However, incorporating biometric door locks into your property doesn't provide a comprehensive security solution.
Instead, opt for a property-wide access control system. More specifically, ButterflyMX is a better alternative to touch ID door locks. Established in 2014, ButterflyMX is a cloud-based access control company that enables mobile phone access. With ButterflyMX, you can control access to every aspect of your property.
The ButterflyMX access control suite includes:
Video intercoms. Control access to main entryways with the ButterflyMX video intercom. It includes a directory for visitors to request access, a camera to take time- and date-stamped photos of entries, and lets tenants grant access to guests remotely.
Package rooms. Secure resident packages with the ButterflyMX package room. The package room allows couriers to deliver packages and residents to retrieve them upon their return.
Card and fob readers. Take control of who has access to amenity spaces, offices, or restricted areas by installing card and fob readers at interior doors. ButterflyMX readers also accept mobile app credentials in the event users forget their physical credentials.
Keypads. Use the ButterflyMX mobile app, key card or fob, or a PIN code to access areas of the property.
Vehicle readers. Eliminate long lines at the gate or garage with a ButterflyMX vehicle reader. This device reads the windshield sticker located on the authorized vehicle and automatically grants access without any action from the driver.
Elevator controls. Manage who has access to the floors of your property by limiting guests and personnel to authorized levels.