COVID-19 has spurred the real estate industry to make changes. Real estate professionals are left wondering how to manage property access when you can't touch anything or come in contact with anyone. Once a simple convenience, touchless entry is now a critical necessity for multifamily homes.
Read on to discover how an apartment intercom system with touchless entry can provide the safety you need with the convenience you want.
This post covers:
The difference between contactless and touchless entry
You may have recently heard of two different types of safety-focused property entry:
What is touchless entry?
Touchless entry refers to entering a building without touching an object or surface, such as a door handle. A touchless entry system eliminates the need to touch surfaces with your hands by using an automatic door opener triggered by a device such as a smartphone.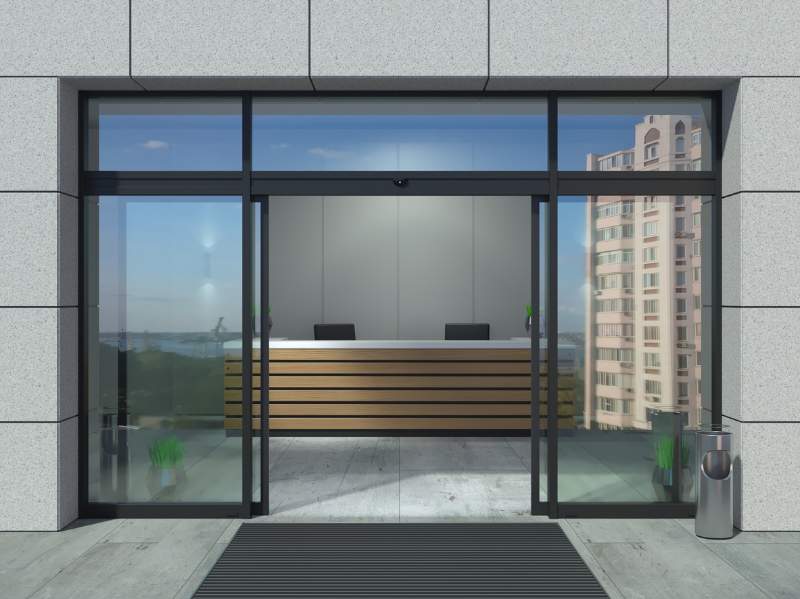 What is contactless entry?
Contactless entry for apartment buildings refers to avoiding close contact with another human to provide property access. Contactless entry systems eliminate the need to come in contact with anyone by enabling remote property access through a device such as a smartphone.
The benefits of touchless entry
In 2020, COVID-19 introduced health and safety concerns related to spreading germs through shared surfaces. Even once the virus is a distant memory, innovative solutions that mitigate its spread will remain. As such, touchless entry is here to stay as residents and building staff recognize both its safety and convenience.
Safety
Multifamily housing must adapt to the new health-conscious reality created by COVID-19 to ensure a safe and hygienic environment for residents. Touchless entry reduces the spread of germs by eliminating the risk of transmission through high-touch surfaces like door handles.
While some buildings without a touchless entry solution may opt to leave the front door open, this only creates new safety risks. Keeping the door open all day is a security hazard and a waste of energy. Touchless entry systems allow properties to operate safely and efficiently during times of uncertainty.
Convenience
Touchless entry is not only a safety measure — it also offers unparalleled convenience. Hands-free entry means doors and devices are touched less, which means building staff doesn't have to sanitize as frequently.
Touchless entry systems also create an effortless experience for residents. Hands-free entry may seem like a minor convenience, but once it becomes routine, residents will appreciate the magic of opening the door without touching it.
How to achieve touchless entry
If you want to create a touchless entry experience at your building, turn to proptech. Today's advanced technologies make it possible to open and manage doors without ever touching them.
ButterflyMX's video intercom system for apartments is the best way to enable hands-free entry at your building. You can easily implement touchless entry by wiring our video intercom to your building's existing infrastructure. If you already have an access control system and/or motorized door hardware, connect them with the standardized relay outputs on our video intercom.
To implement touchless entry at your building, you'll only need three things:
A smart video intercom
An automatic door opener
A smartphone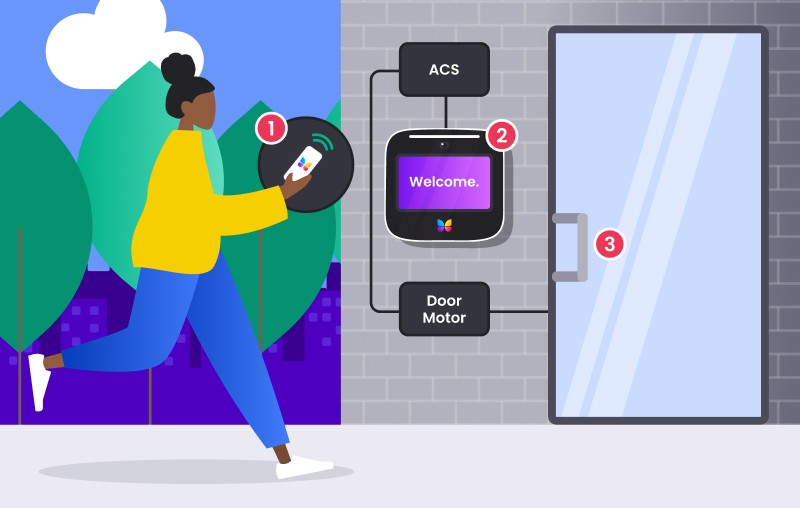 Automatic door openers
Automatic door openers let you open a door without actually touching it. They operate with electricity, which powers a motor that opens the door when triggered. That trigger could come from a button on the wall, motion sensors above the door, or even the resident's smartphone.
It's possible that your apartment building already has an automatic door opener, especially if it was built within the last 15 years. Check for a Request to Exit button at the entrance. If you have an automatic door opener, you can connect it to the ButterflyMX smart video intercom for touchless entry.
Why smartphone-based access is best for touchless entry
There's no denying that the smartphone is here to stay. We know that over 80% of Americans own a smartphone — and what's more, a 2017 study revealed that on average, smartphone users check their phones once every 10 minutes. This statistic confirms your assumption: if you have a smartphone, you have it with you at all times. As such, smartphone-based access is the most practical way to implement touchless entry.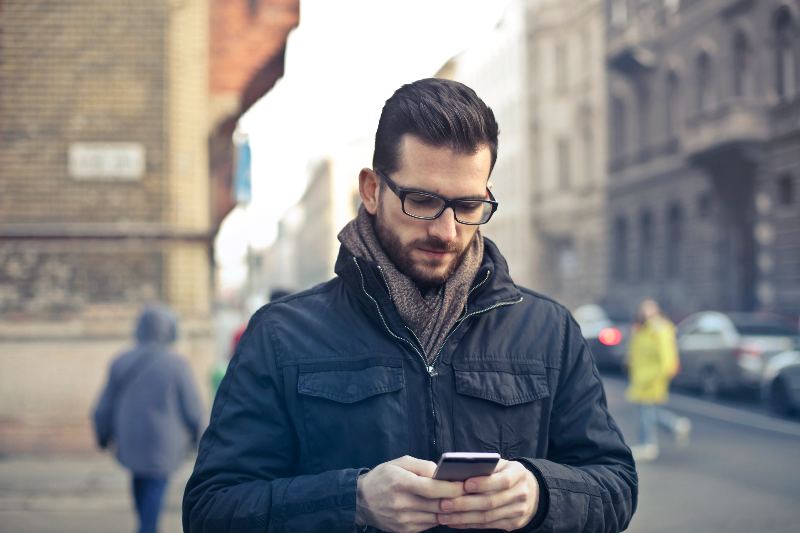 Smartphones also allow for Bluetooth and internet-based property access. Since modern multifamily residents have their smartphones handy when arriving home, these forms of access provide the most seamless entry experience. A resident simply holds their phone up to the intercom, allowing it to recognize their Bluetooth signal and grant access. This system eliminates fobs and keycards, which are not only inconvenient and easy to lose, but they can quickly become unsanitary.