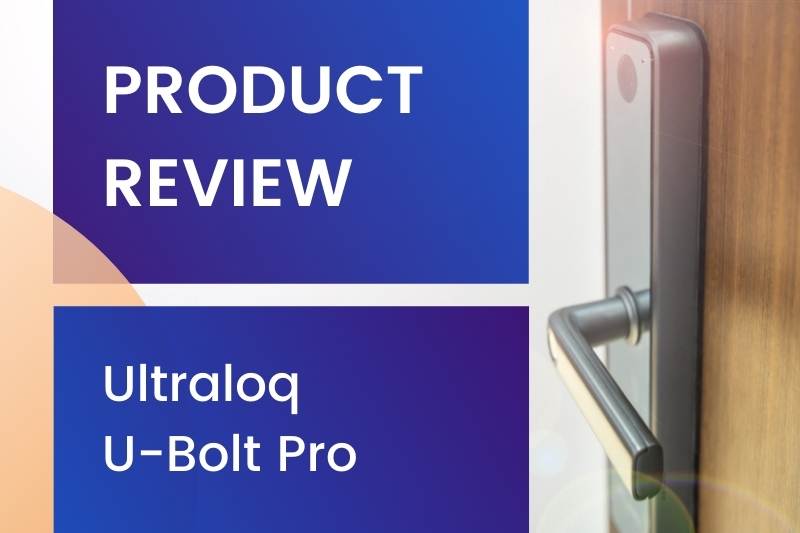 One of your key priorities when it comes to property access is balancing security and convenience. Residents should feel safe and secure as they go about their daily lives while still getting the convenience of easy property access. And as property access solutions evolve, we're seeing a growing trend of using fingerprint locks.
A solution like a biometric or fingerprint lock eliminates keys and simplifies access for residents. If you're in the market for one, you might have come across the Ultraloq series by U-tec, which enables keyless entry. We'll explore everything you need to know about the Ultraloq U-Bolt Pro, including its features and pros and cons.
This review covers:
About U-tec
U-tec offers a range of connected smart locks and is one of the leaders in the field. Based in Silicon Valley, U-tec invents and manufactures smart locks to create a keyless access experience. Their products are designed to be flexible and convenient while still offering robust security and protection.
According to U-tec, the company strives to bring together design and technology. Their team includes engineers, designers, and product specialists who work together to create smart solutions for robust home security.
Although U-tec primarily sells smart locks, they do sell a handful of related accessories including batteries, fobs, deadbolt cover plates, and a WiFi adaptor.
U-tec offers products designed for multiple industries, including:
Residential (single-family and multifamily)
Commercial
Short-term rentals
Enterprise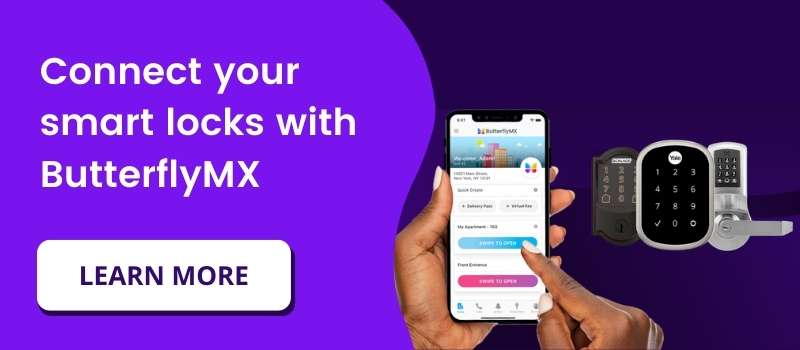 Overview of Ultraloq U-Bolt Pro
The Ultraloq U-Bolt Pro is a versatile smart deadlock with a small footprint and multiple unlocking methods. It is a small, square-shaped deadbolt-style lock that contains both physical numeric buttons and a fingerprint reader. You can also pull the lock's faceplate forward to reveal a traditional keyhole that accepts mechanical keys.
Of course, with the U-Bolt installed at your door, you can eliminate physical keys completely thanks to its many unlocking methods.
You can unlock the U-Bolt Pro with one of six credentials, which include:
Fingerprint
Mobile app
Apple Watch
Smartphone (using the "magic shake" entry method)
PIN code
Physical key
Additionally, the lock pairs with a cloud-based access control platform called ULTRALOQ Air. Using this software, property owners and managers can control access and manage their smart locks from anywhere in the world.
Features
Fast fingerprint reader: The U-Bolt Pro features a self-learning fingerprint algorithm powered by AI, with a 0.3-second unlocking speed and 99.8% accuracy.
Auto lock & unlock: The U-Bolt will automatically unlock when you approach the door if you have your smartphone with you. It'll also automatically lock behind you when the door is closed.
Tactile keypad: The lock includes a numeric keypad that accepts PIN codes. The keypad has an anti-peep feature, meaning you can add random digits when entering your passcode to protect it from prying eyes.
Mobile app: Pair the lock with the U-tec mobile app to allow residents to manage access, unlock the door, access entry logs, and get entry/exit notifications from anywhere.
Ekeys: Users can create and share Ekeys with friends, family, service providers, and other guests. They can set the Ekeys to only work on certain days or at certain times.
Integrations: The Ultraloq U-Bolt Pro integrates with various smart home solutions such as Google Nest and Amazon Alexa.
ANSI grade 1 certified: This is the highest commercial grade certification.
IP65 rated: So it's protected against the weather and suitable for outdoor use.
Emergency power solution: If the lock's battery dies, you can use its micro USB port for emergency power.
Dual data encryption: Enjoy two-layer protection with secure 128-bit AES and a Dynamic Key.
Ultraloq U-Bolt Pro pricing
The cost of the U-Bolt Pro fingerprint lock varies depending on whether you include any add-ons.
At the time of this writing, U-Bolt Pro lock pricing is as follows:
U-Bolt Pro + Bluetooth: $189.99
U-Bolt Pro + WiFi Bridge/Hub: $209.99
U-Bolt Pro with Built-In WiFi: $279.99
U-Bolt Pro with Z Wave compatibility: $249.99
Watch how to use the ButterflyMX keypad:
Pros & cons
Pros:
Multiple entry options: Unlock the door with a variety of credentials, including a smartphone, PIN code, fingerprint, and physical key.
DIY installation: Installing the U-Bolt Pro requires only four screws and a few minutes. No wiring or drilling is required.
Smartphone app: A robust mobile app allows users to unlock doors remotely, see who's entering and exiting, create digital access codes for visitors, and more.
Backup power: Batteries can die at any moment, so having a micro USB for backup power is a plus.
Cons:
Uncertain fingerprint storage capacity: U-tec's website doesn't appear to indicate how many fingerprints the U-Bolt Pro can store.
Requires some initial setup: There will be some time needed to get fingerprints scanned and understand keypad entry options
Expensive: Although cost-effective for a single door, it quickly gets costly if you're purchasing multiple locks for multiple doors.
No camera: No built-in camera for additional security or time-stamped access information.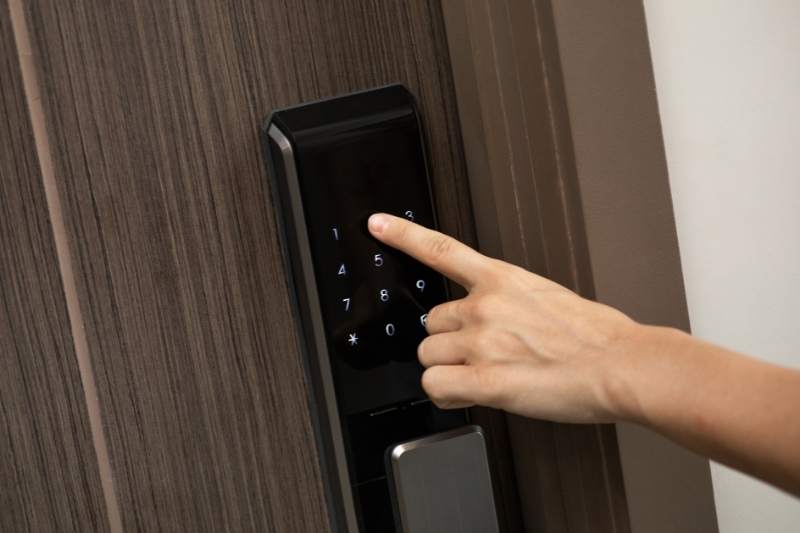 Should you get an Ultraloq U-Bolt Pro fingerprint lock?
The Ultraloq U-Bolt Pro is a welcome addition to the world of fingerprint locks and offers a lot of convenience and ease. Eliminating keys is always beneficial for residents and property managers, especially when replaced with a more robust solution that enables greater control.
However, while the Ultraloq U-Bolt may be suitable for one or two doors, it could be expensive to install them on every unit door. Additionally, the U-Bolt Pro may not integrate with as many proptech solutions (such as access control systems and property management software) compared to other locks. So, you may be better off with different smart locks.
Alternatives to the U-Bolt Pro fingerprint lock
One alternative is Smonet. Smonet offers a couple of fingerprint lock models: the ZNS-H001 and the ZNS-Y001. These smart biometric locks offer many of the same features as the U-Bolt Pro, including auto lock, eKeys for visitors, and a mobile app. As an added benefit, Smonet's fingerprint locks come in a classic deadbolt model as well as a lever handle model.
Samsung fingerprint locks are another possible alternative to Ultraloq U-Bolt locks. Samsung's smart biometric locks have a larger footprint than the U-Bolt Pro and include a lever handle. They can store up to 100 fingerprints, and certain models include an RFID key card/fob reader.
Finally, another alternative to the U-Bolt Pro is a smart lock that integrates with ButterflyMX.
ButterflyMX smart locks
ButterflyMX is the nation's leading access control provider for both multifamily and commercial real estate.
Offering a unified property access control solution, ButterflyMX integrates with more than 80 different smart lock models. When you install smart locks that integrate with ButterflyMX, you'll empower tenants and staff to navigate the building using one simple access ecosystem.
ButterflyMX offers a video intercom designed to control access at your front door or gate as well as access devices designed for interior entry points. So by purchasing smart locks that connect with these other powerful solutions, you'll enjoy a seamless access experience throughout your property.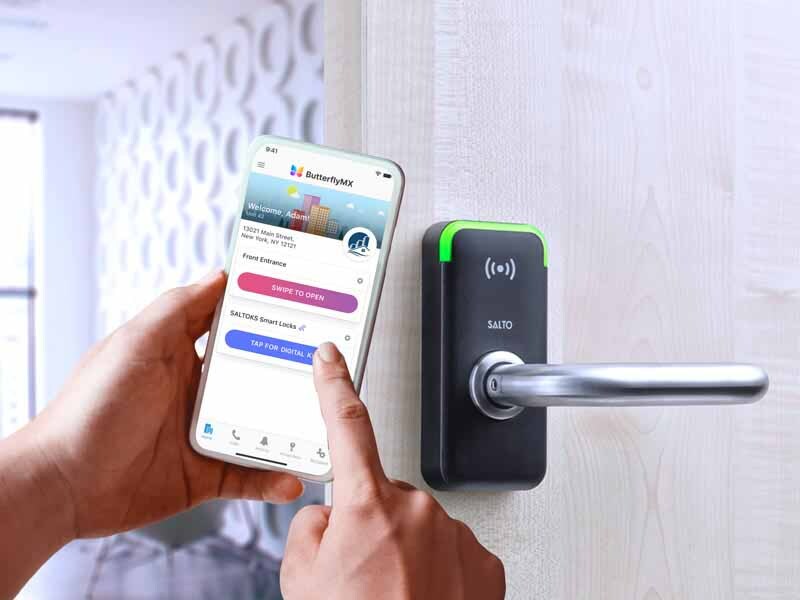 Takeaways
The Ultraloq U-Bolt Pro is a smart deadbolt-style lock that offers six different ways to unlock the door, including with a fingerprint.
U-Bolt Pro door locks pair with a mobile app for remote access management, door unlocking, entry log review, and more.
Instead of the U-Bolt Pro fingerprint lock, you may want to purchase smart locks that integrate with ButterflyMX.
Disclaimer: ButterflyMX provides these blog posts to help our customers and potential customers make the right business decisions for them. Our blog posts are based on the information we have available to us at the time of writing.