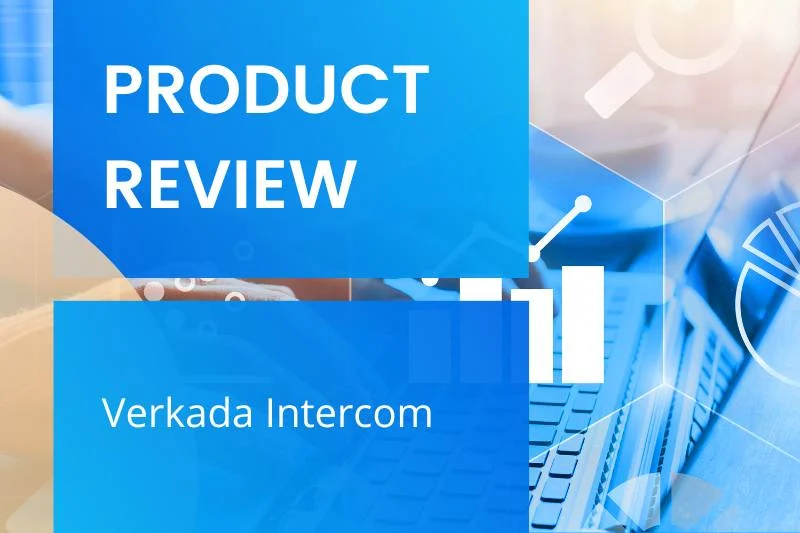 Key takeaways
Properties strictly looking to manage visitor access to their property might find the Verkada intercom suitable.
The Verkada intercom can send calls to four different types of receivers, but a staff member must be posted to accept calls and let them inside.
Verkada's video intercom may not support key cards or PIN code credentials, meaning tenants or employees may need additional hardware to access the building.
Verkada has released its first video intercom, making it one of the many solutions available to multifamily and commercial properties. But how well does the Verkada intercom stack up against others on the market?
This review will detail everything you need to know about the Verkada video intercom, including its features, pricing, pros and cons, and whether there's a better alternative out there.
This post covers: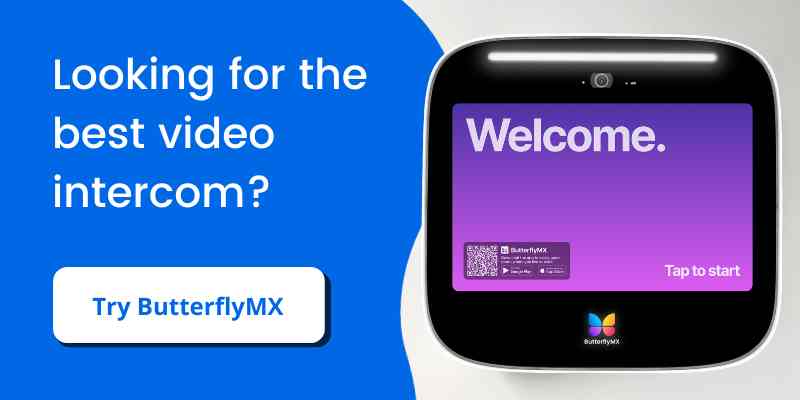 About Verkada
Verkada was established in 2016 as a video security company. Conceptualized in 2012, the founders learned how limited and outdated video security options were. So, they established Verkada to implement the latest technologies — most importantly, the cloud — into their products.
While Verkada started as a video security company, they have since expanded their product catalog to include access control systems, visitor management, air quality control, alarm systems, and now, video intercoms.
Overview of the Verkada intercom
Verkada introduced its video intercom on February 14, 2023. The Verkada TD52 video intercom is designed to replace outdated buzzer systems that require hard wiring throughout the building.
Capable of integrating with their other cloud-based products, the Verkada intercom is for organizations looking to secure their property's exterior entrances while providing a friendly experience for guests. Property staff can accept visitor calls from the intercom using one of four different methods: desk station, mobile app, web browser, or phone line.
Due to its cloud-based capabilities, the Verkada intercom doesn't require staff to man a front desk at all times or be in the same building, for that matter. Instead, receptionists or security guards can accept visitor calls from anywhere using the mobile app. As a result, property staff can continue their duties away from the desk without delaying guests.
Features
Power over Ethernet: The Verkada video intercom requires a power over ethernet (PoE) connection.
Durability: The TD52 video intercom is IP66 weather-rated and IK08 impact-rated, meaning it can withstand many types of climates. Additionally, Verkada has implemented a variety of installation mounts to suit any number of environments.
Built-in camera: Equipped with a 1080p infrared camera, the Verkada intercom provides a 130° field of view video feed all day and night.
Continuous recording: Verkada's video intercom continuously records footage for up to 30 days.
Dynamic call routing: Schedule Verkada intercom calls to concurrently or sequentially reach certain recipients at different times of the day.
Push-to-talk button: Visitors use the intercom by pressing a single button on the device. It's unclear if this automatically dials a resident, calls a front desk, or allows visitors to say a tenant's name to call.
Cloud-based software: Admins can manage the intercom system from Verkada's cloud-based platform called Command.
Learn how the ButterflyMX video intercom works:
Verkada pricing
The Verkada TD52 intercom with recessed mounting costs $1,599. In addition to the hardware, a Verkada cloud license is required.
Verkada cloud licenses are available at the following rates:
| Plan | Verkada's annual fee |
| --- | --- |
| 1 year | $249 |
| 3 years | $599 |
| 5 years | $999 |
| 10 years | $1,999 |
Not to mention, Verkada offers multiple intercom accessories sold separately:
Surface mount box
Angle mount box
Trim plate
Rain hood
Two-wire converter
Furthermore, Verkada offers a free 30-day trial. It includes a brand-new Verkada TD52 video intercom, full access to their web-based platform, shipping, setup, and customer support.
Pros & cons
Pros:
The hardware includes a 10-year warranty.
Verkada's intercom provides 24/7 video surveillance regardless of whether there is a call for up to 30 days.
Intercom calls can be received across four different receivers: mobile, browser, desk station, and phone line.
The video intercom integrates with Verkada access control systems, alarms, video cameras, and other cloud-based products.
Review past door events like unlocks, denied entries, and call history.
Cons:
The TD52 intercom is not equipped with a Verkada keypad or card reader, preventing tenants from accessing the property on their own without additional hardware.
A staff member must be posted at all times to accept calls and screen visitor access.
The intercom doesn't have a directory, which prevents guests, delivery drivers, and service workers from calling specific building occupants.
Couriers must request access to the building, which may hinder their deliveries — there are no specified delivery access codes for couriers.
No two-way video calling option.
There is no screen on the device, so visitors may not intuitively know how to use the intercom.
Best alternative to the Verkada intercom
While the Verkada intercom may help certain visitors gain access, it still may be lacking when compared to the ButterflyMX video intercom, which is the best alternative to Verkada.
First, unlike Verkada, ButterflyMX doesn't require a designated staff member to accept visitor calls and grant access. Instead, visitors can directly call any tenant or employee, and tenants have the ability to let in guests directly from their phones. The ButterflyMX video intercom is equipped with a user-friendly directory that guests use to contact those they're visiting. From their phones, tenants can see who's requesting access, speak with them, and open the door from the ButterflyMX mobile app. Of course, ButterflyMX also works with landlines and non-smartphones.
Equally important, users may send their visitors a virtual key to enter the building independently. Users may set parameters to the virtual key, such as making it for one-time use or choosing which days of the week it works. These options are especially helpful for residents who hire service workers like dog walkers or housekeepers.
Second, the Verkada intercom primarily focuses on guests rather than all building occupants. Therefore, it may fail to provide a holistic access solution. With the ButterflyMX video intercom, tenants, employees, and delivery drivers can access the building without additional hardware.
ButterflyMX supports mobile phone and PIN code credentials so that residents can easily access the building however they'd like. Properties can even set up delivery PINs for major couriers. That way, drivers can quickly access the building without waiting to be let inside. What's more, every door entry is recorded in the audit log with a date- and time-stamped photo, no matter the type of user.
Verkada video intercom vs. ButterflyMX video intercom
The Verkada TD52 video intercom may be a good option if you're interested in a system designed solely for managing guest access to the property. However, Verkada may not provide a comprehensive approach for your exterior entryways. When looking to manage access for all building occupants, including visitors, choose the ButterflyMX video intercom.
| Feature | ButterflyMX | Verkada |
| --- | --- | --- |
| Video camera | Yes | Yes |
| Cloud-based | Yes | Yes |
| Mobile app | Yes | Yes |
| Directory | Yes | No |
| Virtual keys | Yes | No |
| Touchscreen | Yes | No |
| Delivery Pass | Yes | No |
| PIN entry | Yes | No |
| Two-way video calls | Yes | No |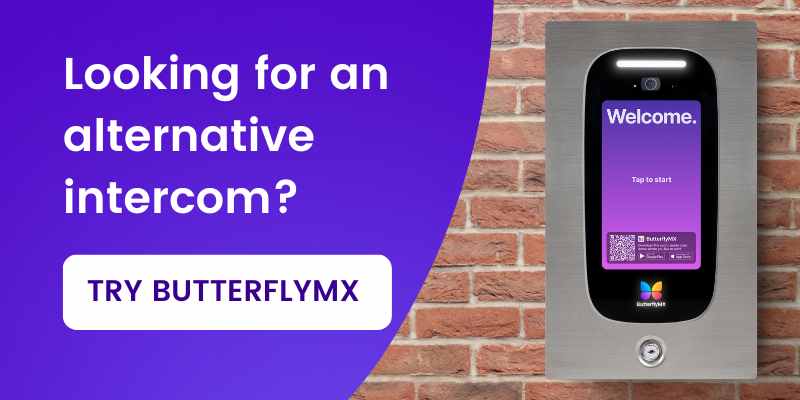 Disclaimer: ButterflyMX provides these blog posts to help our customers and potential customers make the right business decisions for them. Our blog posts are based on the information we have available to us at the time of writing.