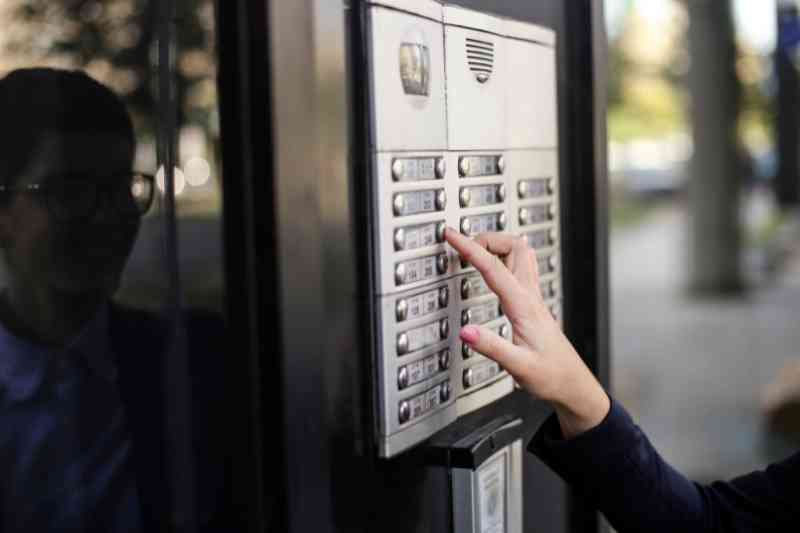 VoIP telephone entry systems manage access for hundreds of properties nationwide. They're the latest version of the old-school telephone entry system that has been installed in buildings for decades. But is VoIP telephone entry efficient and convenient? And most importantly, is it right for your property? Read on to find out.
In this post, we explain what a VoIP telephone entry system is and how it works. Then, we go over its limitations and offer you some alternatives that might suit your property better.
This post covers:
What is a VoIP telephone entry system?
A VoIP telephone entry system is an access control solution that uses a combination of internet and telephone technology to connect a guest at a front door with a tenant in a building, who can speak to and grant access to their guest.
VoIP stands for Voice over Internet Protocol, which is a set of rules that computers use to transmit audio telephone call data from one place to another. But don't be fooled by a VoIP system's internet capabilities. VoIP systems do the same job as older landline systems — the only difference is that you're connecting guests and tenants with the internet instead of telephone wires.
You can find VoIP telephone access control systems in both residential and commercial properties. After all, every tenant needs a simple, convenient way to grant access to guests and delivery couriers. Some buildings depend on VoIP telephone entry systems to do that.
Watch how ButterflyMX works:
A VoIP phone entry system has these parts:
Base station. Base stations are installed at the front of a property. These VoIP telephone entry units are what guests use to select the tenant they're visiting. Base stations come with a directory that lets a guest choose their tenant, as well as speakers and microphones so that the guest can talk to that tenant.
Substation. Depending on how you want to configure your telephone entry system, a substation can take on different forms. You might install telephone hardware in every unit to provide a way for tenants to grant access. Or, you can use your residents' personal phones as substations by connecting your base station to their phones. Your residents will be able to press '9' to open the door from their cell phones!
How a VoIP telephone entry system works
A VoIP telephone entry system works by using the internet to connect base stations and substations. This internet connection can be either wireless or wired. However, a wireless VoIP telephone entry setup is easier to install and maintain.
Unfortunately, even the most advanced VoIP entry phones are based on outdated landline systems that don't offer a lot of functionality. While other systems use the internet to greater effect, VoIP telephone entry limits tenants to the rudimentary functions of receiving calls and granting access.
Here's how a guest uses a VoIP intercom system to contact a tenant:
Guest selects tenant they're visiting. First, the tenant uses the directory on the base station to select the tenant.
Base station connects to substation. Then, the base station initiates a phone call that the tenant picks up using their substation.
Tenant grants entry. If a tenant is using their phone, they press '9'. Otherwise, they press a button on their substation that sends a signal to the base station and directs the door to unlock.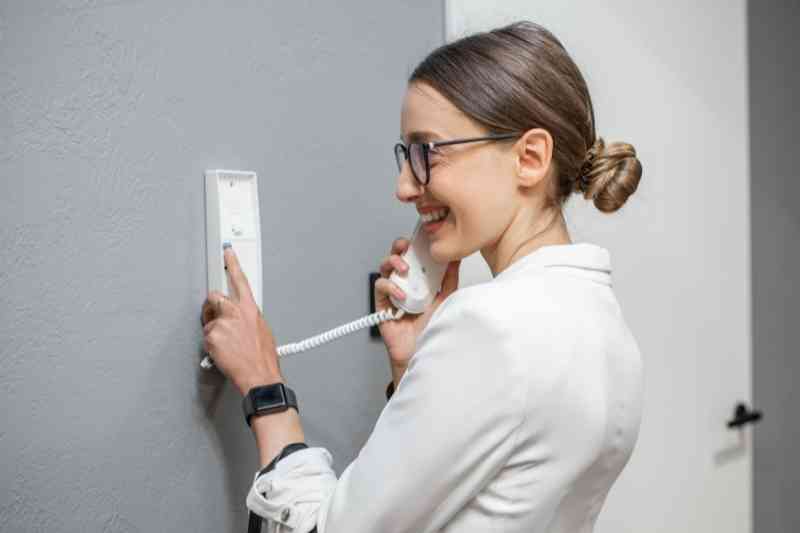 Limitations of a VoIP telephone entry system
If you're still considering installing a VoIP telephone entry system, here are some limitations you should know about first.
VoIP phone entry system drawbacks include:
No solution for deliveries
These days, tenants receive more deliveries than ever. The same technology powering a VoIP telephone entry system also powers websites like eBay and Amazon — and online ordering is so easy, there are now more than 36 million packages delivered per day just in the United States!
However, a VoIP telephone entry system can't guarantee access for delivery drivers. For example, if a tenant isn't home to answer their in-unit phone when the courier arrives, they'll miss their delivery.
VoIP phone entry systems also aren't sophisticated enough to offer useful features, like assigned delivery PIN codes or a one-time Delivery Pass that tenants can issue to their couriers.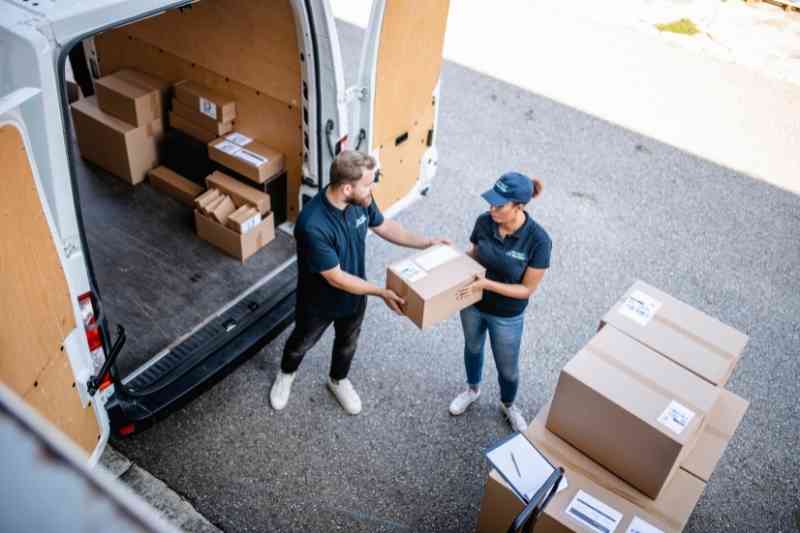 No smartphone app
It's true that VoIP uses the internet to facilitate calls. However, that's the extent of the way that a VoIP telephone system uses the internet. In an age where the internet is at our fingertips thanks to our smartphones, why stop there?
In truth, the best access control systems unlock the full potential of today's phones with apps that offer features that a VoIP telephone entry system can't.
For example, from the ButterflyMX app, residents can issue digital access codes called Virtual Keys that they can configure to only work at certain times or on certain days — perfect for recurring visitors, like house cleaners or dog walkers.
Only one way to grant access
VoIP telephone entry systems fail to offer you the flexibility of multiple access methods. A more comprehensive access control system gives residents and guests multiple options, like keypad PIN codes and a swipe-to-open mobile app feature.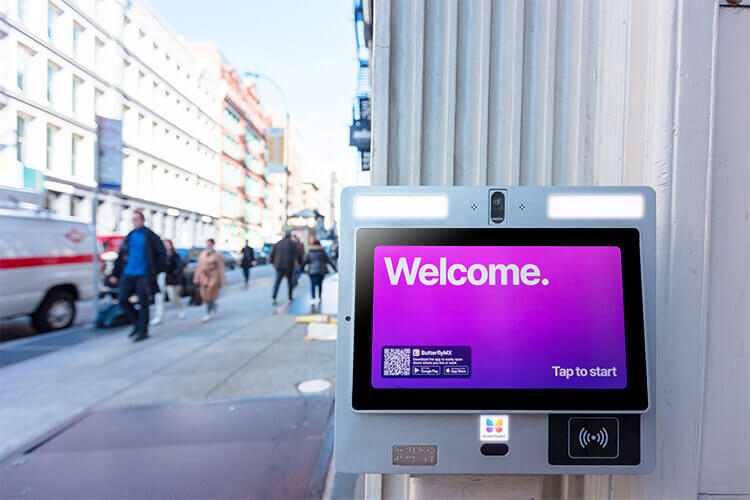 Alternatives to VoIP telephone entry systems
A VoIP multi-tenant telephone entry system takes advantage of some features of wireless technology, like wireless installation and allowing residents to open doors with their phones. But modern access systems give residents and staff alike access to a host of features that VoIP telephone entry cannot provide.
The best VoIP telephone entry alternative is a comprehensive access control system that uses the full power of the internet to adapt to the unique needs of your building. ButterflyMX's suite of video intercoms and integrated keypads can fill those needs for you.
Give residents the flexibility to issue keys and open doors with our smartphone-based intercom, which has all the features of a VoIP telephone entry system and more. And manage access to interior spaces, like gyms or coworking spaces, with keypads.
With our next-generation keypads, residents can issue temporary PIN codes that give their guests maximum flexibility. In addition, you can maintain security with the powerful ButterflyMX OS management dashboard, which lets you access an audit trail of all door releases and PIN code usages.
Want to give your residents more access options with key and fob access? How about the option to let your residents verify their identities and unlock gates without ever having to get out of their car? ButterflyMX has all these options covered with smooth, easy integrations that allow you to manage every access control device on your property from the same platform.
Takeaways
In conclusion, a VoIP telephone entry system isn't the best way to manage access on your property.
VoIP telephone entry uses the internet to connect substations and base stations, but other access control systems, like smartphone-based video intercoms, use the internet more effectively.
Choose a mobile access control system like ButterflyMX if you want to give your tenants access to features like Delivery Passes, Virtual Keys, and swiping to open the door from their smartphones.