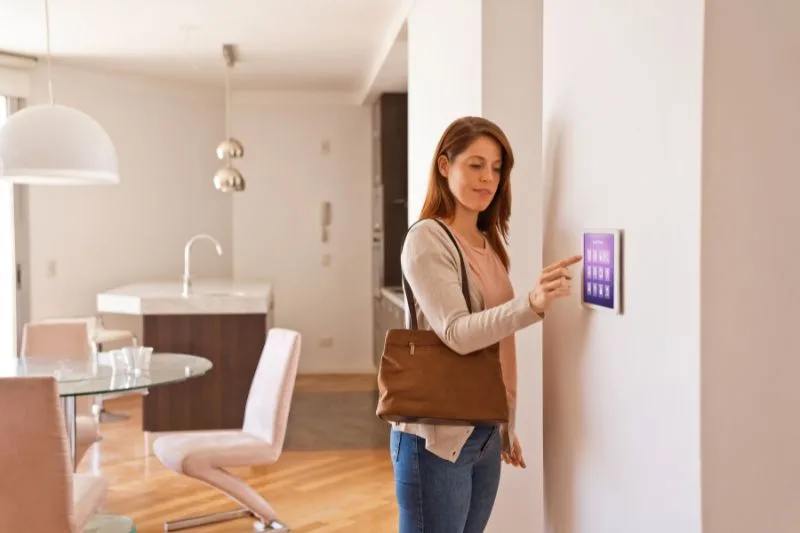 Living in an apartment creates unique concerns regarding physical security and safety. Fortunately, modern technologies have made implementing an apartment security system easy and affordable.
This guide details how to secure your apartment and what to look for when selecting an apartment security system. Most importantly, you'll find the five best security systems for apartments available today.
This post covers: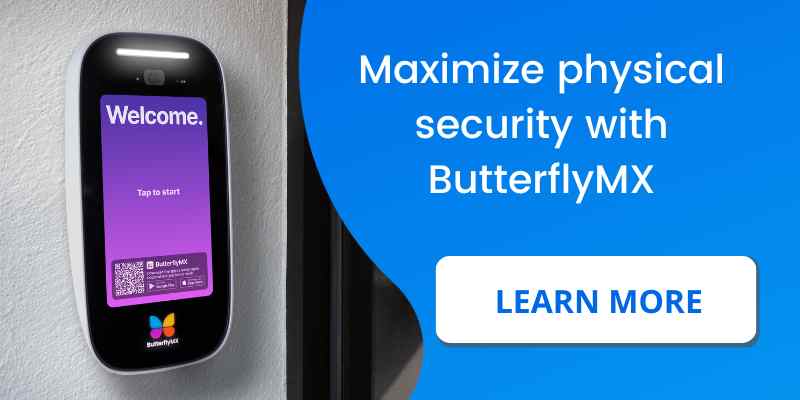 How can I secure my apartment?
You can secure your apartment by reviewing the lease agreement to determine which security features are permitted before implementing them. If the lease doesn't mention a feature you're considering or the rules aren't clear, speak with your landlord before moving forward.
Some common apartment security measures include:
Install security cameras. For most, security cameras are a viable option. While you likely can't hard-wire cameras in the apartment, you can purchase wireless or plug-in cameras to place around the unit. You might also consider a doorbell camera to keep an eye on any deliveries while you're away.
Secure sliding doors. If you have a sliding door to a patio or yard, ensure it remains secure. Place a sturdy piece of wood or a metal rod between the door and frame to guarantee it can't be opened from the outside. For those living above the ground floor, it's still wise to secure any sliding doors to outdoor areas, such as a balcony.
Use a door security bar. While there isn't much you can do to perfectly secure the front door, you can use a security bar at night. The bar wedges between the underside of the doorknob and the floor, reducing the chance of someone forcing the door open. What's more, door security bars can be found at your local hardware store or online for as low as $30.
Lock doors and windows. It may be obvious, but you should always lock your doors and windows. If your door or window locks are giving you trouble, reach out to your apartment maintenance team to address the problem sooner than later. In fact, locking the doors and windows to your apartment is the bare minimum when it comes to security.
Get renter's insurance. Most apartment buildings require residents to have renter's insurance before they sign their lease. With that said, you should maintain renter's insurance no matter what your lease says because it protects your belongings. Not to mention, renter's insurance is affordable, costing as little as $10 a month.
Learn everything you need to know about access control:
Should you have an alarm system in an apartment?
Yes, it may be a good idea to have an alarm system in your apartment as long as your lease agreement allows it. If your lease permits a home security system, installing one could greatly increase the safety of your home.
For those who are unable to install an alarm system, consider other security features, such as professional monitoring and surveillance cameras.
Can you put your own security system in an apartment?
Yes, you may be able to install your own security system in an apartment if your lease agreement allows it. There are many apartment security system packages available for renters. Many renter-friendly home security systems offer various tiers featuring 24/7 monitoring, cloud video storage, hardware, and more.
What to look for in an apartment security system
Unfortunately, not all apartment building security systems are created equal. Each system varies in quality and capabilities. So, you must know what features to look for when selecting a system for your apartment.
The qualities to look for in an apartment security system include:
Cloud-based. Legacy security systems are relics of the past as they're extremely costly to install and maintain. Instead, choose an apartment security system that stores data in the cloud. That way, you can cut down costs and easily manage the system remotely.
Wireless. A wireless apartment security system is perfect because it doesn't require extensive installation. As a result, wireless apartment security system installation is more affordable. Paying to run wiring throughout the unit or building can quickly add up, so avoid such a hassle with a wireless solution.
Cost-effective. Research the qualities and capabilities of the security system to ensure it's the best value for you. Your security system must meet your needs without compromising your budget.
Property-wide solution. Having the ability to manage your entire security system from a single app or web-based dashboard is invaluable. So, a security system that provides a solution for your entire property is more secure and convenient.
Integrations. Lastly, security systems should integrate with any existing hardware or software you use. This includes property management software, surveillance cameras, smart locks, your access control system, and more. That way, you can manage your system with ease without costing you more money.
6 best apartment security systems
With so many options, looking for an apartment building security system can be overwhelming. To help, we've compiled the best apartment security systems available below.
The best security systems for apartments include:
1. ButterflyMX
Established in 2014, ButterflyMX started with an apartment video intercom system. Today, it provides a property-wide access solution for apartment buildings, gated communities, commercial buildings, industrial facilities, and more. ButterflyMX's access control products are an important component of an effective security system.
ButterflyMX is a cloud-based access control company that improves security and allows residents and staff to access areas simply using their phones. The team at ButterflyMX has designed the system to work across the entire property, anything from doors and elevators to garages and individual units.
Some notable features of ButterflyMX include:
ButterflyMX app or web-based dashboard allows for remote management from any device.
Integration with video cameras, smart locks, property management software, and more.
Compatibility with WiFi- and RFID-based credentials.
Wide range of products, from video intercoms and vehicle readers to keypads and elevator controls.
Customizability that fits every property with options like hoods, pedestals, and a choice between surface and recessed mounting of the LED screen intercom.
Delivery PINs and virtual keys that provide temporary access for major couriers and authorized guests.
A security-conscious 156-degree wide-angle camera and an audit log to keep track of all entries and capture all the details of the user, including a time- and date-stamped photo.
Weatherproof and vandal-resistant design.
Pricing: The cost of ButterflyMX varies widely depending on the size of the property and which products you select. Contact their sales team to get a quote.
2. SimpliSafe
SimpliSafe has designed its products and security solutions to address renters' needs. With a no-contract philosophy, SimpliSafe lets residents install the products themselves.
Residents have the option to subscribe to SimpliSafe's 24/7 monitoring or choose to self-monitor. Regardless, SimpliSafe offers a vast range of products, from alarms and cameras to motion security sensors and video doorbells.
Notable features of SimpliSafe include:
Do-it-yourself apartment security system, reducing installation costs and remaining renter-friendly.
The SimpliSafe app allows you to control your system while also monitoring its status from anywhere.
24/7 monitoring service with a faster police response using their Fast Protect Technology.
Compatibility with smart home devices like Alexa and Google Assistant.
A full suite of products to cover the needs of renters and their apartments.
Pricing: SimpliSafe pricing varies based on the products you require. You may visit their website to shop for packages or begin building your own. 24/7 monitoring starts at less than $1 each day.
Can I use SimpliSafe in an apartment?
Yes, SimpliSafe can be used in an apartment as it's designed to be renter-friendly.
SimpliSafe offers a wide range of products for residents to customize their security systems to match their apartment needs.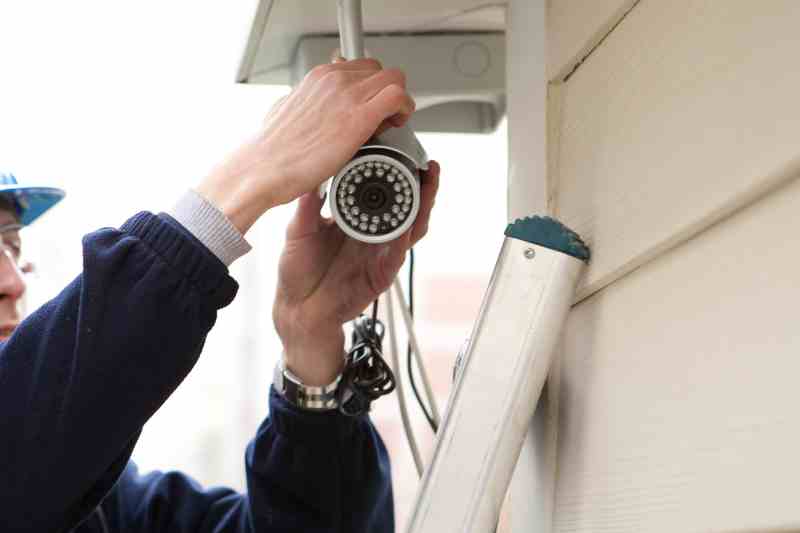 3. Abode
Like SimpliSafe, Abode set out to provide renters with a DIY home security system with no contract obligations. Abode has designed sleek and smart security devices that are easy to use. While Abode may be more expensive than competitors, the technology is often regarded as quite advanced.
With that said, Abode grants users access to their mobile app without a monthly fee. If you want to get started with Abode, they have starter kits to choose from, but they may be lacking features you may want, such as an indoor camera. Additionally, you may spend more on products with Abode than other apartment security equipment.
Abode includes features such as:
Integrates with HomeKit, Z-Wave, Zigbee, Alexa, and Google Home.
24/7 monitoring service offers rapid response to burglaries, break-ins, fires, and more.
Free access to the mobile app for users to manage and monitor their system.
Multiple starter security kits are available. Further, residents may customize their own solutions.
Products range from door security sensors and keypads to video doorbells and security cameras.
Pricing: Abode offers multiple packages to choose from. The Security Kit includes a security hub, mini door and window sensors, key fob, and window sticker for $279. For additional products, such as cameras, Abode sells them separately for $60.
4. Cove
If you want a professional monitoring service with your apartment security system, Cove may be for you. Cove requires professional monitoring, but you can start with as little or as much hardware as you want. Like its competitors, Cove is a no-contract DIY security system, meaning you can cancel anytime.
Cove has many features to benefit from:
24/7 professional monitoring service and customer service.
Compatible with Alexa and Google Assistant.
Upgrade at any time for only $5, making it perfect for renters who move frequently.
RapidSOS functionality provides a faster emergency service response to fires, medical conditions, burglaries, and more.
Pricing: Cove Basic is $17.99 a month, while Cove Plus is $27.99 a month. However, these prices do not include hardware costs.
5. Frontpoint
Frontpoint has leaned into being a renter-friendly security system for a rental property. As a result, apartment dwellers may benefit from Frontpoint's wireless products. Installation is simple with no wires and can be done on the renter's time. Like other options on this list, Frontpoint doesn't require a contract, so there is no obligation for residents.
Conversely, Frontpoint requires professional monitoring, which is more expensive than other options. With that said, the products available from Frontpoint include video doorbells, indoor cameras, motion sensors, glass break sensors, and more.
You can benefit from Frontpoint's many features:
No screws or wiring are required.
Offers free moving kits to take the system with you when you move.
24/7 monitoring and mobile app access.
Video analytics provide alerts that can be customized to your liking.
Includes identity protection from Allstate.
Pricing: Frontpoint pricing varies based on your need, but there is a starter pack for $129.
6. Ring
Ring was established in 2013 and has cemented itself as a household name across single and multifamily homes. Offering a vast range of home security products, Ring has proven to be a popular security solution for families. Ring provides customers with multiple security alarm kits, starting at five pieces of equipment.
Ring security kits include:
Alarm base station
Keypads
Door and window sensors
Alarm range extenders
Motion detectors
If you're already in the Ring ecosystem, the alarm security system may be a good option because all of your existing hardware — Ring cameras, doorbells, etc. — are compatible with the base station. This means you can manage your entire Ring security system from the same app.
Pricing: Ring's five-piece alarm security kit starts at $199, which comes with a 30-day free trial of Ring Protect Pro.
Are Ring doorbells apartment-friendly?
The only apartment-friendly Ring doorbell is the peephole camera. However, the Ring peephole camera requires you to replace your apartment door's peephole, so it may not be suitable for all renters.
This doorbell camera comes in two parts: the first attaches to the outside of your door, covering the peephole, and the second attaches to the inside of your door, containing the cable and battery.
Where should a Ring camera be placed in an apartment?
The best place to install a Ring camera in your apartment is facing the front door. If you have multiple cameras, prioritize large, expansive areas, such as a hallway or living area. This way, you have maximum coverage of your apartment at all times.
Takeaways
A good apartment security system is cloud-based, wireless, cost-effective, provides a property-wide solution, and integrates with existing hardware and software.
Secure your apartment by setting up security cameras, securing sliding doors, using a door security bar, locking doors and windows, and maintaining a renter's insurance policy.
Popular security options for apartment buildings include ButterflyMX, SimpliSafe, Abode, Cove, Frontpoint, and Ring.