Every apartment resident and manager knows how complicated community living can be. So, throwing green living into the mix may sound intimidating. But don't panic just yet! This article is here to guide you through easy and effective ways to approach eco-friendly apartment living.
Learn how to make apartment living eco-friendly in the following steps:
5 tips for eco-friendly apartment living
1. Make energy-efficient upgrades
We all know that fossil fuels aren't sustainable. However, as a resident or property owner, the idea of making big changes to your apartment's energy sources can be daunting.
If installing solar panels or converting to another renewable energy source isn't an option for you, consider some small changes with a big environmental impact.
Energy-efficient upgrades around your apartment are a simple, renter-friendly way to maintain eco-friendly living in an apartment.
Some eco-friendly swaps to consider include:
Coldwater washing machine instead of hot water
Hang dry clothes instead of machine drying
Energy Star certified appliances instead of less-efficient models
Fill the dishwasher all the way or handwash instead of running small loads
Ceiling fans instead of air conditioning whenever possible
Electric kettles for hot water instead of the stovetop
LEDs instead of halogen light bulbs
With a few small steps, anyone can lower both their electricity bills and their environmental impact at home.
Check out our top five tips for eco-friendly apartment living:
2. Get into recycling and composting
We've all heard, "reduce, reuse, recycle." But, sadly, it's not that simple. Many apartments don't have recycling programs and even fewer have composting options.
As a property owner or manager, you can add recycling bins to your property or start a community composting program for residents. However, if you're a resident in a building that doesn't have these options you may feel stuck.
Don't panic.
Take matters into your own hands with some of these simple solutions:
Sign up for curbside composting: Join other eco-conscious members of your community in a composting group. Services like BootStrap Compost in Boston will even pick up your green waste for you and return with a delivery of fertilizer you can use in your garden.
Lead a community initiative: Most cities have drop-off sites, like the NYC Compost Project, that will process recycling and composting for free. So all you have to do is work with your property manager to set up collection bins and schedule drop-offs.
Educate your neighbors: Even if your building has recycling and composting, people may not be using it correctly. Ask your property manager if you can distribute pamphlets or flyers that explain the process. You can even help add signs to the bins themselves labeling what goes where.
Building sustainable communities doesn't have to be hard. Get involved in your apartment community and see what a difference you can make.
3. Save water with some simple changes
As an apartment manager, owner, or resident, you may not be aware of how much water your apartment uses. However, reducing your water consumption is not only good for the planet but also for your building's budget.
Many energy-efficient appliances (like washing machines and dishwashers) also use less water than traditional models. So, if you can afford the initial cost, upgrading your appliances is worth the expense long term.
Low-cost ways to save water around your apartment include:
Swapping your shower head for a more efficient model
Fix water leaks, dripping faucets, and running toilets ASAP
Run dishwashers and washing machines less frequently
Collect rainwater for watering plants instead of using the tap
While efficient appliances, like low-flow toilets, are the easiest way to use less water, there's still a lot you can do for free. Shorter showers and fixing drips may not seem like much, but they can make a big difference for the planet.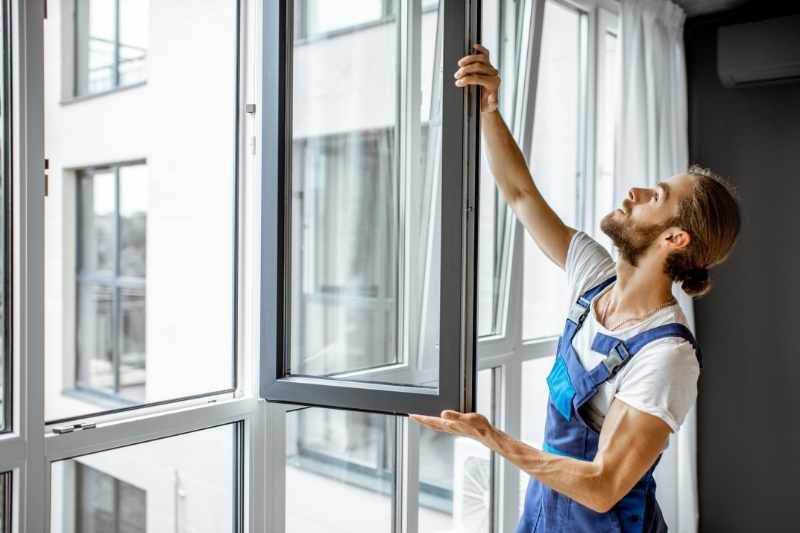 4. Insulate your windows and doors
Paying for heating and air conditioning gets expensive fast. So, why let that go to waste with poor insulation? Reduce your bills and environmental impact by keeping outside air out.
Try some of these insulation strategies for more eco-friendly apartment living:
Use draft stoppers, a weighted blocker, to insulate your door frames
Install curtains for windows to retain heat in the winter and block the sun in the summer
Seal drafty single-pane windows in plastic to keep out the cold
5. Shop sustainable furniture and decor
You've probably heard of fast fashion, but what about fast furniture? Many retailers like IKEA and Amazon offer cheap home goods at the expense of the environment. These items are less expensive but may not last as long.
Shopping with local and higher-quality manufacturers means your home goods are less likely to end up in a landfill a few months later. It may be more expensive now but your wallet will thank you later.
Furnish your apartment unit or building more sustainably by looking for the following:
Second-hand shops can offer high-quality goods for less and many even deliver, like Kaiyo and AptDeco
Repair or makeover your existing furniture to match a new style or room instead of replacing it with something new
Support local artisans, especially those using sustainable materials like reclaimed wood or plastic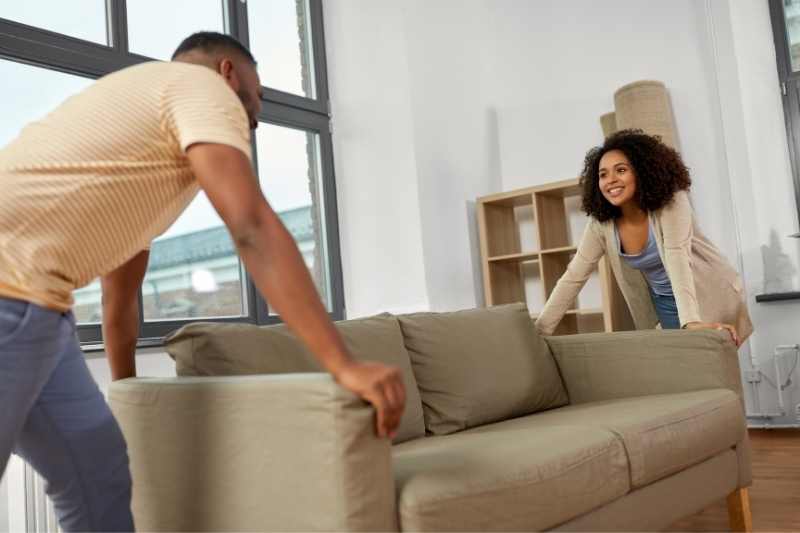 Is living in an apartment more eco-friendly?
There are many factors that determine if apartment living is more environmentally friendly than, for example, a single-family home. However, apartment communities can pool resources to create recycling programs, community gardens, and furniture swaps more easily than a single home can.
Also, apartment units are close together so they may have better insulation that keeps energy usage lower per person than in a house.
At the end of the day, eco-friendly apartment living is a choice and not a given. As an apartment resident, manager, or owner, it's up to you to do your part in creating a certified green building.
As a resident, how can I be eco-friendly in my apartment?
We've discussed many different approaches to eco-friendly apartment living. If you're living in an apartment, here's a recap of quick tips for eco-friendly apartment living that you can do yourself.
How to be eco-friendly in your apartment:
Choose efficient devices and appliances
Unplug cords, chargers, and devices when not in use
Look for ways to reduce water consumption
Avoid single-use plastics
Use eco-friendly transportation like walking and biking
Watch how ButterflyMX's package room works:
When building or renovating a property, how do you make a flat eco-friendly?
So, you're looking to renovate your property or design a new build to be more sustainable.
Green living apartments are more popular than ever with renters so not only is the investment good for the planet but it's good for your profit margins as well.
Here's a summary of sustainable building practices to consider for your property:
Incorporate sustainable building design by choosing eco-friendly devices, appliances, lighting, and more.
Invest in mobile access technologies for your building to reduce waste from making and replacing keys or fobs.
Encourage residents to use eco-friendly transportation like car-sharing, biking, and public transit.
Educate residents on sustainable practices like recycling and composting to make the process as seamless as possible.