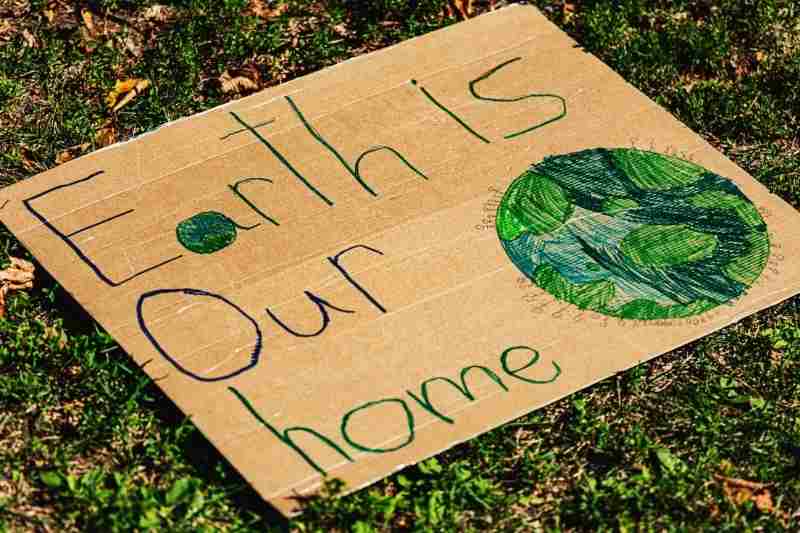 Climate change affects every facet of life – from our diet to our ability to survive natural disasters. Until recently, the real estate industry has been slow to address the gravity of climate change's impact on properties and the market. However, as we've witnessed over recent years, higher global temperatures and frequent natural disasters have had monstrous impacts on residential and commercial properties.
Damage to U.S. real estate from extreme weather hit a record high in 2017 – costing $300 billion in damages. The bulk of the damages impacted residential and commercial properties. The effects of climate change on real estate are too significant to ignore. Now is the time for property owners, developers, and tenants to take tangible actions to combat global warming by investing in sustainable buildings.
In this post, we'll discuss the following:
What's the climate change problem?
The biggest driver of global warming is carbon emissions by human beings. It's estimated that greater than 95% of the current warming trend results from human activities since the Industrial Revolution.
During this time, Europe and the United States transitioned to using fossil fuels in mass production. Burning fossil fuels produces carbon dioxide, which stays in the atmosphere for a long time.
The Industrial Revolution also caused mass deforestation, as forests were converted to farmland. Forest trees are crucial in absorbing carbon emissions — and without trees, those emissions go straight to the atmosphere.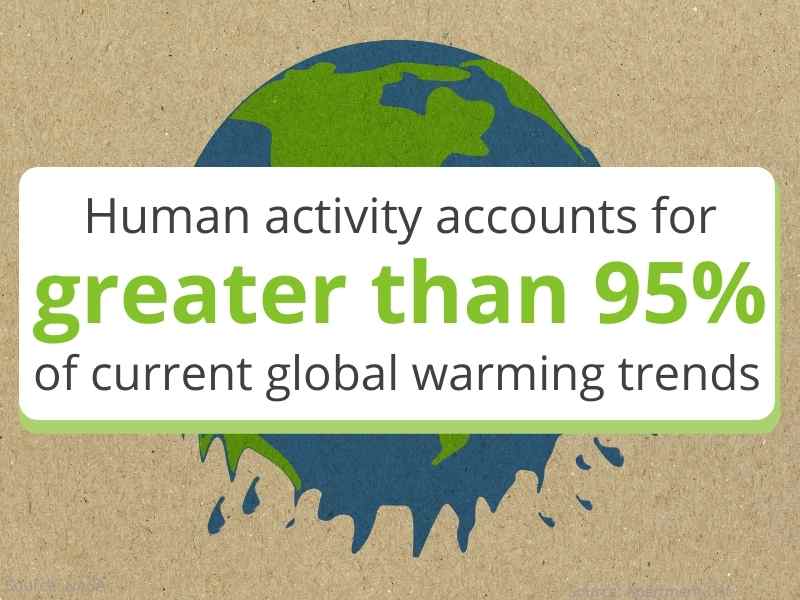 According to a 2020 Pew Research study, 62% of Americans said climate change is already affecting where and how they live. From forced migration due to property damage, climate change is altering your tenants' lives in several ways.
The role real estate has on climate change
Globally, real estate plays a massive role in global warming. It makes up a whopping 40% of the total carbon footprint on the planet. From construction materials to electricity that keeps buildings lit and comfortable, we use energy in so many ways. This energy usage emits vast amounts of CO2 into the atmosphere.
Furthermore, America's 125 million residential and commercial buildings use nearly 75% of the nation's electricity consumption. Even more, concrete and steel — the two most widely used building materials — account for roughly 8% of global emissions.
The Paris Agreement and the United Nations Development Goals are making big leaps to decarbonize the building sector. Decarbonizing real estate properties can address the environmental problem. And, in turn, decarbonizing results in cost savings, social equity, and tenant and staff well-being.
The rise of ESG in Real Estate
The Leadership in Energy and Environmental Design (LEED) movement of the late 1900s raised the standards for building environmentally friendly and sustainable buildings. This then gave birth to the concept of smart buildings, which use technology to reduce energy consumption and operating costs.
In 2006, the real estate industry adapted the Environmental, Social, and Governance (ESG) criteria for potential property investments. These criteria are intended to ensure that properties foster eco-friendly practices and measures, create a social impact on communities, and match the environmental and social needs of the local community.
How the ESG criteria apply to real estate properties:
Environmental: Evaluation of property's energy consumption, waste, and carbon emission.
Social: How the property fosters a community with tenants, staff, and the local community and how it promotes social responsibility and well-being.
Governance: The ethical practices in place to run building operations, compliance with federal, state, and local laws, and transparency about financial or policy changes.
As a result of these criteria, there has been an increase in the construction of sustainable buildings by sourcing eco-friendly materials and installing smart heating and ventilation systems. The impact of this is two-fold: It benefits the environment and boosts the return on property investment.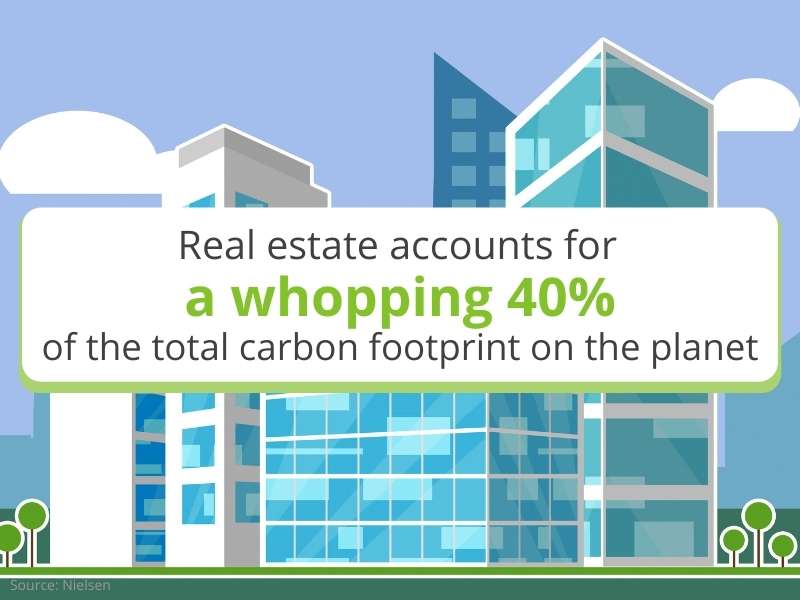 How is climate change affecting the real estate industry?
Climate change affects the real estate industry in various ways. Higher global temperatures and more natural disasters pose significant financial risks to building owners. Year after year, wildfires, hurricanes, droughts, and tornadoes can quickly destroy buildings, driving thousands of people from their homes and offices.
Although there's no agreed-upon estimate for the total value of the real estate at stake because of climate change, the value is inevitably enormous.
Swiss Re, a Zurich-based reinsurance company, found that in 2020, extreme weather caused a total of $105 billion in insured losses in North America. And according to the real estate brokerage firm Redfin, there was $2 trillion worth of real estate in parts of California most at risk of wildfires. As homeowners and residents flock away from areas threatened by climate change, home prices plummet. Low property values shock the U.S. economy, freeze loans, and diminish local taxes in affected areas.
Climate change-related natural disasters are rapidly sweeping through the country, and no geographical location is really in the clear. Therefore, all real estate properties must implement green building standards to combat climate change. Taking action can save the structure and value of buildings.
How is the industry becoming climate resilient?
From residents to asset management firms, each player in real estate is finally taking some tangible actions to address the climate problem.
For example, residents and tenants submit requests for proposals (RFPs) for their buildings to be eco-friendly. And major global financial firms – like BlackRock and Moody's – are putting climate resiliency at the center of their acquisition and deposition assessments.
Here are three tangible steps you can take to minimize a building's carbon footprint:
1. Increase construction productivity
A recent McKinsey study found that the annual productivity growth rate in the construction sector only increased 1% in 20 years, falling behind nearly every other industry. However, this opens up an opportunity to disrupt the construction industry by introducing a new era of productivity with decarbonization at the forefront.
As the United States starts taking actions to combat climate change, we have a chance to prioritize sustainability in new constructions, which boosts productivity. Whether working on new development, retrofit, or renovation projects, the design and construction plans must incorporate ESG values before any work begins.
2. Incorporate sustainable materials, technology, and designs
Today, there is a myriad of tools available to assess and analyze potential carbon emissions. Such data can predict a construction project's overall carbon emissions and then recommend low-carbon materials and products to use.
These recommendations can help combat climate change tremendously by minimizing carbon emissions. This type of supply chain management will help both new and current developments achieve sustainable competitive advantage. One example of a sustainable design technique is incorporating Passive House standards, which are guidelines for keeping the building's interior at a perfect temperature while using the minimum amount of energy. Partaking in sustainable design practices may also help you reach net zero at your real estate property.
Additionally, it's crucial to incorporate a circular design in a building so the property can easily be recycled, reused, and repurposed. In other words, a new property should be developed with the idea in mind that its use will constantly change and evolve. This way, we don't have to demolish buildings when they reach the end of their useful life. Instead, we can easily repurpose them.
3. Roll out the "green premium"
According to a Nielson survey, three in four millennials – currently the majority in the rental market – will pay more for sustainable products and solutions in their building. Millennials and younger generations are more in tune with the various effects of climate change on our planet.
Bill Gates coined the term "green premium," which refers to the idea of consumers paying extra for a clean technology over one that emits greater amounts of greenhouse gases.
For example, property managers could increase rent prices to install solar panels for a power source. If they adequately inform the residents of the reasoning behind the green premium, residents will be much more likely to comply.
Ultimately, the green premium pays for these new technologies that combat climate change and foster a cleaner environment for all.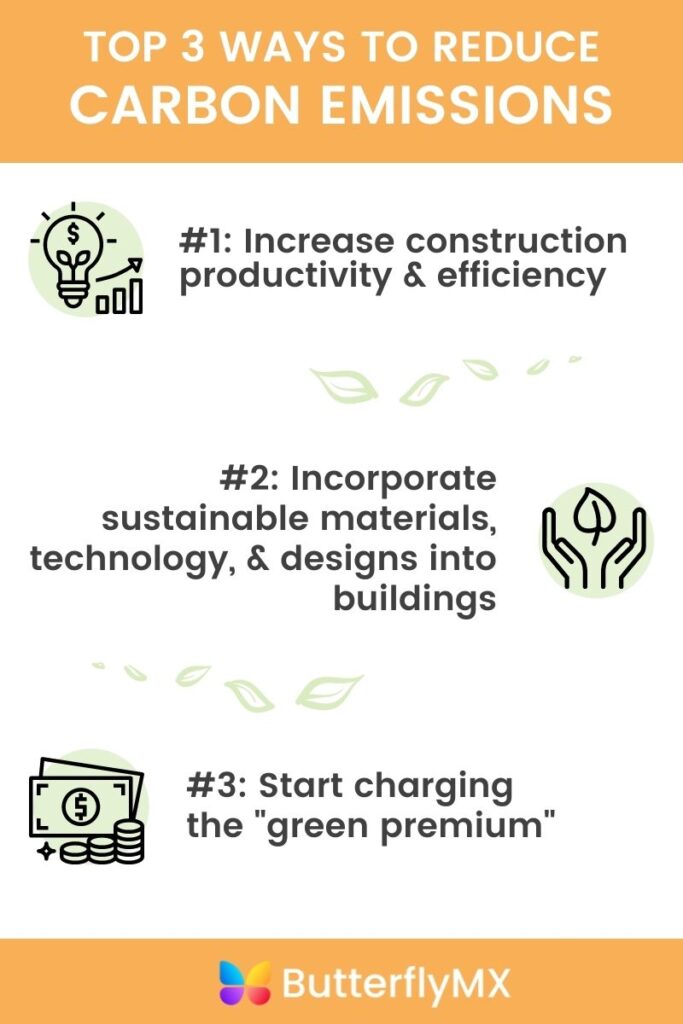 Start combating climate change by investing in proptech
Believe it or not, there are many smart apartment technology solutions within your reach that help combat the devastating effects of climate change.
As a reminder, the concept of smart buildings – which implement proptech solutions throughout the property – arose from the need for properties to reduce their carbon emissions. The accompanying benefit of these smart buildings is that they also simplify and streamline the resident experience.
Three proptech solutions that promote sustainability are:
1. IoT property management devices
IoT (Internet of Things) devices are connected and communicate with each other through the internet. All the data from these devices are stored in the cloud, which allows for remote access and management. For example, IoT video intercoms can integrate with property management software to streamline management.
One way buildings can combat climate change is by installing IoT devices that monitor energy consumption and CO2 emissions and recommend settings to improve those metrics. These devices can generate designs that meet both functional and environmental constraints by analyzing multiple databases and metrics. Using proptech in your building leads to reduced energy and management costs while increasing ROI.
Learn how sustainable building can help combat climate change:
2. Smart appliances
Smart appliances – also a part of the IoT ecosystem – are more energy-efficient than conventional appliances. These devices learn residents' behaviors and self-regulate their settings to conserve energy.
For example, smart windows automate tinting and blind controls by communicating with indoor building thermostats and lighting. As a result, you'll save on heating and lighting costs as well as reduce energy usage during peak sunlight hours.
What's more, property managers or owners can easily monitor the building's energy and water usage with smart appliances. These efforts ensure that your property is both energy-efficient and cost-effective.
3. Rainwater collection system
A rainwater harvesting system connects to a building's gutters to collect and store rainwater for non-potable use. These systems transfer the rainwater into holding tanks and then filter and pressurize the water before recycling it. Buildings use recycled water for irrigation, watering plants, and flushing toilets.
The revolution starts now
The real estate industry must face climate change head-on, which requires a widespread revolution.
From the initial planning and construction to residential life, there are small things we can do to minimize carbon emissions. And they'll make a significant impact in the long run.
Climate change is human-made, so we as humans must take tangible steps to reverse its effects and restore the planet to its natural state. The actions we take today to combat climate change will not only enhance the current health and wellbeing of buildings and human beings alike, but it'll also significantly impact future generations and their quality of life.