As environmental concerns rise across industries, creating a sustainable office building is more necessary than ever. The sustainable building revolution is gaining momentum, and you'll want to be sure your properties aren't left behind. The threats of climate change are well documented and your tenants likely care a great deal about supporting an eco-friendly environment.
In this post, we go over the key components of a sustainable office building. This includes examples of sustainable office buildings and sustainable office designs you should pay attention to. We also provide seven effective strategies that you can start implementing in your building today.
This post covers:
What makes an office building sustainable?
A sustainable office building is a structure designed and constructed with the environment in mind. Sustainable office buildings can be built out of eco-friendly materials. They can also be powered by renewable energy sources.
Buildings contribute to 40% of global C02 emissions. Without worldwide changes, these projections are likely to double.
As you can see, it's vital to consider sustainability when designing, constructing, or managing an office building. The most sustainable office buildings are those that reduce their carbon footprint and conserve energy.
Examples of sustainable office buildings
A great example of a sustainable office building is the Genzyme Center in Massachusetts. This building features an atrium that fills the majority of the building with natural sunlight. It's no surprise that it saves immense electricity costs.
Another sustainable building case study on the international front is China's Shanghai Tower. In addition to being the second tallest building in the world, it's also one of the most sustainable office buildings in the world. The tower's spiral-shaped design works with the strong winds that blow against it. This design also reduces production requirements for steel during construction. Turbines placed across the exterior of the building also convert wind into electricity, saving an immense amount of energy per year.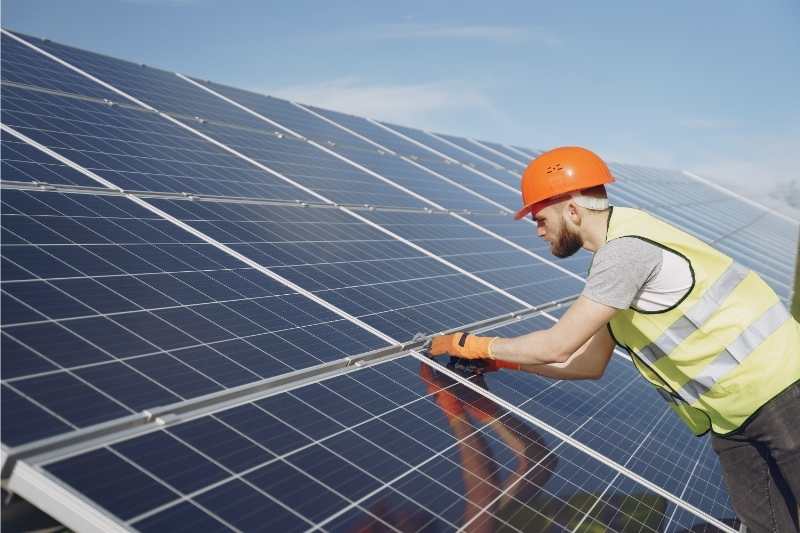 How do you build a sustainable office building?
Sustainable office buildings are built with natural materials such as wood sourced from forests in non-threatened regions of the world. Recycled metals and other materials are also important as well as any other repurposed material. Insulation, often made from harmful chemicals, can also be made from more organic material (such as sheep's wool or hemp).
Sustainable building design does not include plastics and materials that require significant chemical processing to manufacture from scratch.
Sustainable architecture also includes everybody's favorite eco feature: solar panels. Though costly upfront, solar panels pay for themselves in what they save your building in a few years' worth of electricity bills.
Green buildings do typically cost 2-7% more to build, so attracting clients that actively seek to support sustainability is a smart call. If you incorporate enough sustainable practices into your building, you'll be eligible for a green certification, such as one through a company called LEEDS. This can draw positive attention to your property and attract eco-conscious tenants who are willing to pay top-dollar for a sustainable building.
Learn what sustainable is and how it can help beat climate change: 
7 ways you can create a sustainable office building
Creating a sustainable office building starts with just a few small steps. Our advice is to implement one strategy at a time and make sure it's as effective as possible before you try another.
Many people think that reversing the effects of climate change means making sacrifices or dealing with minor frustrations for the "greater good." The strategies we present here are useful and will likely be enjoyed by both tenants and their employees.
These strategies include:
1. Car-sharing
Car-sharing might require a bit of tenant cooperation, but ultimately it's a big benefit to both them and your sustainability goals. This sustainable strategy involves the building providing cars for tenants to rent and share depending on their needs.
Co-workers can carpool to lunch and an entire team can head to an offsite company event as a group. Depending on the program you implement, tenants can either rent cars for free or for a small fee.
Adjacent to car-sharing (and especially if your building is in a more urban environment) is accommodating people who walk or bike to work. This includes including ample bike racks and ensuring that all entryways to your building are easy to access in an open and friendly environment.
2. Recycling
Recycling is the obvious sustainable office building strategy that is commonly implemented ineffectively. A blue bin next to trash cans is certainly necessary, but your recycling strategy can go much further than that.
Everything from computers to lightbulbs can be recycled when they eventually break. The average office accumulates a lot of electronic waste that requires more specific disposal methods than the blue bin. So, add signage or instruct tenants on how to properly recycle e-waste.
You can also implement organic recycling and even start a compost pile. Items here would include everything from banana peels to paper towels and tea bags.
3. Implementing smart bulbs
Smart bulbs are simple to use and easy to install. They are one of the easiest sustainable building practices to implement. Smart bulbs are light bulbs that turn on, turn off, or adjust themselves according to the environment throughout the day.
Dimming the lights during the day cuts down on electricity use. And having lights that only turn on when somebody enters a room or hallway saves energy, too.
As a nice touch, smart bulbs can be controlled from a mobile app so nobody has to leave their seat to toggle the switch. This is also helpful for property managers to control lighting when they're not on-site.
4. Installing smart windows
In the age of smart everything, windows are certainly no exception. Smart windows or energy-efficient windows are double-paned. This means they can be programmed to reflect heat while letting in light. This saves on air-conditioning costs and energy in the warmer months.
On the flip side, they can also be used to let in more heat during the winter. Additionally, they can block out the sun completely depending on the time of day, reducing the need for plastic blinds.
5. Reworking ventilation
Nothing beats fresh air. A building with a lot of easy-to-open windows with good airflow is sustainable in and of itself.
Unfortunately, this isn't always practical, especially with buildings that have a lot of interior space. So, an eco-friendly ventilation system will still bring in fresh, outside air and circulate it throughout the building. Some ventilation systems tend to recycle the same air (or are really just fans, blowing artificial AC).
6. Encouraging reusable supplies
As another easy-to-implement strategy, make sure everything your building provides is reusable. Forget paper plates and cups — instead, go for reusable mugs and utensils that can be washed.
Encourage tenants to use double-sided copies when printing or go paperless entirely. Envelopes and folders are almost always reusable. Purchasing used furniture for public spaces in the building is also a great and easy idea to implement.
If your building has a mailroom, you can also reuse packaging supplies when possible.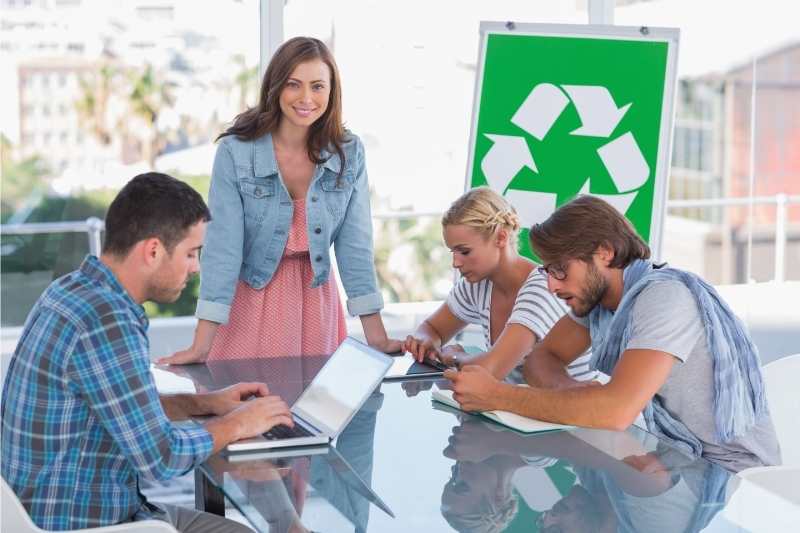 7. Creating a sustainability culture
One of the best things you can do for your sustainable office building is to turn sustainability into a culture. Owners and managers should let their environmentally conscious ambitions be known.
Make sure to:
Set up informational events and implement lots of signage throughout your building.
Give tenants the resources they need to ensure sustainable practices.
Create recycling or energy-saving contests between floors or companies in the building and provide prizes for the winners.
If you incentivize your tenants, they'll be excited to help you and your building meet your goals.
Takeaways
Climate change is a major threat to the real estate market. Sustainable office development involves adapting for a greener future in small but necessary increments.
Across the globe, countries are enacting mandates to reduce emissions. Converting to a sustainable office building not only helps the planet but can also put you ahead of the curve if local mandates are ever passed requiring sustainable practices.