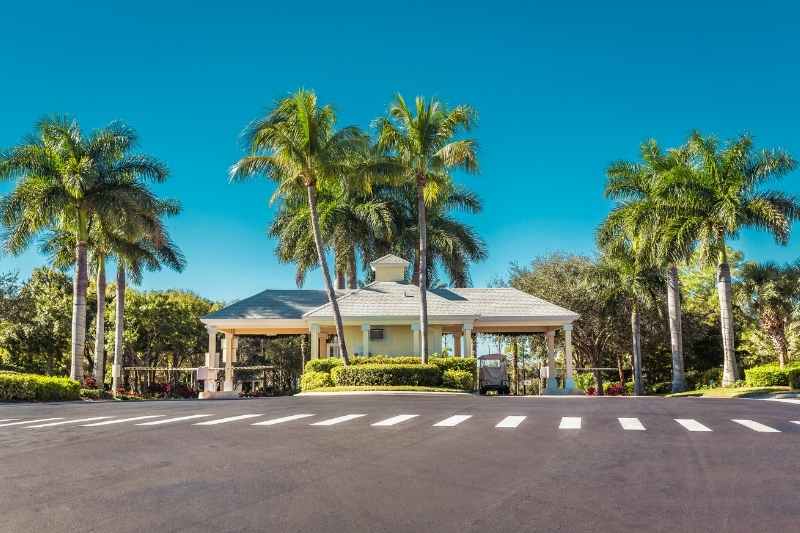 When shopping for a gate access control system, it can get overwhelming to find all the features and specifics about potential products. In this post, we'll simplify the buying process by reviewing gate access solutions from Envera Systems and what you should know about their products.
If you're looking for the best gated entry system, it's our hope that you find our review educational and easy to understand. In the end, you should have a clear idea of the best choice for your access control needs!
In this post, you'll discover:
About Envera Systems
Envera Systems was founded in 2007 and is headquartered in Coconut Creek, Florida. According to the company's website, its mission is to be a leader in community security. They attempt to accomplish this through surveillance and gate access control systems.
Envera Systems caters to gated communities with a broader focus on property managers and developers seeking security measures for neighborhood safety.
Envera primarily serves:
Condo associations
Community developers
HOA associations
Property managers
Residential developers
Additionally, Envera is a full-service provider, meaning they offer implementation, installation, equipment servicing, and monitoring.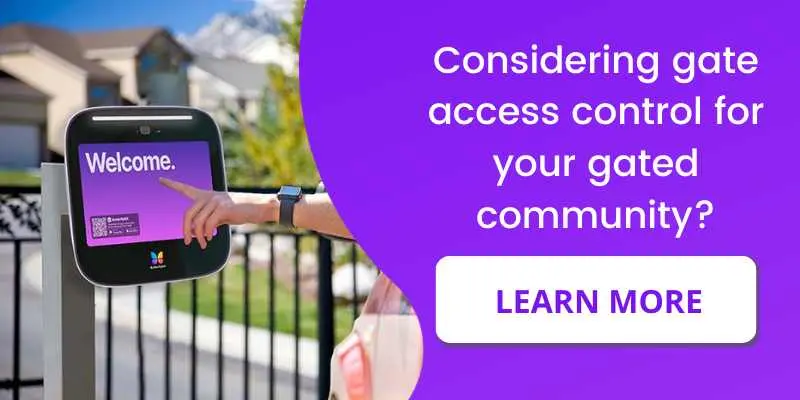 Envera Systems products
Envera offers products designed to secure communities at multiple access points. But before you purchase any Envera products, it's critical to know how Envera Systems work.
Envera Systems products include:
Virtual Gate Guard
What is a virtual gate guard? Some communities prefer to hire a guard to man the gate to their community. However, it's not always practical for budgets or the number of residents coming and going.
Envera's Virtual Gate Guard is designed to give the appearance of guarded security without the need for physical security personnel 24/7. In theory, this is a great solution. However, it may not be convenient for easy access after hours or in cases of system failures.
Envera offers two kinds of Virtual Gate Guards:
Driver's license reader: Drivers can use the ADLR (automatic driver's license recognition) kiosk to gain access by showing their ID to the Virtual Gate Guard. If a resident has registered the visitor in the MyEnvera system, the system will recognize the name on their license, and the gate will open for them. If the visitor hasn't been registered, then they'll be directed to a virtual guard who will contact the resident they're visiting and grant or deny access accordingly.
License plate reader: The license plate recognition system (LPR) will read the plate number of any vehicle driving up. If the license plate number is in the system, the gate will open for them. If the visitor's plate isn't registered, they'll be stopped at the Envera kiosk where a virtual guard will process their information and determine if they're authorized to enter.
Virtual Gate Guard features
Two-way audio calling so tenants can communicate with visitors
One-way video calling (only tenants can see visitors, visitors may not be able to see tenants)
MyEnvera web portal and app where property staff can remotely manage the system and residents can remotely register visitors and manage their access permissions
Optional Envera Guard Module Software for communities that want to use both an on-site gate attendant and the Virtual Gate Guard
Keeps record of all visitors (including those who are authorized and those who aren't)
Team of off-site virtual guards who will greet unregistered visitors and contact residents as needed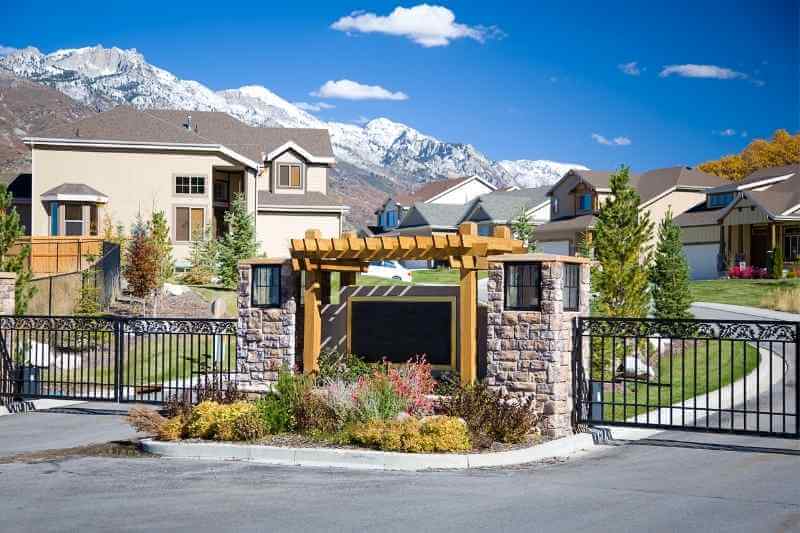 Access control system
Envera's access control system touts the ability to allow credentialed users access to their various entryways throughout the property.
Envera's access control system accepts multiple credentials, including:
Key cards
Fobs
Vehicle stickers
Biometrics
Although Envera's website lists these credentials, it's unclear what type of hardware Envera actually offers. However, the website does claim that the system has a browser-based database from which management can update resident access permissions.
In addition to access control products, gated communities can also heighten security through the use of video surveillance.
Video surveillance
Envera's video surveillance technology is simple. It's split into two categories and consists of uncomplicated features. However, it's worth noting that the video surveillance is less hands-on than the Virtual Gate Guard.
Envera's video surveillance products include:
Active video surveillance: Envera's active video surveillance system allows for real-time video coverage. And while the presence of video can be a crime deterrent, its "virtual" guard response may not be as timely as an actual guard may be.
Passive video surveillance: Envera's passive video surveillance solution records footage 24/7 that enables post-event monitoring. While this can help regain any stolen property or damages, it may not be as useful if something is actively happening.
Barrier gates
If you need a physical security solution at your entryway, you can purchase barrier gates from Envera.
The main purpose of barrier gates is to limit the potential for tailgating — the process by which vehicles can follow another through a gate without providing credentials. This can pose security risks that allow unauthorized visitors into the community.
Envera's barrier gates feature:
Open and close times of roughly one second
Optional LED lighting
Gate strike sensors, which notify a Virtual Guard at Envera's Central Monitoring Operations Center when the barrier is struck
Envera Systems cost
Envera pricing isn't available on their website. In this case, you'll need to contact them directly for a quote.
Keep in mind that you may only get a quote for hardware. But you might also have to budget for installation, software updates, maintenance premiums, and more. As a result, this access control system may be more expensive than other alternatives.
Learn how ButterflyMX controls access at gated properties:
Pros and cons
To help round out your research on Envera Systems, a pros and cons list is essential. Follow along below as we help flesh out the pros and cons of this access control company and its offerings.
Pros:
Envera Systems provides more than one access control option
The Virtual Gate Guard limits the need for a full-time security guard
Driver's license readers and license plate readers can speed up the visitor entry process
The MyEnvera mobile app makes it easy to manage the system on the go
Cons:
Both of Envera's video surveillance options may be limited in their scope
Tenants may not be able to use the MyEnvera mobile app to unlock doors and gates
License plate reader cameras and technology is notoriously expensive and requires that tenants know their visitors' license plate numbers. Visitors may be hesitant to provide their driver's license information and have it stored in the system
Envera may only allow one-way video calling
Barrier gates may affect community curb appeal with their LED features
Relies on a team of off-site, third-party 'guards' who work in Envera's Central Monitoring Operations Center — these employees may not be familiar with your unique property
Envera Systems may not have as many keyless entry options
Comparison of Envera Systems and ButterflyMX
Envera Systems offers a multi-faceted gate and visitor access management solution for gated properties. However, Envera relies on expensive technologies and off-site "guards", which doesn't give residents enough power or flexibility to manage their visitors and deliveries seamlessly.
In contrast, ButterflyMX offers a powerful unified property access control solution that effectively controls access both at your front gate and other access points throughout the property. With cloud-based software and a powerful mobile app, residents and property staff can do everything on the go.
| Feature | ButterflyMX | Envera Systems |
| --- | --- | --- |
| Two-way video calling | Yes | No |
| Mobile app | Yes | Yes |
| Virtual keys for visitor access | Yes | No |
| Smartphone-based access | Yes | No |
| Delivery access codes | Yes | No |
| Property management software integrations | Yes | No |
| Touchscreen hardware | Yes | Yes |
ButterflyMX vs. Envera
Envera Systems attempts to simplify vehicle access for visitors at gated properties, but their solutions may actually create more work for property staff and slow down the flow of traffic at your gated entrance. What's more, it's unclear what kinds of access control solutions Envera offers for access points beyond the front gate.
But with ButterflyMX, you get a unified solution that controls access for residents, delivery carriers, and visitors alike, effectively balancing security and convenience.
Here's a closer look at the key differences between Envera Systems and ButterflyMX:
Mobile app: Both ButterflyMX and Envera offer mobile apps and smartphone use. However, ButterflyMX offers the ability to unlock gates and doors by just swiping in the mobile app. Envera's app may not provide any quick door-opening methods.
Video intercom: While Envera's video surveillance system may be useful, ButterflyMX offers a two-in-one video intercom that controls access and takes a photo of every entry event for added security. Plus, the ButterflyMX video intercom doesn't require in-unit hardware or property-wide wiring and allows residents to vet visitors and manage access themselves rather than relying on third-party call center workers.
Visitor access solutions: While Envera offers license plate and driver's license reader solutions for visitors, they require residents to register visitors ahead of time. When a visitor arrives, an off-site guard still has to review the visitor's credentials and approve access. In contrast, ButterflyMX empowers residents to share virtual keys with visitors so they can quickly gain access without residents having to manually let them in.
Vehicle readers: ButterflyMX offers vehicle readers and windshield stickers that identify registered tenants' vehicles. But visitor access is still simple because guests can quickly scan a virtual key or request access via video call. Alternately, Envera's license plate reader relies on license plate numbers and requires residents to register every visitor in advance. This limits visitor access and creates more work for property managers, HOA boards, and condo associations.
Takeaways
Envera Systems is a company that touts industry-leading access control systems for HOA associations, gated communities, condo associations, and more.
Envera products include a Virtual Gate Guard, active and passive video surveillance, barrier gates, and an access control system.
Envera doesn't include pricing information on their website
Instead of Envera Systems, you may want to consider a unified property access solution like ButterflyMX, which is designed for every access point throughout your property.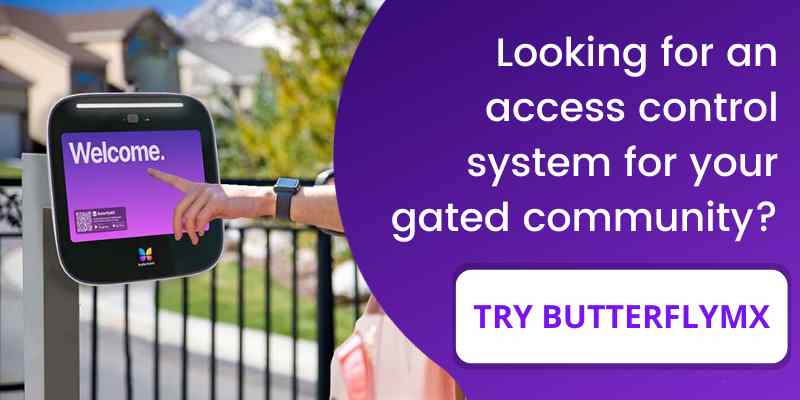 Disclaimer: ButterflyMX provides these blog posts to help our customers and potential customers make the right business decisions for them. Our blog posts are based on the information we have available to us at the time of writing.