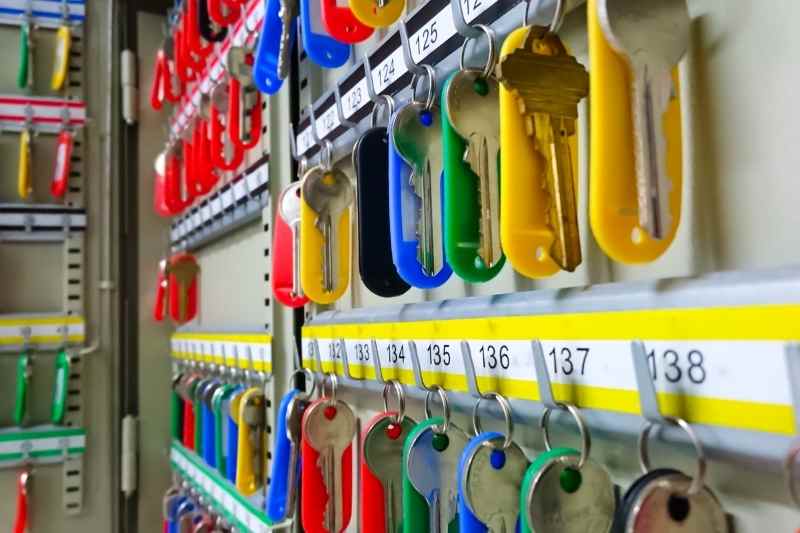 Whether you own or manage a property, your responsibilities are many — and that includes managing keys of all kinds.
Key management is the process of effectively storing and organizing physical keys. These include apartment unit keys, front entrance keys, and even mail keys that are critical to a functioning building. Your job is to make sure they aren't lost or stolen, whether you use a key cabinet, key locker, or safe.
Read on to learn more about key cabinets, including how and when to use them. You'll also discover how to choose the best key cabinets as well as alternative key storage solutions.
Keep reading to discover:
What is a key cabinet?
A key cabinet is a storage solution that keeps physical keys safe and organized. With a key cabinet, keys are centrally located — making them easy to monitor, find, and use.
Most key cabinets have a door and possibly a lock. For maximum security, choose a key cabinet with a lock. This could be a traditional keyhole lock or a combination lock with a numeric passcode.
Usually, key cabinets are stored in a lobby or near the front desk. You can place your cabinet on the floor or a table, or opt for a wall-mounted key cabinet.
Traditional key cabinets aren't electrically powered, requiring manual operation. However, there are some electronic key cabinets.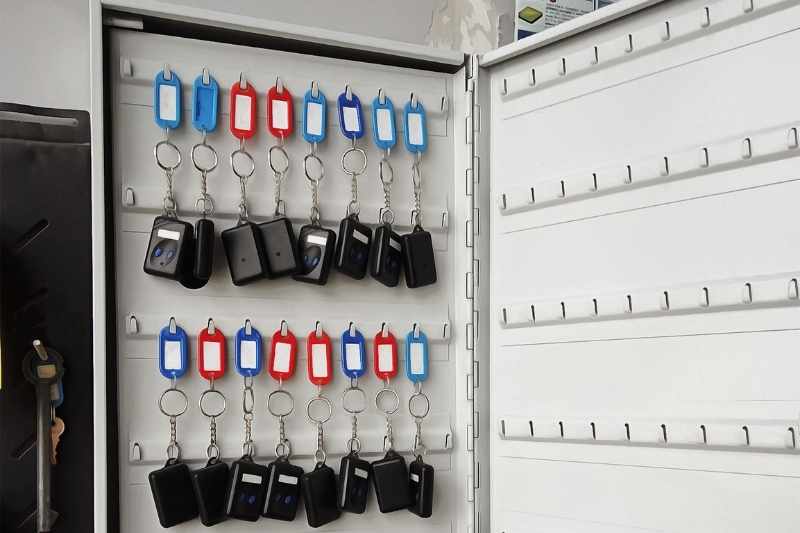 Key cabinet use cases
It's no secret that managing property comes with big responsibilities, and a lot of those will include the use of keys. Whether for an apartment or an office, both residential and commercial key cabinets help property staff share keys and maintain security. Depending on the number of units in your building, there could be hundreds of keys to keep track of, including spares.
Some cases in which you'll need to use a key cabinet:
Self-guided tours
Another great aspect of key management systems is that they make self-guided tours much easier. Between conflicting schedules and health concerns, some prospects prefer to conduct their own unit tours.
With a code-enabled key cabinet, managers can leave the unit key in the cabinet ahead of the tour slot for prospects to find. They only need to use the PIN or combination code, and then when they're finished, they can drop the key back off in the cabinet!
Learn more about self-guided tours: 
Storing shared keys
As mentioned, you need keys for almost every aspect of property management. This includes unit keys, storage closets, utility closets, and shared keys.
Shared keys are those that have more than a single owner and are used frequently enough to merit easy-to-use storage. A key cabinet is a safe place to keep them and can make them easy to access for anyone who needs them.
Guest key retrieval
Sometimes, guests — like friends, family, and service providers — will need keys to access a resident's unit. If you have a strategically placed cabinet, you can keep keys in it for these limited instances.
Service provider access
Service providers like plumbers, IT, or electrical companies will need access to rooms within the building. Your schedule is busy, which means a cabinet to leave keys for service providers will free up your time.
How do I organize my property management keys?
You probably have a key for every access point throughout your building — which means you have a lot of keys! And without a proper storage system, they're easy to misplace.
You can organize your property management keys by: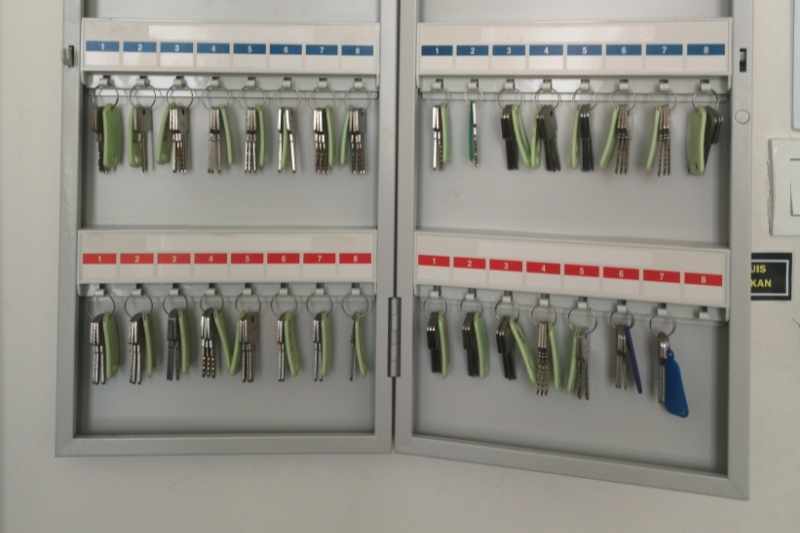 Choosing the best key cabinet
Before buying any product for key management, it's important to get a feel for what makes for the best key cabinet. You'll first need to know your needs, then read on to understand the types of key cabinets from which you can choose.
Here are some things to consider when choosing the best key cabinet:
Key cabinet alternatives
Key cabinets are not the only option — which is a plus for anyone looking for the most helpful key management system. If you find that a cabinet isn't what you're looking for, a key locker could be your best choice.
A key locker is a keypad-controlled locker system where property managers can securely store keys.
So why is a key locker the best way to effectively manage physical keys?
With a locker system, you can leave keys inside one of the many compartments until a guest, prospect, or service provider needs them. When they're ready, they use a PIN code you provide them to retrieve the key. Once they close the compartment, it locks itself, making it very secure and easy to use.
Learn how to set up the ButterflyMX key locker: 
ButterflyMX Key Locker
The ButterflyMX Key Locker is a simplified, keyless access option that allows you to secure keys within one of the many compartments. Visitors can enter a PIN on the keypad that will open the compartment containing the desired key.
This key management option is perfect for self-guided tours, service providers, and just about any event where staff can't be present. It's also secure, easy to use, and reliable.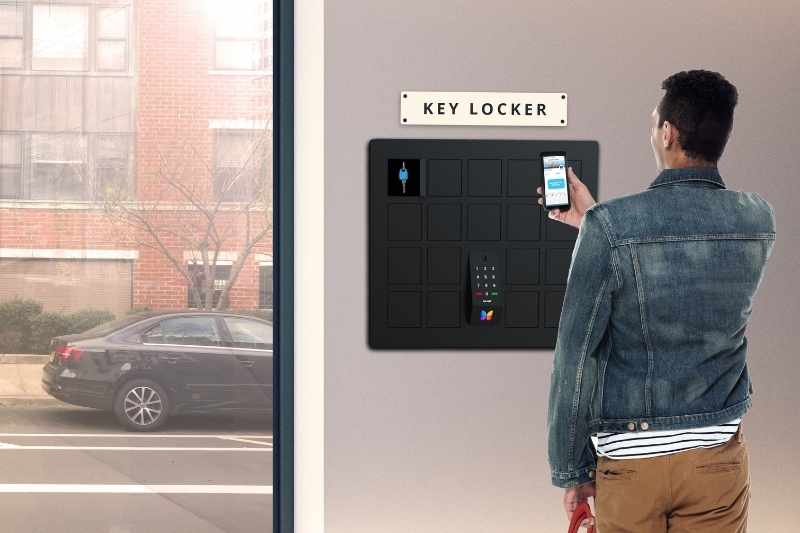 Takeaways
When it comes to key storage systems, a key cabinet is a solid choice with many variations and options from which to choose. Key cabinets can help maintain key organization and security with minimal stress.
However, if you're looking for the best key storage solution, consider a key locker instead. The ButterflyMX Key Locker is a convenient and secure digital key management system that will save you time and ensure simple, safe access.