One great option for managing access at your property is to invest in a secure key storage solution. Key management systems give property staff and even residents the freedom to store keys when they're away from the building and ensure approved guests have easy access to various rooms and spaces.
However, there are a number of different key management systems to choose from. This guide defines what a key management system is and how it benefits your building. Next, we'll explore four types of key management systems, including the best option — a key locker.
This post covers:
What is a key management system?
A key management system is a device or series of devices that stores and keeps track of physical keys for different rooms throughout a building, such as apartment units, amenity spaces, and offices. Both property staff and residents may use a key management system to ensure that trusted visitors can retrieve a key and unlock doors or gates they need to access.
A physical key management system is usually a box, locker, safe, or another type of vessel with one or more compartments where staff and tenants can place keys or fobs. Most key management systems require visitors to enter a unique PIN code or provide some other form of credential to access the keys within. Electronic key management systems may also include software or a digital platform where building management can oversee the entire system.
What does a key management system do?
A key management system serves as a secure place to store keys for people who will need to gain access to a building or the rooms within.
Consider using a key management system for:
Offering self-guided tours so prospects can retrieve a key to access various parts of the building
Allowing tenants to leave behind a key for friends, family, and service providers like dog walkers
Storing keys for one-time or recurring property maintenance teams and service providers
Storing keys in a key keeper for delivery couriers
How much do key management systems cost?
Typically, key management system vendors charge between $200 and $3,000 for systems that feature multiple key compartments.
Conversely, key lock boxes — one of the simplest key management systems — cost between $10 and $40. Keep in mind that key lock boxes typically only accommodate one key at a time.
The benefits of physical key management systems
A key management system for property management is a wise investment for both multifamily and commercial properties.
Physical key management solutions benefit both property managers and residents because they:
Simplify visitor management. Visitors can easily retrieve their keys without disturbing staff or any other residents.
Enable seamless self-guided tours. Prospective residents can tour your property at their leisure without needing an on-site staff member to let them in.
Save time for building staff. A key management system eliminates the need for building staff to oversee visitor access 24/7 since visitors can retrieve keys themselves.
Empower tenants to easily manage access for their trusted guests. Quite often, residents want to provide a key for pet sitters, overnight guests, special deliveries, and family members. But they can't always be there to hand somebody a key directly. A key management system is a more secure alternative to leaving a key under the doormat.
Boost security. A key management system stores keys in a safe place. Only someone trusted with a unique code can access the system.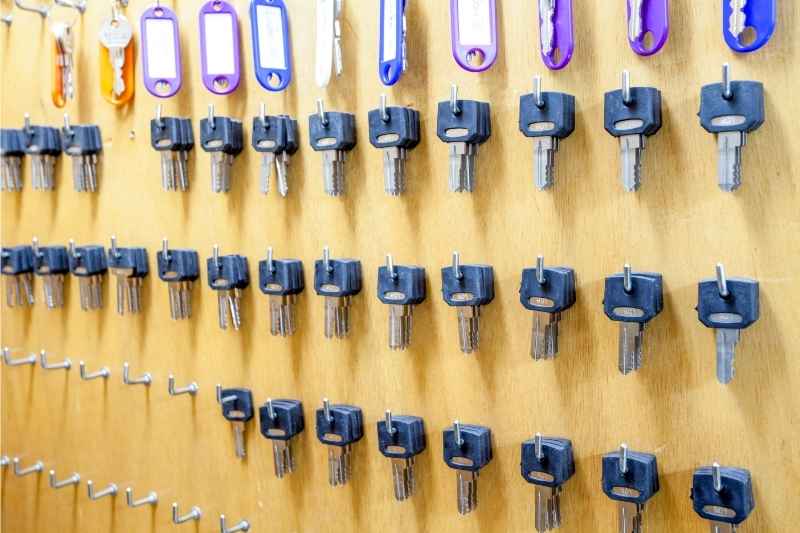 The 4 types of key management systems
There are generally four types of key management systems that you'll want to explore before deciding what's best for your building. The biggest difference between the following systems is how many keys they can hold and how secure they are.
The four types of key management systems are:
1. Key cabinets
As the name implies, a key cabinet is a large cabinet where anyone who opens it can take one of the keys inside. Keys can be arranged in a row and by unit numbers if you choose.
Usually, keys in the key cabinet are secured in place by an electronic hook. Key cabinets may also feature a keypad that can be used to enter each key's unique PIN code to release it. However, more simplistic key cabinets are less secure because they don't require people to enter a credential before retrieving a key.
The key cabinet can be handy for storing all of your building's keys in a single place.
Pro tip: Key cabinets can be useful, but might not be the most user-friendly. If the keys aren't properly organized, then visitors might have trouble locating the right ones.
Also, some key cabinets don't feature electronic locking mechanisms. As a result, anybody can take any key they please, which poses a massive security risk.
2. Key lock boxes
A key lock box is a single-key storage solution. You can open a lock box by entering an alphabetical or numerical code.
Most key lock boxes feature a hook-based lock that can attach itself to doorknobs, railings, and fences. Residents may use them to store a key for their dog walker, and property staff generally use them to leave a key for maintenance workers, service providers, and prospects taking self-guided tours.
Pro tip: The downside of key lock boxes is that they can leave a mess on your property. Picture your front gate or staircase filled with half a dozen lockboxes and imagine how that will drastically impact curb appeal.
If you opt to use lockboxes for tours or to provide access for visitors, consider having a designated space in your building to place them. Preferably, this will be indoors or close to the main entranceway (bonus points for being in sight of a camera). If you choose to place your key lock boxes outside, make sure you invest in weatherproof key lock boxes for outside. 

3. Key safes
A key safe is essentially the same as a lock box but larger. Similar to non-electronic key cabinets, anybody can grab the keys stored in a key safe, whether they're the intended recipient or not.
Most key safes are locked, requiring anyone seeking a key to enter a PIN code or other credential.
Key safes are bigger and stronger than key lock boxes, so they're less likely to be damaged or stolen. But still, they are best used for single residents or for your office and maintenance staff members only.
4. Key lockers
Key lockers are smart key management solutions containing multiple compartments, usually secured by a keypad or other access control device that requires users to enter a code to unlock a compartment.
The compartments are attached to one another, but each compartment can be opened separately and stores a single key.
The best key locker systems can be managed remotely from a web-based dashboard. From the dashboard, building staff can manage key storage and generate compartment access codes.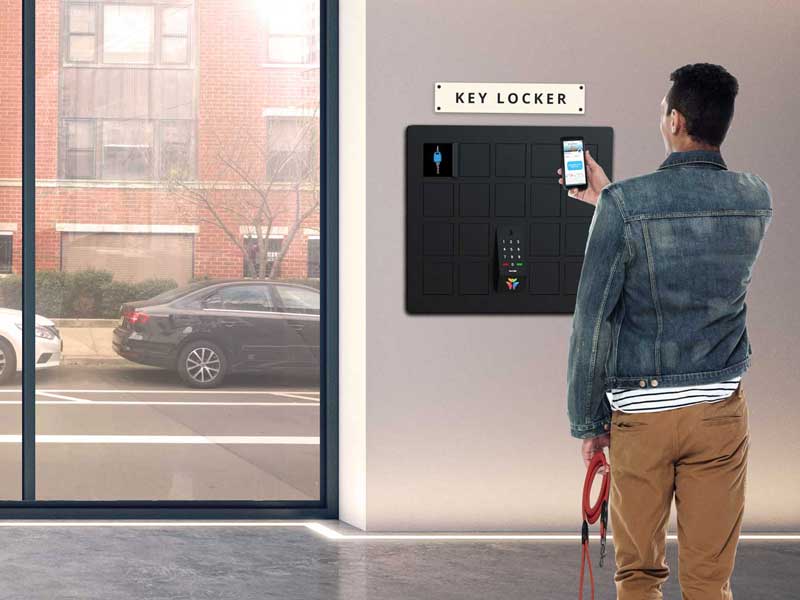 ButterflyMX key locker
The ButterflyMX key locker is one of the best key management systems that you can choose for your building.
As a property manager, you have complete access to the key locker at any time. For added security, you can also check to see how many keys are in use and whether they have been returned.
ButterflyMX key locker features:
Controlled access with a keypad device, requiring a QR or PIN code to unlock a compartment
Padded compartments prevent keys from rattling around
Easy installation
User-friendly interface
Equipped with sensors that inform management when a key has been retrieved or returned, and when a compartment has been left open.
Best of all, the key locker integrates with other ButterflyMX access control solutions, including our smart video intercom and keypad. So, trusted visitors can use a single access code at entry points throughout the building, seamlessly opening doors and retrieving keys from the key locker with ease.
Takeaways
Key management systems allow property staff and residents to securely store keys for approved visitors to retrieve.
Key management systems are a great access solution for visitors and self-guided tours.
Physical key management systems make it easy to allow guest access when a property manager is offsite or a resident isn't home.
The four main types of key management systems are key cabinets, key lock boxes, key safes, and key lockers.
Key lockers such as the ButterflyMX key locker are the best key management system because they are secure, convenient, and can be managed remotely.