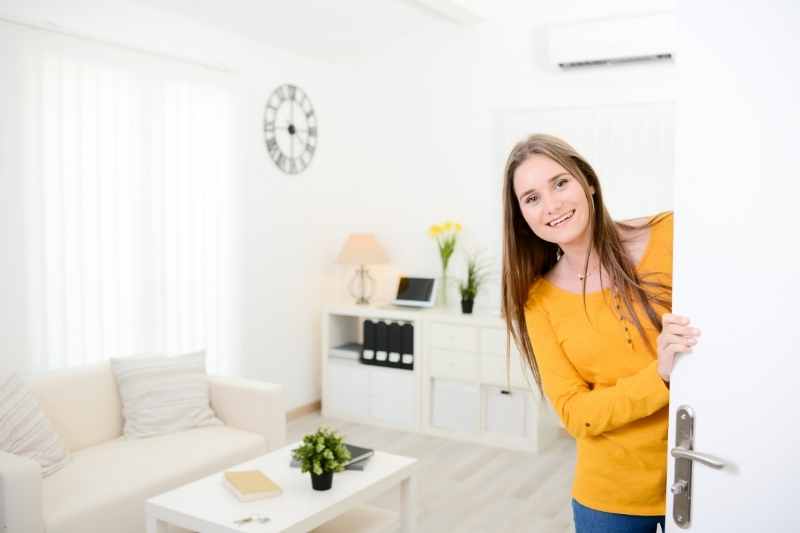 All types of buildings, from multifamily to commercial, welcome visitors on a daily basis. And a building's security impacts not only tenants and property staff but also visitors.
In multifamily, residents frequently invite their friends, family, and on-demand service personnel onto the property. Meanwhile, tenants of commercial buildings require clients, job applicants, partners, and maintenance workers to come on-site.
That's why all properties need visitor management systems to grant and manage property access to guests.
Today, many buildings still rely on outdated and inefficient systems to manage visitors, such as visitor sign-in sheets. But in an age when technology enhances nearly every part of our daily lives, why isn't it more widely applied to guest management? Well, you may consider investing in a modern access control system after reading this comprehensive guide.
Navigate this guide:
What are visitor management systems?
Visitor management systems allow residential and commercial buildings to verify and track each guest coming into the property. The system ensures that all visitors requesting property access and entering the building are verified guests of the building's tenants. It also gives visitors any necessary access credentials to enter additional spaces throughout the building, such as a common space, office, or conference room.
A secure and convenient visitor entry system creates a positive visitor experience while protecting tenants from potential trespassers. The system fosters a seamless property access experience for both tenants and visitors. It also notifies tenants when their guests arrive and also welcomes guests the moment they arrive.
Who counts as a visitor?
A visitor is a person who is not a paying tenant of the property and will be in the building temporarily. Essentially, a visitor is anyone whose name isn't listed on the apartment or office lease nor an employee of a company leasing an office space.
Although this is not a complete list, visitors typically fall into the following categories:
Business clients or partners
Job application candidates
Family members or friends
Delivery couriers
Prospective renters or buyers
Servicepeople or repair contractors
Auditors or regulatory professionals
Homeshare (i.e., Airbnb) guests
Why the visitor experience matters
Similar to the tenant experience, the visitor experience refers to a person's physical, social, and emotional state when they're temporarily in a building. It entails entering the building, treatment upon arrival, and the level of difficulty navigating the building. In commercial properties — such as retail stores, corporate buildings, and hotels — the guest experience can make or break a business.
In residential properties, a bad visitor experience can deter a potential renter or buyer from exploring their interest in the building. It could also hurt your efforts in retaining residents. Nowadays, residents invite guests into their homes at astronomical rates — for purposes like food and package deliveries, on-demand housekeeping, and gatherings for friends and family. So, if there isn't a streamlined process for welcoming guests into the building, residents will be unhappy, and you'll see higher turnover rates.
How a visitor management system works
A visitor management system — also known as a visitor registration system — works by recording the visitor's information and their reason for visiting, then notifying tenants of their arrival. A wide variety of systems fall into this category, from pen-and-paper sign-in sheets to digital check-in devices.
In the past, it was common to see offices with receptionists or secretaries who managed visitors. They'd get the name of the guest and call the employee that the guest was visiting. Other times, guests had to sign in and wait for their turn.
However, as technology has advanced over recent decades, so has visitor management.
Nowadays, most commercial and residential buildings use visitor management software.
Visitor management software
Visitor management software is a digital platform that allows you to register and keep track of each visitor entering a building.
With visitor management software, the visitor enters their access credentials — such as a PIN number or QR code — or presents their personal information to a tablet or phone. Some systems then instruct visitors to enter the building and how to get to their destination. Other systems send visitors mobile notifications or text messages when the tenant is ready to see them.
For tenants, the visitor management software notifies them of the visitor's arrival. If the building has the right access control system in place, the tenant can open the door or gate for their visitor remotely.
Watch how ButterflyMX works:
Types of guest management systems
There are multiple types of guest management systems. They can be simple or advanced, but all serve the same purpose of facilitating visitor access, notifying tenants, and recording activity.
Visitor management systems fall into four categories:
1. Pen-and-paper
At some point in your life, you've probably scribbled your name into a paper logbook. This counts as a visitor management system, but it can cause headaches and be inefficient.
For starters, not everyone has good handwriting. For example, a visitor's name can be totally illegible or misread — leading to the building having inaccurate records of the guest.
If your building needs to maintain high security, the inaccurate information in the logbook can become a serious problem. Also, the visitor can jot down a fake name, especially if there's no one checking their IDs. If you ever need to track a visitor down, that'll be nearly impossible with falsified information.
Lastly, depending on the building you manage, you may not want visitors' information easily visible to others.
2. On-site software
An on-site, digital visitor sign-in system is a step up from pen-and-paper. But these are typically legacy systems that don't run on the internet and are hard to customize or update. You'll need to go to the property each time to do so.
On-site guest management software systems are really just electronic versions of logbooks. Plus, you need to figure out where to store and manage the server, which is a deal-breaker for most buildings.
3. Cloud-based systems
Cloud-based visitor management systems are the best way to manage building access for guests. Instead of on-site servers, cloud-based systems run on the internet. This means that you can collect visitor information and manage access from anywhere you have an internet connection.
To enter the building visitors either scan their credentials — in the form of QR or PIN codes — or complete an electronic form on a device such as a tablet. This information then gets saved on the system's server and can be accessed anytime, anywhere.
Moreover, cloud- and web-based visitor management systems easily integrate with existing proptech solutions, like access control systems. So, instead of separately managing all of the property technologies your building uses, cloud-based systems connect all the software to keep your property safe and efficient in one place.
4. Cyber doorman systems
One last popular way to manage visitors and control access for them is with a cyber doorman system.
Many buildings manage visitors by employing a doorman or front desk staff person. This staff member is responsible for vetting visitors and granting or denying them access. And a cyber doorman is a technology-powered alternative to that traditional human doorman.
There are a few types of cyber doorman solutions, including:
Telephone entry systems
Virtual Doorman, a NYC-based provider
Video intercom systems
Where are visitor management systems used?
Visitor management systems are used in virtually every kind of building that allows visitors. And nowadays with both commercial and residential tenants welcoming countless guests into their offices and homes, visitor management systems are used everywhere. As the demand for services continues to rise, you can expect foot traffic to your property to continue increasing.
Two types of properties that use visitor management systems are:
1. Commercial buildings
For businesses both big and small, having a streamlined visitor management system is imperative. Commercial property managers must ensure the safety of their tenants and building while still fostering a welcoming atmosphere for visitors. Some businesses' success relies on the quality of the visitor experience.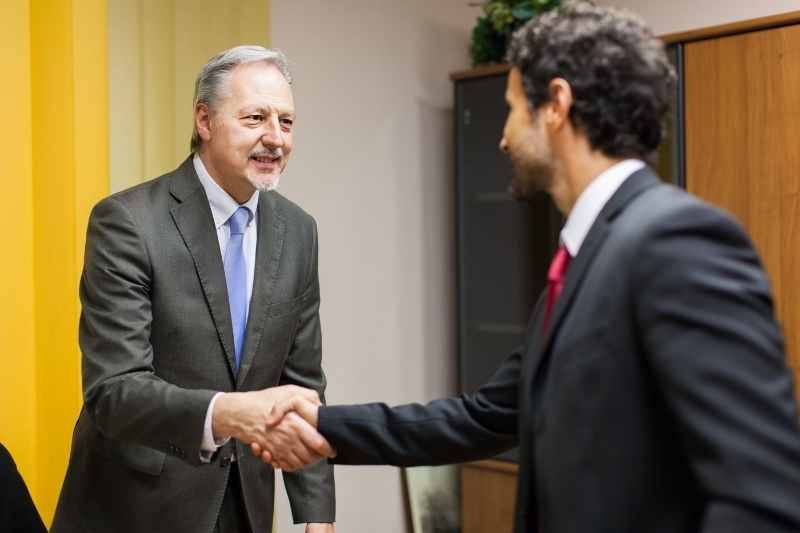 Examples of commercial buildings that use visitor management systems include:
Offices
Office visitor management systems must be able to manage multiple tenants since many different types of businesses and organizations will lease office space within one building. And depending on the type of business, a tenant might have clients, partners, job candidates, customers, or other types of visitors walking in and out of the building all day long.
Some commercial office buildings even have a front desk in the lobby. Choosing an efficient reception management system can help the front desk attendant quickly register guests, distribute building access credentials, and help guests navigate to their designated office suite. Commercial access control systems can double up as visitor management systems. That way, tenants can vet their visitors before granting them property access.
Hospitals
Hospital visitation policies, over time, have experienced a pendulum effect. Visitor guidelines have swung from being restrictive — allowing only family members to visit during specific hours — to relaxed, allowing visitations during all hours of the day.
Traditionally, visitors would go to the reception desk or nurses' station to find a specific patient's room or suite number. Some hospitals, however, are now more technologically advanced and have visitor management kiosks installed at the main entrance, allowing registered visitors to easily check-in and also provide directions to the patient's room.
However, amidst the Covid-19 pandemic, visitor management in hospitals has become more critical than ever before. Keeping track of visitations is a crucial part of contact tracing and managing capacity limits. Some visitor management systems even have built-in health screening features, such as temperature checks and health surveys.
Schools
Visitor management systems for schools keep students and faculty safe by ensuring only authorized people can access the property. Modern, digitized systems can help verify that only trusted people pick up students, and student information can remain confidential.
2. Residential buildings
If you work in the multifamily industry, you know that your building's residents receive a lot of visitors. One of the best ways to manage all those visitors — while improving the resident experience — is to invest in a residential visitor management system.
Residential properties that require a visitor management system include:
Apartments
Apartment buildings need a way to get visitors through the front door quickly and securely. Residents want to let in their friends, family, and service providers without trekking to the front door or worrying about being home. Meanwhile, property owners and managers want to ensure that guests who enter the property are authorized. And they don't want to spend hours each day manually vetting and verifying visitors.
So, the best solution for multifamily buildings is an apartment access control system with visitor access features.
Choose an access control system that lets residents open the front door or gate remotely. This way, they can let guests in from anywhere — whether that's from their couch or from across town. You should also look for a system that offers visitors their own temporary access credentials — such as virtual keys — that residents can send to their guests in advance for easy entry.
Student housing
From private colleges to public universities, college dorms are home to hundreds — if not thousands — of students. Student housing is undoubtedly an essential part of the campus experience. And just like in multifamily housing, security and convenient guest access are very important to students' wellbeing.
A visitor management system empowers students to:
Securely grant visitors access
Remotely open the door for guests even when they're not home
Have peace of mind that the housing has restricted access
Never worry about missing a package or food delivery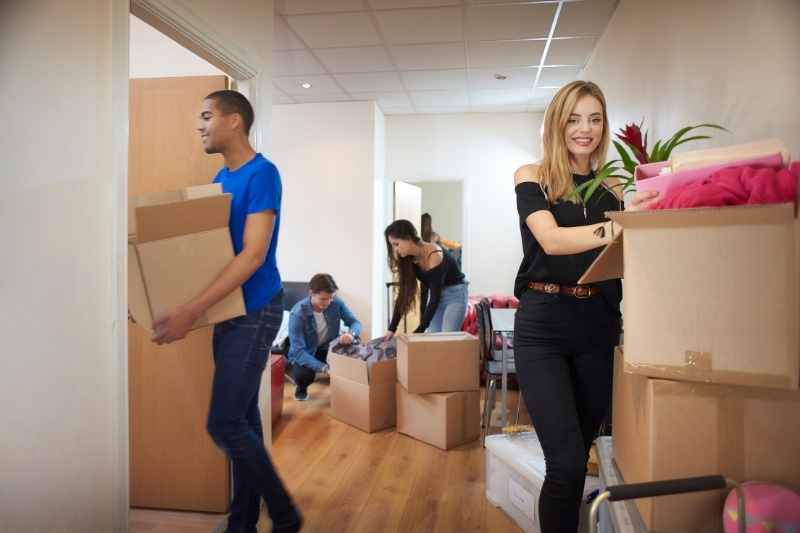 Gated communities
Gated communities have unique visitor access and management challenges. To gain access to a gated property, visitors must prove that they're authorized to enter, or request access from a resident or property staff member. In many cases, this means hiring a gate attendant to vet visitors as they arrive. Quite often, the attendant even has to call a resident or staff member to confirm that they're expecting a visitor. This process can be extremely time-consuming, and often leads to cars stacking up at the entrance.
One solution to manage visitors in a gated community is a gate pass management system. With a gate pass system, every visitor who enters the community receives a gate pass, which shows that they've been vetted. In some cases, the visitor must return the pass upon exiting the property.
Another common solution is a smartphone-based gate entry system, which can be used in tandem with a physical gate attendant or as a standalone solution.
Video gate intercoms with a mobile app are a great way to manage visitors at a gated entrance because they:
Allow residents to see who's requesting access
Empower residents to open the gate with their cell phones from anywhere
Cut down on wait times to enter a gated community
Save time for property staff, since residents can manage visitors themselves
Senior & assisted living facilities
Security is paramount in a senior home or assisted living facility. Anyone who visits these residential communities should be vetted for the residents' safety.
Most senior housing facilities have a front desk where visitors sign in and verify their identity before they can proceed into the building. Historically, many of these facilities have relied on paper-and-pen sign-ins or outdated software to manage the flow of visitors. But as the multifamily industry moves from high-touch to high-tech living, it's wise for assisted living facilities to follow suit by adopting a modern, cloud-based visitor management system.
Benefits of a visitor management system
There are countless benefits of having visitor management systems in any kind of building that welcomes visitors. When choosing a solution, pay attention to the visitor management system features so you can reap the most benefits.
The benefits of guest management systems are:
1. Convenience for tenants, staff, and visitors
The amenity that tenants crave in both residential and commercial buildings is convenience. Having a way to easily access the building — both for the tenants and visitors — is key.
The perfect solution is to install an access control system that can also be used as a visitor management system. That way, tenants can grant access both for themselves and their guests through the same system.
Pro tip: Invest in an access control system that has a door release mechanism so that the door will automatically unlock when tenants grant visitors access remotely.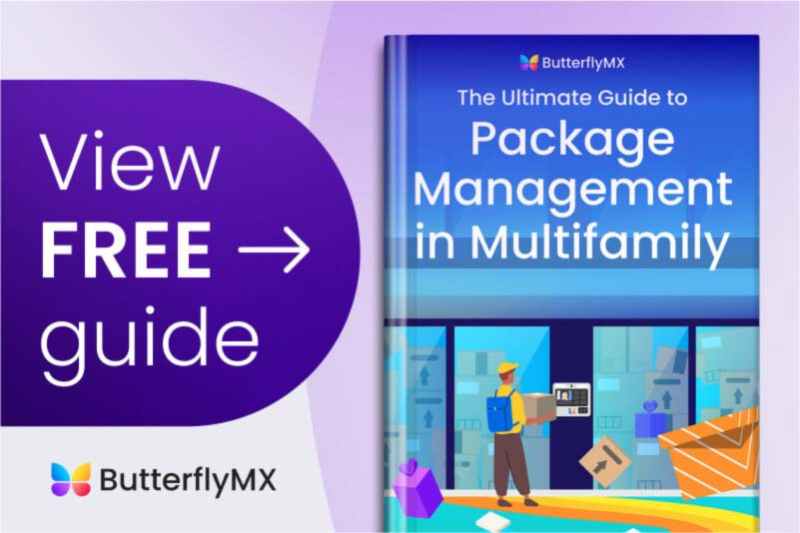 2. Lower front desk staff costs
Having a staffed front desk is expensive. But you can reduce your building's operating costs by eliminating shifts for less-trafficked periods.
Installing a front desk station for visitor management empowers visitors to check themselves in via the device. The process takes just a few seconds, significantly reducing wait times for guests to check-in and helping your building reduce operating costs.
3. Compliance with health guidelines
As the mass return to the office continues to pan out, buildings will implement precautionary health protocols. A digital visitor management software can integrate health screening protocols to keep everyone safe and healthy. If a visitor shows signs of sickness through a temperature check or health questionnaire, the system can deny them access to the building.
What's more, the visitor entry system provides a great way to contact trace since it records data of every visitor entering the building. As residential buildings are increasingly allowing guests to safely use amenity spaces, installing access controls — such as keypads and smart locks — can help track room occupancy and provide visitor data for contact tracing.
4. Enhanced security measures
It's no question that the successful use of visitor management technology improves tenants' safety and well-being. A visitor entry intercom system provides date- and time-stamped video or photos of every door entry activity. Tenants will always know who enters the building and catch any suspicious entries as they occur. They can also rest assured that only authorized visitors enter the building. For best results, invest in an upgraded security system that includes visitor management features.
5. Increased tenant retention
A streamlined visitor management system saves time for tenants and promotes their productivity by enabling remote property access for their guests. Property access and visitor management can easily make or break the tenant experience, which, in turn, significantly impacts tenant retention.
As a property manager, you always strive for tenants to renew their leases year after year. And by enabling a simple way to manage visitors, you are improving your tenant's satisfaction.
How to choose the best system for your building
By now, you know how important it is to have an effective visitor management system at your building. But how do you choose the right system for your tenants and their visitors? Read on to learn how to pick the best one.
Features to look for in the best visitor management system:
Mobile app
A video intercom with a mobile app allows tenants to visually verify their guests from their phones before opening the door. Visitor management apps make it possible for tenants to unlock doors from anywhere there's internet access.
What's more, some systems allow video calls between visitors and tenants. The added benefit of this feature is that tenants can give detailed instructions about accessing and navigating the building before the visitor even steps inside. And using a mobile access control system with a well-developed app modernizes and simplifies visitor management.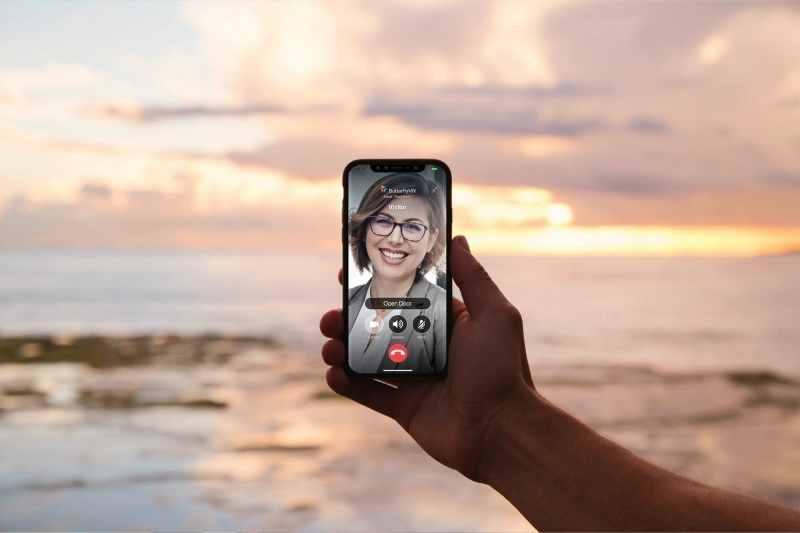 Integrations with other proptech
Since technology touches every part of our daily lives, it's important to invest in guest management software that integrates with other proptech solutions.
For example, look for property management system integrations when considering a visitor access solution. That way, the guest access system you choose will automatically update with any tenant information changes. All new tenants will gain visitor management privileges, while former tenants will lose that authorization when they move out.
Examples of other integrations your visitor management system should have:
Elevator controls
Access control
Google Workspace notifications
Room occupancy data
Solution for deliveries
Both residential and commercial properties have seen an influx of package deliveries. And as online shopping trends continue to rise, buildings must search for a delivery management solution. The good news is that the proper visitor management systems can also improve delivery access.
Choose a visitor management system with dedicated delivery solution features like:
Delivery passes: Allow building staff and tenants to easily create and distribute single-use delivery PINs to food or parcel carriers.
Package rooms: Consider setting up a package room, which is a dedicated and secure room where couriers can drop off packages. The package room uses the same software and processing systems as the visitor management software, so there is no need to manage another system.
Contactless sign-in and touchless entry
The Covid-19 pandemic has undoubtedly raised awareness for thorough health and sanitization protocols. And this extends to the visitor management field as well.
In efforts to limit person-to-person interactions, offices and apartments have enforced contactless visitor access management. As a result, many visitor management methods include touchless entry methods, such as issuing virtual keys that allow guests to enter just by scanning a QR code from their smartphones.
Pro tip: To implement a truly touchless visitor management system, consider investing in an automatic door that opens when the visitor checks in and is verified to enter.
5 best visitor management systems of 2022
Ready to invest in a visitor management solution for your building? Read on to learn more about some of the best options on the market.
The five best visitor management systems are:
1. ButterflyMX
ButterflyMX is more than just an access control solution for property staff and residents. It's also a robust system that enables simple access for visitors at both multifamily and commercial properties.
Installed at a property's entrance, the ButterflyMX video intercom provides a way for visitors to request access directly from building tenants or staff. With a few taps on the touchscreen, a visitor can video call any staff member or tenant and receive access remotely.
Visitors can also gain access to spaces within the building through ButterflyMX keypads — all they need is a virtual key to do so.
ButterflyMX's visitor access features include:
Virtual keys. Virtual keys are access credentials that residents can send to visitors for one-time or recurring use. A virtual key contains a QR and PIN code that visitors can scan or enter into a ButterflyMX device to gain access. This allows friends, family, and even service providers — like dog walkers and house cleaners — to easily enter the building, even if a resident isn't home.
Delivery PINs. A delivery PIN is an access code for couriers. Property staff assigns delivery PINs to each carrier, which they enter into the ButterflyMX intercom for building access. Staff can revoke or change the PIN at any time.
Delivery passes. A delivery pass is a six-digit code that residents send to couriers to ensure property access. All delivery passes are single-use to maintain security. Residents create a pass through the ButterflyMX mobile app. They then paste the access code into the delivery instructions upon checkout from any eCommerce provider.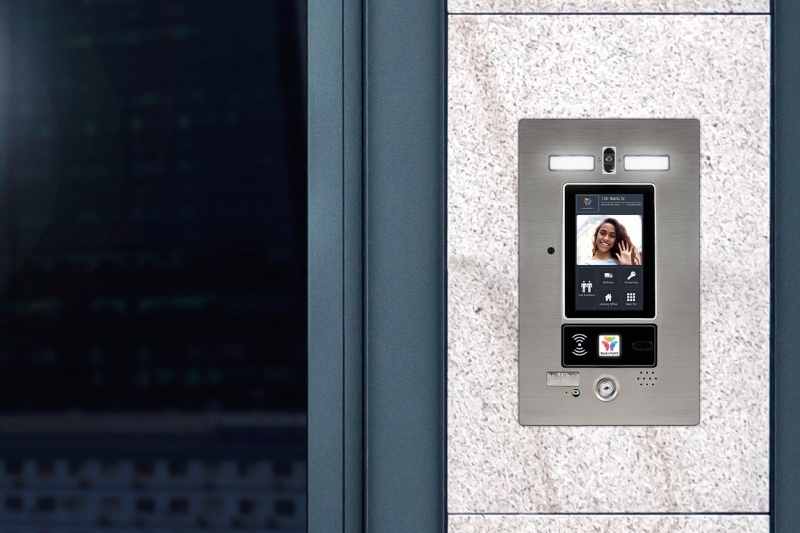 2. Envoy Visitors
Designed for commercial buildings — particularly hybrid workspaces — Envoy Visitors is a visitor management software solution. It creates a polished and seamless experience for hosts and visitors to ensure a safe and convenient workplace.
The Envoy Visitors platform includes:
Sign-in: When visitors arrive, they use Envoy Visitor to sign in. Admins can customize a series of questions for visitors to answer upon signing in.
Visitor registration: Tenants and employees can easily register upcoming visitors and send them emails with information about their visit.
Optional photo capture: Building admins decide whether the system will take a photo of the visitor upon arrival.
Instant notifications: The Envoy software automatically notifies employees when their guest has arrived.
Badge printing: You can opt to print visitor badges when a guest signs in.
Visitor analytics and reporting: Envoy provides insights into visitor volume, who host guests, and more.
Read the full Envoy Visitors review »
3. Proxyclick Visitor Management System
The Proxyclick Visitor Management System is a visitor check-in platform that's simple, straightforward, and easy to use. Proxyclick's app has an intuitive and user-friendly interface, creating a strong first impression for building visitors.
Designed primarily for commercial properties, Proxyclick is a great solution for everything from small businesses with simple lobbies to high-security enterprises. It's also helpful for companies implementing a hybrid workplace, as Proxyclick includes an employee and desk booking system.
Pricing for Proxyclick is $100 per month for the Essential plan (for small companies), and $300 for the Premium plan (for medium to large companies with a more complex visitor, contractor, or employee workflow). Proxyclick also offers an Enterprise plan, but you must request a quote for pricing.
Read the full Proxyclick review »
4. SwipedOn
SwipedOn is a robust visitor management system that includes a variety of tools for commercial buildings and workplaces. Its visitor management platform includes contactless sign-ins, visitor screenings, digital agreements, evacuation management, automatic employee notifications, and ID badge printing. SwipedOn also offers separate platforms for employee sign-ins (SwipedOn Pocket) and desk booking (SwipedOn Desks)
But perhaps its strongest feature is its robust data reporting and analytics. These tools enable building owners and operators to monitor system usage, visitor quantity, and more. So, with SwipedOn, you'll get an accurate picture of who is in the building and when.
SwipedOn has three plans: Starter, Business, and Enterprise. The Starter plan accommodates up to 25 employees and includes basic visitor and employee sign-in tools. The Business and Enterprise plans accommodate unlimited employees. They both offer additional tools and features, although the Enterprise plan is more robust.
Read the full SwipedOn review »
5. Teem by iOFFICE
Used by many corporations, Teem by iOFFICE delivers a high-quality visitor management solution. With Teem, you get tools for visitor management as well as space and desk booking, way-finding and navigation, and workplace analytics.
Through the Teem platform, visitors — from contractors to interviewees — as well as employees can sign in quickly and securely upon arrival. Admins can create custom questionnaires for visitors to answer and enable automatic notifications sent to employees when they have a visitor. Tenants and employees can also pre-register guests to save time. Additionally, the platform has a clean user interface that speeds up the check-in process.
Pricing for Teem's visitor management system is $1000 per lobby per year. This includes access to the Teem app, visitor logs, email and SMS notifications, visitor badge printing, and visitor documents. You can also purchase Teem's desk booking platform for $40 per desk per year, and Teem's room booking platform for $150 to $250 per room per year.
Read the full Teem by iOFFICE review »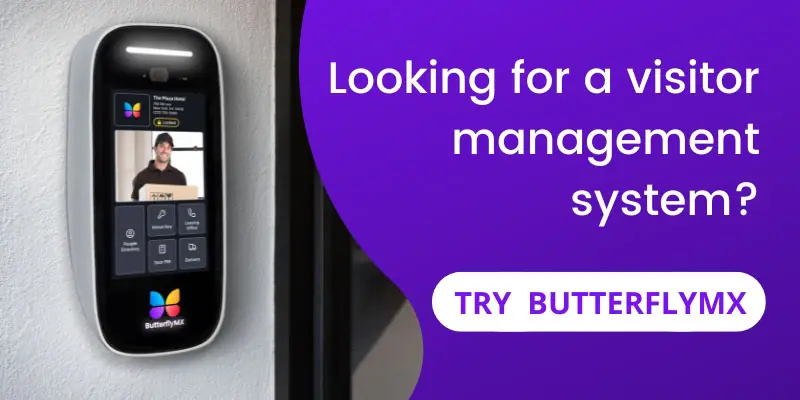 Disclaimer: ButterflyMX provides these blog posts to help our customers and potential customers make the right business decisions for them. Our blog posts are based on the information we have available to us at the time of writing.