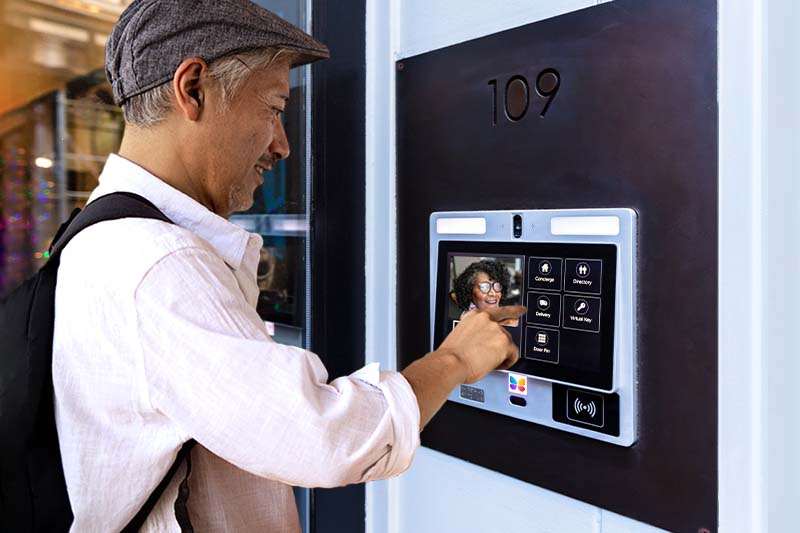 All types of buildings, from multifamily to industrial, welcome visitors daily. So, it's essential their property has a visitor management system in place. That way, properties can maintain the safety and security of their employees or tenants without inconveniencing guests.
Unfortunately, many buildings rely on outdated guest management solutions, such as sign-in sheets or visitor kiosks. But in an age when technology enhances nearly every part of our daily lives, why isn't it more widely applied to visitor management? After reading this comprehensive buyer's guide, you may consider investing in a modern visitor management system.
This post covers:
What is a visitor management system?
A visitor management system (VMS) is a platform that allows buildings to use technology to vet, monitor, track, and record every guest who visits the building. Most guest management solutions consist of software, hardware, and databases that work together to improve physical security at the building while ensuring a great guest experience.
With a guest management system, building staff and tenants can:
Pre-register guests
Give guests access credentials
Require visitors to provide background information, digitally sign documents, and submit legal documents before their visit
Screen visitors
Communicate with visitors and give them instructions regarding their visit and directions to navigate the building
Streamline the sign in process
Print badges for guests
Enable a touchless sign in process
Automatically greet visitors
Keep a comprehensive digital visitor log
Buildings have always had to manage visitors, but it took a long time to get from outdated paper logbooks to modern digital visitor access solutions.
What are examples of visitor management systems?
Examples of visitor management systems include:
On-premise systems such as Lenel and Tyco Software House.
Integrated systems, such as ButterflyMX, that integrate with access control systems.
Kiosks such as Sine.
Sign-in apps such as The Receptionist.
What does a visitor management system do?
A visitor management system verifies and tracks the activity of guests at a property. When guests arrive, the system records each guest's information, including the purpose of the visit. This way, the property can maintain a safe and secure environment by eliminating possible trespassers. In fact, in the event of a security breach, the stored information is the perfect resource for identifying intruders.
Additionally, a visitor management system provides temporary access to visitors for certain areas, such as a common area. So, the visitor enjoys a seamless experience without needing a guide. More importantly, guest management systems notify the tenant of their guest's arrival for added convenience. This all adds up to create an exceptional visitor experience.
How a visitor management system works
A visitor management system — also known as a visitor registration system — works by recording the visitor's information and their reason for visiting. Then, the system notifies the respective tenants of the guest's arrival. A variety of systems fall into this category, from pen-and-paper sign-in sheets to digital check-in devices.
In the past, it was common to see offices with receptionists or secretaries who managed visitors. They'd get the guest's name and call the employee the guest was visiting. Other times, guests had to sign in and wait to be assisted. This led to a poor visitor experience.
However, as technology has advanced over recent decades, so has visitor management.
Nowadays, most commercial and residential buildings use more advanced visitor management systems.
Office visitor management system
While a visitor management system is vital for any property, workplaces require a special office visitor management system.
In this case, the visitors are all visiting a commercial space, meaning they're paying clients, delivering large quantities of office supplies, or important management professionals. Thus, the purpose of an office visitor management system is a bit different than its general visitor management system counterpart.
Watch how ButterflyMX works:
How many types of visitor management systems are there?
Overall, there are four types of visitor management systems.
The four visitor management systems to choose from are:
1. Visitor kiosks
As the most rudimentary form of visitor management systems, visitor kiosks aren't ideal for most properties. A visitor kiosk is typically a self-service station for guests to input their personal information with little to no guidance from a staff member. It's essentially a self-service guest check in process.
Visitor kiosks will record guest information through one of the following:
Pen-and-paper: Having guests write down their personal information is unreliable since handwriting can be hard to read and easily falsified. Not to mention, physical records are difficult to keep track of.
Front desk staff: If a receptionist or security guard is managing visitors, it becomes inconvenient to track so many visitors. Plus, it significantly increases operating costs as front desk staff could spend that time handling more important duties.
Remote doorman: Lastly, a remote doorman is essentially a digitized version of a front desk staff member. An offsite operator monitors any guests requesting access to the property. Upon requesting access, the operator will speak with the guest to determine if access is authorized.
As you can see, visitor kiosks do little to restrict potential threats from entering a building.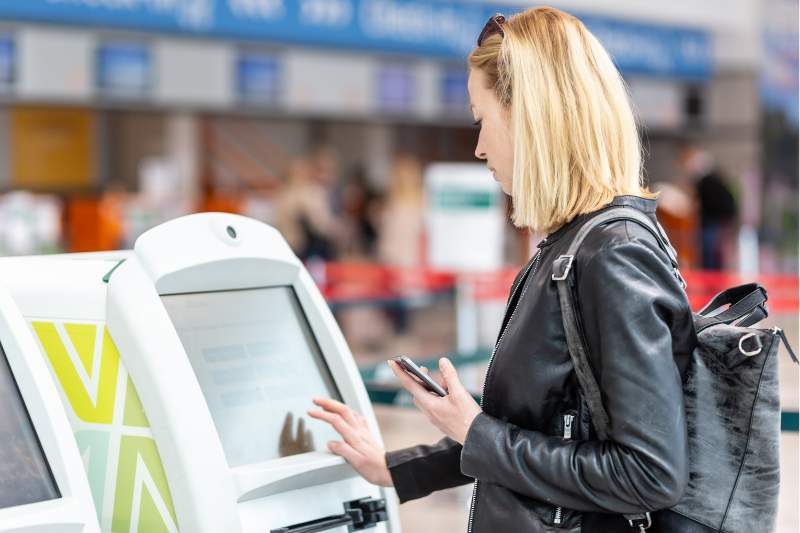 2. Visitor management software
Visitor management software is a digital platform that allows you to register and keep track of each visitor entering a building.
With guest management software, the visitor enters their access credentials — such as a PIN number or QR code. Alternatively, they may enter their personal information into a tablet or phone. Some systems then instruct visitors to enter the building and how to get to their destination. Other systems send visitors mobile notifications or text messages when the tenant is ready to see them.
For tenants, the software notifies them of the visitor's arrival. If the building has the right access system in place, the tenant can open the door or gate for their visitor remotely.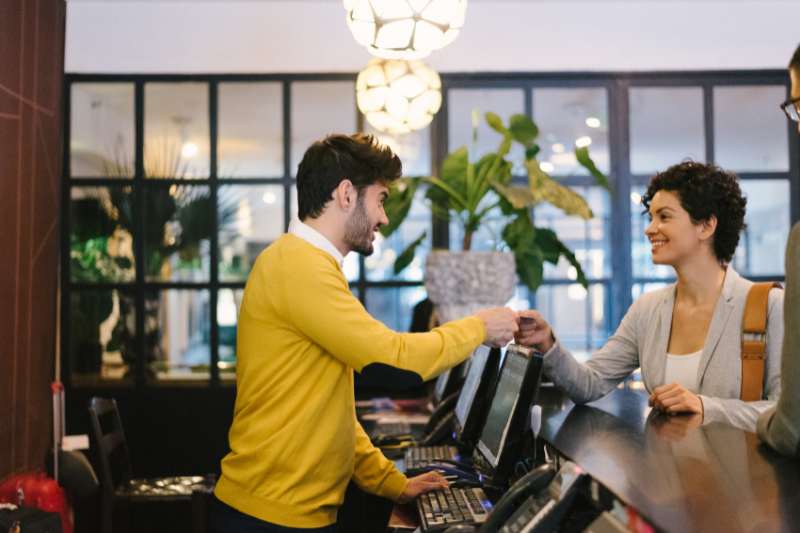 3. On-site systems
On-site or legacy systems are visitor management solutions that require on-site servers and hardware to collect guest information and grant access. The hardware often takes up a lot of space and requires regular maintenance.
Guest information is collected through a self-service kiosk or by a staff member at the front desk, where it is then stored in the on-site hardware. This information is not accessible anywhere else, which limits how it's reviewed in the event of a security breach.
Moreover, whenever an update is needed, a technician must arrive on-site to physically update the system, creating downtimes for your access control and visitor management systems. To truly get the most out of a visitor management system, we recommend you avoid legacy systems because of the many inconveniences they cause.
4. Cloud-based systems
Cloud-based visitor management systems are the best way to manage building access for guests. Instead of on-site servers, cloud-based systems use the internet. This means that you can collect visitor information and manage access from anywhere you have an internet connection.
To enter the building, visitors either scan their credentials — in the form of QR or PIN codes — or complete an electronic form on a device such as a tablet. This information then gets saved on the system's server and can be accessed anytime, anywhere.
Moreover, a cloud-based, digital visitor management system easily integrates with existing proptech solutions, like access control systems. So, instead of separately managing all of the property technologies your building uses, cloud-based systems can "communicate" to streamline processes.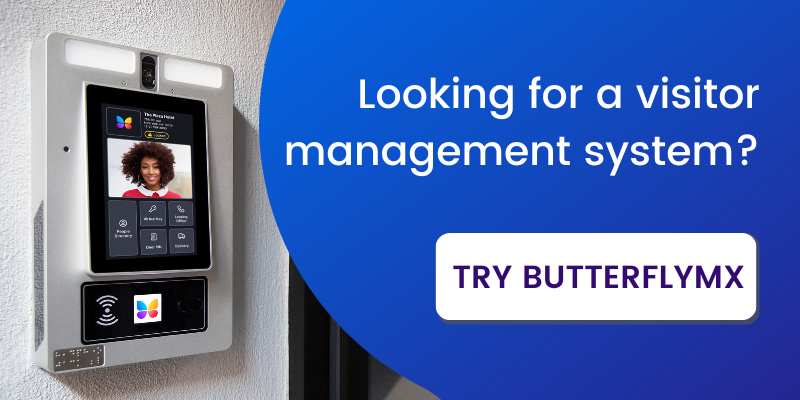 What are the benefits of a visitor management system?
There are countless benefits of visitor management systems in any building with visitors. When choosing a solution, pay attention to the digital visitor management system features to reap the most benefits.
The great benefits of visitor management include:
Convenience: Tenants, staff, and visitors alike can take advantage of the convenient features a visitor management system offers. For the best results, consider implementing an access system that supports visitor management or integrates with an existing solution.
Lower operating costs: Visitor management systems no longer require staff members to man the front desk. Instead, apply their time and effort elsewhere to lower your overall operating costs.
Enhanced security: Successful visitor management systems improve tenant safety and well-being. With the right system, you'll have a date- and time-stamped videos or photos of every visitor who enters the building. In turn, you can keep track of who is entering your building.
Tenant retention: Lastly, tenants are more likely to renew their leases when it's easy for their visitors to enter the building and feel safer doing so.
Positive visitor experience: Whether you're welcoming business partners, delivery carriers, maintenance workers, or friends to the building, you'll want to ensure your visitors have a positive experience. A guest management solution can do just that.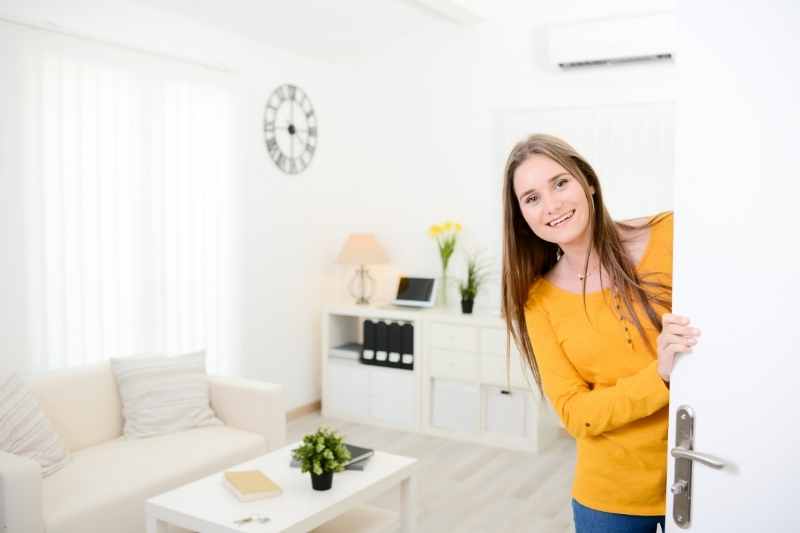 Visitor management system features to consider
By now, you know how important it is to have an effective visitor management system at your building. But how do you choose the right system for your tenants and their visitors? Read on to learn which features are suited for the best experience.
Features to look for in the best visitor management system include:
Mobile app: By choosing a visitor management solution with a mobile app, your tenants can receive notifications directly on their phones informing them of a guest's arrival. Guests can even request building access, which notifies tenants via their smartphone. Then, tenants can remotely let in their guests after speaking to them over a video call.
Integrations: For the most streamlined experience, ensure your guest management system integrates seamlessly with other proptech solutions like property management software and access control systems.
Delivery support: In most cases, property management systems fail to grant easy access to delivery drivers. So, you must find a solution that supports individual couriers to safely and securely deliver packages. The best method is to select a system that provides each courier with a unique PIN code to access the building.
Camera: Lastly, ensure your visitor management system has a camera to support two-way video calls and increase the security of your property. Guest management systems with a camera keep digital visitor logs of who has entered your building, which you can review later.
Touchless entry: The best visitor management systems create a hands-free entry experience for visitors by accepting touchless credentials like QR codes for access.
Best visitor management systems in 2023
Ready to invest in a visitor management solution for your building? Read on to learn more about some of the best options on the market.
The five best visitor management systems are:
1. ButterflyMX
ButterflyMX is more than just an access control solution for property staff and residents. It's also a robust system that enables simple access for visitors at both multifamily and commercial properties.
Installed at a property's entrance, the ButterflyMX video intercom provides a way for visitors to request access directly from tenants or staff. With a few taps on the intercom's touchscreen, a visitor can video call any staff member or tenant and receive access remotely.
Visitors can also gain access to spaces within the building through ButterflyMX keypads — all they need is a virtual key to do so.
ButterflyMX's visitor access features include:
Virtual keys. Virtual keys are access credentials that residents can send to visitors for one-time or recurring use. A virtual key contains a QR and PIN code that visitors can scan or enter into a ButterflyMX device to gain access. This allows friends, family, and even service providers — like dog walkers and house cleaners — to easily enter the building, even if a resident isn't home.
Delivery PINs. A delivery PIN is an access code for couriers. Property staff assigns delivery PINs to each carrier, which they enter into the ButterflyMX intercom for building access. Staff can revoke or change the PIN at any time.
Delivery passes. A delivery pass is a six-digit code that residents send to couriers to ensure property access. All delivery passes are single-use to maintain security. Residents create a pass through the ButterflyMX mobile app. They then paste the access code into the delivery instructions upon checkout from any e-commerce provider.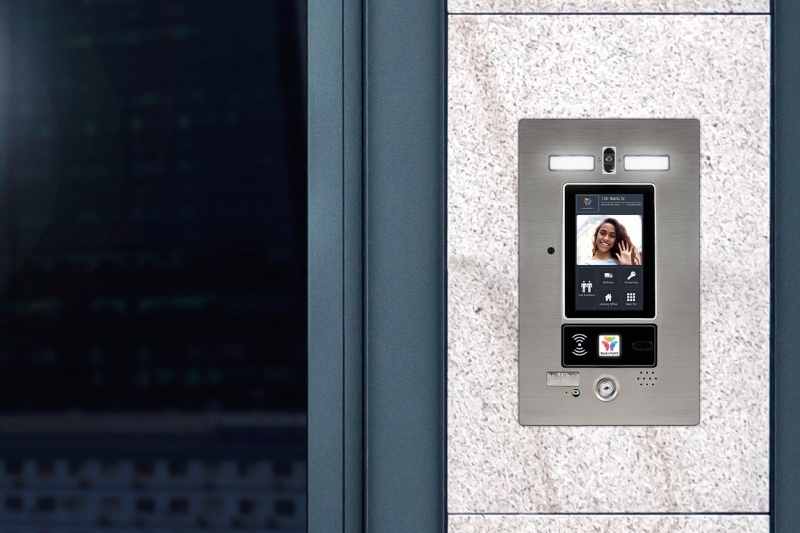 2. Envoy Visitors
Designed for commercial buildings — particularly hybrid workspaces — Envoy Visitors is a guest management software solution. It creates a polished and seamless experience for hosts and visitors to ensure a safe and convenient workplace.
The Envoy Visitors platform includes:
Sign-in: When visitors arrive, they use Envoy Visitor to sign in. Admins can customize a series of questions for visitors to answer upon signing in.
Visitor registration: Tenants and employees can easily register upcoming visitors and send them emails with information about their visit.
Optional photo capture: Building admins decide whether the system will take a photo of the visitor upon arrival.
Instant notifications: The Envoy software automatically notifies employees when their guest has arrived.
Badge printing: You can opt to print visitor badges when a guest signs in.
Visitor analytics and reporting: Envoy provides insights into visitor volume, who host guests, and more.
Read the full Envoy Visitors review »
3. Proxyclick Visitor Management System
The Proxyclick Visitor Management System is a visitor check-in platform that's simple, straightforward, and easy to use. Proxyclick's visitor management app may have an intuitive and user-friendly interface, creating a strong first impression for building visitors.
Designed primarily for commercial properties, Proxyclick is a great solution for everything from small businesses with simple lobbies to high-security enterprises. It's also helpful for companies implementing a hybrid workplace, as Proxyclick includes an employee and desk booking system.
Pricing for Proxyclick is $100 per month for the Essential plan (for small companies), and $300 for the Premium plan (for medium to large companies with a more complex visitor, contractor, or employee workflow). Proxyclick also offers an Enterprise plan, but you must request a quote for pricing.
Read the full Proxyclick review »
4. SwipedOn
SwipedOn is a robust visitor management system that includes a variety of tools for commercial buildings and workplaces.
Its visitor management platform includes
Contactless sign-ins
Visitor screenings
Digital agreements
Evacuation management
Automatic employee notifications
ID badge printing
SwipedOn also offers separate platforms for employee sign-ins (SwipedOn Pocket) and desk booking (SwipedOn Desks)
But perhaps its strongest feature is its robust data reporting and analytics. These tools enable building owners and operators to monitor system usage, visitor quantity, and more. So, with SwipedOn, you'll get an accurate picture of who is in the building and when.
SwipedOn has three plans: Starter, Business, and Enterprise. The Starter plan accommodates up to 25 employees and includes basic visitor and employee sign-in tools. The Business and Enterprise plans accommodate unlimited employees. They both offer additional tools and features, although the Enterprise plan is more robust.
Read the full SwipedOn review »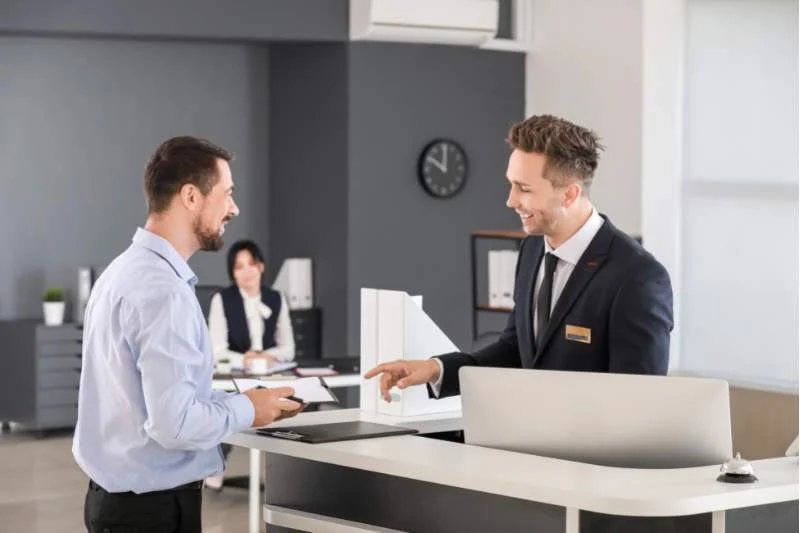 5. Teem by iOFFICE
Used by many corporations, Teem by iOFFICE may deliver a high-quality visitor management solution. With Teem, you get tools for visitor management as well as space and desk booking, way-finding and navigation, and workplace analytics.
Through the Teem platform, visitors — from contractors to interviewees — as well as employees can sign in quickly and securely upon arrival. Admins can create custom questionnaires for visitors to answer and enable automatic notifications sent to employees when they have a visitor. Tenants and employees can also pre-register guests to save time. Additionally, the platform has a clean user interface that speeds up the check-in process.
Pricing for Teem's visitor management system is $1000 per lobby per year. This includes access to the Teem app, visitor logs, email and SMS notifications, visitor badge printing, and visitor documents. You can also purchase Teem's desk booking platform for $40 per desk per year, and Teem's room booking platform for $150 to $250 per room per year.
Read the full Teem by iOFFICE review »
Visitor management & access control
A healthy relationship between visitor management and access control is essential. If you're looking for the right solution, select an access control system with the capabilities of a visitor management system. That way, you can secure your property while still supporting seamless access for authorized visitors.
Some access solutions can integrate with visitor management systems. But why have both when one system can do the job? Ensure your tenants feel safe on your property without inconveniencing them by receiving packages, food deliveries, and guests.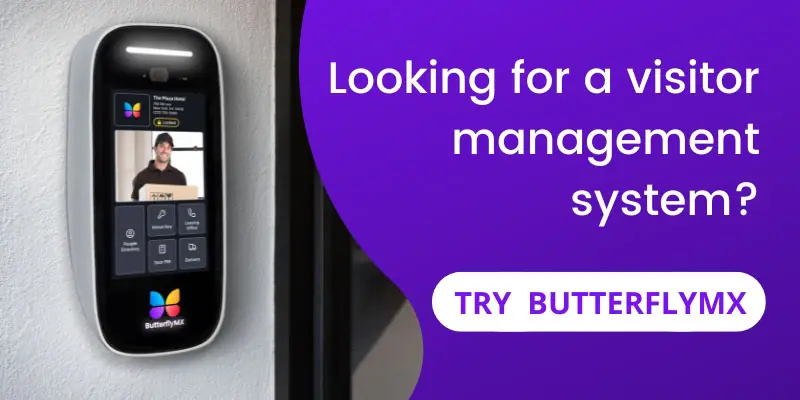 Disclaimer: ButterflyMX provides these blog posts to help our customers and potential customers make the right business decisions for them. Our blog posts are based on the information we have available to us at the time of writing.