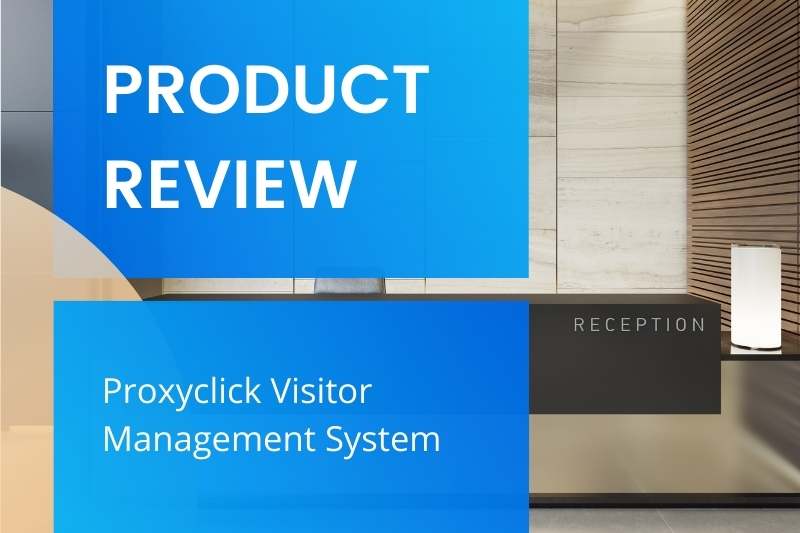 Whether it's your residents' guests in a multifamily building or your tenants' visitors and customers in a commercial building, keeping track of who is on your property and why is crucial to everyone's security and safety.
Ensuring that safe environment may mean replacing your outdated and inefficient visitor sign-in sheet with a tech-forward visitor management solution that will accelerate your guest check-in process. The right system will save time and money while ensuring a welcoming experience for guests and delivery people.
But traversing the many visitor management software options can be quite a task, so keep reading to learn more about one option: the Proxyclick visitor management system. We'll review Proxyclick's features, cost, and pros and cons to help you decide whether it's right for your building.
This post covers:
About Proxyclick
Based in Brussels, Belgium, Proxyclick is a software company that was acquired by global workspace management company Condeco in January 2022.
Proxyclick's product is a cloud-based visitor management platform that strives to improve security at commercial buildings and offices without compromising visitor privacy. The company serves customers worldwide, including those in commercial real estate, pharmaceuticals, government, education, and finance.
Proxyclick offers customization, visitor recognition, multiple languages, check-in solutions, and advanced security privacy and safety features. The product allows users to keep track of their visitors and build their brand image with the customizable screen feature.
How Proxyclick works
Proxyclick's fully integrated system strives to reduce operational costs and streamline processes associated with visitor management to create a safe environment for visitors and employees.
Here's how Proxyclick visitor management works:
When visitors arrive, they are greeted by an easy-to-use touchless check-in kiosk. The system prints a badge with the visitor's personal information and photo.
Proxyclick then notifies the visitor's host using multi-communication methods to ensure timely visitor reception and an excellent first impression.
Users can easily manage visitor information by using the visitor dashboard feature. The system also offers a "Watch List" feature to ensure that unwelcome visitors are denied access. These features help employees provide a safe and smooth guest experience from entry to the end of the visit.
Additionally, Proxyclick offers an iOS mobile app that receives visitor notifications and connects with them for added convenience. As a SaaS product, the Proxyclick visitor management platform is available as a monthly subscription.
Watch how ButterflyMX works:
Review of Proxyclick
Let's look at Proxyclick's features, cost, and pros and cons to see whether it might work at your building.
Features
30+ languages: Guests can choose from over 30 languages during the check-in process.
Screen visitors ahead of arrival: Visitors can be prescreened by completing a custom questionnaire. This ensures compliance with your building's health and safety guidelines before arrival.
Dozens of integrations: The Proxyclick visitor management platform integrates with many existing systems and software, such as access control systems, temperature screening solutions, smart parking tools, calendar apps, and more.
Automatic notifications: A visitor's host is informed of their guest's arrival and deliveries in real-time so that proper escort protocols can be carried out.
Maintain visual verification: Visitor identification badges with guest photos and pertinent information are printed out at the check-in kiosk.
Require legal signatures: Protect your company's confidentiality and activities with an NDA or other legal requirement signed during pre-check-in.
A professional approach: Guests receive an automated email prior to their visit informing them of important information, maps, and parking options.
Proxyclick pricing
Proxyclick has three pricing tiers: Essential, Premium, and Enterprise
Essential costs $100 per month per location. It includes basic visitor flow tools, customer support, unlimited usage per location, and dashboard access for the front desk, security, and admin staff.
Premium costs $300 per month per location. It includes everything in the Essential plan plus tailored smart flows, advanced security features, and premium integrations.
Enterprise pricing is not available online — you must contact a Proxyclick sales representative for a quote. The plan includes everything in the Premium plan plus customizable legal terms and SLAs for support, as well as RFP completion and support.
Note: Proxyclick appears to offer free trials of both the Essential and Premium plans.
Pros & cons
Pros:
Business users can customize the check-in process to meet their specific requirements and showcase their brand.
Professional user experience with a supportive help desk.
Proxyclick "finds" the visitor's host quickly using multiple communication methods.
If a guest forgets to sign out, the host will get a notification allowing a manual sign-out.
VIPs are assured a warm welcome with Proxyclick's VIP alert function.
Proxyclick can be integrated with other standard software such as Slack and Microsoft Active Directory.
Cons:
Proxyclick may not support multifamily properties.
Issues were reported with stored visitor information not showing up in recurring visits.
The custom screen feature may not be available in the Essential plan, and the user interface may be bland without it.
Proxyclick visitor management doesn't include any built-in property access control solutions. You must integrate with a third-party access system.
There may not be a solution to accommodate after-hours visitors or buildings without a front desk.
The Proxyclick website doesn't show many photos of the product's interface or application in a building.
Should you get Proxyclick?
Proxyclick visitor management may be a good choice if you're seeking to automate and streamline how your building accommodates visitors. The platform may help make welcoming guests simple for employees and give your visitors a pleasant experience.
Proxyclick also offers many integrations with other software and services. These integrations can help further streamline operations at your building.
However, Proxyclick is only an office visitor management solution and can't be used in apartments or other multifamily communities. So, if you need an apartment visitor management platform, you'll need a different solution — like ButterflyMX.
Watch how to manage access for visitors with ButterflyMX virtual keys:
ButterflyMX for visitor management
ButterflyMX is a complete property access solution that doubles as a visitor management system for all kinds of properties, from commercial buildings to apartments to gated communities. It's particularly effective for smaller buildings that don't have a lobby, front desk, or doorman.
Installed at a property's front entrance, the ButterflyMX smart video intercom serves as an all-in-one solution for visitor access. Planned visitors can use a virtual key — a dual QR and PIN code sent by a tenant in advance — to seamlessly gain property access without assistance from building staff. And visitors without a virtual key can easily request access by video calling a tenant or a staff member. ButterflyMX's visitor management solution even simplifies deliveries and ensures seamless access for delivery carriers, too.
Thanks to the intercom's video calling capabilities, tenants and staff can visually confirm a visitor's identity and rest assured that only authorized people enter the property. And because the video intercom takes a photo of every entry event, staff and tenants can review a time- and date-stamped audit trail at any time.
Finally, ButterflyMX's front desk station is the perfect complement to the video intercom. With specially designed software, your building's front desk staff can easily vet visitors and manage access without a hitch.
Takeaways
Proxyclick may help keep your company safe and compliant while managing visitor traffic across multiple locations. It may be a good choice for commercial building owners and managers who want to streamline visitor entry and check-in processes to simultaneously improve security and convenience.
However, Proxyclick won't be right for you if you need a visitor management system for a multifamily property. It's also worth considering an alternative like ButterflyMX if you'd prefer to have an all-in-one access control and visitor management solution.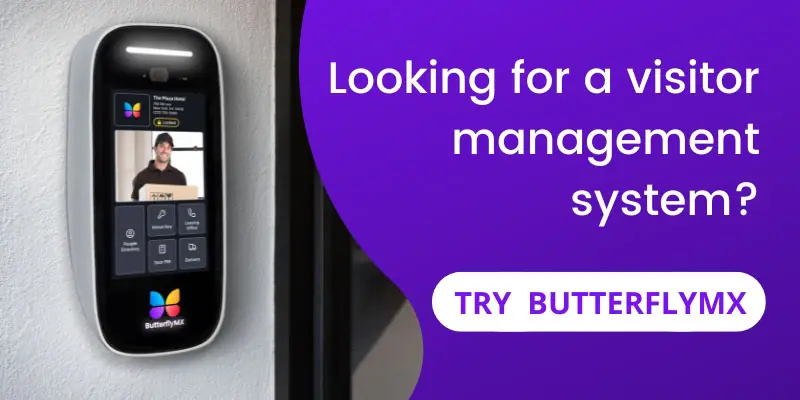 Disclaimer: ButterflyMX provides these blog posts to help our customers and potential customers make the right business decisions for them. Our blog posts are based on the information we have available to us at the time of writing.