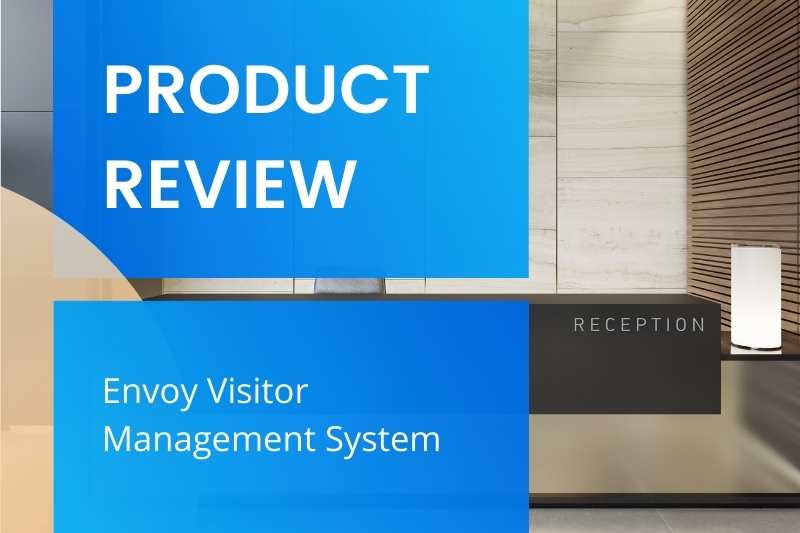 When you, your tenants, or employees are expecting a visitor, there's nothing more frustrating than having to meet them in the lobby and wasting time signing them in manually. Fortunately, there's a better way: an efficiency-focused visitor management system.
Visitor management platforms make it easy to securely yet conveniently welcome visitors to your building. And one visitor management platform you might consider is Envoy Visitors.
Read this review before investing in the Envoy visitor management system to determine if it's right for your property.
This review covers:
About Envoy
From offices in San Francisco and Denver, Envoy builds smart office tools designed to automate manual work and create a more streamlined workplace.
Focused specifically on serving commercial real estate, office buildings, and the companies who work there, Envoy strives to help clients "handle everything that comes through the front door."
To achieve this, Envoy offers five essential products:
Visitors: A visitor management platform.
Protect: An employee health screening system.
Desks: A desk booking/reservation platform.
Deliveries: A package management software solution.
Rooms: A room booking tool.
What is Envoy visitor management?
Envoy visitor management is an all-in-one digital visitor management system that streamlines the guest sign-in process with additional security-focused features to keep buildings, assets, and people safe.
With the Envoy office visitor management platform, building owners and tenants can see exactly who's visiting, when, and why.
The Envoy visitor management software and registration suite is an iPad-based system that eclipses the pen-and-paper sign-in sheet that has been so prevalent in building lobbies over the years. When a visitor arrives at an Envoy building, they can sign in through a touchless and digital process, receive an automatically printed badge, and be on their way more quickly.
Note: Envoy is designed specifically for offices and workplaces. It doesn't appear to offer any multifamily applications.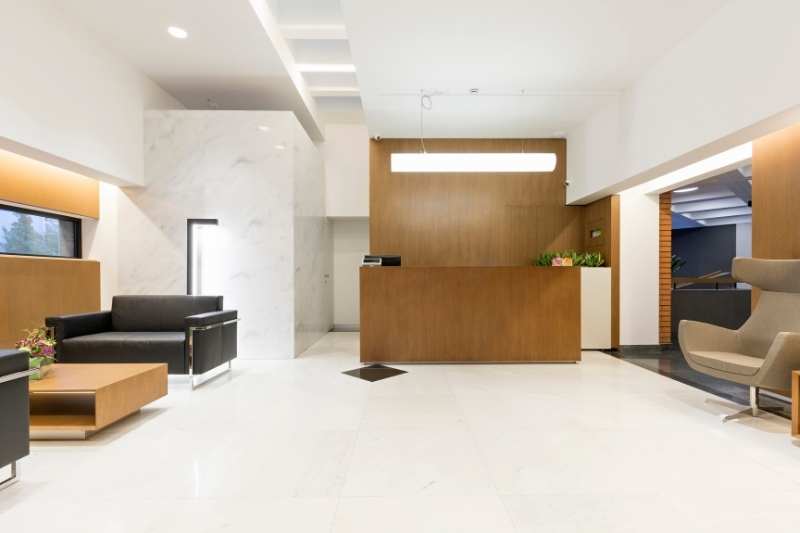 How the Envoy visitor management platform works
Making visitors feel welcome and comfortable is key to your tenants' success and the effective management of your building. Envoy Visitors aims to improve the visitor experience while maintaining security and saving time for building staff, tenants, and their employees.
From delivery people to service providers to VIP clients, every guest is screened without hindering their visit — or wasting time for tenants and employees.
The system eliminates traditional visitor management processes like:
Calling, messaging, and tracking down employees when their visitors arrive
Handwritten sign-in sheets and name badges
Pen-and-paper contracts, NDAs, and other documents
Manually sending instructions (such as parking, directions, sign-in protocol, etc.) to guests before they arrive
So, Envoy Visitors works by managing a guest's visit to your building from before they arrive until the time they leave your facility.
Here's a step-by-step look at the Envoy visitor management system in action:
The system has an email feature that reminds guests of their visit and sends directions, parking details, and other pertinent information.
When a visitor arrives, they sign in electronically via an iPad system. The optional photo capture feature snaps a photo of visitors so hosts can greet them confidently.
If the guest needs to submit an NDA or other legal document, they can do so digitally on the spot. Envoy can also automatically print badges when visitors sign in.
Envoy immediately notifies the guest's host of their arrival so they can greet their guest promptly.
Watch how ButterflyMX works:
Review of Envoy Visitors
Read on to learn more about the Envoy Visitors product, including its features, cost, and pros and cons.
Features
Customizable sign-in: When guests sign in, they are asked specific questions that apply to their visit. Building owners and tenant
Instant notification: Employees receive automatic notifications upon their guest's arrival so they can meet them promptly.
Visitor screening: Before guests arrive on site, they are screened to eliminate unwanted or watch-listed visitors or people who haven't met specific criteria.
Analytics and reporting: Get access to critical information such as visitor volume, who invited visitors, and how many total visitors any individual employee has invited over a period of time.
Registration: Keep track of impending visits and alert teams and employees of who to expect and when. Visitors can also be emailed to remind them of their visit and receive directions and parking permits.
Digital document signing: Guests are prompted to sign required documents such as waivers and NDAs on the iPad during sign-in.
Envoy visitor management pricing
Envoy Visitors has four pricing tiers: Basic, Standard, Premium, and Enterprise:
Basic is free and includes sign-in and host notification only.
Standard adds badge printing and legal documents at $99 monthly per location.
Premium adds customized branding on the greeting, visitor photos, building/room capacity limits, and directory integrations at $299 monthly per location.
Enterprise is for workplaces with complicated security and compliance needs. The Enterprise plan includes everything in the Premium plan, plus block list and ID scanning, guest WiFi integrations, access control integrations, and visitor screening integrations. You must contact the Envoy sales team for a quote.
Pros & cons
Pros:
Easy to use and customizable.
Tenants automatically receive a notification when they have a visitor.
Easily reference who has visited your office and when.
Integrates with several other platforms, including access control and visitor screening, and ID scanning systems.
Cons:
The check-in process may not be as smooth for visitors who didn't sign up or check-in in advance.
Some customers have reported intermittent stability issues.
Conditional rules during sign-in flow.
No known built-in property access control component.
May not have a solution to accommodate after-hours visitors or buildings without a front desk.
The Envoy visitor management system is only designed for offices and commercial real estate, not multifamily.
Should you get Envoy Visitors?
The Envoy visitor management platform may be a good solution for building managers and companies that want to streamline the visitor registration process while improving security. The system appears to be simple to use for both visitors and tenants. Building owners and property managers who already have Envoy Visitors have reported the convenience of the advance sign-in feature, especially when hosting a big event with many expected visitors.
However, the Envoy visitor management system may not be right for you if you need a solution for a multifamily property, or if you want a system with built-in access control features.
If you're looking for an alternative visitor management platform, consider ButterflyMX instead.
Watch how to manage access for visitors with ButterflyMX virtual keys:
ButterflyMX for visitor management
ButterflyMX offers a visitor management system designed for all kinds of properties, including commercial buildings, offices, and apartments. It consists of a video intercom installed at the property's entrance and, if desired, front desk station software.
ButterflyMX is a great visitor management solution because it does more than just eliminate the need for manual sign-in sheets — it also controls property access. It's especially useful for smaller buildings that don't have a lobby, front desk, or doorman.
When a visitor arrives at a ButterflyMX building, all they have to do is search for a tenant in the video intercom directory and place a video call to request access. Visitors can call a front desk or even a specific tenant. Then, the staff member or tenant can quickly unlock the door from a smartphone or computer. The video intercom even takes a time- and date-stamped photo of the visitor for added security.
What's more, if your building has an elevator with restricted access, you can add on ButterflyMX elevator controls to ensure that visitors have access to the proper floor. When a tenant grants access to a visitor via the intercom, the ButterflyMX system simultaneously unlocks fobbed elevators, restricting guest access solely to the floor of the tenant they're visiting.
Takeaways
The Envoy visitor management system may be a good choice if you're looking for a solution that speeds up the visitor check-in process and reduces manual work for building staff and tenants. Ultimately, it's a well-rated office visitor management platform.
However, Envoy Visitors doesn't inherently control property access for guests, which is the most important component of visitor management. So, if you need a system for an apartment building or want a solution that incorporates access control functionality, consider a different platform like ButterflyMX.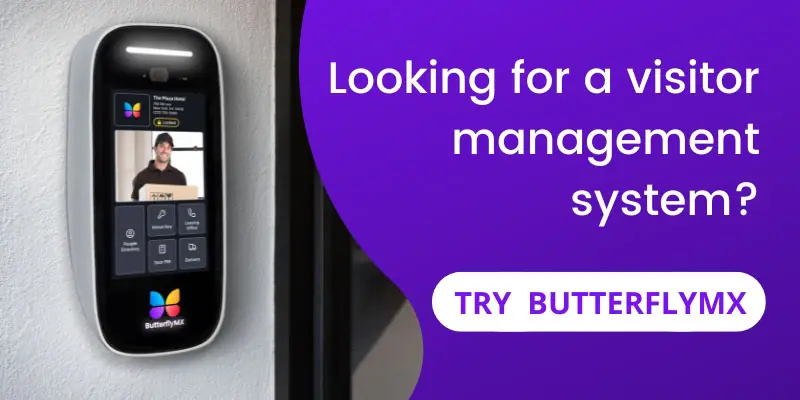 Disclaimer: ButterflyMX provides these blog posts to help our customers and potential customers make the right business decisions for them. Our blog posts are based on the information we have available to us at the time of writing.