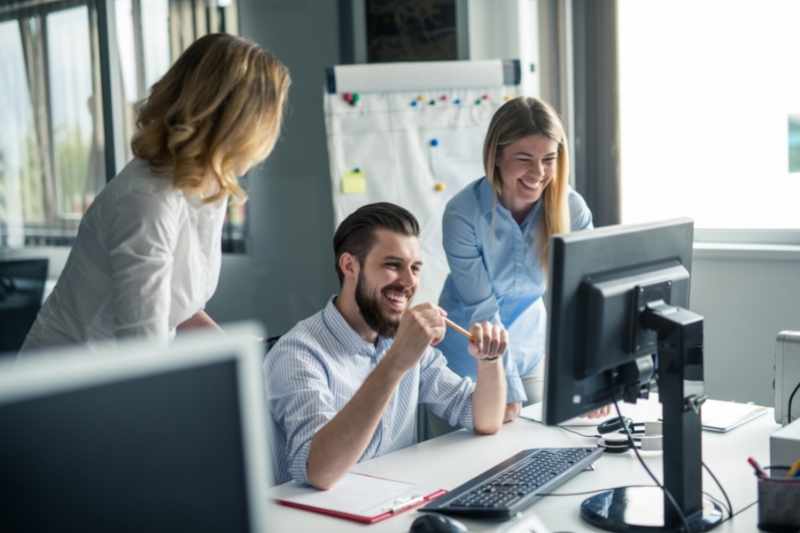 You know how important it is to keep office spaces rented and revenue flowing. But office culture changed dramatically in 2020 when remote work became the new normal. So, as the future of work changes, it's time to consider ways to modernize office buildings. And converting them into smart offices is one of the best ways to do so.
This guide to smart office technology will cover:
What is smart office technology?
Smart office technology is a modern solution to improve the productivity and efficiency of employees both in-office and remotely. Now more than ever, employees expect commercial real estate technology in their office spaces so they can seamlessly collaborate with teammates all over the world.
Smart office technology also includes devices that improve the office building itself, such as:
A remote doorman
Smart thermostats
Smart lighting systems
What is smart office IoT?
The Internet of Things (IoT) describes devices that exchange information with other devices using the internet. This is what makes technology "smart." The IoT improves efficiency and also makes day-to-day tasks easier for many people.
Smart office IoT includes technologies like:
Automated door locks
Occupancy sensors
Conference room scheduling systems
Automated climate and lighting control
Touchless access control systems
See how ButterflyMX touchless entry works:
What are the 3 components of the smart office?
The three components of smart offices include:
1. Infrastructure
Office building infrastructure is not inherently "smart." Traditional plumbing and security systems have been around for a long time.
However, thanks to modern technology, the most successful offices incorporate smart technology into their infrastructure to save money and appeal to tenants.
Examples of smart office infrastructure include:
Upgraded security systems
Automated heating and cooling
Cloud-based property management
Leak detection systems
2. Smart devices
Many of the smart office devices we see today are repurposed from devices designed for homes. Modern workplaces have everything from lighting to thermostats customized from a mobile app.
Smart devices useful at office buildings include:
Smartphone-based lighting
IoT sensors
WiFi coffee machines
Smart locks
Video intercom system
Watch how ButterflyMX works:
3. Business-specific technology
Some technologies, like those used to manage hot-desking or conference rooms, apply to most offices. However, every business is different — and one of the best things about smart technology is that it's customizable.
Smart office technologies that your tenants may appreciate for their business:
Smart TVs for video conferencing
Adjustable desks with mobile app
Conference room and desk reservation systems
Voice-controlled keyboards
How to create a smart office
Real estate trends show that smart technology is popular and here to stay. So how do you create innovative office systems at your property?
The first and most important step is to talk to your tenants. Ask what solutions they would like for their businesses.
You can also invest in technologies that reduce your property's environmental impact and earn green building certifications. Sustainable upgrades will make your property more attractive to prospective tenants and reduce expenses like heating and electricity.
Finally, consider hiring a chief smart building officer. The person in this role can help decide which smart technologies to invest in and ensure they're implemented properly.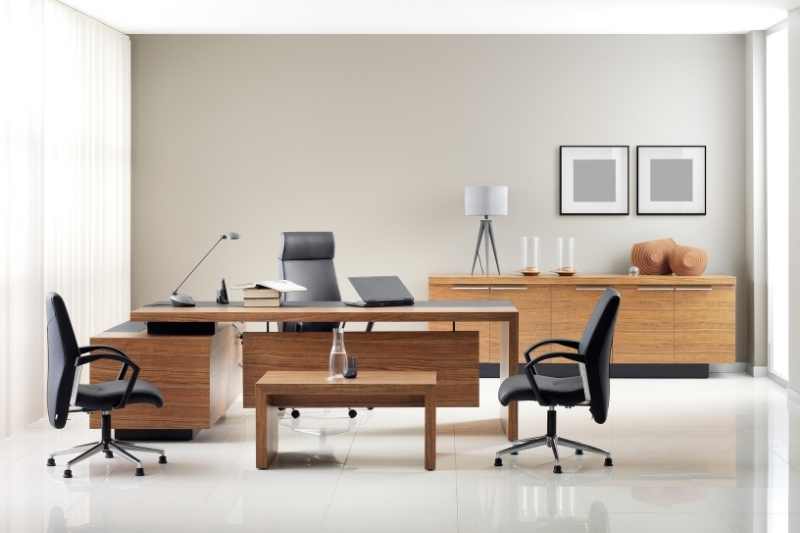 Benefits of smart office technology
Upgrading your building to support smart office solutions is a big investment. So you want to make sure creating futuristic office space is worthwhile. Incorporating more advanced technology into your office building has several for your property.
Some of the greatest benefits of smart office technology include:
Lower utility costs: Smart lights, thermostats, heating, and more contribute to lowering operating costs at your building. With office automation, lights are only on when in use, and temperatures adjust on their own to maximize efficiency.
Increased property value: Making improvements to your building will increase its value both to investors and tenants. Also, you can increase rent accordingly because the office spaces are worth more.
Save on labor costs: IoT sensors make repairs less frequent and more accurate, so your building maintenance costs are cheaper. With smart security devices, there's also no need for overnight shifts, which saves you money and improves the work-life balance of your employees.
Smart office access control technology
Managing who can access your building and each office space is essential for keeping your property secure and improving the tenant experience. For that reason, smart office access control technology is valuable to all office buildings.
The ButterflyMX access control system is the best solution for smart offices.
With ButterflyMX, your staff and tenants can access the building easily using their smartphones — and visitors and delivery couriers can also request access. Thanks to the video features, tenants and building staff can visually confirm the identities of visitors before granting them access to the building. In addition, tenants can even open the door for themselves and their guests from a mobile app. This means there's no need to hand out keys, cards, or fobs to tenants.
Ways to incorporate ButterflyMX smart office technology into your building:
Video intercom: The ButterflyMX commercial video intercom is wireless and smartphone-based. So, you don't need in-unit hardware — saving money on hardware and installation costs.
Access control system: ButterflyMX keypads and mullion readers are ideal for managing access to areas like amenities, closets, and executive offices. And since both readers are compatible with the ButterflyMX mobile app, your tenants will have a more convenient access experience.
Package room: Improve the tenant experience with a specialized package room to manage deliveries. Tenants get a lot of mail, which can mean extra work for your staff. With the ButterflyMX package room, delivery couriers can check themselves into the building and leave packages in a secure, organized space.
Elevator controls: You don't want tenants and visitors wandering around the building where they aren't supposed to. Protect the privacy of your tenants with ButterflyMX elevator controls. Using the system, you can manage which floors each individual can access.