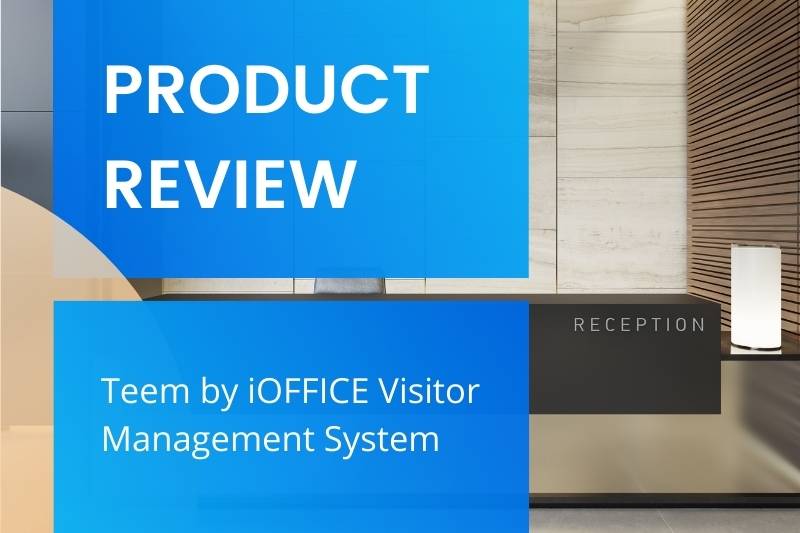 If your building's lobby still has a paper sign-in book and is cluttered with packages waiting to be picked up, a visitor management system may benefit you.
Now that technology enhances nearly every part of our daily lives, your customers, tenants, or residents expect an up-to-date building entry system that's fast and easy to use. And relying on a manual system to manage and monitor visitors just won't cut it.
Teem by iOFFICE is one solution that may be able to help improve the process of welcoming visitors into your building. Continue reading to learn more about how the Teem visitor management system works and whether it'll meet your building's needs.
This post covers:
About Teem by iOFFICE
iOFFICE is a workplace solutions provider that strives to help companies with space utilization analytics, employee experience, asset management, and general office services. Their SaaS solutions are designed to create a more productive workplace.
iOFFICE's headquarters are in Houston, Texas. But the company also has offices in Salt Lake City, Utah and Winnipeg, Canada. And in February 2022, iOFFICE announced Brandon Holden as the new CEO.
Teem is an iOFFICE brand that offers seven distinct software solutions.
These solutions include:
Space, desk, and room booking
Office building navigation and wayfinding
Visitor management
Employee experience app
Return to office solutions
Workplace analytics
Teem supports businesses and offices of most sizes and can tailor a plan that fits unique aspects of individual companies. They also offer different pricing tiers and features that will fit the requirements of most buildings.
How Teem visitor management system works
Teem's office visitor management system is a cloud-based SaaS solution that puts all aspects of the guest experience into one platform.
The Teem visitor management platform strives to help maintain office security, keep employees safe, deliver a great guest experience, and save time for employees, company leadership, and building management.
First, Teem streamlines, digitizes, and organizes the visitor check-in process. Tools such as guest pre-registration, digital sign-in, and automatic host notifications save time for visitors, employees, and front desk staff alike. Also, Teem's software works with a customizable welcome screen that displays the company's branding, giving the visitor a solid first impression.
Additionally, Teem by iOFFICE's visitor management system offers visitor questionnaires and digital form fill tools. As a result, visitors can answer required questions and sign any necessary documentation (like NDAs) without a hitch.
Finally, the system's workplace analytics tool helps property managers and building owners determine which lobby or entrance receives the most traffic.
Watch how ButterflyMX works:
Teem by iOFFICE review
Teem by iOFFICE is just one of many office visitor management solutions out there. So, before you commit, make sure you understand its features, cost, and pros and cons.
Features
Guest pre-registration: Tenants, employees, and building management can pre-register visitors. Pre-registering a visitor means guests receive an email invite with all the information they need, like parking instructions, the building's WiFi password, and other helpful details. Registration also saves time upon a visitor's arrival.
Digital visitor check-in: Upon arrival, visitors sign in digitally using Teem's software. You can include a custom questionnaire, health screening, or form completion requirements.
Branded visuals: Make every visitor's first impression a great one by adding your company's or building's branding to electronic displays.
Automatic host notifications: When a visitor signs in, their host receives an automated notification. This helps reduce wait times and avoid crowding in the lobby.
Workplace analytics: Teem by iOFFICE's workplace analytics tool automatically collects lobby utilization data. Admins can review the data any time from a cloud-based dashboard.
Contact tracing: You need to know who's in your building in an emergency. With Teem's digitized visitor logs, you avoid delays in identifying visitors and staff to account for their whereabouts.
Integrations: You can easily integrate existing tools — like Slack, Google Apps, and Microsoft Office — with Teem's software for easy access to the information you need and streamlined coordination.
Teem by iOFFICE cost
Teem's visitor management system costs $1,000 per lobby per year and is charged as an add-on to their tiered software packages. As a result, it appears as though you must purchase a Teem software package and add on its visitor management solution.
For $1,000 a year, you get access to an iPad app, custom visitor types and contracts, host notifications (via integrations with tools like Slack), custom guest questionnaires, badge printing, and watch list capabilities.
Beyond the visitor management solution, Teem has three pricing tiers: Basic, Professional, and Enterprise.
The Basic package costs $150 per conference room per year. It includes conference room management, Native Room Display Panel App (hardware not included), employee mobile app, calendar integration and plugins, reservation check-in, user directory, space amenities, and the admin management dashboard. It's best for companies with small offices.
The Professional package costs $250/conference room and $40/desk per year. It includes everything in the Basic plan plus desk management, reservation logs, space profiles, work requests, user directory sync, and additional integrations. It's best suited for mid-sized offices of 100 or more employees.
The Enterprise package is best for companies with multiple offices and 100+ desks/50+ rooms. The package includes everything in the Professional package plus workplace analytics, interactive workplace maps, sensor and IoT integrations, and premium data export. You must contact Teem for Enterprise pricing.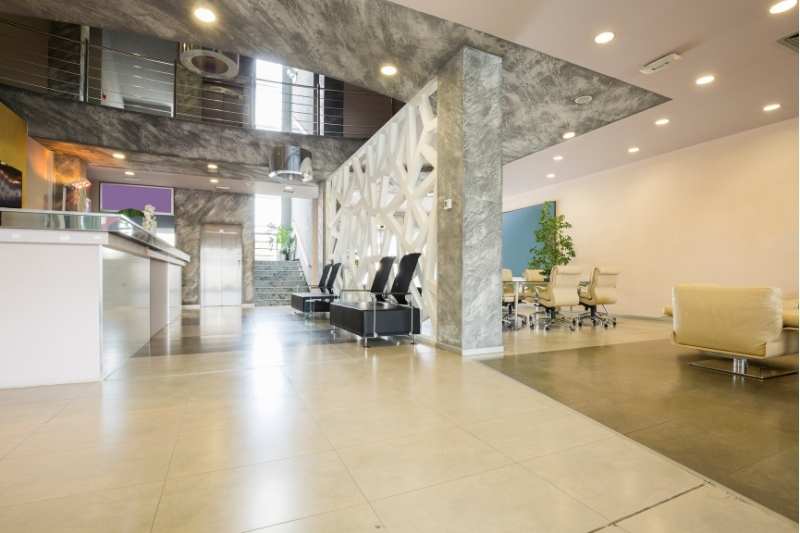 Pros & cons
Pros:
Teem's engineering department appears willing to help with any product modifications or customer idiosyncrasies.
The mobile app works for iOS and Android.
The software appears to be intuitive and easy to use.
Users tend to report good customer service.
Cons:
Teem is not designed for multifamily buildings, so it won't work in apartments.
Teem by iOFFICE doesn't include any built-in access control solutions. It also doesn't appear to integrate with any access control providers.
The tablet has to be manually configured if it stops working.
Many features aren't available in the Basic and Professional plans. Additionally, many features are only available as add-ons at an extra fee.
Should you get Teem by iOFFICE?
If you're looking for a dependable yet unpretentious and intuitive visitor management system, you may want to take a closer look at Teem by iOFFICE. With its tablet-based check-in system, preregistration, contact tracing, and analytics, Teem may be a solid choice to make building check-in a touchless and safe experience for visitors and tenants alike.
However, Teem isn't designed to accommodate multifamily buildings, so if you need a tech-forward visitor management system for your apartment, look for an alternative.
Additionally, Teem doesn't provide a way to control physical access to your building. So, you'll still need to purchase a separate building entry system. And unfortunately, Teem doesn't appear to integrate with access control systems. As a result, you'll have to control access and manage visitors with two different platforms.
Watch how to manage access for visitors with ButterflyMX virtual keys:
ButterflyMX for visitor management
In contrast to solutions like Teem by iOFFICE that are only designed for offices, ButterflyMX offers a visitor management system designed for all kinds of properties, including commercial buildings, offices, and apartments.
And best of all:
ButterflyMX manages visitors while controlling building access.
The ButterflyMX visitor management system consists of a video intercom system and optional front desk software. With ButterflyMX, you won't need manual sign-in sheets or a guest check-in process at all. Instead, visitors use the intercom to gain building access and notify their host that they've arrived (or request access from a front desk or staff member).
Thanks to the video calling feature, tenants always know who they're letting in. Plus, the camera takes a photo of everyone who enters the building, providing an audit trail that tenants and management can review anytime.
Since ButterflyMX is an all-in-one building entry and visitor management solution, it's great for all kinds of buildings — including those without a front desk or doorman.
Takeaways
Teem by iOFFICE may help streamline visitor check-in and create a better guest experience, but ultimately it may fail to accommodate the most important part of visitor management: building entry.
ButterflyMX is an access control and visitor management platform that streamlines visitor access without compromising security.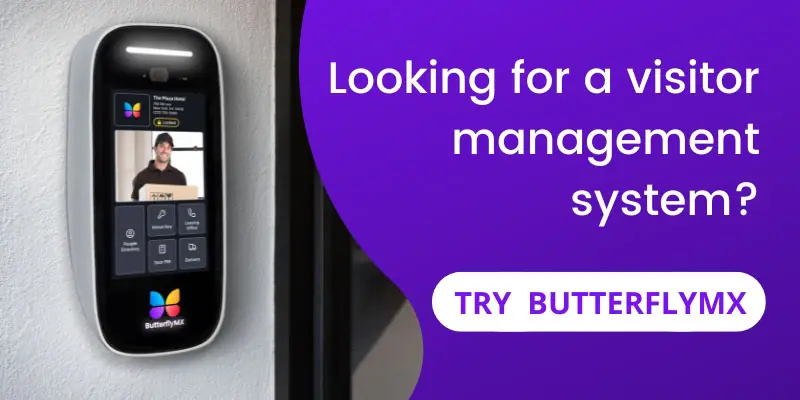 Disclaimer: ButterflyMX provides these blog posts to help our customers and potential customers make the right business decisions for them. Our blog posts are based on the information we have available to us at the time of writing.