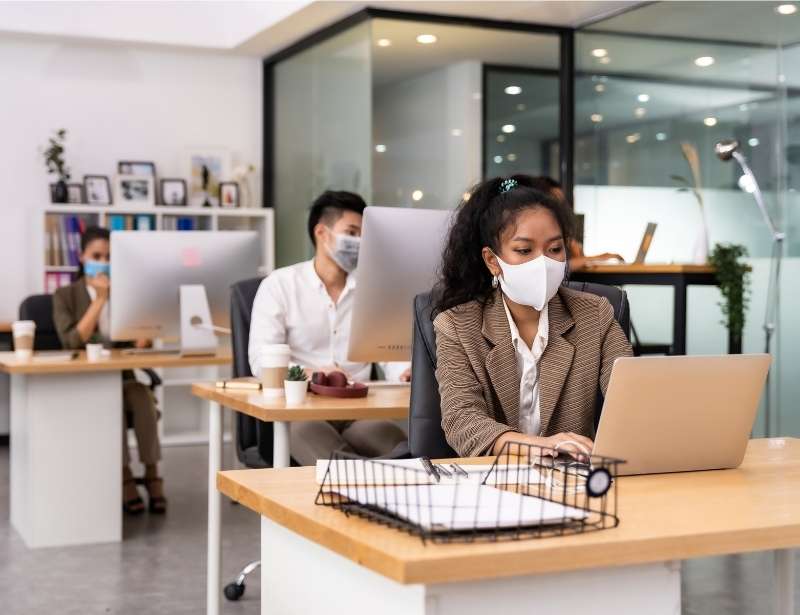 COVID-19 wreaked havoc on the commercial real estate industry. As companies transitioned to a work-from-home model, commercial real estate professionals were left hustling to find solutions to make their office buildings and commercial spaces safer.
Now, with a vaccine and a nationwide desire to restore normalcy, many businesses are gearing up to return to the office. As a commercial property manager or owner, there's a lot you can do to make your building safe. Implementing these changes will create a positive tenant experience and give tenants peace of mind as they head back to work.
Here are 6 ways you can prepare your building for a safe return to the office:
1. Invest in an app-based reservation system
The key to returning to the office after working from home is to do it gradually, not all at once. You can ensure a smooth transition by limiting the number of people in the office and letting workers come into the office only on certain days of the week.
But if employees get to choose which days they come in, how do you maintain a cap on the number of people in the office? The solution is an app-based desk reservation system.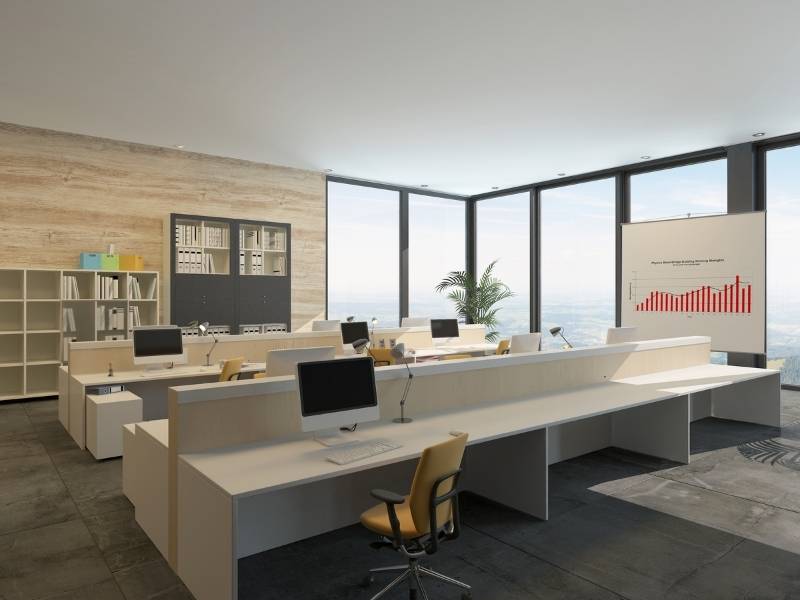 Invest in software that lets your tenants and their employees reserve a desk in the office for certain days and times of the week. We recommend choosing cloud-based software with a mobile app so that employees can easily reserve desks on the go.
Most desk reservation platforms also offer additional features like:
Conference room booking
Team visit planning so that managers can book a group of desks for an entire team
Analytics to gain insight into occupancy data
2. Create a touchless entry experience
If you want to ensure a safe return to the office, start at the front door of your commercial building. By creating a completely hands-free entrance, you can prevent the spread of germs via high-contact surfaces like door handles.
To create a touchless entrance, you'll need:
A cloud-based video intercom
An automatic door opener
A smartphone
To implement touchless entry, wire your automatic door opener to your video intercom system. Choose a cloud-based intercom with a mobile app so that tenants can open the door from their smartphones rather than touching the door.
3. Implement contactless delivery options
Even before COVID-19, e-commerce was on the rise. Your tenants are ordering more and more online — which means they're receiving more and more deliveries. And it's not just packages — people are also relying more on food delivery services.
So, commercial buildings need a way to manage deliveries while eliminating person-to-person contact.
For example, say your tenant orders Postmates for lunch. When the Postmates driver arrives at the building, they need a way to get through the front door. If you have key-fobbed elevators, they also need a way to get up to the tenant's floor.
The safest solution is to design a contactless delivery process.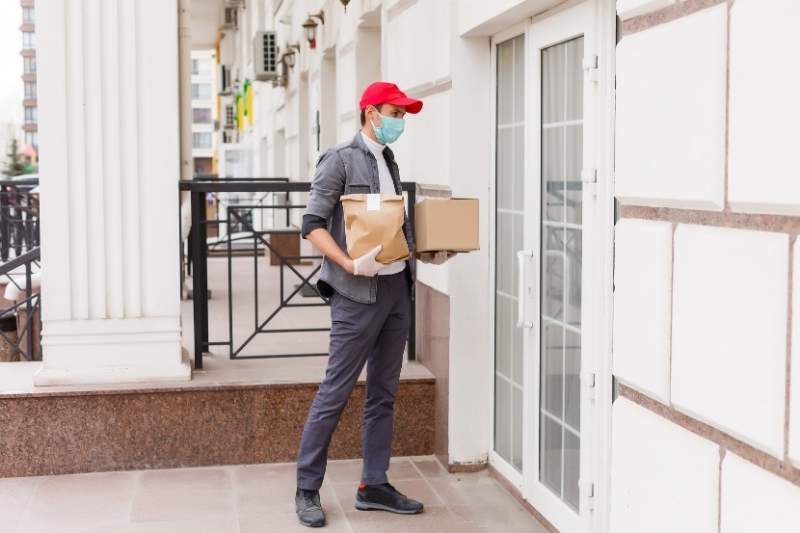 Steps to creating a contactless delivery experience:
Install a cloud-based video intercom. This will allow tenants to open the door remotely for couriers right from their smartphones without any person-to-person contact.
Install elevator controls for key-fobbed elevators. Elevator controls allow the courier to access your key-fobbed elevator and bring the delivery up to the tenant's floor. This spares the tenant from having to go downstairs to greet the driver in person. When the tenant opens the front door for the courier, it will automatically unlock the elevators only for their floor.
Set up a package room and/or contactless delivery station. For boxes and parcels, set up a package room with a smart video intercom so that couriers can leave packages in a safe, locked room. For food deliveries, consider adding a delivery table or station to each floor of the building so that couriers can drop off food without ever coming in contact with tenants.
4. Simplify parking access for tenants
A safe return to the office starts with a safe commute to the office. With lingering health concerns, people may be hesitant to use public transit and will instead choose to drive to work. As a result, you'll need to make sure there is enough parking — and that your parking garage or lot is easily accessible.
If your building's parking structure is gated, consider investing in a gate intercom system with a camera. Choose an app-based intercom system that allows tenants to access the property with just their smartphone — that way, you won't have to worry about handing out fobs or keycards.
The perks of using a video intercom as your gate entry system include:
Contactless entry: Because you won't need a gate attendant, your tenants will enjoy totally contactless access without any person-to-person contact.
Touchless entry: If you choose a cloud-based video intercom, your tenants can enter the parking structure without even touching any high-contact surfaces by swiping to open the gate on their smartphones.
Eliminating car stacking: Video gate intercom systems speed up the flow of traffic through the front gate, which can eliminate car stacking. Reducing traffic in the parking structure will alleviate tenants' concerns that driving to work (instead of taking public transportation) will make them late.
5. Administer new cleaning and disinfecting procedures
Establishing and enforcing thorough sanitization policies will keep your building clean and entice tenants to return to the office with much-needed peace of mind. You should establish sanitizing protocols with both your building cleaning staff and with tenants.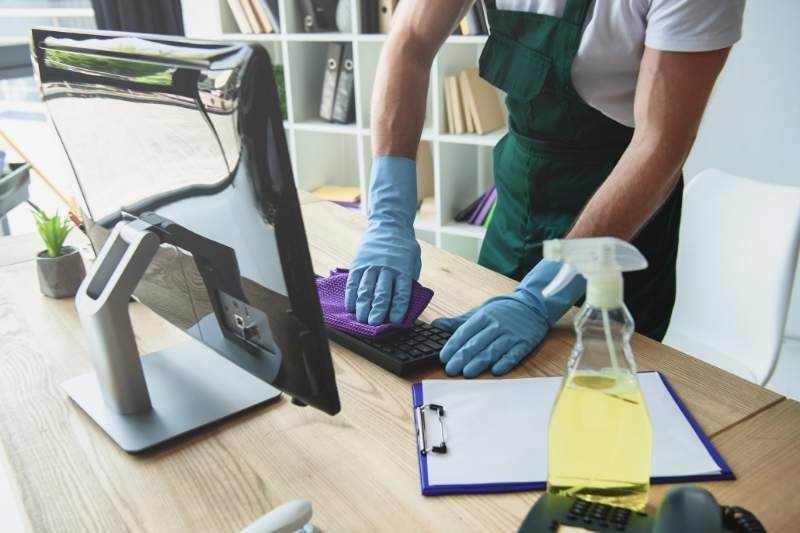 In addition to referring to the CDC's guide for cleaning and disinfecting a facility, follow these tips:
Get a head start. If possible, begin deep cleaning the building before any tenants return.
Increase cleaning frequency and enforce more robust processes.
Establish a system to track which areas have been cleaned and when.
Educate tenants on how they can keep their own office spaces clean by sanitizing desks and equipment, disinfecting door handles, and washing their hands frequently. Add signage to serve as a reminder.
6. Establish a plan in the event of an illness at the building
Though the previous five measures will improve safety at your building, it's always wise to prepare for the worst. In the event that someone in the building does get sick, make sure you have a plan in place to address the matter quickly and effectively.
Communication is key — you'll need a way to communicate the situation to all tenants as soon as possible. Implement a plan of action alongside a system that enables seamless, building-wide communication.
The good news: If you've installed a smart video intercom like ButterflyMX, you already have a mass communication tool in place. ButterflyMX allows property admins to send mass messages to all tenants through the property management dashboard.
Takeaways
For commercial tenants, returning to the office can be daunting. The key is to reassure tenants of everything you are doing to ensure their health and safety.
Give tenants a way to reserve office space to prevent overcrowding in the building.
Implement touchless entry and contactless delivery experiences.
Make sure tenants can access the building's parking structure safely and seamlessly.
Establish robust disinfecting protocols throughout the building.
Invest in a mass messaging tool to communicate with tenants if someone in the building gets sick.