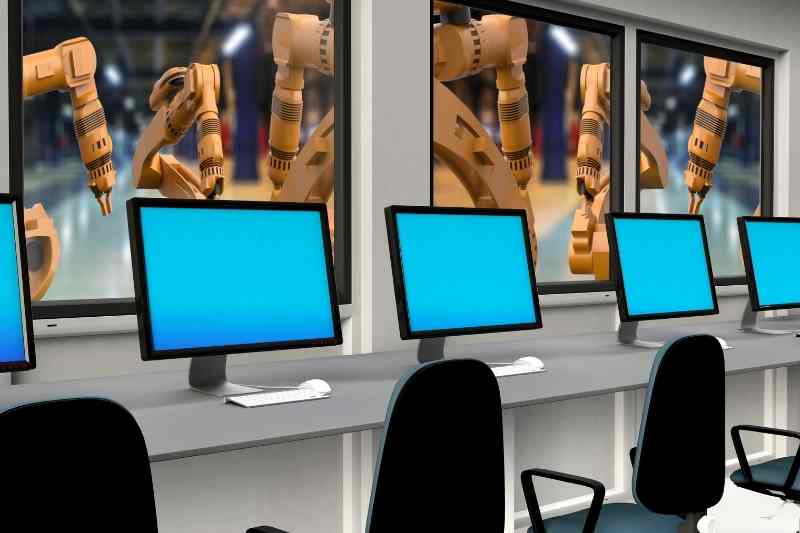 Hundreds of thousands of American adults work from an office in some capacity. And as technology continues to advance, there are many ways to automate tedious office management tasks, from controlling building access to processing data. In turn, these office automation systems personalize the building by catering to your tenants' needs.
So, keep reading to learn more about office automation, its benefits, and how to enable it in your commercial property. Plus, we recommend five products and software solutions that every office should have in 2022.
In this post, we discuss:
What is office automation?
Office automation refers to any kind of technology or software that makes an office- or work-related process more efficient and less time-consuming. It encompasses a wide range of products and services, from data storage and access control to payroll processing, office building maintenance, and so much more.
In short, office automation saves companies time and energy performing administrative tasks so they can enhance productivity and focus on more important work. Also, it can be traced back to the Industrial Revolution of the 19th century. During that time, the invention of manufacturing machinery sped up the production of essential items and reduced the need for human labor.
Fast forward to the 21st century with the introduction of the Internet of Things and the wide availability of personal computers — office automation took on another meaning. And the rise in demand for flexible offices and remote work further increased the value and need for office automation tools.
Today, products and software that automate offices provide employees both flexibility and reliability in completing their daily tasks, regardless of whether they're working from home or the office.
Most common types of office automation systems
In today's digital world, there's no limit to which aspects of work can be automated. And considering the speed at which technology is evolving, the future of work automation is genuinely limitless.
Some office automation systems that might be familiar to you are:
Content management systems (CMS) like WordPress. If your business has a website or blog, you probably use a CMS to write, schedule, or edit digital content. CMS solutions are cloud-based, meaning that authorized team members can access them from anywhere.
Commercial access control systems manage who has access credentials for the office building and designate specific times they can enter. In other words, commercial access systems can limit access to certain parts of the building so that no one can enter restricted areas.
Electronic communication and collaboration tools facilitate constant communication throughout the company and simplify teamwork. For example, chat platforms like Slack and Microsoft Teams yield faster response times than emails or phone calls. Furthermore, word processors like Google Docs and Office 365 allow collaboration in real-time.
Business process management (BPM) tools discover, manage, optimize, and improve business processes. BPM solutions facilitate back-office automation, such as data entry and employee on- and off-boarding procedures. Back office refers to aspects of work that are not client-facing but still pivotal to business operations.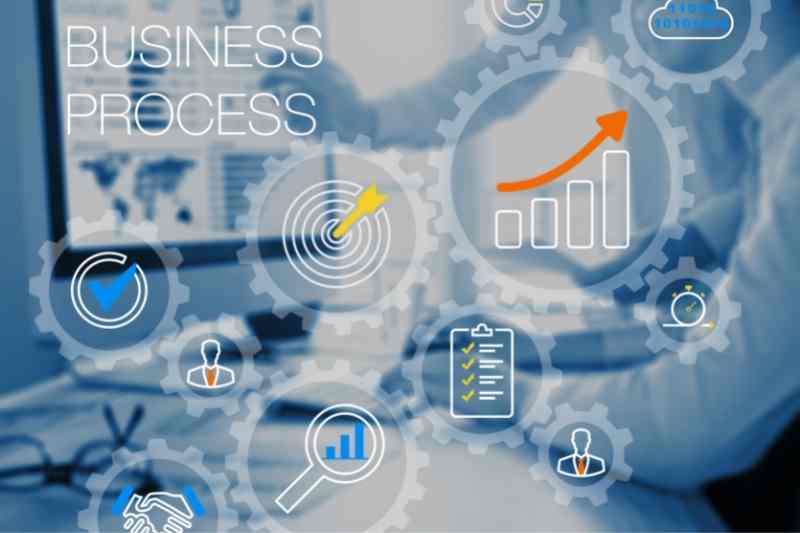 Benefits of office automation
Overall, there are countless benefits of implementing office automation processes throughout the workplace. Besides the obvious benefits of saving time and money, it also improves workflow and efficiency.
Here are four benefits of office automation:
1. Improved data storage
Long gone are the days when important documents were stored in file cabinets. Manually filing documents is not only labor- and time-intensive, but it's susceptible to human error and theft. The same is true for data entry.
Instead, storing and processing all information on an encrypted cloud-based device automates the data entry procedure and safeguards all sensitive business information. Plus, authorized workers can access the information to do their jobs anywhere with a secure internet connection.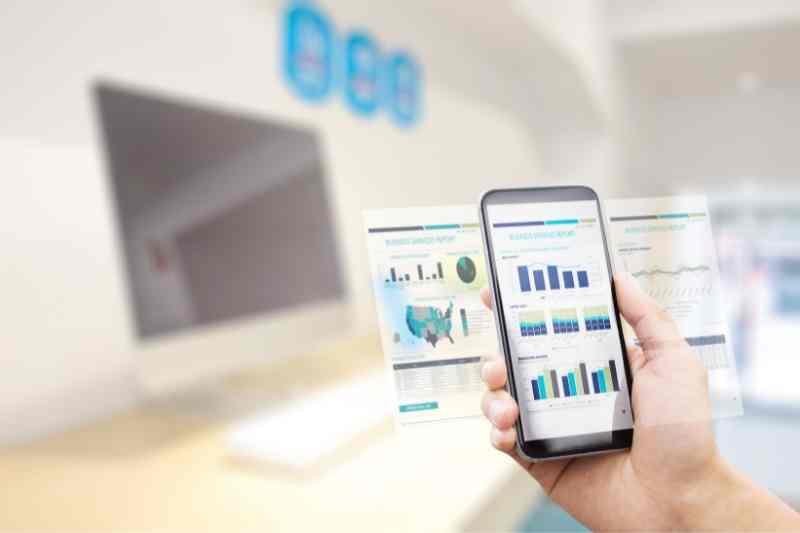 2. Lowered operating costs
Usually, implementing office automation systems requires a one-time payment and sometimes a monthly or annual subscription. This is significantly less expensive than paying employees to handle the tedious tasks that no one wants to tackle. Therefore, employees can instead focus more on strategic and high-level tasks, increasing the company's ROI.
3. Increased employee retention
The modern employee wants to work smarter, not harder.
Considering how many white-collar jobs today require higher education degrees, employees look to contribute more knowledge and creativity than manual labor. And if employers invest in office automation tools to handle repetitive, mundane tasks, employees will feel their time and skills are valued. In turn, they'll choose to continue working at the company for a long time and producing great results.
4. Enhanced employee and building safety
When it comes to safety, electronic security systems provide more robust protection and detection than humans. Devices like video access control systems and security cameras work 24/7 to continually keep employees and assets safe.
These modern devices automate security-related tasks. For example, camera systems can automatically notify building administrators of unusual activity or alert authorities of break-ins. And video access control systems allow tenants to navigate the building seamlessly and give authorized visitors digital access credentials for easy entry. Plus, they can take a photo of every entry event for property staff to review.
Watch how ButterflyMX works:
5 best office automation products and software
It might feel daunting at first to start installing devices to automate your office building. However, the key is to start with the essentials and then work your way down.
Here are the five best office automation products and software to invest in for your building:
1. IP video intercoms at entrances
Tenants and their employees will reap the benefits of accessing the building via an IP intercom for business. With IP entry systems, tenants can use their smartphones to open doors for themselves and their guests without involving security staff or receptionists. The video component empowers tenants to visually confirm a visitor's identity before granting them access.
As a property manager, you can manage access permissions and activities on a computer remotely. Plus, IP intercoms integrate with property management software so that you can monitor and control all aspects of your building from one place. This means that you'll have access to door entry logs, rent roll, maintenance requests, and other building operation information on one dashboard.
Pro-tip: Choose a touchless access control system for maximum convenience, best health-conscious practices, and quicker door entry.
2. Project management software tracker
Cloud-based project management tools allow workers to organize and track their progress on assignments and projects. This helps team members keep each other accountable for tasks, set deadlines, and collaborate on group work.
Project management software enables greater focus and productivity across different departments within a company. Such programs can even be used on a property management level to track building maintenance repairs, cleaning and trash removal shifts, and tenant onboarding processes.
3. Keypads for access to restricted rooms
There are probably specific areas or rooms in your office building that aren't meant for general use, such as supply closets, classified file storage, and high-security office suites. Traditionally, physical keys were the only way you could access these spaces. But keys can easily get lost or land in the wrong hands. And a middleman is required to safeguard those keys.
However, by installing keypad devices at the entrances of access-restricted rooms, you'll enhance security while easily controlling and monitoring who can enter these spaces.
To unlock doors or gates using keypads, tenants can use:
Key cards or key fobs
Mobile credentialing
PIN codes or virtual keys
Biometrics, like a fingerprint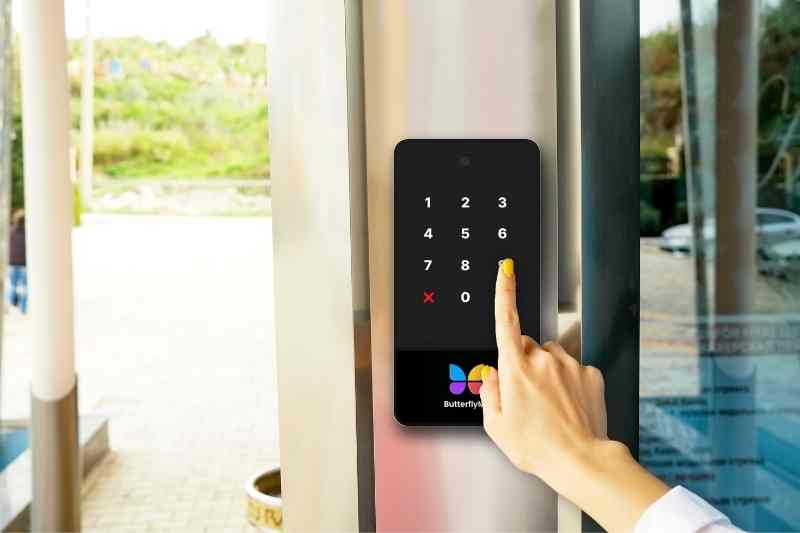 4. Room or desk reservation platform
As the hybrid work model gains popularity, many companies are downsizing to smaller office buildings that can't necessarily accommodate all their employees at once. And as a result, they need a way for employees to reserve workspace to avoid overcrowding the office.
One solution is to use a reservation platform for conference rooms and desks. These platforms help you avoid schedule overlaps, so no one will accidentally walk into a room with a meeting in progress or take a desk that someone else reserved.
Most importantly, space reservation platforms automate the process of managing office space and usage. There'll be no need for tenants to compare countless schedules to find a time the conference room is available. Plus, you'll have access to real-time occupancy analytics and space reservation data for the foreseeable future.
Pro-tip: Choose cloud-based software with a mobile app so that employees can easily reserve rooms and desks on the go.
5. Workflow management software
Many aspects of any kind of job are repetitive, tedious, and mundane. But luckily, workflow management software detects redundant tasks and maps out the workflow in an ideal state. An example of workflow management software is a customer emailing platform that automatically sends clients messages whenever they fill out a website form or download content.
Automating workflows whenever possible allows employees to focus more on the innovative and creative aspects of their jobs. Workflow automation doesn't eliminate the need for employees. But rather, it empowers them to unleash their full potential and work smarter and more efficiently.