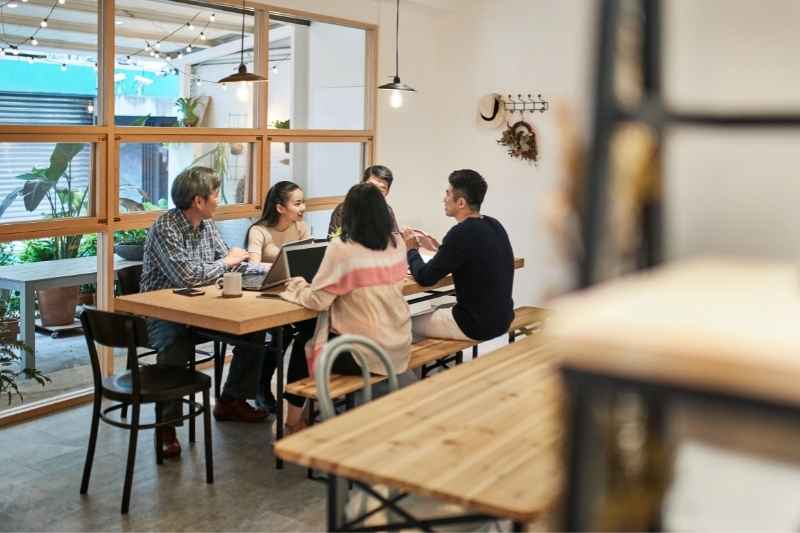 By now, you've probably heard of the term flexible, or "flex," offices being thrown around. Flex offices have been gaining popularity over the past few years. And this type of office space is undoubtedly one of the most important factors shaping the commercial real estate landscape and the future of work today.
If you develop or own commercial properties, designing or revamping your buildings to enable flex office spaces can be particularly lucrative. And one of the best ways to do so is with technology. Read on to learn more about flex office spaces, how and why to set them up, and must-have proptech devices for these spaces.
In this post, we cover:
What is a flex office?
A flex office is a commercial space or office that can be tailored and customized to tenants' individual needs. It's designed to provide employees with a variety of different places and ways to work.
No one is assigned a specific desk or space to work from. Instead, workers choose an area of the office that best suits their working style. Additionally, flex offices accommodate hybrid work schedules since they usually don't have enough desks for all the employees to come in at once.
In addition, flexible workspaces can be easily rearranged or reconfigured to accommodate changing business objectives. So, you can quickly scale them up or down to fit teams of different sizes. These office spaces are best for companies that offer hybrid work schedules where employees can work from home full- or part-time.
How flex office spaces started
After the COVID-19 pandemic disrupted the way people worldwide worked, the demand for flex offices skyrocketed. Employers wanted flexibility with office leases to accommodate hybrid work and adapt office layouts to workers' evolving needs.
However, the flex office revolution started long before the global pandemic. Specific sectors — especially technology and software as a service (SaaS) companies that experienced rapid and exponential growth — started adopting this trend as early as the mid-1990s during the dot-com boom. The wide accessibility of the internet and belief in technology gave birth to the startup culture.
Since many startups begin with minimal funding, many can't afford to lease office spaces to house all their employees. Additionally, the growth of startups coincided with the booming gig economy. After the 2008 financial crisis, millennials entering the workforce had to turn to freelance and temporary work as the economy recovered.
The future of work post-2020s
The 2020s just might be known as the decade that completely transformed the way millions around the world work. Many have learned that working from home offers a better work-life balance, enhanced productivity, and improved mental well-being.
And as Gen Z — those born between 1997 and 2012 — enter the workforce, they're redefining how and when they work. According to the New York Times, this generation is disrupting the traditional 9-to-5 workday to focus more on their mental health and their lives outside of work. And older generations are following their lead.
So to accommodate this ideological and practical shift of work, commercial real estate professionals must change how they manage, develop, and market office properties. And offering flex office options is a must if you want to retain tenants.
Watch how ButterflyMX works in an office:
Top benefits of flex office spaces
From increasing occupancy rates to improving tenant experience, there are countless benefits of offering flex office spaces. Long gone are the days when tenants sign 10-year leases. Just like multifamily renters, commercial tenants want the flexibility and agility to adapt to unexpected situations.
Here are the top benefits of flex office spaces:
Improves tenants' well-being
Today, employees are striving to achieve a healthy work-life balance more than ever before. And the mass shift to working from home that started in 2020 caused many employees to realize that remote work is not only feasible but also sets them up for success.
Companies that sign up for flex office agreements are more likely to offer employees choices over how and where they work. In doing so, they also widen their nets for job candidate pools. So, employees who prefer to work in offices for fixed hours a day can do so, and those who want more flexibility in their work hours have the freedom to do so as well.
Just like everyone has different learning styles, workers tend to focus on work differently. With flexible office structures come greater creativity and productivity. In turn, employees' holistic well-being and mental health improve, which leads to better employee retention rates.
Increases occupancy rates
Enabling flexible office layouts and plans means that you can have more companies sign leasing agreements at once. The occupancy rate of office buildings still hasn't reached pre-March 2020 levels. However, flex offices can solve the occupancy problem by enticing many companies to lease with you.
For instance, at flexible offices, you can rent to multiple companies at once, knowing that only a few employees from each company will come to the office. To avoid overcrowding, you can also use a desk reservation platform. This way, employees can sign up to use the office at staggered times.
Accommodates fast-growing companies
The advent of the internet gave birth to the startup boom. And today, turning an idea into a business is easier than ever before.
But startup companies aren't concentrated just in Silicon Valley — these days, they're everywhere. And to accommodate their exponential growth, these startups need flexible office leasing plans.
Startups tend to opt for flex and satellite offices since the internet has made it possible for them to hire employees located anywhere in the world. Flex office plans are especially beneficial for fast-growing startup companies because they offer the agility and freedom to size up or downsize their office space depending on their growth and needs.
What's more, even well-established companies like Microsoft and Google are planning to forgo their large headquarters to accommodate permanent work-from-home policies. Many of these companies are offering employees monthly stipends for coworking space memberships, especially if there are no satellite locations close to them.
Allows properties to be mixed-use
To maximize your ROI on a flex office building, consider turning the property into a mixed-use building. Perhaps converting your office building into a flex space means not every floor will be occupied by office tenants.
There's no need to fret: Rent out those empty spaces to retail stores or medical practices. Or, transform parts of the building into residential apartment suites.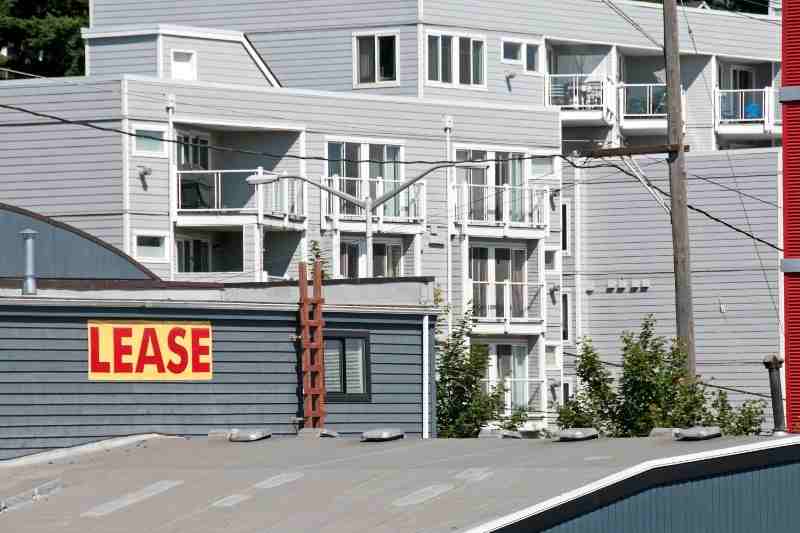 Converting to mixed-use also diversifies your property's investment portfolio. Having a diverse portfolio with a mixture of commercial and residential tenants reduces the chances that you'll be overly affected by a downturn in the office space real estate market. Also, having an essential store or doctor's office in your building ensures a reliable source of rental income even during unprecedented times.
Incorporates sustainability practices
Enabling a flex office layout also presents a great way to go green as a real estate professional, especially in densely populated areas. Instead of demolishing an underutilized office building and starting a new construction project, you can build on and improve existing properties.
Retrofitting older buildings to accommodate flex offices instead of building new ones lowers carbon emissions. Carbon emission is considered one of the top contributors to climate change, and the real estate industry is responsible for the vast majority of it. So, you'll be significantly helping the planet by enabling flex offices and managing a mixed-use development.

Ways to set up a flex office
One of the best things about flex office space is that there's no one "correct" way to set it up. You just have to evaluate your tenants' needs and create a floor plan that checks essential things off the list. Feel free to think outside the box and be creative when setting up a flex office.
Here are a few examples of how to set up a flex office:
Designate different nooks as individual working sections. Sometimes employees need heads-down time to focus on a specific task. So, de-formalize spaces that are typically reserved for single purposes and transform them into working stations. You can do this by spacing out individual desks throughout the room and putting comfortable furniture in the spaces in between.
Implement multiple meeting pods throughout the office. Chances are that large conference rooms will be underutilized in the flex office era. Instead, set up multiple meeting pods throughout the space. There rarely will be an instance where a meeting is big enough to require a whole conference room. Meeting pods sprinkled across the office empower clusters of people to hold meetings at the same time.
Standardize technology across the office. Having a standardized technology ecosystem throughout the office building will make the transition to a flex office easier. For example, use the same AV systems in all rooms to make presentations as frictionless as possible. Last but not least, ensure there are easily accessible outlets for charging next to most seats and a robust WiFi connection across all corners of the space.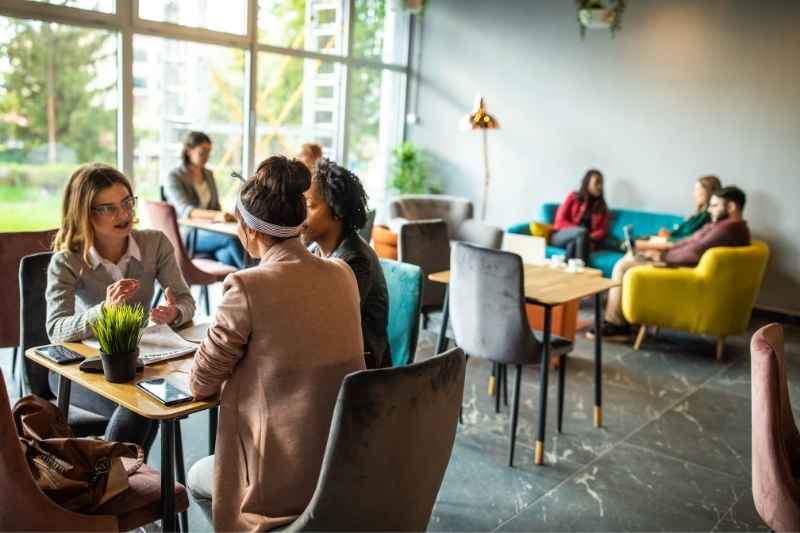 4 must-have proptech devices for flex offices
The key to effectively enabling a flex office space is implementing smart proptech solutions that streamline property access, visitor management, package deliveries, and other building automation processes. The demand for flex offices continues to rise. So, the sooner you implement essential proptech solutions for flex offices, the easier the transition will be. Plus, you'll be ahead of the curve and outperform your competitors.
The four essential proptech devices for flex offices are:
1. Video intercoms
Commercial video intercoms provide the best solution for managing access into a building. Intercoms with video calling capabilities enable tenants and building staff to visually confirm the identities of visitors before granting them access to the building.
Even more, IP intercoms enable verified tenants to open the door for themselves and their guests on their smartphones. This means that there's no need to hand out key cards or fobs to tenants.
2. Keypads with cameras
If your office building has amenity spaces — such as a gym, conference room, or communal lounge — installing keypads at doorways is an excellent way to manage access within the flex office. That way, only those who made reservations or paid fees to use amenity spaces will have access to them.
For security purposes, installing keypads with cameras will help ensure only authorized tenants are using those spaces. Keypads with cameras take date- and time-stamped photos of every person who enters the room — and building staff can review those photos to ensure only the right people are accessing those spaces.
3. Elevator controls
For flex offices in mixed-used buildings, installing elevator controls can help manage access to specific floors for each tenant. Elevator controls work by automatically directing tenants and visitors to their intended floors. This ensures that each person can access only the floors they're supposed to be on.
Additionally, elevator controls help prevent overcrowding elevator cabs by evenly distributing people across all cabs. This enhances the elevator riding experience for all parties while improving overall building security.
4. Package rooms
One of the hardest parts of managing flex offices will undoubtedly be sorting the vast amounts of packages your property receives day in and day out. And with online shopping constantly rising, you need a convenient and simple way to manage package deliveries. One solution is setting up a package room.
With package rooms, delivery couriers can securely place packages in an access-controlled room. You can organize the package room by dividing it into sections for each floor or suite. The courier scans each package with the intercom, which notifies the tenant of the delivery. Then, the tenant accesses the package room by entering a PIN or scanning a QR code and then collects their packages.
Takeaways
Flex offices will soon be ubiquitous, and proptech will play a significant role in the transition. If you're a commercial real estate professional, you'll want to get on top of this trend. Enabling flex office spaces in your property will help retain tenants, ensure rental income, and elongate the property's useful life.