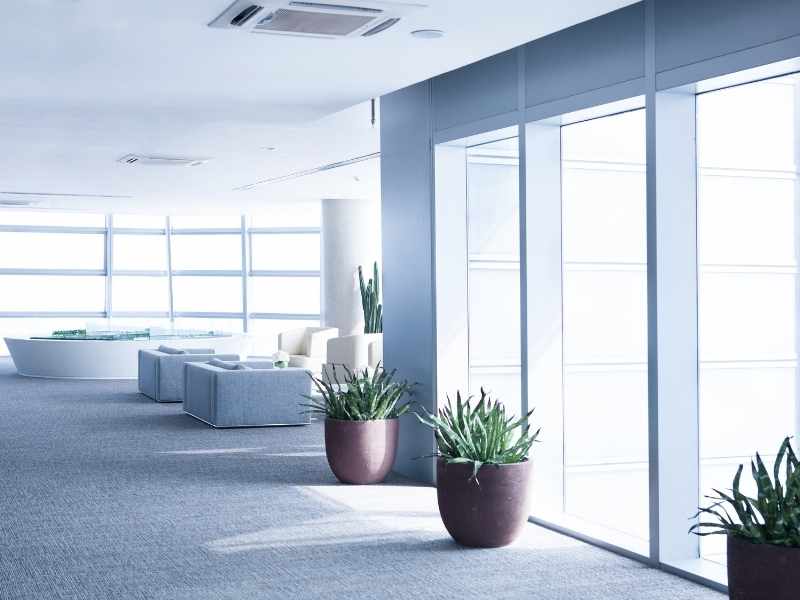 Ever since the Covid-19 pandemic shuttered offices and sent employees home to work in 2020, the commercial real estate industry has been forced to adapt to ever-changing norms and policies. Today, remote work is still extremely common. So with many people working from home, what's in store for commercial office spaces?
Read on to learn more about the future of commercial office spaces, three solutions you may see, and how to make commercial property access simple and safe.
This post will cover:
What is the future of commercial office spaces?
In March 2020, the vast majority of office workers were ordered to work from their homes, leaving offices mostly empty. According to data from Kastle Systems, office occupancy was at 25% in 10 major cities during the week of March 15, 2021. Business meccas, like New York City and San Francisco, had the lowest occupancy levels.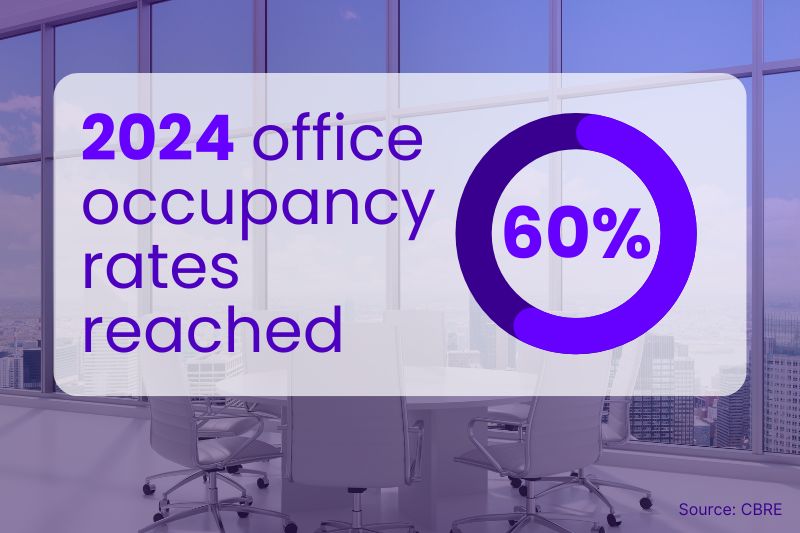 But the truth be told, working remotely has been gaining popularity long before the pandemic. In 2018, an IWG survey found that 70% of workers worldwide worked from home at least once a week.
That said, the pandemic accelerated some industries' plans to incorporate remote work. A Harvard Business School senior lecturer estimated that COVID-19 had fast-tracked the acceptability of remote work by 20 years.
Seeking a solution for all types of workers
A CHG Healthcare survey found that only 9% of the workforce wants to return to the office five days a week. More than half of the survey's respondents were interested in a hybrid work model, and one in three would work remotely forever.
Both employers and employees notice that working from home is productive — even more effective than working in an office. As a result, companies are rethinking their office space needs.
At the same time, there are those extroverts who crave the office experience. Even though video-conferencing platforms and group messaging channels have made it possible for workers to communicate and "see" each other, many would argue that nothing can replace organic, in-person chitchats and connections. For a handful, remote work means increased feelings of isolation and depression. Others need the distinct separation of work and non-work spaces to prevent burning out.
3 possible solutions for commercial offices
So how are commercial office spaces changing, and where are they headed? There is no "one-size-fits-all" model for office space or where employees choose or need to work.
However, three possible solutions include:
1. Hybrid office environments
A hybrid office comprises employees who work in the office and others who work from home. The option of where to work allows freedom over when and where work is completed.
A hybrid office gives employees the choice to:
Work full-time in the office
Work from home full-time
Occasionally go into the office
This work environment is becoming more and more common than ever before. It's projected that over 50% of businesses worldwide will expand their work-from-home policies in the next year.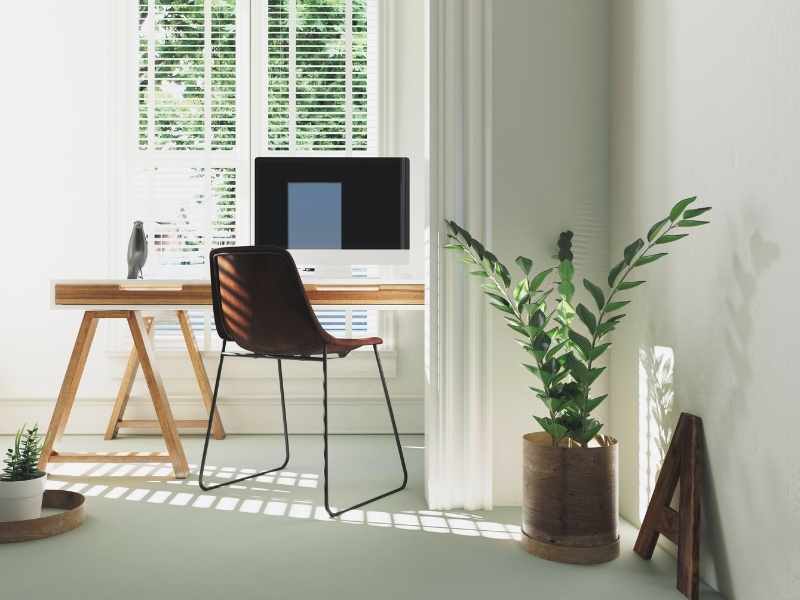 Why is the hybrid work model becoming popular?
The concept of a hybrid work model is nothing new. Scholars and tech visionaries have been talking about flexible work arrangements since the 1980s. As technology boomed, the possibility of a hybrid office system became more feasible and accessible to a variety of industries. And 2020 illustrated that not only is hybrid work possible on a large scale, but it's the new normal.
A hybrid work model accommodates all employees based on their needs and desires. It grants more autonomy to employees to fit work around the other parts of their lives, rather than the other way around. This work environment is the best of both worlds: independence and flexibility on one hand, structure and sociability on the other.
A Stanford University economics professor believes that working remotely two times a week will be the optimal solution. A hybrid model balances collaboration and individual work while reducing stress by commuting less. Since most companies still adopt the open-floor office layout, employees across industries have reported difficulties focusing, especially with independent work. However, those open-floor layouts facilitate team building and collaboration when used moderately.
Of course, hybrid offices have downsides. For one, they can create an unbalanced power dynamic between in-office workers and their remote counterparts. A group of people convening in a conference room can easily forget about those calling in from Zoom. Also, remote workers miss out on the office culture and one-on-one chats with senior managers. These outcomes may affect growth and upward mobility within the company.
2. Satellite offices
Another work office model that could be the future of commercial office spaces is the satellite office. Satellite offices are smaller than headquarters offices and are located outside of major metropolitan areas. They are separate from an organization's primary office.
A company can choose to have as many or as few satellite offices as it sees fit. Small groups of employees can occasionally work in these offices, preserving company culture and forging stronger relationships. Satellite offices also benefit businesses looking to expand — either nationally or internationally — and seek partnerships with other corporations.
3. Coworking spaces
A coworking space is a place where individuals or groups from different companies and industries work independently in the same space. Coworking spaces have the same amenities and features you'd find in a traditional office – often a lot more. They offer greater flexibility since the tenant doesn't need to sign a long-term lease.
Surprisingly, the origin of coworking spaces traces back to 1995 in Berlin. This was way before it became trendy among young professionals. Berlin's tech community set up an informal, community-operated "hackerspace" for collaborative teamwork. In 1999, other countries started adapting the model of community-based workspaces.
Then in 2005, the first-ever coworking space opened its doors in San Francisco. One software engineer was tired of office desks but still wanted something more professional than working from home. So, he designed a collaborative workspace with a mixture of desks and community dining tables. He laid the groundwork for the current boom in coworking spaces around the world.
Over the past decade, coworking spaces have proven to be not only a trendy lifestyle but a major part of the real estate industry. By 2017, there were almost 13,000 coworking spaces worldwide. Companies like WeWork and Expansive Coworking are worth millions of dollars. Some coworking office agencies have turned abandoned buildings and unpopular restaurants into coworking sites. This has brought down vacancy rates across the commercial real estate market.
Coworking spaces positively impact the commercial real estate industry
Today, most commercial property developers include reconfigurable spaces and integrate amenities that attract coworking tenants. On the financial side, banks see coworking spaces as a safe investment because of the high diversity of tenants.
The success of a coworking space does not depend on one business but on many companies. A tenant in a coworking space ranges from a sole freelancer to a group of 30-50 employees. These properties' income sources are diverse, lowering the chance of bankruptcy. And an empty coworking space is far easier to fill than an empty office space.
The coworking space trend doesn't erase the demand for traditional offices entirely. Many big companies still want a headquarters building to develop their culture and business structure. So, as a commercial property owner or developer, make sure your building(s) has a versatile design and layout.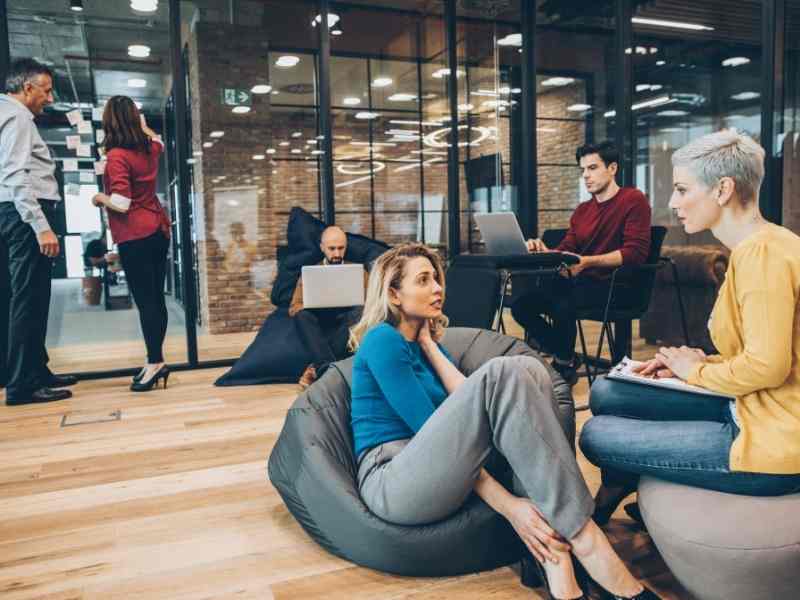 How to make commercial property access simple and safe
The key lesson we've learned from the pandemic is that technology will continue to play a crucial role in how and where business is conducted. Without the advent of the internet, video-conferencing platforms, and cloud file-sharing services, the shift to working from home would not have been possible. Technology will also shape the future of commercial office spaces.
This is why it's more important than ever to invest in property technology (proptech) for your commercial building. Proptech encompasses a wide range of systems and services that create efficiencies in buildings. In commercial buildings, proptech has been shown to improve the tenant experience. And in a society that's health-focused, proptech also offers a variety of contactless property access options. Regardless of how your commercial property is used, these proptech options are a must in today's world.
These are the top three proptech solutions for your commercial building: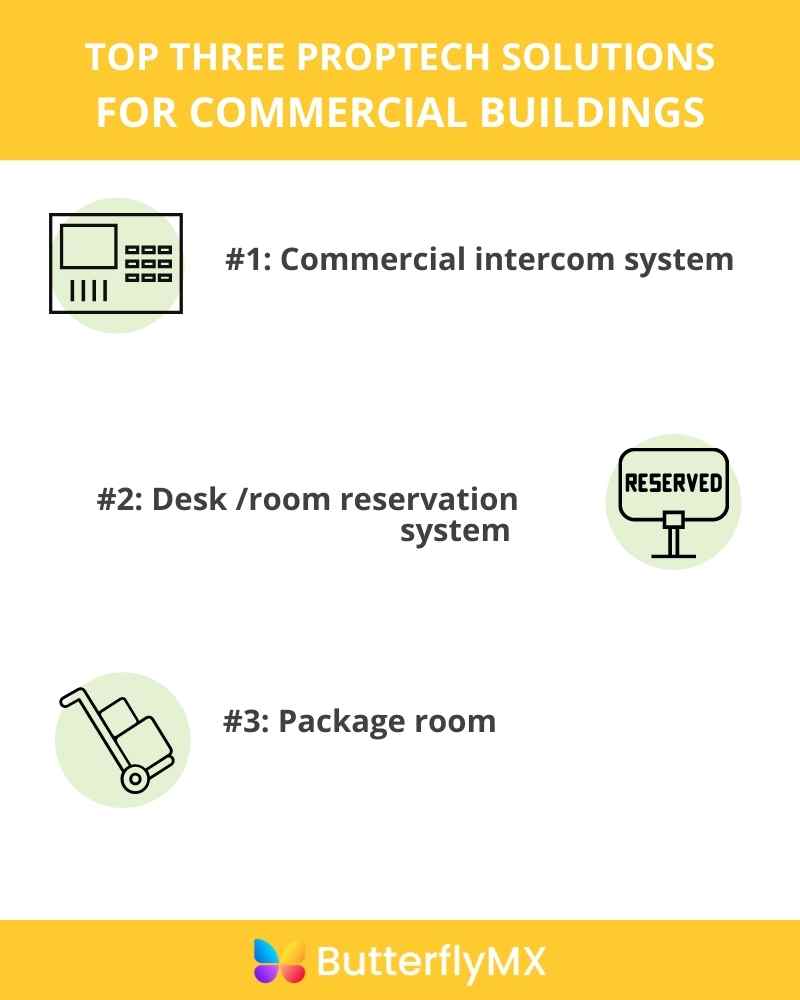 1. Commercial intercom system
Installing a commercial intercom system allows tenants and their employees to enter the building seamlessly. Cloud-based intercom systems allow tenants to open doors from their smartphones for maximum convenience. And tenants and their employees can manage guest access using the intercom's mobile app, leaving less work for property staff.
Watch how ButterflyMX works:
2. Desk/room reservation system
The key to reopening a commercial office space, whether for coworking or corporate, is to do it slowly. One way to ensure a safe and smooth transition is by limiting the number of people allowed in the space at one time.
An easy way to track building capacity is through an app-based reservation system for desks and rooms. There are multiple reservation platforms that can help you manage which days your tenants can work in the building. The app can also monitor occupancy limits.
Reservation systems are a convenient form of office automation because they eliminate the tedious, inefficient process of trying to coordinate schedules manually.
3. Package room
A package room in your multi-tenant building creates a safe and seamless package management solution. Setting up a package room with an intercom system offers a secure and organized space for deliveries. Couriers can leave packages without contacting tenants or property managers. Tenants can pick up their packages at any time of the day.
The future of commercial office space is here now
There is a silver lining in all this. Commercial real estate will see new and exciting opportunities despite all the uncertainty. Regardless of where people choose to work, they'll always need a designated workspace. If you're in the commercial real estate industry, see this as an opportunity to invest in and develop coworking offices. You can repurpose almost any existing commercial property into functional workspaces.
Don't sit tight: the future of commercial office space is happening right now. So, start creating insightful innovations in the industry today!