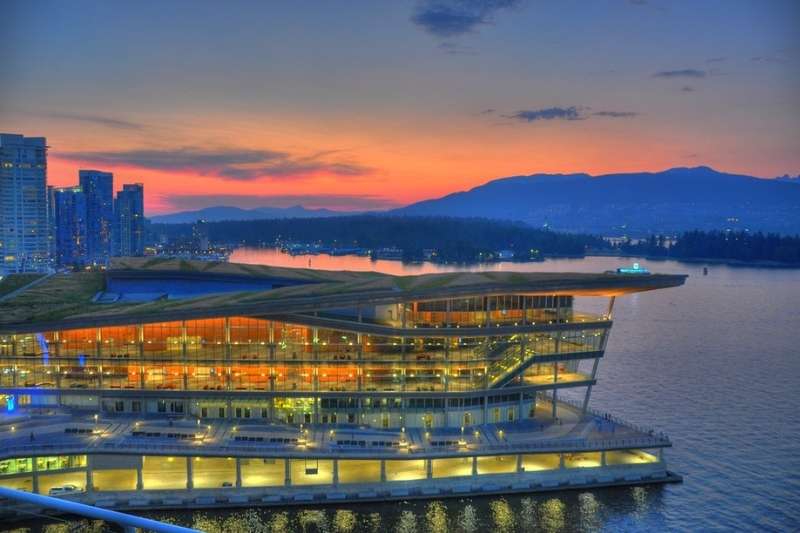 The real estate industry produces nearly 40% of all carbon dioxide emissions. So, it's vital existing buildings and future properties are built sustainably. Luckily, LEED-certified buildings are paving the way toward greener, cleaner cities. In fact, many organizations have developed green-building certifications, such as LEED to combat the growing threat of climate change.
In this blog, you'll learn what LEED is, what it takes to become LEED-certified, and how many buildings are LEED-certified. Additionally, you'll discover 10 notable examples of LEED-certified buildings located around the world.
This post covers:
What does LEED stand for?
LEED stands for Leadership in Energy and Environmental Design.
It is the most used green building rating system in the world. LEED was created by the U.S. Green Building Council (USGBC) in 1993 and has since transformed how buildings are designed, constructed, and operated.
LEED-certified buildings are proven to lower carbon emissions, which in turn creates a healthier environment for people.
How does a building get a LEED certification?
A building receives a LEED certification when it scores enough points to land in one of the four certification levels.
The four LEED-certification levels are as follows:
Certified: 40-49 points
Silver: 50-59 points
Gold: 60-79 points
Platinum: More than 80 points
All LEED-certified buildings must meet all prerequisites first. Prerequisites act as the foundation of the certification. Aside from prerequisites, buildings can customize any credits they wish to pursue in their chosen rating system.
Overall, buildings must meet requirements in varying categories related to climate change, human health, water resources, biodiversity, and more.
See how sustainable building is implemented in green buildings:
How do you know if a building is LEED-certified?
You can find properties on the LEED-certified buildings list by searching for projects on the USGBC database.
In addition, many properties display their LEED certification proudly. If you can't find a plaque on the property, ask the building's management since most LEED-certified properties will happily inform you of their achievement.
How many LEED-certified buildings are there?
There have been more than 100,000 LEED-certified buildings around the world since 2019.
10 notable LEED-certified buildings in the world
With thousands of LEED-certified buildings in the world, there are several remarkable properties to point out. These buildings have helped reduce carbon emissions and create safer, healthier environments for the people who live and work in them.
The most notable LEED-certified buildings in the world are:
1. One Bryant Park, New York City, NY
As the first high-rise building to receive a LEED Platinum rating, One Bryant Park is packed with notable technologies.
For example, the building can use collected rainwater and recycled greywater. Moreover, One Bryant Park is equipped with a 4.6-megawatt cogeneration plant, which allows a fuel source to produce two or more forms of energy. As a result of this system, the building is able to produce fewer CO2 emissions and lower operating costs.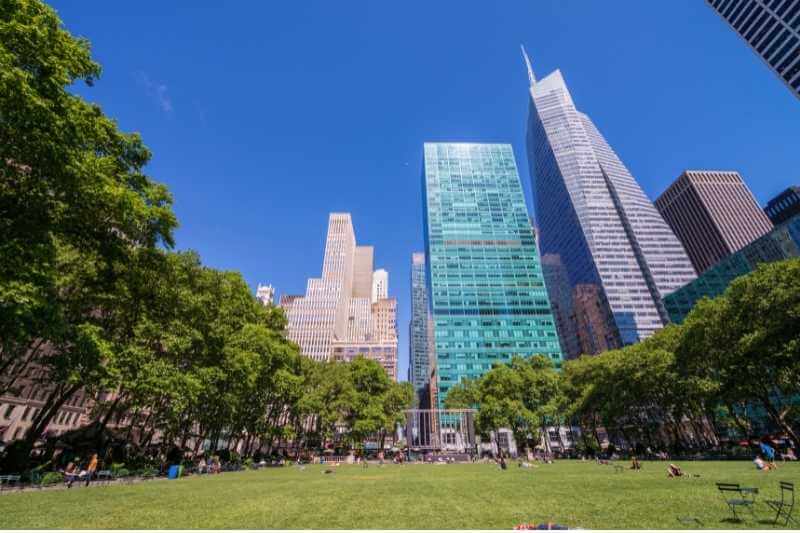 2. Willis Tower, Chicago, IL
As with many LEED-certified buildings, the Willis Tower achieved a LEED rating through a renovation project. In 2018, the building revamped its HVAC system and installed high-efficiency lighting throughout the property. Through these improvements, the building obtained a LEED Gold rating.  
3. Yale School of the Environment, New Haven, CT
Also known as Kroon Hall, the building was awarded a LEED Platinum rating in 2010. The hall targeted multiple categories to earn this rating, such as sustainable sites, water efficiency, materials and resources, and indoor environmental quality. The incredible trait of Kroon Hall is it uses 58% less energy than other buildings of the same size and purpose.  
4. The Crystal, London, United Kingdom
In early 2022, The Crystal became the new headquarters for the Greater London Authority, also known as 'City Hall.' The building was built in 2012 but didn't receive its LEED Platinum rating until 2014. The Crystal runs entirely on renewable energy, eliminating its CO2 footprint.
Furthermore, the property is equipped with KNX infrastructure. KNX infrastructure is an open standard building automation system, helping The Crystal automate lighting, windows, heating, cooling, and more. Altogether, the building has more than 2,500 connected devices.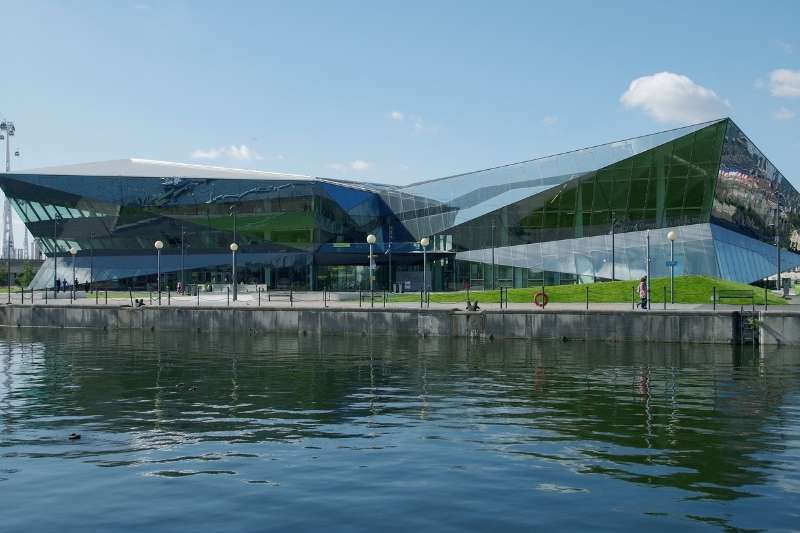 5. Meta (Facebook) Headquarters, Menlo Park, CA
Meta's headquarters in Menlo Park has fulfilled all of its energy needs through rooftop solar panels. Because it utilized renewable energy and many other sustainable building technologies, it received a LEED Platinum rating.
On its own accord, Meta has set a goal to reduce its own carbon footprint by 50% in 2030, further pushing for sustainability in real estate.  
6. Vancouver Convention Center, Vancouver, Canada
In 2010, the Vancouver Convention Center's West Building was certified LEED Platinum. Later, an expansion of the West Building was certified with the same rating. The most notable quality of the convention center is the six-acre living roof, the largest in the country.
The living roof is home to more than 400,000 native plants and 60,000 bees. Public access is restricted to the living roof to maintain the habitat and continue supporting local wildlife. Of course, the living roof is just one of many stunning sustainable technologies the Vancouver Convention Center utilizes.  
7. San Francisco International Airport
The San Francisco International Airport, more specifically Terminal 2, is the first airport terminal in the United States to obtain a LEED Gold rating. Similar to other projects, the terminal achieved the certification through years of renovations.
Terminal 2 supplies cleaner air to travelers through a special displacement ventilation system. What's more, natural light and a paperless ticketing system further improve the terminal's sustainability.  
8. Shanghai Tower, Shanghai, China
The Shanghai Tower obtained a LEED Platinum certification in 2015. It's the tallest building in China and the third tallest in the world.
When it comes to sustainability, The Shanghai Tower is one of the best examples of green high-rise buildings. The architecture may be the most notable aspect of The Shanghai Tower. The 120° twist moving up the tower reduces wind loads by 24%. In turn, fewer building materials were needed to complete the tower.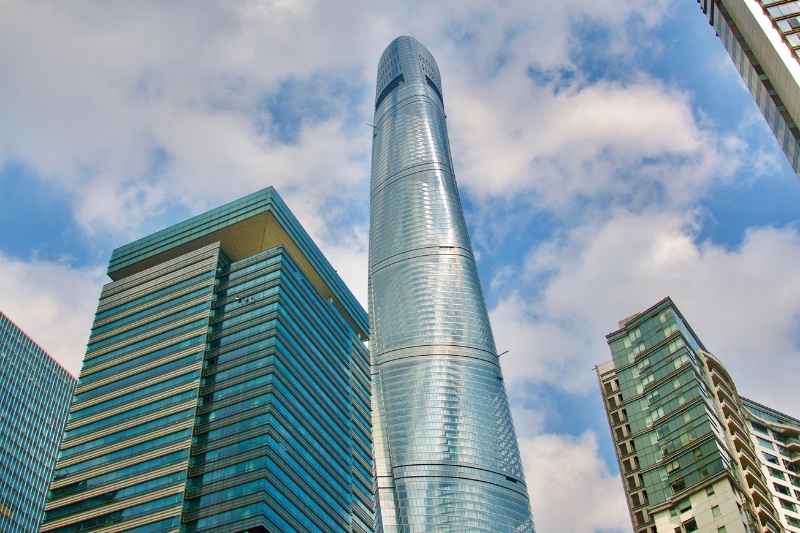 9. Taipei 101, Taipei, Taiwan
Achieving a LEED Platinum certification in 2011, Taipei 101 was the tallest and greenest building before The Shanghai Tower achieved its certification. Regardless, Taipei 101 has many noteworthy features.
For example, it has reduced its energy consumption by 18% and uses recycled water for 20% to 30% of its total use. Most importantly, the structure includes multiple features designed to withstand serious earthquakes the area is prone to experiencing.  
10. Manitoba Hydro Place, Winnipeg, Canada
Finally, one of the last notable LEED-certified buildings is the Manitoba Hydro Place in Winnipeg, Canada. This 22-story building gained the LEED Platinum certification in 2012. It's the only office tower in Canada to receive such a rating.
To receive its certification, Manitoba Hydro Place incorporated many sustainable building qualities. For instance, the property's bioclimatic features offer 70% energy savings compared to similar towers. Plus, the building has taken measures to reduce its heat-island effect through green roofs containing native plants and reducing water runoff.