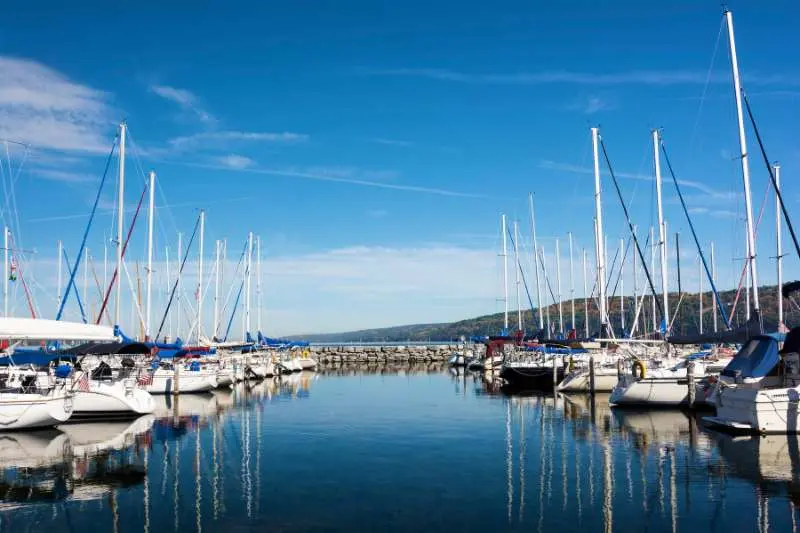 If you're looking for assistance running your marina, you may be looking for marina management companies to help. With years of experience and robust marina management software, marina management agencies are ideal for overhauling the success of your waterfront businesses.
So, it's vital you know what marina management is and what exactly marina management companies can do. More importantly, you should know which marina management companies are worth hiring.
This post covers:
What is marina management?
Marina management is the process of overseeing and guiding the operations of a marina so that it's a successful business.
Duties are carried out by a roster of staff members with specialized skills, ranging from technicians and clerks to dock hands and captains. However, marina managers are the most essential, as they organize and supervise all duties of a marina.
Marinas have many aspects that need managing, such as:
Boat storage and docking.
Vessel repair and maintenance.
Refueling and supply restocking areas.
Parking lots and slipways.
Water and power hookups.
Restaurants and stores.
What is the role of a marina manager?
The role of a marina manager is comprehensive organization and direction of the operations of a marina.
While marina managers primarily deal with large-scale functions of the marina, they still perform everyday tasks that contribute to the goal of the business.
Marina managers are responsible for the following duties:
Complying with government regulations.
Maintaining relationships with agencies and vendors.
Handling customer inquiries and complaints.
Hiring and training employees.
Managing reservations from boaters.
Upkeep of documentation and records.
Overseeing vessel maintenance and repairs.
Organizing groundskeeping and property upkeep.
Automating property tasks and workflows.
What are marina management companies?
Marina management companies are organizations designed to improve the success of your marina by consulting or taking control of the property's operations.
The methods in how a marina management company achieves its goal will vary depending on the marina's needs. For instance, a marina may lack a unique identity, causing stagnant growth. So, the management company would implement a strong marketing campaign to establish a brand. In turn, the marina would attract more boaters by standing out from its competitors.
Conversely, a marina management company may simply provide consulting for a marina. Their experts would provide helpful insights into various aspects of the marina's operations. For example, they may provide insight into how the marina can improve its financial situation, such as offering promotions, upgrading facilities, or revamping customer service.
Of course, marina management companies provide a variety of services to improve a property, including:
Management consulting.
Marina management software integration.
Marketing, branding, and social media.
Accounting, HR, and staffing.
Financial reporting and improvement.
Customer service.
Property development and improvement.
Business relation development.
Learn what access control is and how it can help your waterfront property:
What makes a marina successful?
There is no one quality that makes a marina successful. Rather, many aspects will contribute to the success and longevity of a marina.
The qualities of a successful marina include:
An ideal location near other enticing destinations.
Modern facilities and amenities for boaters.
Welcoming customer service and management.
Reliable boat maintenance and repair services.
Capable of catering to all types of boaters and vessels.
Adequately stocked equipment, supplies, and inventory.
A steady number of recurring clients.
What is the largest marina company in the world?
Safe Harbor Marinas is the world's largest marina company, owning and operating more than 130 different locations.
4 best marina management companies
When it comes to the success of your marina, choosing the right management company is paramount. That's why extensive research is required to ensure you make the right choice.
Fortunately, you can get a head start by reading about the best marina management companies below.
The top marina management companies are:
1. Oasis Marinas
Oasis Marinas is a leading third-party marina operator with years of experience providing marina management services to locations all over the United States. Their leadership team is composed of subject matter experts specializing in implementing the Oasis Engine across all types of marinas.
Oasis Marina management utilizes the Oasis Engine, a system of solutions, services, and industry talent that work in tandem to give marinas a competitive advantage. With this system, Oasis Marinas aims to revitalize your marina through a seamless management transition and an owner-centric approach.
The services offered by Oasis Marinas include:
Accounting and HR
Marketing and branding
Marina design and development
Financial planning and analysis
2. F3 Marina
With more than 25 years of experience, F3 Marina is a professional marina management and consulting company serving waterfront properties across the globe. Not to mention, F3 Marina assists in managing and developing adjacent upland real estate, such as multifamily and retail properties.
F3 Marina strives to build trust by achieving the goals you have for your marina. They believe world-class service from professionals is what will lead to demand. Not to mention, they pinpoint accurate branding and marketing efforts that are essential for establishing relationships with boaters.
As a full-service marina management company, F3 offers the following:
Marina management
Design analysis and renovations
Project management and consulting
Marina business plans
Marina commissioning
Grant applications
Feasibility and market studies
Sales, marketing, and branding
3. Coastal Marina Management
Founded in 2006, Coastal Marina Management is led by some of the most recognizable industry veterans. CMM is guided by measurable and accurate results from innovation, creative thinking, marketing, and strategic planning. Above all, their goal is to exceed your expectations with effective management plans and friendly customer service.
Coastal Marina Management offers the following:
Consulting services
Marina management programs
Marketing and promotional plans
Project analysis and development
Restoration and conversions
Revenue stream development
Special event services
Tournament services
4. Trident Marina Group
The Trident Marina Group has a team of experts with marina management experience dating back to the 1960s. As a marina management group, TMG's mission is to set the standard of what a marina should be. TMG serves the Greater Annapolis, Maryland area, with some marinas reaching as far as Southern Virginia.
Trident Marina Group offers assistance ranging from development and consulting to improving profitability and overseeing customer satisfaction. They serve busy investors and developers who require experts to guide their maritime property.
The Trident Marina Group assists in the following areas:
Day-to-day operation oversight
Accounting and reporting
Human resources and environmental impact
Workplace safety and security
Marketing, branding, and advertising
Development and construction consulting
Consulting redevelopment and renovation
Asset management
Takeaways
Marina management is the process of overseeing and managing the operations of a marina.
Marina management companies are third-party organizations that assist in managing a marina by consulting or completely handling management themselves for better results.
The best marina management companies are Oasis Marinas, F3 Marina, Coastal Marina Management, and Trident Marina Group.