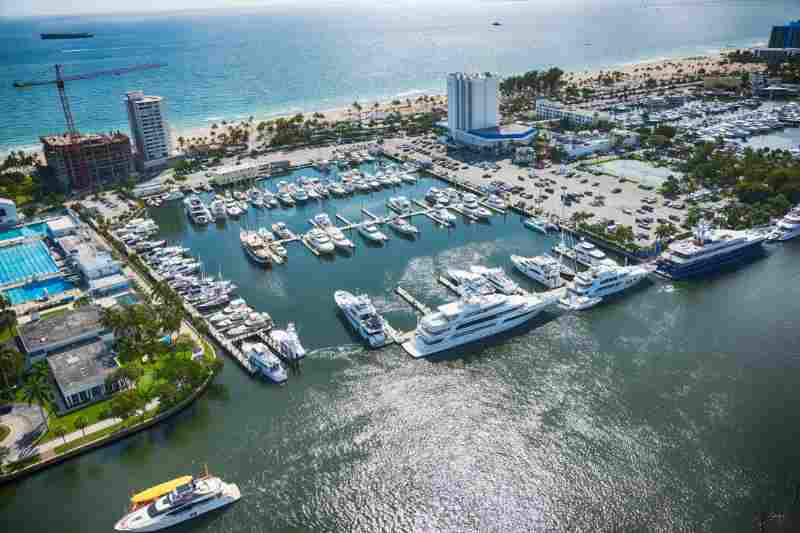 Boats are a hefty investment. As a marina manager or owner, you're entrusted by boat owners to keep their investments safe. As a result, you're familiar with the challenges of controlling access to docks and boats. Whether that includes monitoring foot traffic on ramps or tracking incoming vessels, supervising daily marina activities is tedious work.
Fortunately, with the help of a marina access control system, you can simplify the process and create a more organized operation. In this post, we outline how an access control system for marinas should look, how to choose one, and which system is best suited to your dock!
In this post, discover:
What is access control?
An access control system is hardware installed at doors, gates, and other entrances to secure a property.
Some examples of access control hardware are:
Smart locks
Keypads
Intercoms
Vehicle readers
Access control systems are not only meant to secure a property from unauthorized access but are also a great way to add convenience. For example, many access control systems empower property owners and managers to track visitors, members, and service providers. They may also give authorized users and visitors an easy way to access the property.
However, installing a gate or intercom is only the first step in providing secure, seamless access control. When you're looking to set up a holistic access control system at your marina or boatyard, you have to consider the unique quirks of your property. 
In the same vein as truck stops and parking garages, marinas have unique needs that need to be considered before investing in an access control system.
What is a marina access control system?
A marina access control system is a platform that streamlines entry to a boatyard or marina. The idea is to make marina gate access easier for credentialed visitors while providing greater control to marina managers and owners.
Boatyard access control not only provides security to credential holders and staff but also adds convenience to tasks such as guest management and touchless access.
Elements of marina access control include:
Traditional locks
Smart locks
Keypads
RFID boat access cards
Key fobs
Biometric access control
What are the benefits of a marina access control system?
So, you know what a boatyard access control system is, but how can it help your property? Well, there are several benefits to investing in marina access control. And this is especially true if you still rely on more primitive systems.
The top benefits of a marina access control system include:
Increased marina security. Unlike a building with clear boundaries, there are questions regarding who can and cannot access a dockyard. And CCTV cameras can only do so much in the way of surveillance. With access control systems, security is more straightforward. Further, it's simpler to monitor who's coming and going from the marina.
Easy compliance. Many areas require a certain level of compliance to legally own and operate a marina, boatyard, or shipyard. By installing a state-of-the-art access control system, you're upgrading your property as well as remaining safety-compliant.
Greater control. With many types of cloud-based access control systems, managers and operators enjoy a higher level of control. They can easily see who's accessing the property, grant and revoke visitor access, and even manage member access remotely.
Enhanced safety. Safety is always a concern with open-access properties such as marinas. But with the control mentioned above, managers can view logs and keep records of who has entered the premises, when, and for how long they stayed.
How much does a marina access control system cost?
The average access control system for marinas can cost anywhere from $1,000 to $7,000.
In addition, many access control systems include software subscriptions for some services, as well as maintenance expenses.
Learn more about the basics of access control:
5 marina access control use cases
There are so many benefits to installing an access control system at your marina. Now, let's take a closer look at how you can capitalize on those benefits with the following use cases.
Marina access control use cases:
1. Dock access control
Members pay good money to dock their boats at your marina, meaning they (and you) want every assurance their property is safe. With boatyard security in the form of an access control system, you can easily control access to docks.
One way to accomplish this is by installing keypads at each dock gate. As a result, only credentialed members can access their property. This is a relatively inexpensive measure. Moreover, members will only need to remember a PIN instead of carrying extra keys or fobs.
2. Marina gate control
Instead of investing in security for each individual dock, you could install an access control system at the main entrance to your marina. This type of solution would likely be in the form of a video intercom system or vehicle access control system.
Marina gate control types:
Video intercom system. With a video intercom system, members or visitors can pull up to the intercom and either put in their PIN or call for entrance assistance. With the right system, they could even use their smartphone and simply swipe to enter.
Vehicle access control system. When members drive up to the marina gate, the vehicle reader will scan the vehicle tag on the windshield and automatically open the gate. Once they're inside, the gate will lock itself.
Marina key card system. A key card access control system uses fobs and cards for entry. Members carry physical credentials instead of their smartphones. In this case, they can only open gates and doors when they are within range.
3. Member management
Marina managers and owners can easily keep track of members via their access control system with a member log accessible from anywhere.
Not only can managers track who is using the marina and which visitors they're allowing, but they can also manage member data and logs.
4. Equipment security
Not only should you keep boats and members secure at your marina, but securing equipment is also critical. Between dock ladders, fishing gear, and safety equipment, you're looking at upwards of thousands of dollars worth of items that need protection.
Keypads and smart locks can help you safely stow equipment without making access to the gear a frustrating experience.
5. Visitor management
Many types of access control systems can also help you and your members manage visitors. Inevitably, marina members will want to invite guests to use their boats. It's in your best interest to make the process uncomplicated.
With a top-of-the-line access control system, it's easy for members and managers to issue temporary visitor passcodes from anywhere in the world. Moreover, visitors can be tracked via logs, and managers can terminate their access at any point.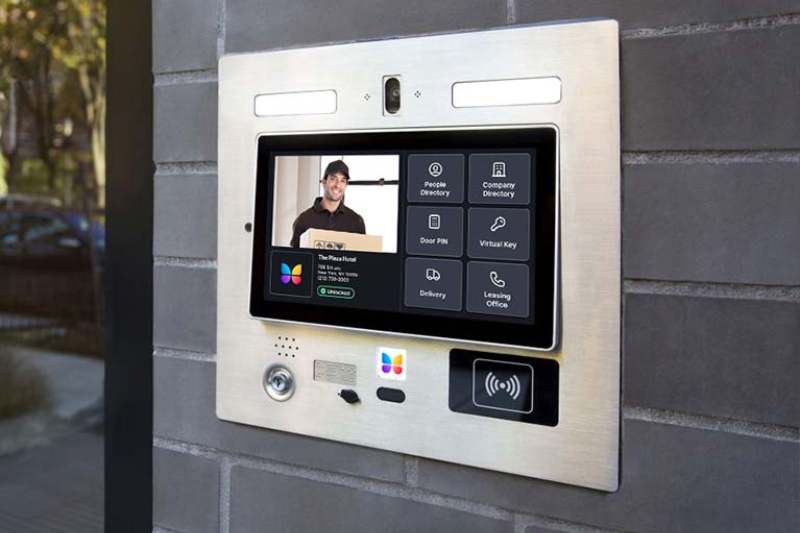 What is the best access control system for marinas?
The best marina access control system is ButterflyMX. With ButterflyMX for marina access, you get a versatile, highly rated combination of integrated products and services. ButterflyMX products are easy to manage and offer a streamlined online portal, member directory, and more.
ButterflyMX access control products for marinas include:
Keypads and readers. Marina managers and members can use the ButterflyMX smartphone app to access dock gates or equipment containers easily. Additionally, ButterflyMX keypads and readers are IP55 outdoor-rated and can withstand temperatures from -31° F to 150°F.
Video intercom. The ButterflyMX video intercom is the perfect solution for your marina gate or front entrance. Members can easily open doors and gates or allow guest entry from their smartphones.
Vehicle access control. Gated vehicle entrance is streamlined with the vehicle access control system. Each member places a windshield tag on their vehicle. Then, they're granted entry each time the reader scans their tag.
Takeaways
Controlling access to marinas is a unique challenge faced by marina managers and owners.
A marina access control system is a platform that monitors marina visitors and members.
The benefits of dock access control include increased security, compliance, greater control, and enhanced safety.
The best marina access control system is ButterflyMX.