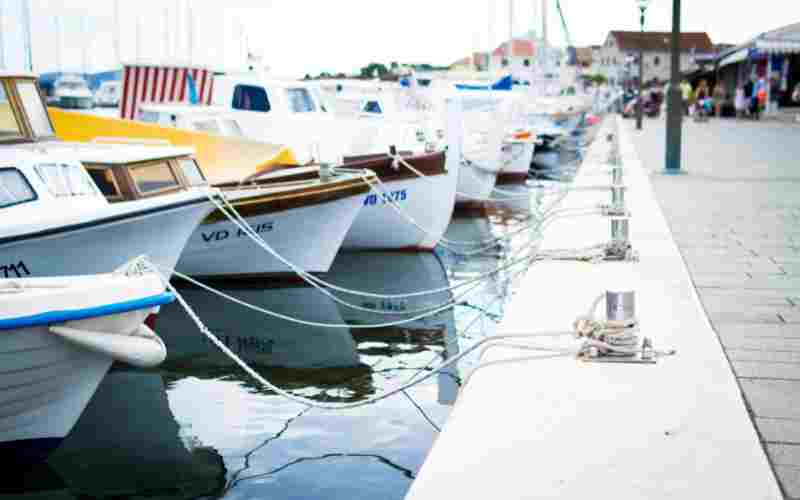 Owning a marina may have been a dream you've always had. Or perhaps it's an investment opportunity you couldn't pass up. Either way, there's a lot at stake for marina owners and operators. As a result, marina access and security shouldn't be an afterthought.
Marina security is an effective solution for managing marina members and securing marina property. Below, we talk about what a marina security system is, the reasons you should have one, and the best marina security system on the market!
In this post, we cover:
What is security access?
A security access control system is hardware installed at doors, gates, and other entrances to secure a property.
Some examples of access control hardware are:
Smart locks
Keypads
Intercoms
Vehicle readers
Security access control systems secure a property from unauthorized access. For example, many access control systems empower property owners and managers to track visitors, members, and service providers. They may also give authorized users and visitors easy access to the property.
Like parking garages and RV parks, marinas have unique needs that must be considered before investing in a security access control system.
What is a marina security system?
A marina security system is a combination of devices used to monitor the safety of a marina, including the guests and property therein.
Marina security components include:
Marina security camera
Access control system
Security personnel
Motion sensor lights
Keypads and locks
How secure is a marina?
The best solution to protecting your assets and those of your marina members is to secure the property with effective physical security solutions.
Your marina is only as secure as your security system.
Unlike physical buildings, there are fewer ways to keep people from walking onto docks and boats without permission. Security cameras and motion lights might startle a would-be thief, but they can't entirely deter theft or vandalism.
Cost of marina access control security
The priciest component of a robust, modern marina security system is a video intercom. The average video intercom costs anywhere from $1,000 to $7,000.
However, for an accurate estimate, you should also factor in:
Maintenance expenses
Installation costs
Software fees
Reasons to invest in a marina security system
By investing in a marina monitoring system for security, you'll improve daily operations and may even increase property value. Further, marina members and owners will find the upgrade helpful. This will increase their trust in marina management.
More ways a marina security access improves your property:
1. Increases security
Marina security systems can increase security at your property by maintaining a security monitoring service. With the right access control security system, each door, gate, or entrance at your dock has a keypad or intercom that everyone must use to access the property.
With a marina access control system, unauthorized visitors are not allowed to enter the premises without the express permission of a manager or member.
2. Meets marina regulations
Many marina owners are required by law to provide an atmosphere of safety, including security lighting and a functional security system. A security system with access control integrations is an effective solution to meet and exceed these safety regulations.
Marina security and safety requirements include:
Fire suppression systems
Flotation devices
Emergency lighting systems
Security personnel or systems
3. Enhances convenience
A marina dock security system with access control capabilities greatly increases convenience for marina managers, owners, and members.
Marina security systems provide convenience to marina managers by:
Helping managers monitor the use of the dock and its surrounding services.
Empowering managers to manage member and visitor access seamlessly remotely.
Making access and security to marina property efficient with hands-free access instead of issuing outdated keys, cards, or fobs.
Security systems for marinas increase convenience for marina owners by:
Making it easy to add and revoke people's access to the marina remotely.
Increasing property efficiency and daily operations.
Marina security systems benefit marina members by:
Simplifying access through their smartphones.
Making it easy for members to grant visitor access.
Helping members secure their dock entrances and equipment storage.
4. Prevents theft and vandalism
Marina dock security not only establishes safety for members but also safeguards the property from theft or vandalism. Many marina patrons are anxious about the security of their assets. As a result, marina managers feel a lot of pressure to deliver a safe experience.
Moreover, with a wireless boat security system, boaters are more likely to feel safe storing their vessels on your property.
Watch how ButterflyMX works:
What is the best marina security system?
The best marina security system is a ButterflyMX access control system. With ButterflyMX for marinas, you get a versatile, efficient combination of products and services. ButterflyMX products are easy to manage and offer a user-friendly portal, member database, and more.
ButterflyMX security access control products for marinas include:
Vehicle access control. Streamline gated vehicle entrance with the vehicle access control system. Each member places a windshield tag on their vehicle and is then granted access each time the driver approaches the gate.
Video intercom. The ButterflyMX video intercom is the perfect solution for your marina gate or entrance. Members can remotely open doors and gates or allow guest entry from their smartphones.
Keypads and readers. Marina managers and members can use the ButterflyMX smartphone app to access dock gates or equipment containers easily. Additionally, ButterflyMX keypads and readers are IP55 outdoor-rated and can withstand temperatures from -31° F to 150°F.
Takeaway
A marina security system helps monitor the safety and security of your marina, its members, and the property within.
The cost of a marina security system ranges from $1,000 to $7,000.
Reasons for investing in a security system for marinas include increased security, meeting safety regulations, enhanced convenience, and prevention of theft and vandalism.
The best marina control system is ButterflyMX.