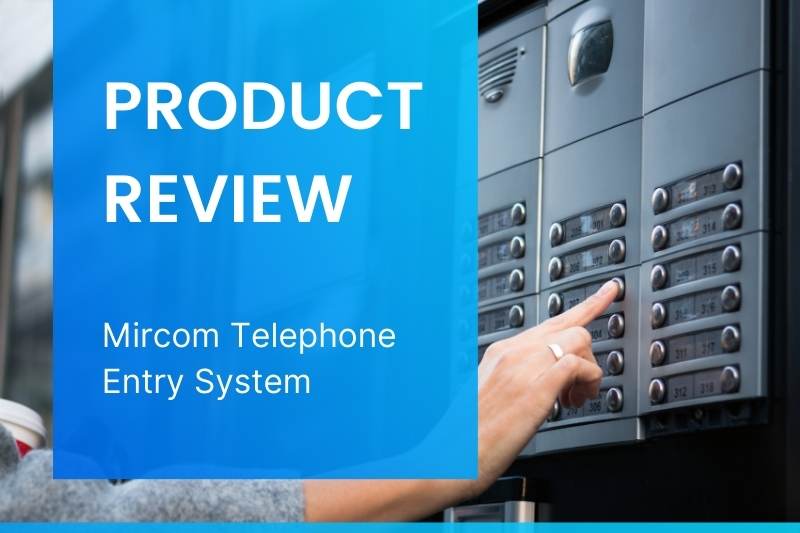 Communicating with your guests at the gate or door requires the right technology, and one way to accomplish that is with a telephone entry system. Telephone entry systems have been around for many years and are still installed in buildings across the country to this day.
Phone entry systems are relatively outdated compared to other access control solutions on the market, but if you're seeking one for your property, you may be considering Mircom. Mircom telephone entry systems are well-known in the industry.
Keep reading this Mircom review to learn more about their telephone entry system options and whether they might be right for your building.
This post covers:
About Mircom
Mircom is a Canadian company that manufactures fire detection equipment and alarms, communication solutions, and security access control systems. The company was founded in 1991 by Tony Falbo and is still family owned and operated. Their brands include Mircom, Secutron, and U.E.C.
Operating out of their facilities in Toronto and Montreal, they also maintain a global presence through a network of sales and service offices known as Mircom Engineering Systems.
Overview of Mircom telephone entry systems
Mircom offers a complete line of auto-dial and NSL telephone entry systems with an option to add card access and elevator control.
Here are Mircom's phone entry system models:
Paper directory: Mircom's telephone entry system models with paper directories include the TX3-120C-C and the TX3-120U-C. The TX3-120C-C comes in heavy gauge steel and is designed for indoor applications, while the TX3-120U-C is the outdoor version and includes a rain hood.
Hands-free electronic directory: Mircom's hands-free electronic directory models include the TX3-200-8C-C, the TX3-200-8U-C, the TX3-2000-8C-C, and the TX3-2000-8U-C. The TX3-200 models accommodate up to 200 residents, while the TX3-2000 models allow up to 2000 tenants. Both models are available in surface and flush mount.
Slim line electronic directory: When space is an issue, Mircom offers a slim line telephone access system. Models in this line include the TX3-200-4U-C and the TX3-2000-4U-C. The TX3-200 allows up to 200 residents, while the TX3-2000 accommodates up to 2000 residents.
Video telephone access system: Mircom's TX3-NANO-S4 is a telephone entry system with a camera.
Watch how ButterflyMX works:
Features
Keypad buttons: All Mircom telephone entry systems have a keypad for guests to navigate the directory and/or call a tenant.
Digital directories: The majority of Mircom's entry systems have a digital directory, except for its paper directory models.
Onsite programming: Mircom's entry systems must be programmed directly within the devices themselves. Remote computer programming requires optional TX3 configuration software.
Indoor/outdoor usage: Although some models are designed only for indoor usage, others are approved to be installed outdoors.
Surface or flush mount: Many of Mircom's systems come in two variations: surface and flush mount.
ADC or NSL: Mircom's door entry phone systems are generally configurable to support both an AutoDialer (ADC) system, which uses a dedicated phone line, and a No Phone Bill (NSL) system, which doesn't require a dedicated phone line.
Mircom telephone entry system pricing
The cost of Mircom telephone entry systems isn't available on the company's website. So, contact a sales representative directly to get a quote for any of the entry system models.
Pros & cons
Pros:
Units are programmable with the built-in keypad, but remote computer programming requires optional TX3 configuration software.
Option to add key card access and elevator controls.
Weatherproofing and heavy-duty casing available on some models.
Cons:
The paper directory model is outdated and requires staff to manually update the tenant directory after every move-in or move-out.
Certain systems may require a dedicated telephone line.
Customers may have to purchase and install a cellular connection box to enable tenants to grant entry via cell phone.
Building staff can't manage the system remotely unless they purchase separate software. And even then, the software isn't cloud-based so you may have to download it to just one device.
No built-in camera (except on video telephone access system model).
Some routers are blacklisted and block Mircom's SIP service. So, SIP calls won't work if your building uses a blacklisted router.
Some Mircom telephone entry system models only allow up to 200 tenants, which isn't enough for many buildings.
No touchscreen.
No audit trail of entry events for added security.
Comparison of Mircom telephone entry systems with ButterflyMX video intercoms
Mircom telephone entry systems may provide a way for visitors to request access but leave behind features and conveniences such as two-way video calling, smartphone-based access, and cloud-based software. Although telephone entry systems have served a purpose over the years, they may not be the best solution for your building today.
Video intercom systems are taking over as the entry systems of choice for building owners and property managers, and no one does it better than ButterflyMX.
The ButterflyMX video intercom system is a modern property access solution powered by smartphones. Residents can use the ButterflyMX mobile app on their smartphones to open doors and gates, video chat with visitors, and manage access for deliveries and guests.
Mircom telephone entry systems may require excessive wiring and in-unit hardware or landline phones. In contrast, ButterflyMX video intercoms require only three easy connections and no in-unit hardware.
Additionally, Mircom phone entry systems may offer limited access methods and few features designed to facilitate visitor entry, like digital access codes for trusted guests and delivery carriers. But ButterflyMX leads the charge in offering several ways to open doors and gates, as well as helpful features like virtual keys and Delivery Passes.
Finally, a Mircom telephone entry system poses challenges to the staff who manage the system. First, staff may have to be on-site to update the system. Second, there's no way for staff to review a log of building entries or see who opened the door and when. In contrast, ButterflyMX takes a time- and date-stamped photo of every entry event and operates with cloud-based software so staff can manage the intercom from anywhere.

Mircom vs. ButterflyMX
Although Mircom may be a well-known telephone access system provider, the demands for high-tech features and user-friendly convenience dictate that ButterflyMX video intercoms are the best solution for modern buildings.
ButterflyMX has become the industry leader in video intercom technology, simplifying property access for more than 8,500 buildings.
| Feature | ButterflyMX video intercom | Mircom telephone entry system |
| --- | --- | --- |
| Log of entry events | Yes | No |
| Two-way video calling | Yes | No |
| Touchscreen | Yes | No |
| Cloud-based software | Yes | No |
| Virtual keys for managed visitor access | Yes | No |
| Mobile app | Yes | Only for video telephone entry system |
| Delivery PINs and Passes | Yes | No |
Takeaways
Mircom offers three main kinds of telephone entry systems: paper directory models, electronic directory models, and a video telephone access system.
Telephone entry systems from Mircom may require a dedicated phone line and lots of wiring, which could make installation difficult and expensive.
Property staff may have to manage Mircom telephone entry systems manually onsite, using the device itself. To manage the system remotely, staff may have to purchase and download software to a single computer.
A Mircom phone entry system may not leave an audit trail of entry events for staff to review and know who's coming and going.
Video intercom systems like ButterflyMX may be a better entry solution for modern buildings.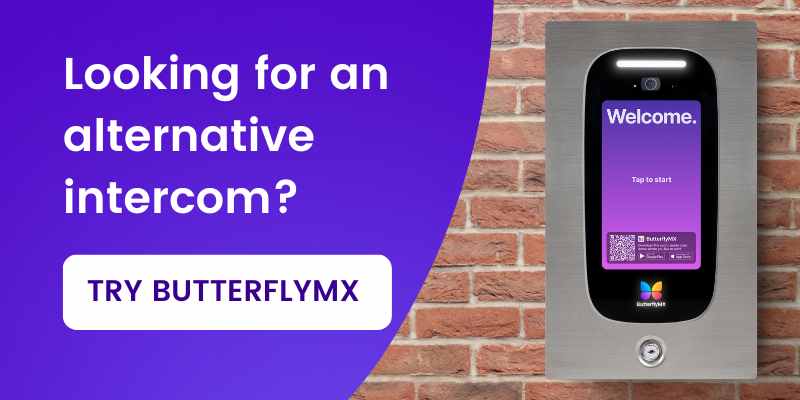 Disclaimer: ButterflyMX provides these blog posts to help our customers and potential customers make the right business decisions for them. Our blog posts are based on the information we have available to us at the time of writing.