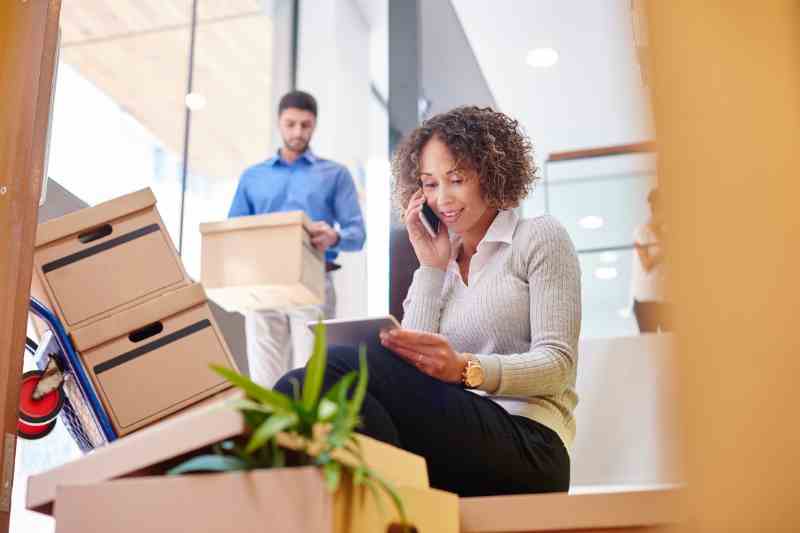 Relocating to a new office seems like a hectic process — but it doesn't have to be! In fact, with a robust office moving checklist, your move can be a breeze. Developing a strong relocation strategy and modernizing your office's workflow are key elements in preparing for the future of work.
So, if you're feeling overwhelmed by the prospect of planning an office move, try writing a corporate move checklist. It'll help streamline the moving process and empower you to focus on running your business.
Read on to learn everything you'll need for a successful office relocation plan. You'll explore four safety measures to implement in your new office space. Next, you'll learn how to best coordinate your team. Finally, you'll discover seven tasks you should complete before you move in.
In this post, we cover:
What do you need for an office move?
A clear course of action is necessary for a successful office move. Relocating to a new office is a massive undertaking, so it's important to have a straightforward strategy to make this process as seamless as possible.
With this in mind, you'll inevitably run into an issue or two during the relocation process. So, having a plan will equip your team with tools to overcome any moving challenge or obstacle.
Pro tip: Create an office space planning guide and ask your team about new equipment requests, workspace preferences, and design suggestions. Get your team involved in these decisions! As a result, you'll foster innovation and boost employee happiness.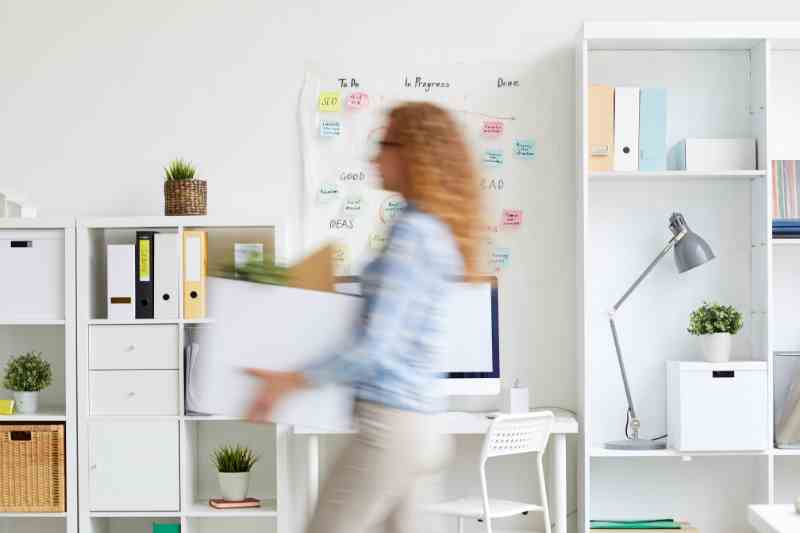 What are some safety tips for moving offices?
While planning when, where, and how things will be moved, it's also crucial you take safety precautions when relocating. This way, you'll ensure no one on your team is impacted by an avoidable injury.
Here are four safety guidelines to keep in mind during your office move:
Avoid trip and fall hazards. Moving is bound to be frantic, but it's important to be mindful of where you're placing boxes to avoid obstructing walkways.
Use proper lifting technique. Remind everyone to lift with their legs, not their backs, when moving heavy objects to avoid injury.
Use safety precautions when cleaning. Label all cleaning supplies appropriately and keep employees in the know about potential chemical hazards.
Put it all in writing. Write and distribute an office moving checklist to all employees well before moving day.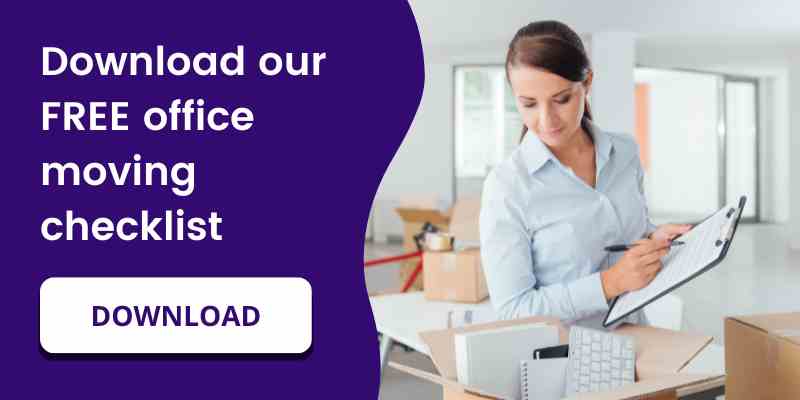 How should you coordinate a team move to a new office?
Coordinating with your team is one of the most important aspects of moving to a new commercial space. Discuss the logistics of the move with your team so that everyone is on the same page.
Here are the most important details to communicate with your team:
New office location. Send out a notice to every member of your team about the new location so they can begin shipping any packages to the appropriate location.
Moving date. Every team member should be made aware of the move-in date and when to report to work at the new location. This is especially important for the employees who are assisting with the move-in process.
Employee expectations. List features of the new office and establish a clear code of conduct at the new location.
Pro tip: Invest in a package management solution to streamline deliveries at your new office!
Learn more about the ButterflyMX package room:
7 things you should do before you move offices
So, you're ready to start planning your office move, but where do you start? Let's take a close look at what you should prioritize when developing your office relocation strategy!
Here are seven objectives you should accomplish before you move in:
1. Create an office moving checklist
An office moving checklist will help streamline the moving process. This list should prioritize important tasks and set a general timeline for your move.
Check out our office relocation checklist template to help you stay organized and keep your move uncomplicated.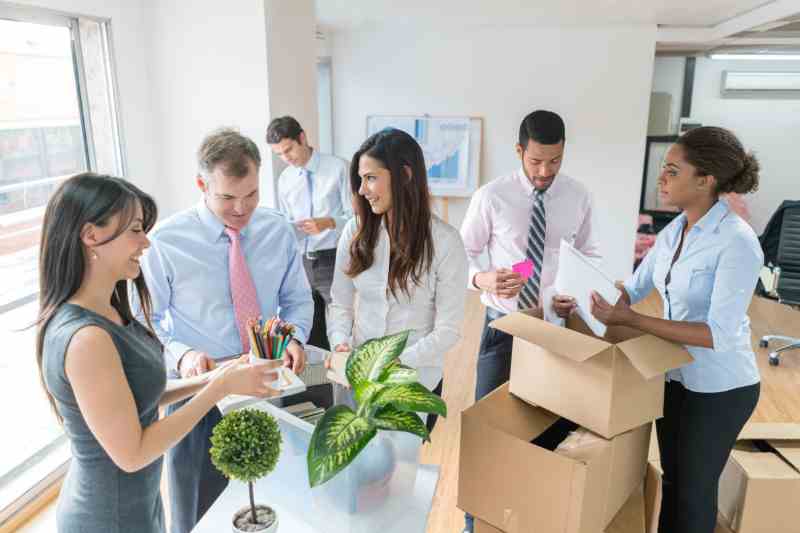 2. Consider your office move needs
Determine what your relocation needs are and prioritize them accordingly. With this in mind, reflect on what you can improve in your new space.
Consider questions like:
What did your old office space lack?
What improvements can you make to the new space?
How can you increase workplace efficiency with your new office design?
What's more, transforming your empty office space is the perfect opportunity to modernize your office. Investing in office upgrades will help lower operational costs and improve productivity in your new office space.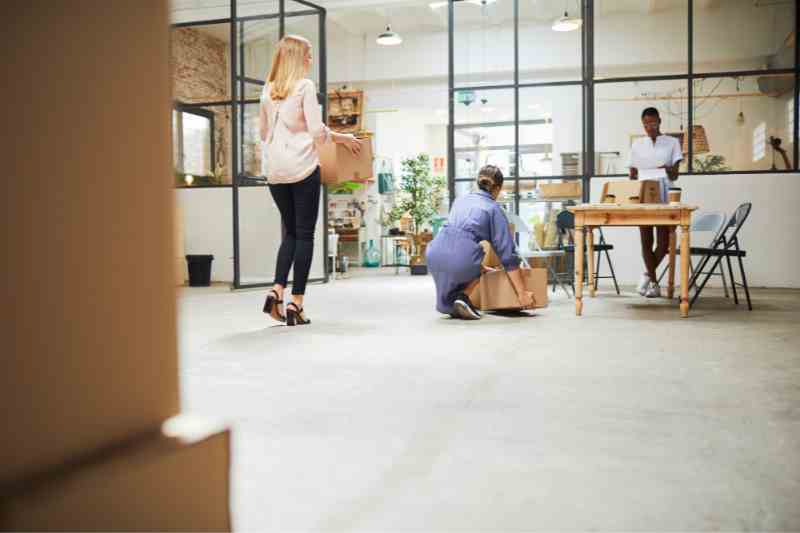 3. Choose your moving team
Hire movers and create a task force for a seamless move-in. While doing everything in-house is cheaper, it'll likely only breed confusion and lost or broken equipment. Furthermore, designate a moving coordinator from your own team to be the point of contact during the moving process.
4. Plan your timeline and schedule
Create a timeline complete with precise deadlines to keep you on track during the move. Stick to this schedule and follow your timeline to make the move less stressful and manage your time more effectively.
5. Create a moving budget
Determining a budget prepares you for every moving expense. However, it's natural for unexpected costs to pop up during a move. So, have some wiggle room in your budget to accommodate these expenses.
Additionally, include office upgrades and improvements in this budget. Investing in office automation software will help lower operational costs over time and improve business operations in your new office space.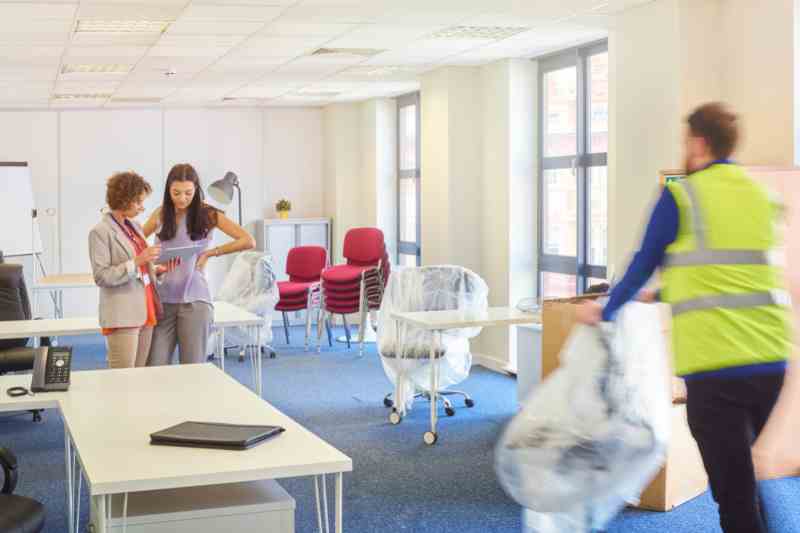 6. Contact your service providers
Reach out to your service providers and transfer all utilities to the new office location. As a result, you'll have a much easier transition to the new location and will immediately have the services you need at the new office.
7. Install a secure access control system
Installing a secure access control system will boost convenience and security at your new office. A complete access control solution secures your team's assets while also enabling convenient access into and throughout your building. Additionally, the best access control systems are cloud-based, like the ButterflyMX unified access system. This way, you can manage and monitor access at your new office from anywhere!
What's more, a complete access control system with vehicle readers and windshield stickers empowers you to streamline access if your new office has a gated lot or parking garage!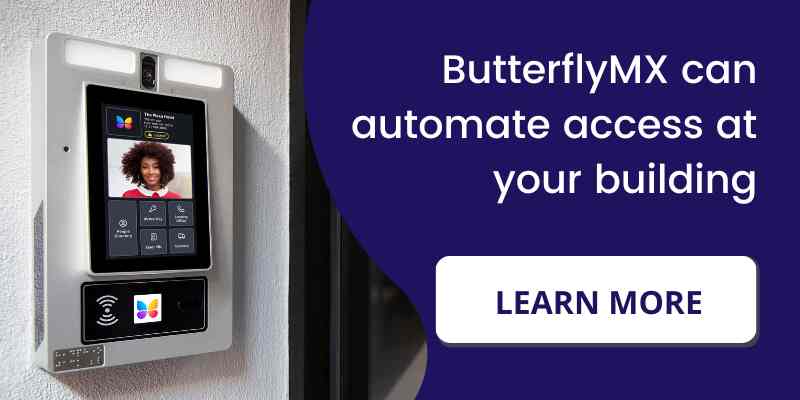 Takeaways
A comprehensive office moving checklist helps you streamline the moving process to your new space.
Take safety precautions throughout the moving process like avoiding trip and fall hazards, reminding workers of proper lifting techniques, and labeling hazardous materials.
Coordinate with your team by notifying them about the new office location and moving date.
To ensure an efficient move to your new office, use an office moving checklist, consider your moving needs, select a trustworthy moving team, plan a timeline, create a budget, contact service providers, and install a secure access control system.