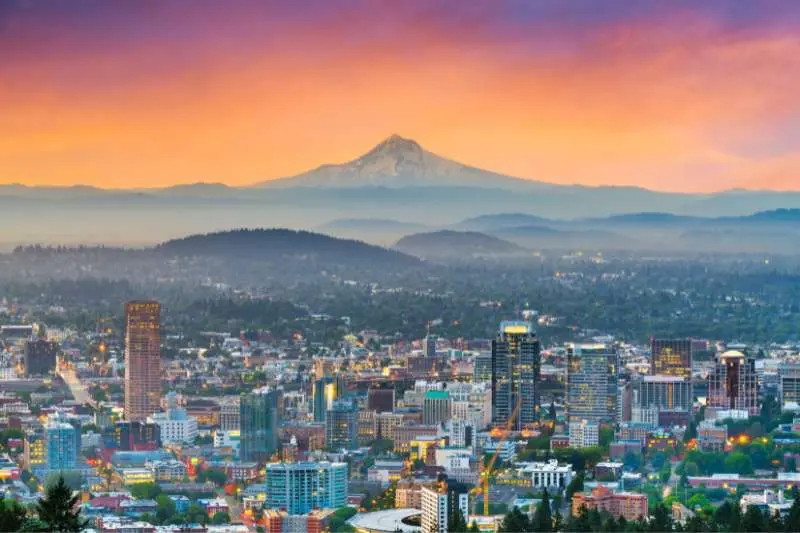 Key takeaways
The cost of Portland security companies depends on the services you require.
Portland security companies will offer cybersecurity services, security guard services, or physical security installation.
To save on costs and effectively protect your property, it's best to install your own security measures, such as access control.
The best access control system in Portland is ButterflyMX.
Located on the Columbia and Willamette Rivers, Portland, Oregon is home to a growing economy paved by an array of industries. However, a growing city comes with higher crime rates. So, many properties are hiring Portland security companies to keep their assets safe.
Of course, Portland security companies vary in security expertise, ranging from cybersecurity and bodyguards to the overall physical security of a property.
Fortunately, this blog details what you need to know about security companies in Portland, Oregon. You'll discover how much security companies cost, the types of security offered, and what the best companies are. Most importantly, you'll learn how better to improve your property's security with access control.
This guide details:
How much does a Portland security company cost?
The cost to hire a Portland security company varies based on the services you need.
For instance, the cost of hiring a security guard for a day is much different than needing cybersecurity services. So, it's essential to reach out to multiple security companies to learn how much they charge for the specific services you need.
Keep in mind the cheapest security services are not always the best option. After all, you need a security company to protect your business and livelihood. So, consider Portland security companies with good reputations and a pedigree for quality.
Learn what you need to know regarding access control as a beginner:
Types of Portland security companies
As mentioned above, security companies in Portland specialize in different types of security for various aspects of your property. Thus, you should know what types of security companies are available.
Security companies in Portland can be divided into the following categories:
Security guard agencies
Portland security guard companies are best suited for properties needing security personnel to patrol and monitor areas. Since many businesses can't afford to hire their own security guards, they choose to outsource the task to professional agencies.
Furthermore, Portland security guard companies can be used for all types of properties — shopping malls, event centers, construction sites, office buildings, and more. Additionally, these agencies can provide more than just security guard services.
Security guard companies in Portland may also offer:
Parking enforcement
Unarmed and armed guards
Video surveillance monitoring
Mobile patrolling
Firewatch
Event staffing
Cybersecurity companies
Unlike security guards who deal with preventing crimes in the physical world, cybersecurity companies aim to protect your business digitally. Protecting passwords, personal information, payment details, and more is harder than you may think.
In fact, there are more than 800,000 cyberattacks every year! For that reason, it's critical your property's digital spaces are well-guarded.
When it comes to deploying cybersecurity measures for your business, they may include:
Risk assessment and management
Digital security awareness training for staff
Threat hunting and monitoring
Data governance
Penetration testing and phishing
Digital forensics
Overall, cybersecurity services are designed to protect your business from serious digital threats that can result in significant damage to your organization.
Physical security installers
While cybersecurity companies protect your property's digital assets, physical security installers help you protect your physical assets. Physical security is designed to protect your property, employees, and customers from physical threats.
Physical security is often implemented through security systems composed of various features and hardware. By working closely with a physical security integrator, they can determine what security solutions would work best for your property.
To implement an effective security solution, installers may suggest:
Surveillance cameras
Access control systems
Elevator controls
Alarms
Glass break detectors
Entryway sensors
Smoke and carbon monoxide detectors
While your property may not need all the hardware listed above, you can benefit significantly by implementing just a few. Not only will you increase the security of your property, but you'll also lower costs by not having to rely on a third party for your security needs.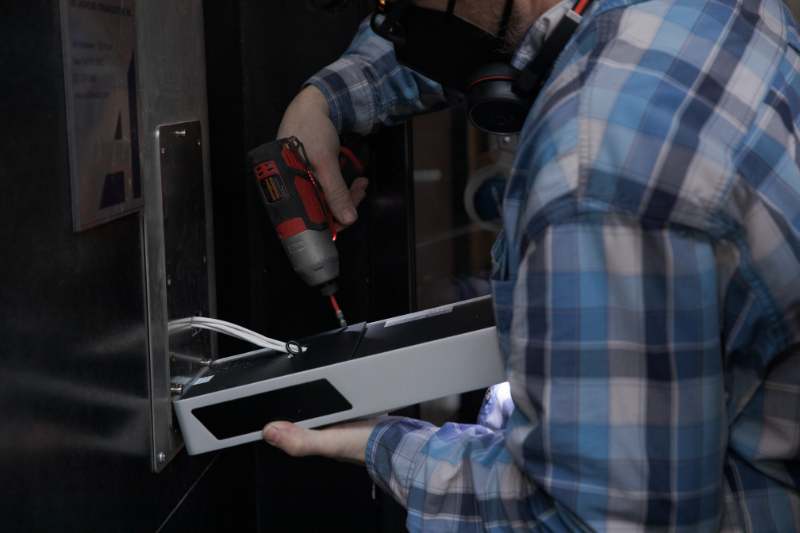 5 best Portland security companies
To effectively implement a security solution, you need a company you can rely on and trust. Luckily, you can get a headstart by checking out the Portland security companies below.
The five best security companies in Portland are:
1. Portland Security Alarm
Google review: 5/5 stars
Founded in 1959, Portland Security Alarm is a security system company that protects residential and commercial properties across the Greater Portland area. Portland Security Alarm helps businesses and homeowners design, install, and maintain security systems that meet their specialized needs.
They'll work with you to determine what types of security features you need based on your property's location, operations, and potential threats. With that in mind, they'll collaborate with you to design a security system that prevents intrusions, property damage, and costly repairs.
Portland Security Alarm includes the following services:
Security cameras
Smart locks
Video doorbells
Smart security systems
Door and window sensors
Access control
2. Portland Patrol, Inc.
Google review: 4/5 stars
Portland Patrol Inc. was founded in 1997 by a retired Portland police commander. PPI's focus on developing relationships with the community, business leaders, and the Portland Police Bureau has given them extensive experience and national recognition. As the only private security company to have contractually partnered police officers, Portland Patrol Inc. has become one of the best Portland security companies.
Choose PPI for the following security services in Downtown Portland:
Patrol services
Armed guards
Unarmed guards
3. Cascadia Global Security
Google review: 3.9/5 stars
As a nationwide company, Cascadia Global Security is capable of providing a wide range of security services for your Portland property. One of the unique qualities of CGS is the advanced technology and equipment they utilize, giving them 24/7 availability. No matter where you're located in the Greater Portland area, CGS can help protect you, from Oregon City and Hillsboro to Beaverton and Gresham.
Cascadia Global Security offers the following Portland security services:
Armed guards
Unarmed guards
Emergency services
Specialized security
Event staffing
Cash transportation
Firewatch
Patrol services
4. GardaWorld
Google review: 3.6/5 stars
GardaWorld is one of the largest privately owned security companies in the world. Offering a full suite of security services in Portland, GardaWorld has proven to be a physical security solution for all types of commercial properties. With two different branches located in Portland, Oregon, GardaWorld will provide you with security solutions that keep your assets protected.
GardaWorld's security services in Portland include:
Armored truck transportation
Smart safes
Cash services
Security guards
ATM services
Cash vault services
5. Off Duty Officers, Inc.
Google review: 3.2/5 stars
Off Duty Officers, Inc. was created in 1993 and remains a leader in providing off-duty and retired law enforcement to fulfill the security needs of commercial properties. Located in multiple cities across the country, Off Duty Officers is always aiming for better customer service and quality across all the services they offer. Their officers are licensed, trained, and highly qualified to manage your security operations for a safe and secure environment.
Reach out to Off Duty Officers for any of the following:
VIP protection
Loss prevention
Corporate security
Event security
Mobile patrolling
Natural disaster response
Security guards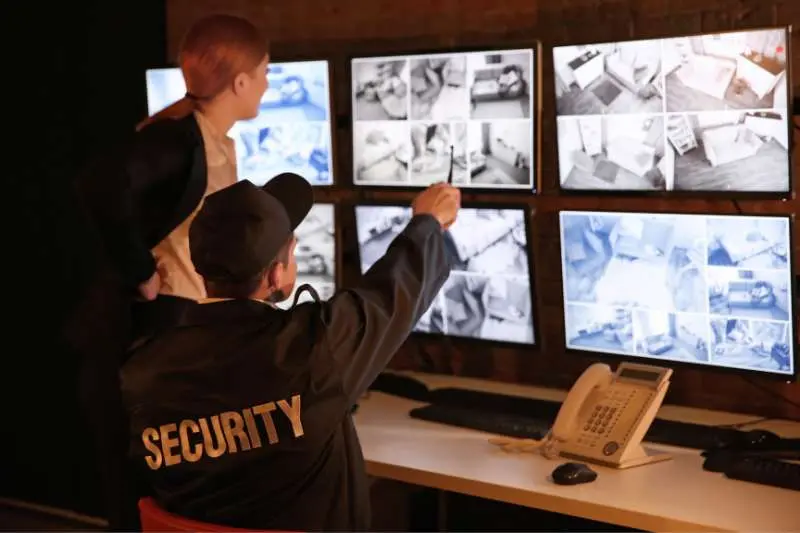 How to improve overall security at your Portland property
When it comes to protecting your property, Portland security companies are adequate solutions. However, they aren't cost-effective long term. So, for the health of your business, you should consider integrating your own security measures.
Fortunately, modern security systems don't require someone to monitor them at all times. Instead, these systems are made up of devices that track users automatically or notify you of issues when they arise. That way, you can take corrective action upon learning of a safety breach.
With that said, the best place to start is with an access control system. Access control systems manage and track who can enter a property. Therefore, simply preventing unauthorized personnel from entering the property greatly increases security.
For that reason, you should consider the best access control in Portland.
What is the best Portland access control system?
The best Portland access control system is ButterflyMX.
Founded in 2014, ButterflyMX is an access control company that's been installed in more than 10,000 buildings and with more than 1 million daily active users. Thanks to ButterflyMX's property-wide access control solution, you can increase security at every entryway and area in your property.
The ButterflyMX access control system includes:
Video intercoms. Control your main entryways and gates with the ButterflyMX video intercom that supports two-way video calling. Guests can request access to the property by selecting the tenant they're visiting in the directory. Then, tenants can see and speak to the visitor before unlocking the entrance remotely on their phones.
Package rooms. Minimize tenant frustration from missed deliveries by adding a package room to your property. Set up a delivery PIN for major couriers to access the package room and leave deliveries. Afterward, tenants can retrieve their package using their own unique PIN code or phone.
Keypads and card readers. Secure amenity spaces and interior areas with readers and keypads located at each door. With these devices, you can control access to all areas of your property. Most importantly, the keypad and card readers are compatible with the ButterflyMX mobile app!
Vehicle readers. Reduce long lines at the property entrance by installing a vehicle reader that automatically detects an authorized user via a sticker located on their windshield. As a result, you can cut down the wait time at the gate entrance and save drivers time by eliminating the need to input a physical credential.
Elevator controls. Limit access to certain floors of your property based on the user's credentials. Additionally, you can limit guests to the floor of the tenant who lets them inside. In turn, you can minimize security risks throughout the building.