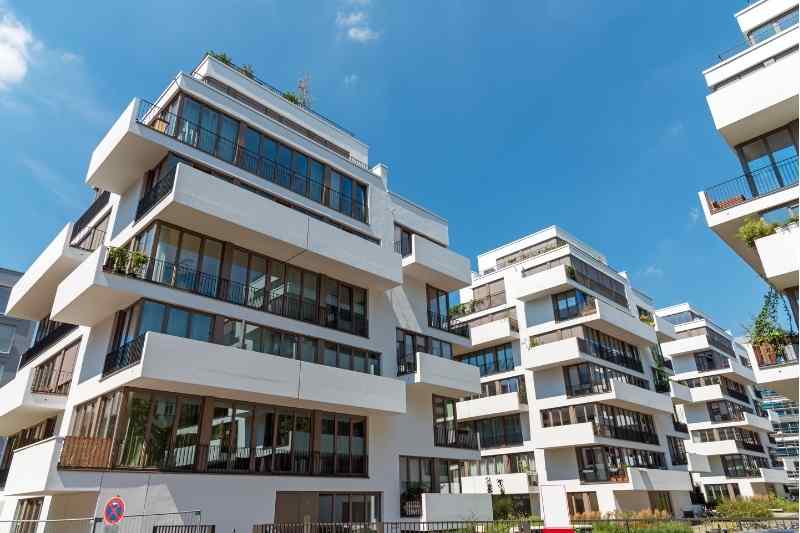 From doormen to video intercoms, there are plenty of options when looking for security systems for condos. However, choosing the best security system for your building isn't a cut-and-dry process. So, it's up to you and your board to balance the convenience that residents expect and the safety everyone needs.
We've got you covered with our comprehensive guide to security systems for condos!
In this guide, we define condo security systems, including common security issues to look out for. Then, we map out the top five security systems for condos. Finally, we give you several additional security features that'll amp up your condo's safety.
This post covers: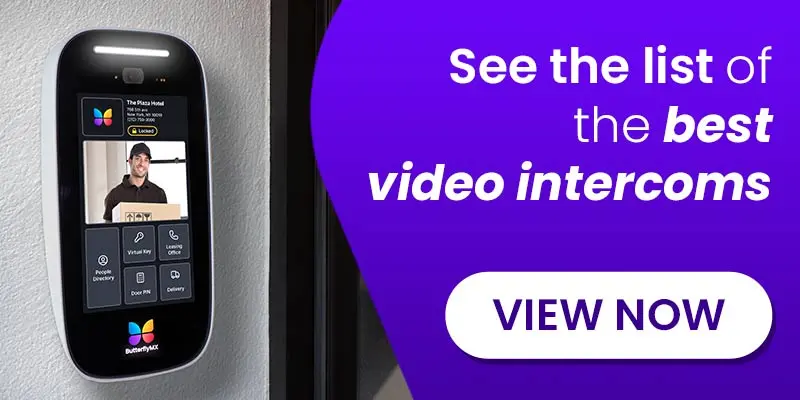 What is a condo security system?
A condo security system is a combination of electric and physical security hardware installed to protect a condominium complex. Additionally, condo security includes personal security practices implemented by the residents.
Security hardware components and their respective personal security practices include:
| Security hardware | Personal security practices |
| --- | --- |
| Doors and windows with traditional or smart locks. | Ensuring doors are locked and windows are closed. |
| Robust alarm systems. | Making sure alarms are activated. |
| Security camera systems. | Ensuring security cameras are charged, and camera lenses aren't obstructed. |
| Outdoor lighting. | Turning on outdoor lights at dusk and replacing bulbs as needed. |
| Motion detectors. | Keeping motion detectors charged and connecting them to the alarm system. |
Why do you need a security system at your condo?
Condos face many security concerns — including more than just break-ins.
We've outlined the most common security concerns at condos here. However, you can discover the primary security concerns at your specific condo community by asking fellow residents about their biggest safety concerns.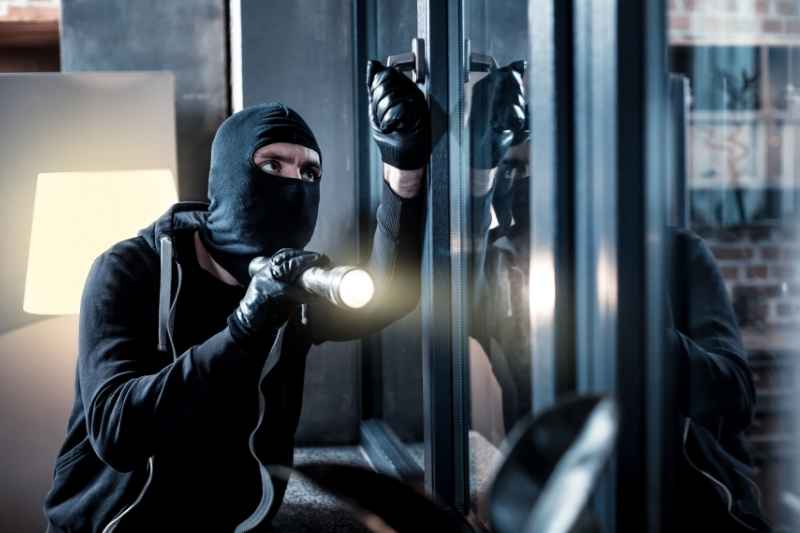 Here are common condo security concerns:
Burglaries. Locks on doors and windows are a great security measure. However, many residents forget to lock their doors before they leave — and burglars know this. Further, many burglars simply break open doors or windows with force. So, burglaries are costly to you and other residents and result in damage to the property that you'll have to cover.
Natural disasters. Your building must be equipped to handle power outages due to natural disasters. Further, if you're located in areas affected by hurricanes, tornadoes, or earthquakes, the foundation of your property should be sturdy enough to withstand any damage.
Fire safety. Not only is damage from smoke and fire expensive to repair, but it's also incredibly dangerous. Follow fire prevention guidelines strictly to keep the building and residents safe.
Squatting. Say a condo's been on the market for a while or the residents are taking an extended vacation out of town. This makes their unit a prime target for squatters. Handling squatters can be a legal nightmare, so preventing them with a monitored security system is key.
Air quality. Air pollutants are inevitable, especially in urban areas, but are usually harmless. However, preventing harmful carbon monoxide gas with carbon monoxide detectors is crucial. Because CO is odorless, you must regularly check that your CO detectors are charged and working properly.
Package theft. Americans order more packages online than ever before. As a result, billions of dollars worth of packages are stolen each year. So, preventing package theft at your condo should be a top priority.
Watch to learn about the differences between condos vs. apartments:
Top 5 security systems for condos
So, you know the top security concerns plaguing condos, but how do you deal with them?
Most condos require a network of several security solutions that work together to guarantee safety. Let's take a look at the most common condo security systems.
Five features of the best condo security systems: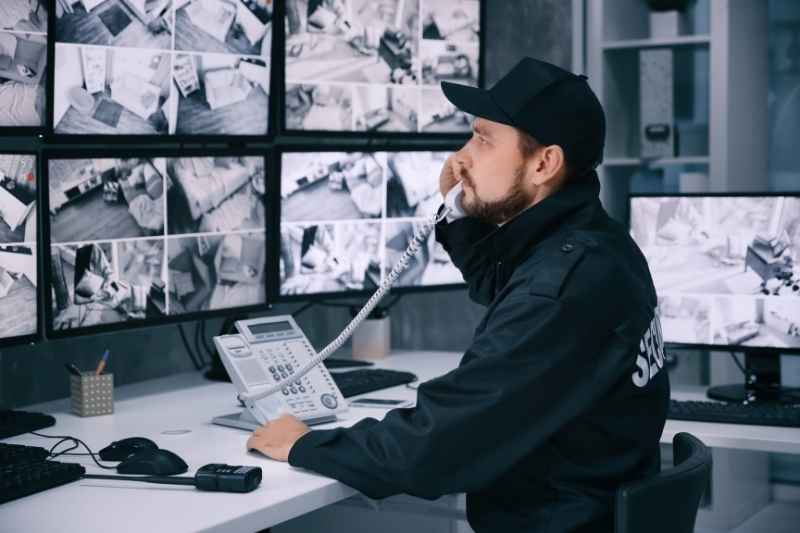 1. Guards
Hiring a guard to oversee security at your condominium is a smart investment.
However, hiring just one guard to man an entire condo community may not be sufficient, as they can only see one small area at a time. Instead, pair a guard with other security systems, like a CCTV system, fire alarm system, or motion sensor alarms.
Then, the security guard can react quickly to danger by alerting law enforcement or first responders before residents are aware of any threats.
2. Doormen and gatekeepers
If your condo community has a main entrance or a gate, you may look into hiring someone to keep watch and control access. Not only do they grant access to guests and residents, but they can also accept packages. That way, residents know exactly where to pick up their packages — and when they've had one delivered.
As mentioned above, hired doormen and gatekeepers work best when equipped with additional technological security features.
3. Alarm systems
You should consider several alarm systems for your condo.
The most common condo alarm systems include:
Door and window sensors placed inside a door or window that activate when either is opened. They can be programmed to only be active at certain times.
Fire alarms to alert residents and local fire departments of smoke or fire.
Carbon monoxide detectors alert residents of dangerous carbon monoxide levels to prevent CO poisoning.
Smartphone-based sensors that residents can control from an app.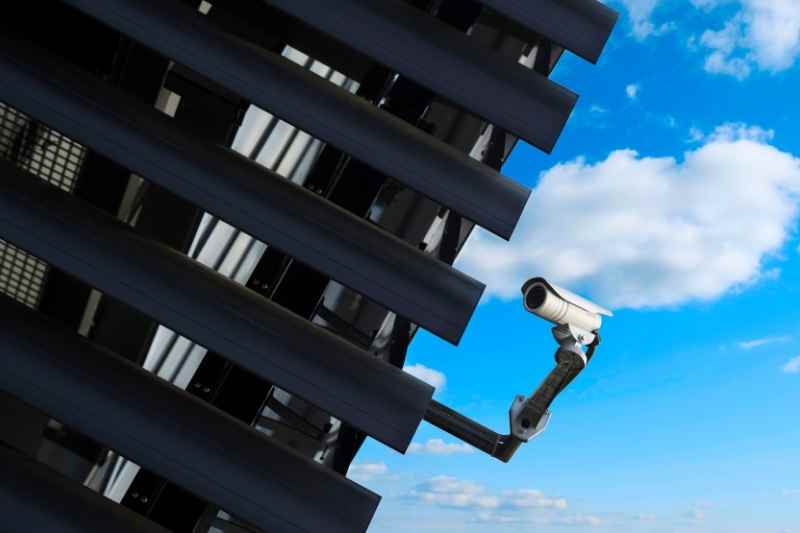 4. Video surveillance
Installing video surveillance, such as security and doorbell cameras, throughout your condo will put your community at ease. What's more, many modern surveillance cameras in condos can be monitored by property managers and residents. So, managers can monitor community spaces, while residents can view their front door at any time from doorbell cameras.
Here are a few places you should install security cameras:
Package rooms
Parking garages or lots
Community spaces and gyms
Unit front doors
Front gates
Having a video security system in conjunction with an intercom or alarm system will boost your condo building's security systems.
5. Video intercoms
A video intercom is the most effective condo access control system.
Video intercoms offer multiple condo security solutions in one device. While there are plenty of video intercom systems on the market, you should consider one that enhances both security and convenience.
Choose a condo intercom with these features:
Wireless capabilities. Wireless intercom systems are quicker to install and easier to maintain than their wired counterparts.
Mobile app. The last thing you want is for your condo security system to be an inconvenience. So, choose a condo access control system with mobile entry capabilities. That way, residents don't have to worry about carrying keys or fobs — and can even grant entry to guests or couriers when they're not home.
Wide-angle camera. An intercom with a wide-angle camera ensures the camera records the entire field of view and gives you the full picture in the event of package theft.
Video footage and audit trail. Not only does the best security intercom camera for condos empower two-way video calling, but it also takes time- and date-stamped photos of each entry event. Then, it stores these photos in the cloud, which can be accessed at any time in case of security breaches.
Cloud-based software. Cloud-based security systems allow you to manage access from anywhere. Condo owners can grant access permissions — and view the audit trail — from anywhere in the world.
Holistic access control. An intercom that flawlessly integrates with keypads, vehicle access systems, and smart locks for a comprehensive access experience.
The most robust and comprehensive video intercom system for condos is ButterflyMX, which has all of the above features and more, including a 156-degree wide angle camera, requires no building wiring, is weatherproof and vandal-resistant, and has a bright LED screen on both its 8" and 12" models!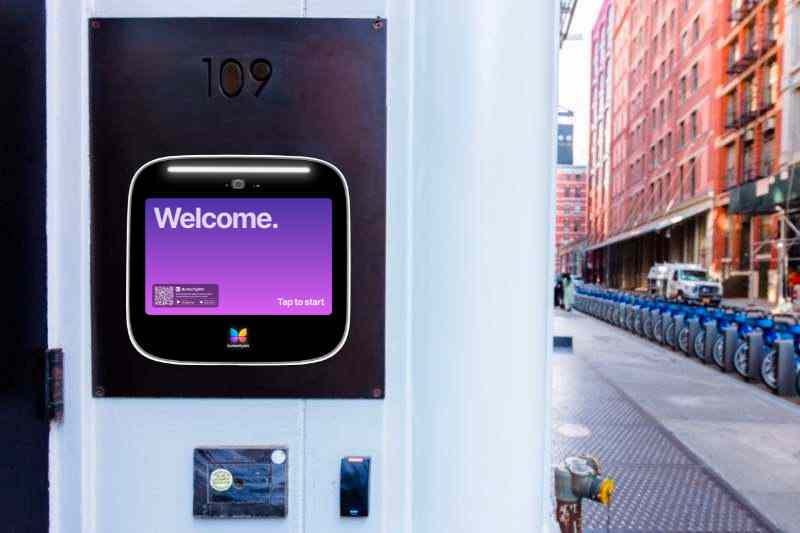 Takeaways
Security systems for condos include various components, including hardware and personal security practices.
Common security issues at condominiums include burglaries, natural disasters, fire, squatting, air quality concerns, and package theft.
The top five condo security systems include guards, doormen and gatekeepers, alarms, video surveillance, and video intercoms.
The best security systems for condos combine physical security with technology that can be controlled by smartphones.