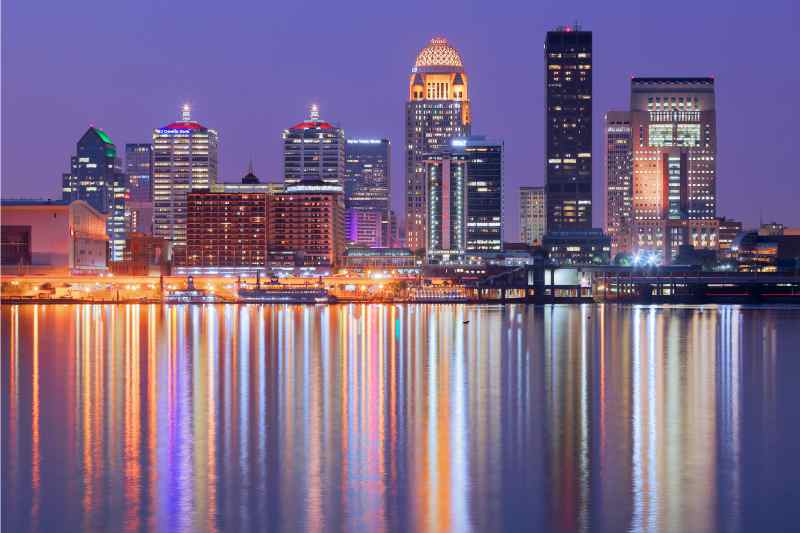 Key takeaways
When looking for a new security system in Louisville, KY, you should look for one that offers easy integration, simplified access, and smart technology. 

The average security system cost ranges between $500 and $1000 per door, but prices depend on the unique needs of your property.

Louisville's best security system companies are ButterflyMX, Vector Security, All-In-One Security and Home Entertainment, and Medley and Sons Security.
Physical security is one of the top concerns for multifamily and commercial properties nationwide. Many buildings have inefficient or outdated security systems. Additionally, every city and state has different security concerns. Access control in Louisville, Kentucky is no different. In this guide, we've narrowed down the top four security systems in Louisville, KY for all building types.
First, we'll cover what to look for in a security system in Louisville. Next, we'll cover the average cost you can expect for installation. Finally, we'll review a list of the top four security system companies that service Kentucky.
This post covers:
What to look for in a new security system in Louisville, KY
A good security system for Louisville, KY will make your building safer and make the lives of your residents and staff easier.
When seeking out a new security system, you should take into consideration:
What makes your building different. How many entry points lead into your property? Do you have certain floors or rooms with restricted access? How far out of your building do your security concerns extend? Knowing how complex your security needs are in advance is essential. Some systems are better suited for larger properties than others.
Integration. The best security systems will integrate well with what you already have in place. Furthermore, good integration will allow you to continue adding to your security system in the future.
Simplified access. While you want your new security system to be full of useful features, you also don't want it to be too complicated to use. So, choose a system that doesn't require multiple steps to enter the building.
Smart technology. The average age in Louisville is 38, which is on the younger side. So, your building is likely to be populated by younger people who expect the latest in smart technology. Instead of worrying about keeping track of physical credentials such as keys and keycards, empower to enter your building by using their phones.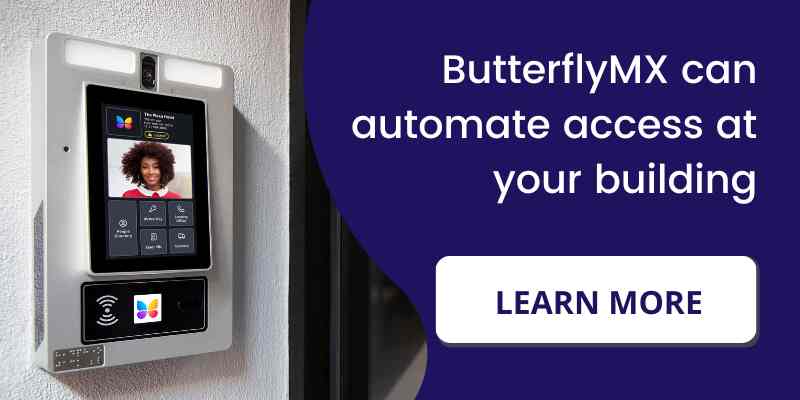 What is the average cost to install a security system?
Security systems vary widely in cost depending on the size and needs of your property. The average cost per door for, say, an access control system in Louisville, KY will range between $500 and $1,000 per door. However, this is a loose estimate.
Fortunately, you can contact the security system companies that we list below to get an estimate on prices over the phone.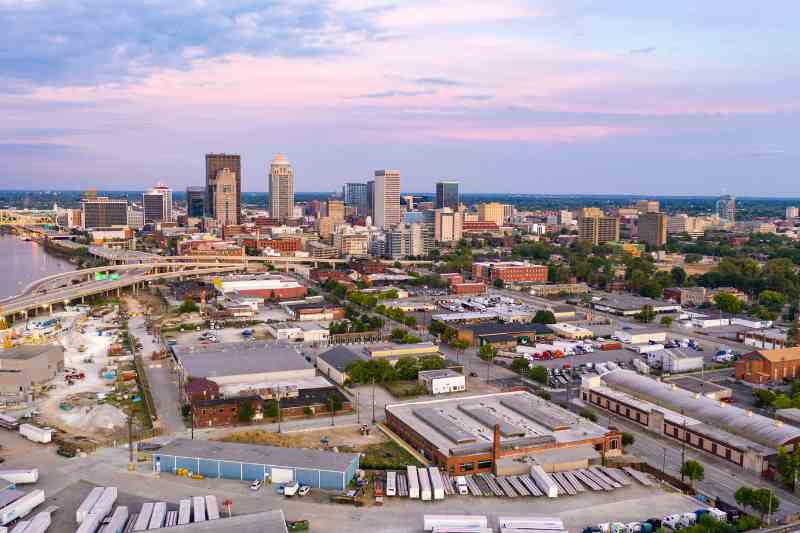 The 4 best security systems in Louisville, KY
When upgrading your security system, your building and residents' unique needs will often help determine the type of system that you get. The security system companies below service both residential and commercial properties.
The four best security systems in Louisville are:
1. ButterflyMX
ButterflyMX products have been installed in over 10,000 buildings across the country; this includes 1 million apartments. They also have over 20,000 five-star ratings. Products they offer include video intercoms, keypads, package rooms, elevator controls, self-guided apartment tours, vehicle access control systems, and integrations with over 80 smart lock styles.
Highlights include:
Date and time-stamped photos of entry events that keep track of everyone who enters the building. This data can be reviewed at any time.
Cloud-based software reduces maintenance and allows for automatic updates.
Mobile-based entry empowers residents to not worry about credentials like keys and keycards. Instead, they can enter through a tap of a button thanks to the ButterflyMX mobile app.
ButterflyMX products can be used for gates, entrances, parking lots, elevators, and package rooms.
Residents can allow guests and delivery personnel into the building remotely by providing them with their own unique PIN code.
Learn what you need to know regarding access control as a beginner:
2. Vector Security
Vector Security is an established security system company that has been around for 50 years with branches all across the United States. Some of their products include security cameras, burglar/fire alarms, keypads, doorbell cameras, and various other smart products.
Highlights include:
Their website features options to select the size of the property you're looking to outfit with security products. It then offers specific recommendations depending on the size that you choose. This can save you a lot of time researching.
Vector Security's products range from offering accessibility to your property to security for individual units and rooms.
They have professional installers affiliated with the company that will come and install your products. So there's no need to search for a third-party installer!
Cons:
They don't specifically offer access control systems. However, all their products would integrate well with an access control system.
3. All-In-One Security and Home Entertainment
All-In-One Security and Home Entertainment is a local home and commercial security specialist company located in Kentucky. Products they offer include door locks, flood protection, fire/burglar alarms, video surveillance, and doorbell cameras.
Highlights include:
Being a local company means that they're aware of the unique demands that your property may face thanks to the local weather, college demographic, and other factors specific to Louisville.
Many of their products offer email and text alerts if there's an unwanted entry.
Their business security system products are specifically designed for commercial properties.
Cons:
They don't appear to feature smart technology that utilizes mobile devices.
4. Medley and Sons Security
Medley and Sons Security is a family-owned business that's also located in Kentucky. They partner with ADT, a national security provider. They offer free quotes on custom security plans for your residential or commercial property. Products they offer include video surveillance, burglary monitoring, motion detectors, and access control systems.
Highlights include:
Their access control systems monitor who comes and goes from a property at all times.
You can monitor your property's security cameras right from your mobile device thanks to cloud technology.
They feature a lot of smart technology, which appeals to younger demographics.
Cons:
They don't appear to offer remote access options for guests.