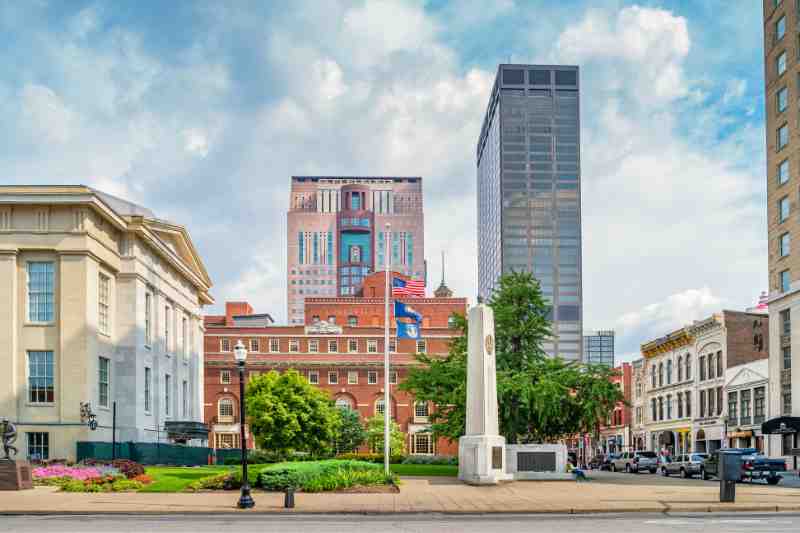 Are you a Louisville property manager or owner looking to install or upgrade your access control system? From the bustling central business district to historic Bonnycastle, finding the best access control solution for your Louisville building is essential for guaranteeing secure access for everyone at your property.
Read on to learn about different types of access control systems and how they work. Then, explore the benefits of installing an entry system at your business. Next, check out five tips for finding the right system for your Louisville property. Finally, discover the best access control system on the market.
In this post, we cover:
Types of access control systems & how they work
Choosing the right access control solution for your Louisville, Kentucky property is essential to providing safe and secure access.
Here's a round-up of the most popular types of access control in Louisville:
Key card access control. Key card access systems rely on physical cards to grant access to buildings. With these systems, residents and staff swipe the card at the reader, prompting the system to grant or deny access.
Biometric access control. Biometric access control relies on fingerprints, facial recognition, or retina scans to identify users and grant access. However, these systems tend to be quite expensive.
Keypad access control. Keypad access control systems require residents, visitors, and staff to enter a unique PIN code on a keypad to gain entry.
Video access control. A video access control system uses a camera to empower a visitor to request building access.
Wireless access control. Wireless access control systems operate without needing extensive building-wide wiring. Instead, they rely on wireless connections like WiFi, Bluetooth, or cellular.
Cloud-based access control. Cloud-based systems offer various features like remote management and monitoring, as well as real-time reporting.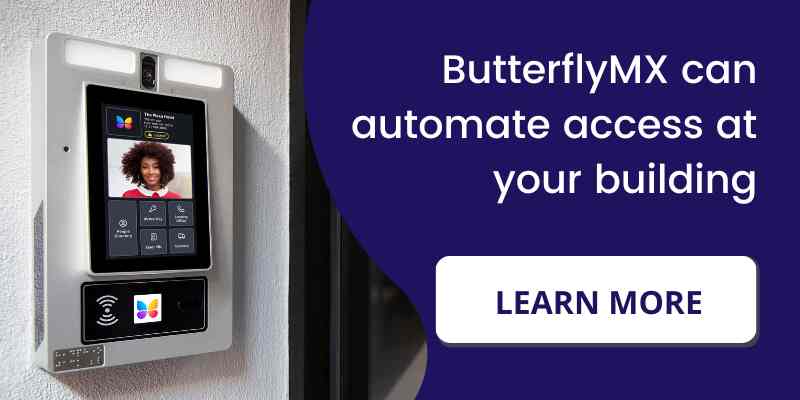 Benefits of installing an access control system in Louisville, KY
There are several benefits to installing an access control system at your Louisville building.
Let's take a closer look at the advantages of installing a comprehensive access control solution at your property:
Boost security. Access control systems enhance security at your property by empowering you to manage, monitor, and control who has access.
Building-wide customization. Robust access control solutions allow you to set up different levels of permissions for different areas of the property. So, you can restrict access to shared amenity spaces or limit visitor access to certain floors.
Reduce daily operational costs. Reduce labor costs with an access control system that doesn't require daily maintenance or manual re-keying of locks and doors.
Save time. Save time and money by reducing the need for manual check-ins.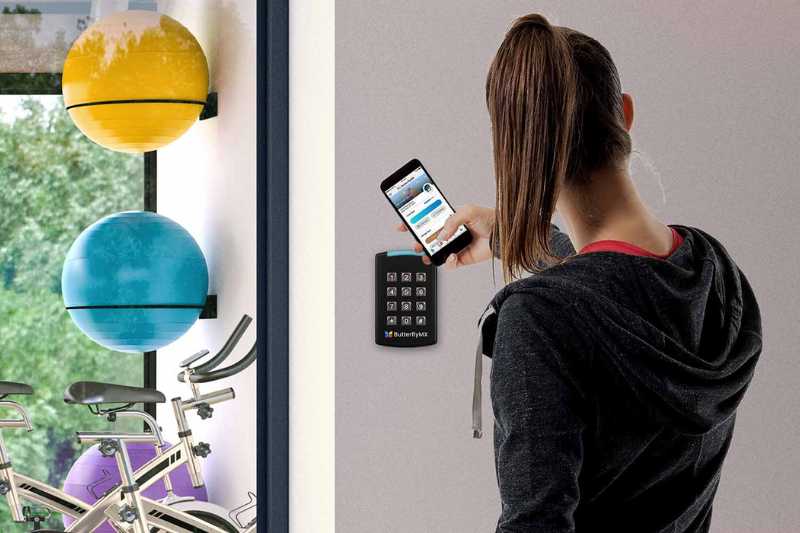 Factors to consider when choosing an access control installer
Choosing the right installer is one of the most crucial steps in setting up an access control solution for your space. What's more, choosing the best installer will ensure that your system is installed properly. This way, it won't need significant maintenance or need to be replaced later on down the road.
Here's what to look for when choosing an access control system installer in Louisville, KY:
Hire someone certified. Make sure your installer is certified to avoid unnecessary malfunctions and the risk of voiding the warranty.
Competitive pricing. Get quotes from different installers and compare costs. This will ensure you get the highest quality service possible at the best price.
Annual maintenance and repairs. Find out what kind of ongoing services your installer offers. A good installer will provide yearly maintenance and repair services as well as troubleshooting advice if your system ever malfunctions in the future.
Technology knowledge. Ensure your installer is familiar with any software or hardware necessary for your system, like cameras, card readers, and keypads.
How to pair the right access control system with your building
Every type of building benefits from a controlled access solution.
Here are the types of buildings in Louisville that benefit from having a holistic access control solution:
Apartment buildings. Apartments need a unified access solution to ensure that both residents and their visitors can easily access the building. For multifamily properties, a mobile access control system is the best option because it allows residents to unlock entryways and navigate every room within a building using just their smartphones.
Offices and commercial buildings. Just like apartment residents, office employees and other commercial building tenants need an easy way to access the building and the rooms within. Key fob readers and keypads are great solutions for these types of buildings. 
Gated communities. Gated properties in Louisville, KY need a simple way to control access at the front gate. A video gate intercom system is the best option because it allows residents to seamlessly open the gate with a smartphone while giving visitors an easy way to request property access.
Industrial facilities. Louisville is a major manufacturing hub, so there are several industrial facilities throughout the region. These properties want to boost security while ensuring convention access for authorized people. So, industrial properties should seek access control systems that allow admins to limit access permissions for restricted areas and manage the entire system remotely.
Student housing. Louisville is home to several colleges and universities, from the University of Louisville and Bellarmine University to Simmons College of Kentucky and Spalding University. Student housing properties at these universities have similar needs to other apartments and multifamily buildings — but security is a primary focus. Student residents and their parents seek access control systems that prioritize security.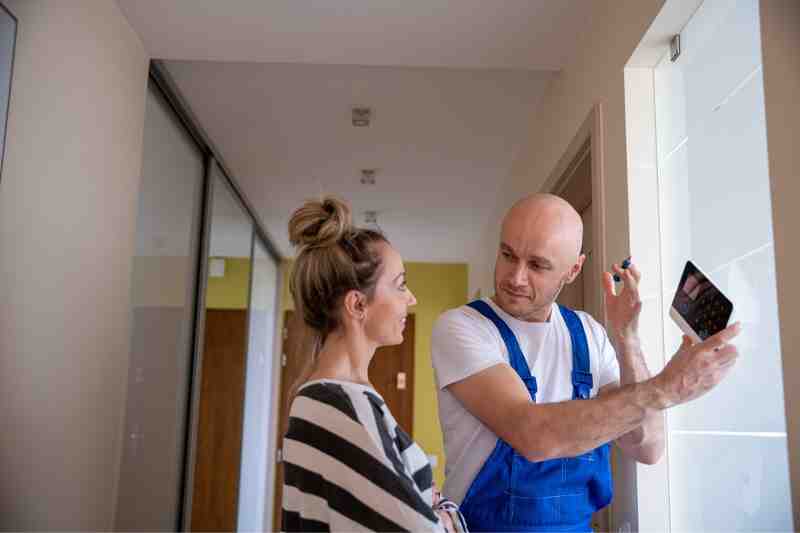 5 tips for finding the right access control system & installer in Louisville, KY
Looking to install or replace your entry system but don't know where to start? We've got you covered!
Here are five tips to keep in mind when choosing a security system or installer in Louisville:
1. Do your research
Spend time researching different access control systems and installers to find the best fit for your needs. Look at customer reviews and testimonials to ensure you make the best choice for your property.
2. Consider your budget
Choose an access control solution that fits within your budget and meets your property's needs.
Every space is different, so assess where you can modernize access at your property. Additionally, consider gathering quotes from different companies and comparing their best features to make the best decision.
3. Look for the best features
Each access control system offers a unique suite of features. But what features should catch your eye?
Here are the top features to look for:
Property management software integrations. Your access control solution should easily integrate with other systems like PMS software. These systems make managing access credentials for staff and residents effortless.
Mobile compatibility. Look for an access control solution that pairs seamlessly with a mobile app and enables remote access and real-time alerts.
Robust security features. The entry system you choose should have features that boost security, like a camera. This way, you can see who enters your building. Additionally, a camera will help deter unauthorized visitors from trying to access your property.
Scalability. Choose a system that can grow with your business or organization. Your entry system should easily accommodate additional doors or users and expand to new locations when needed.
Compatibility with existing hardware. Make sure the system you choose is compatible with your existing hardware, like smart locks.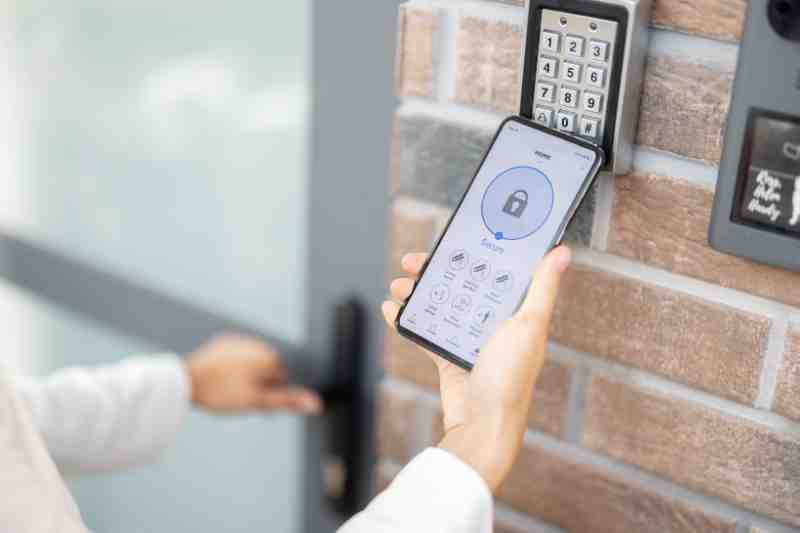 4. Ensure building compatibility
Check that any hardware or software needed is compatible with existing systems at your building in order to avoid unnecessary costs. Whether you're replacing your current system or you're starting from scratch, it's best to have an expert assess your building's needs and offer recommendations. 
5. Get referrals
Talk to industry professionals who either have your system or are familiar with vendors in your area to make the most informed choice for your property. Additionally, research the company or installer by looking up customer reviews.
Best access control system in Louisville, KY
ButterflyMX is the best access control system for buildings in Louisville because it streamlines property access for visitors and residents alike without sacrificing security. Whether you own or manage an apartment, an office building, or a gated community, your property will benefit from ButterflyMX.
ButterflyMX's unified property access control solution includes:
Video intercom to control access at front entrances (both doors and gates). Visitors can request property access from residents or staff via video call. And tenants can grant access remotely with a smartphone.
Keypads and card readers to control access to interior entrances like amenity spaces. Residents can use a fob, key card, PIN code, or smartphone to unlock doors and gates.
Vehicle access control system for gated vehicle entrances and parking garages. ButterflyMX's vehicle access control solution consists of a reader installed by the gate and windshield tags that residents place in their cars for easy, hands-free access.
Elevator controls to automatically unlock key-fobbed elevators for authorized visitors. ButterflyMX's elevator control system ensures that guests can only access the floor of the resident they're visiting. 
Smart locks for unit doors and shared spaces. ButterflyMX conveniently integrates with several of the leading smart locks on the market for streamlined access.
Learn how ButterflyMX works:
Why ButterflyMX?
You know your building in Louisville needs an access control system, but with so many options out there, you might not know which to choose.
Here's why you should consider ButterflyMX:
Smartphone-based access. From the highly rated ButterflyMX mobile app, tenants and staff can unlock doors and gates and manage access using their smartphones.
Remote access. Residents can grant access to their visitors from anywhere in the world with just a smartphone.
You'll save time. Property owners and managers save time with ButterflyMX because they can manage the entire system remotely from a user-friendly dashboard. 
Improve the resident experience. ButterflyMX improves the resident experience by making it effortless for residents to enter and navigate your building using the technology they already have on hand.
Prevent lost and stolen deliveries. Undoubtedly, your building receives several package deliveries per day. ButterflyMX ensures those deliveries are always successful with solutions like delivery PINs, delivery passes, and package rooms.
Takeaways
Access control systems boost security, reduce daily operational costs, and save time.
When choosing an access control system for your building in Louisville, make sure you do your research, consider your budget, choose a system with the best features, seek a system that's compatible with your building, and get referrals and recommendations from industry professionals.
The best access control system in Louisville, KY is ButterflyMX because it enhances both convenience and security while streamlining the property access experience.