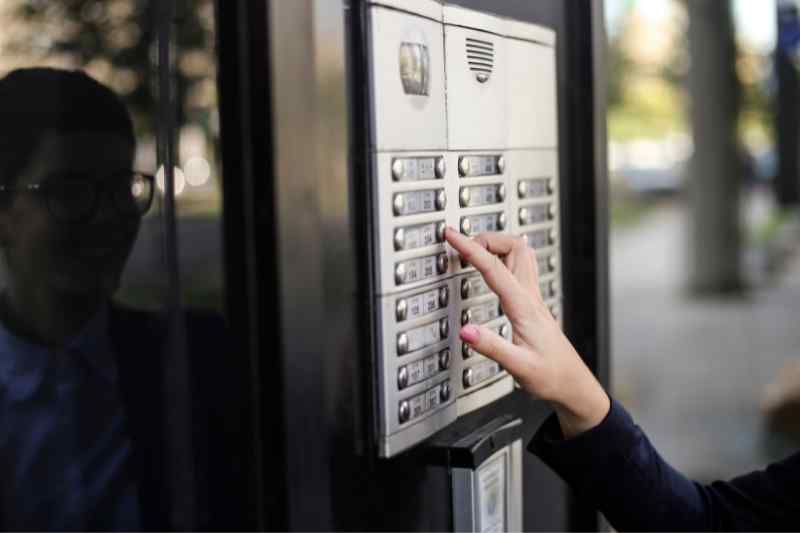 Apartment residents aren't the only people coming through your front door. Guests, dog walkers, delivery people, and all types of visitors need access to your property. But a classic apartment buzzer is outdated and requires your residents to be inside their apartments to grant access. That's where smart apartment buzzers come in.
Smart apartment buzzers allow residents to talk to visitors and remotely unlock the door from their smartphones. Read on to learn more about how you can make your entry system smarter.
This post covers:
What is a smart apartment buzzer?
A smart apartment buzzer is an internet-connected version of a traditional apartment buzzer system. By connecting it to the internet, smart buzzers allow residents to use their smartphones to remotely communicate with visitors at the front door and grant them building access. In contrast, outdated door buzzers require residents to be in their units to answer visitors' calls and unlock the door.
If you want a smarter building entry system, you can either purchase an intercom or implement some creative solutions to connect your existing buzzer system to the internet.
Components of a smart apartment buzzer system:
Entryway hardware: At the entrance to the building, the buzzer system includes a directory, microphone, speaker, and call button for each resident. Guests use this door buzzer to contact residents.
Camera: Traditional buzzer systems don't have cameras, but your smart apartment buzzer will have one to enable video calling. Video calling improves security because residents can see who they let into the building.
Mobile app: Although door buzzer systems traditionally require hardware in every unit, smart apartment buzzers allow residents to manage access from their smartphones. So, instead of in-unit hardware, residents download an app where they can answer calls from visitors and unlock the door.
Door release: A door release device is essential to your smart apartment access control system because it allows residents to open the door remotely. The door release mechanism can be magnetic or electronic.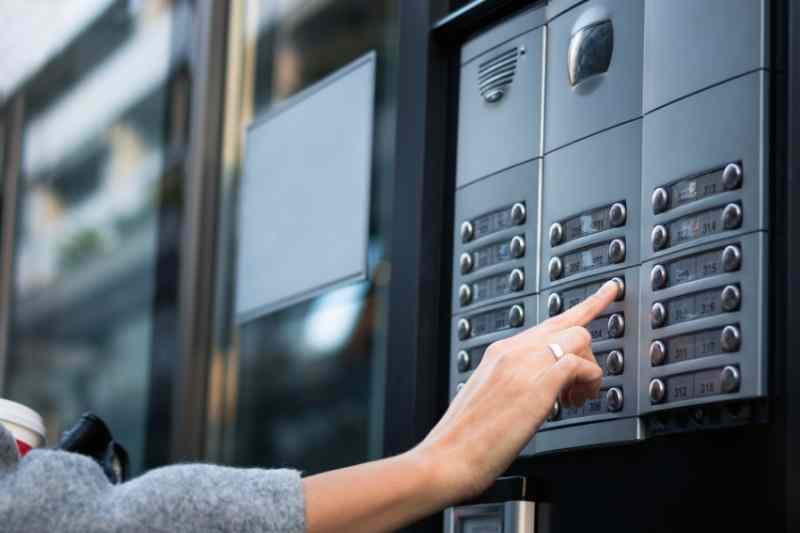 How to make an apartment buzzer smart
Regular apartment buzzers don't connect to smartphones. Instead, they require residents to be in their apartments so they can use the in-unit hardware.
But what if your building has a buzzer system that you want to use with your smartphone? You're in luck. There are three possible solutions.
3 ways to connect a buzzer to your smartphone
Telephone entry system: Some systems, like an apartment call box or telephone entry system, allow you to program your cell phone number so when a guest "buzzes," you'll receive a call on your smartphone. In this case, to unlock the door, you just press '9.'
Install your own opener: Self-installable devices can be connected to in-unit buzzer hardware. When someone buzzes the unit, the device sends a notification to the resident's smartphone. The resident can then unlock the door using an app. However, if you're a resident, your property manager may not allow you to modify the hardware at your apartment. And if you're a property manager, it's expensive to purchase these devices for every unit.
Upgrade your intercom system: Alternatively, you can replace your existing buzzer system with a smart apartment intercom that offers an elevated user experience.
Alternatives to an apartment buzzer
The best way to achieve a smart access control solution is to upgrade your system to a cloud-based video intercom with a mobile app.
Why a video intercom system is better than an apartment buzzer:
Convenience: Unlike a traditional buzzer, a smartphone-based intercom system allows residents to grant access even when they aren't home. And, as an added bonus, they also won't be disturbed by annoying buzzing noises anymore.
Video capabilities: Installing an apartment intercom system with live video means added security for your building. Residents receive a video call from visitors so they know exactly who they let into the building. Also, property managers have access to a log of time- and date-stamped photos of everyone who enters the building.
Guaranteed access for deliveries: Since residents can grant access even when they're not home, packages can be delivered securely every time. Lost packages and missed deliveries have a big impact on resident experience, so ensuring access for deliveries makes a difference.
Remote management: With a cloud-based system, staff can manage access from anywhere without being onsite or paying a technician. From a smartphone or computer, you can easily add or remove residents, adjust access permissions, and more.
Watch how ButterflyMX works:
Benefits of a smart building entry system
So how do you deliver the best smart entry solutions for your property? Start by streamlining the access experience for tenants, staff, and visitors with a smart intercom system like ButterflyMX.
Three reasons you need a smart video intercom system:
Improve resident experience: With ButterflyMX, residents can manage access from their smartphones. That means no more packages left outside, no more friends waiting out in the cold to be let in, and no more handing out physical keys to dog walkers or house cleaners — creating a safer and more convenient resident experience.
Save time for property staff: With a smart intercom, visitors can request access directly from residents. This saves your staff time opening doors for everyone from guests to food deliveries. You can also make deliveries even easier by combining your smart intercom system with a package room so staff doesn't need to accept, organize, and store deliveries.
Integrate with other technologies: Smart video intercoms integrate with other property technology, which benefits residents and staff alike. For example, you can integrate ButterflyMX with smart locks to enable seamless access from the front door to each unit. You can even integrate ButterflyMX with property management software so the intercom's directory automatically updates when you adjust your rent roll.