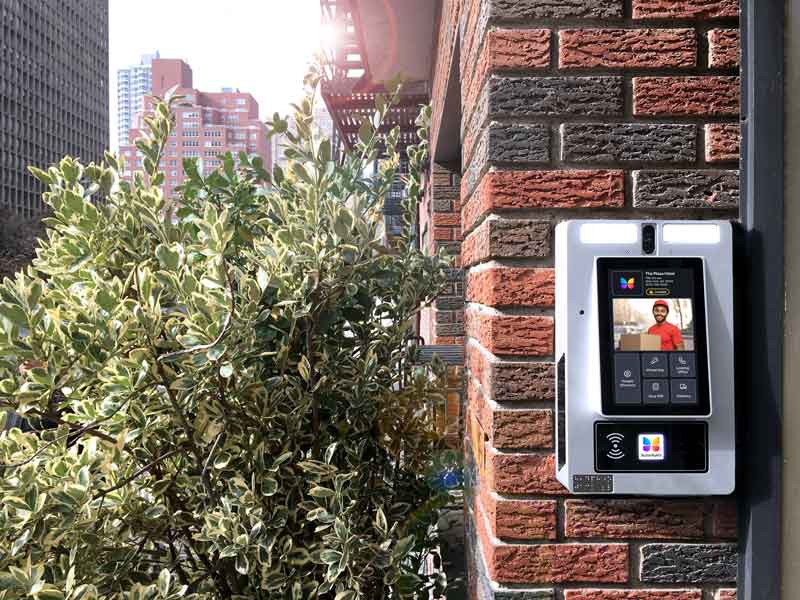 As one of the most common entry systems, apartment buzzer systems are installed in buildings around the world. Most common in big cities, apartment buzzers enable tenants to open the building's front door for guests without leaving their apartment. But how do they work, and how do you find the right intercom for your building?
Below, we'll explain: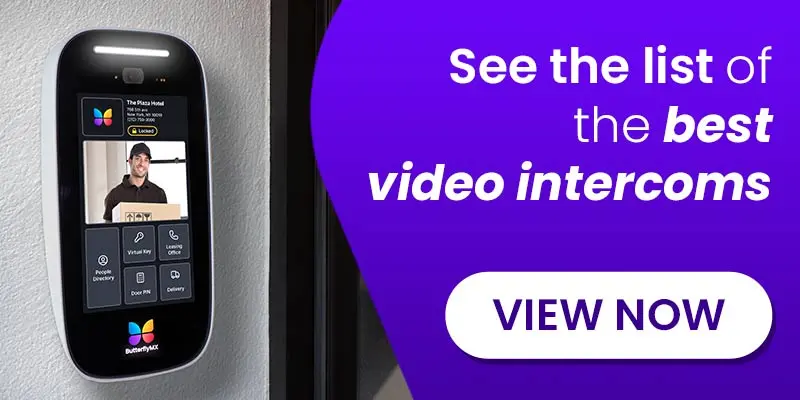 What is an apartment door buzzer?
Sometimes called a door buzzer, an apartment buzzer lets visitors notify tenants they need access to a building. Say you're visiting your friend at their new walk-up in New York City. When you arrive at the apartment building, the front door is locked to maintain building security. So how do you let your friend know you've arrived? And how do you get inside? You 'buzz' them.
Apartment buzzers achieve two things:
They alert tenants of a visitor
They enable tenants to open the door for visitors from their units
Buzzer systems can also be used in commercial buildings and offices. Just like apartment buzzers, commercial door buzzers empower visitors to communicate with building tenants. Tenants can then grant access to their visitors — from delivery couriers to business associates to prospective employees — without leaving their desks.
How does an apartment buzzer work?
Apartment buzzer systems include two hardware devices: one at the building's entrance and another inside each apartment. Wiring between these devices enables communication between tenants in their apartments and visitors at the front door. Smart buzzer systems even have a built-in camera, microphone, and speaker. This way, tenants and visitors can see, hear, and speak to each other.
Watch how ButterflyMX works:
Apartment buzzer hardware may include:
Call buttons: Buzzer systems usually have multiple call buttons on the hardware at the building entryway, each assigned to a specific tenant. The call button sends a signal to the resident's in-unit device and creates a buzzing sound in their apartment.
A door release button: Apartment buzzers with door release allow tenants to open the door remotely. Pressing the door release button unlocks the front door for a certain amount of time to let the visitor into the building.
A talk button: Some buzzer systems require users to hold down a talk button to engage the microphone and speak to the person on the other end.
A listen button: Some buzzer systems require users to hold down a listen button to hear the other person.
How to use an apartment buzzer
Throughout the history of intercoms, the buzzer system has been one of the most prevalent devices at apartment buildings. If you've never encountered an apartment buzzer system before, here's how to use one.
Using a buzzer system as a visitor
If you visit a building with a door buzzer system, you'll usually find the device right by the front door. In most cases, all you have to do is find the name or unit number of the person you are visiting and press the corresponding call button. You may or may not hear a buzzing sound, but the resident will hear one in their unit.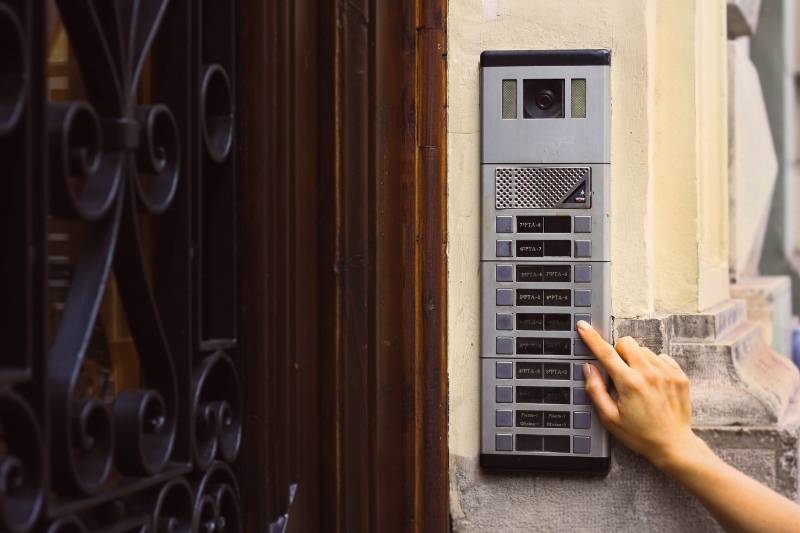 If the resident speaks to you and the buzzer system has two-way audio, you can reply to them by simply speaking or holding a talk button if needed. You'll know when the tenant has unlocked the door for you because you'll hear a buzzing sound. Open the door quickly because it will only remain unlocked for a short period of time.
Using a buzzer system as a tenant
If you live in a building with an apartment buzzer system, your in-unit device is probably mounted on the wall by your front door. When a visitor calls you, you'll hear a buzzing sound coming from the device.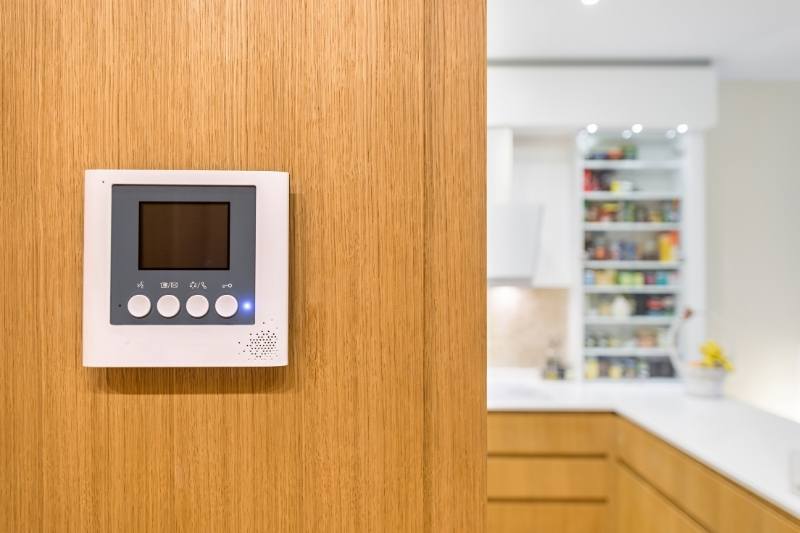 To speak with the visitor or ask who is there, press and hold the talk button (if your device has one). Some systems require you to hold a listen button to hear the visitor's reply. If you want to open the door for the guest, just press the door release button to unlock the door for a short period of time. Most buzzer systems alert guests when the door has been unlocked with a buzzing sound.
Apartment buzzers eliminate two pain points for residents and guests:
Visitors can let tenants know they are at the front door without needing the resident's phone number
Residents can open the front door for guests without going downstairs or leaving their apartment
How to connect an apartment buzzer to a phone
A significant downside to a door buzzer system is that a resident has to be physically in their apartment to answer a call and open the door for a visitor. One way to combat this is to connect the buzzer system to a phone.
If you want to connect your apartment door buzzer to your cell phone, you have three options:
If you have a telephone entry system, you can program your cell phone number into the system. When a visitor 'buzzes' your apartment, you'll receive a call on your phone. From there, press '9' to open the door for the guest.
If you don't have a telephone entry system, try connecting a Nuki to the buzzer hardware in your apartment. The Nuki device empowers you to open the door with your smartphone by sending a notification to an app on your phone when a visitor buzzes for you.
If you don't have a telephone entry system and the Nuki is not an option, consider upgrading your apartment intercom system altogether.
Replacing an apartment buzzer
Has your old buzzer broken down? Are you looking to upgrade to a more advanced apartment building entry system? Sounds like it's time to replace your apartment buzzer.
If your old system is beyond repair or unable to meet your building's needs, the first step is to consider your priorities. Keep in mind that the intercom will serve your residents, your property staff, and your visitors. As such, you need a system that benefits all parties.
When replacing an apartment buzzer, ask yourself:
What is your budget for hardware and installation?
Do you want an apartment intercom buzzer that connects with smartphones?
Do you want a system with a camera to enable video capabilities?
Which property access methods do you want the system to offer?
From there, the next step is to determine which type of entry system you want to install. You could install a new buzzer system — or an entirely different type of system.
Alternatives to apartment buzzers
Despite their prevalence in multifamily buildings, apartment buzzers are actually outdated. Compared to modern apartment intercom systems, door buzzer systems lack a lot of features and functionality that improve tenants' living experience and simplify processes for property owners and managers.
Additionally, perhaps the biggest issue with apartment buzzers is buzzer bombing. Apartment building buzzer bombing is when a delivery person or visitor buzzes every resident in hopes that someone will let them in. Not only is it annoying to residents, but it creates a serious security risk at your property because residents may grant access to a stranger or otherwise unauthorized visitor.
Considering that modern renters expect smart technology in their apartments these days, it's in your best interest to opt for a more robust apartment entry system. In fact, more than half of multifamily residents would agree to pay $20 or more per month for tech-powered amenities like a smart video intercom.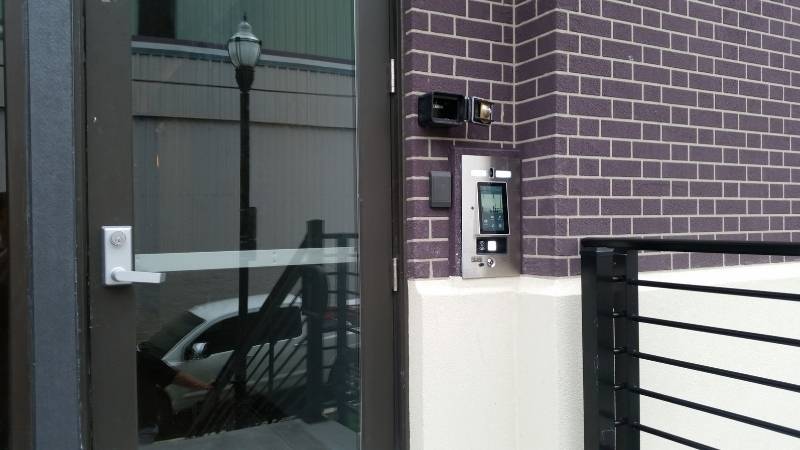 Compared to buzzer systems, video intercoms offer:
Video capabilities, so that residents and visitors can hear and see each other
Smartphone-enabled access, so residents can open the door remotely, even if they aren't in their apartment unit
A web-based property management dashboard, which means you can manage access from anywhere
Door release logs, so both residents and property managers can review door entry events
Takeaways
An apartment buzzer is a popular building entry system that allows tenants to communicate with visitors and open the door for them.
Apartment buzzers enable building access by:
Notifying residents of a guest
Empowering residents to open the building's front door for their guests without leaving their apartment
Buzzer systems require wiring between the hardware at the front door and hardware in each apartment unit.
Visitors use an apartment door buzzer by pressing a button to alert tenants of their arrival. They can also press a button to talk to the resident
Tenants use a buzzer system by pressing a button to open the door when they hear a visitor 'buzz' for them. They can also talk and listen to visitors.
Apartment buzzers enable building access but lack the features of modern apartment video intercoms, which do not require wiring throughout the building and can be operated with smartphones.
Recommendations
Remember that modern residents prefer an apartment buzzer that they can operate with their smartphones.
Replace your outdated apartment door buzzer with a cloud-based video intercom system so that residents can open and manage doors remotely.