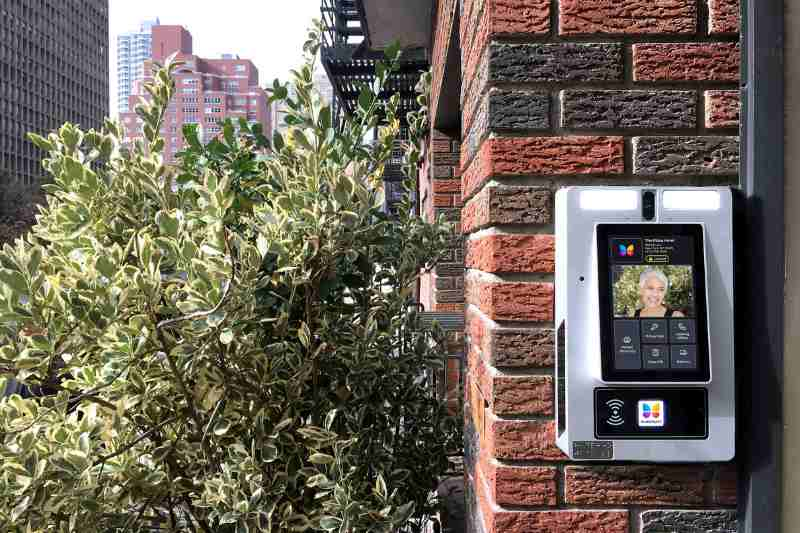 Intercoms improve building security by allowing tenants to speak to visitors before letting them in. But property technology is a rapidly changing industry, and the once high-tech apartment intercom systems are now outdated, clunky, and in need of an upgrade.
However, a smart intercom can make residents' lives more convenient, allowing your residents to easily grant access to visitors like family, friends, or delivery people. Below, we'll introduce you to the intercom system upgrade you didn't know you needed!
In this post, discover:
What is a smart intercom system?
Smart intercom systems are internet-connected building entry devices that allow residents to remotely grant access to their buildings via smartphones. Most of these smart systems also have a built-in camera to enable video calling between visitors and residents. They not only increase security at the property, but they also enhance convenience for tenants and visitors.
A smart video intercom empowers residents to open doors and gates right from their smartphones. As a result, they don't have to deal with annoying keys and fobs. Additionally, property managers enjoy granting remote access to visitors for self-guided tours, maintenance workers, and service providers.
Watch how the ButterflyMX smart video intercom works:
Can I use my cell phone as an intercom?
Yes, the best smart intercoms allow you to use your mobile phone as an intercom.
The most robust intelligent intercoms empower residents to open the front door from a mobile app they download to their smartphones.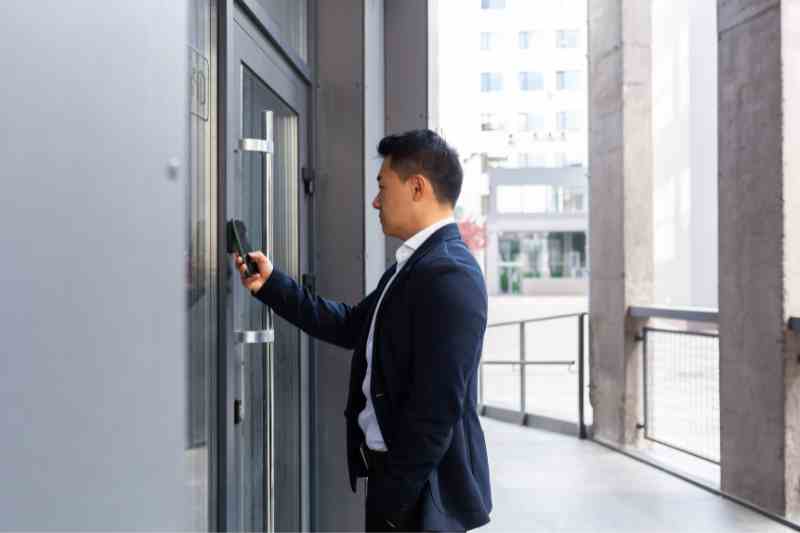 How much does a smart intercom cost?
The average smart intercom costs anywhere from $1,000 to $7,000.
However, for an accurate estimate, you should also factor in:
Maintenance expenses
Installation costs
When you factor in the benefits of a smart video intercom system, the costs associated are well worth it!
What are the benefits of a smart intercom?
A smart intercom is a security, access control, and visitor management tool all in one. With one installed at the building's entrance, property owners and managers can worry less about monitoring their property. But that isn't all!
The benefits of investing in a smart intercom system include:
1. Increased building efficiency
Smart intercoms can streamline building operations by integrating with technologies and systems you already use.
For example, many tech-powered intercoms can easily connect with property management software, which will automatically push data from your PMS to the intercom. As a result, you'll only have to manage one database.
Furthermore, smart intercoms can effectively cut down on building hardware. Instead of having to rewire the whole building, a wireless video intercom pairs with residents' smartphones.
2. Enhanced convenience
Smart intercoms enhance convenience for property managers and residents alike.
Here's how a smart video intercom adds convenience for property staff:
Easily monitor visitors and guests. Managers can review entry logs of everyone who accessed the building via the intercom.
Remote system management. Since smart video intercoms operate with cloud-based software, staff can add or remove tenants and adjust access permissions as needed.
No need to be on-site. Property staff can manage the system and grant access from anywhere, which means they can oversee every building in their portfolio without having to physically be on-site.
And here's how they add convenience for residents:
Unlock doors and gates from anywhere. Residents can grant access to their trusted visitors, even when they're not at home. 
Never miss a delivery. Since delivery carriers always have a way to gain access with a smart video intercom, residents will never miss another delivery. And best of all: Residents don't have to be home to let in the delivery driver.
Multiple entry methods. With a smart intercom, residents can unlock the door or gate for themselves using one of many methods, such as swiping on their smartphone app, using a voice command, or entering a PIN code.
3. Simplified package management
With smart intercom systems, you can provide property access to delivery people while securing the building against unauthorized visitors. If you don't have front desk staff, delivery people may leave packages in insecure areas, like an open lobby. As a result, this leaves your residents' property vulnerable to package theft.
Smart intercoms ensure successful deliveries every time. All a carrier has to do is enter their designated delivery PIN code or pass on the intercom. And if they don't have a designated access code, they can easily call the resident and request access. Residents don't even need to be home to unlock the door or gate for the delivery driver.
4. Better tenant experience
With an upgraded intercom system, the days of carrying keys are over. Your tenants are likely striving to create a convenient life for themselves. So, help by installing smart access control.
Smart intercoms enhance the tenant experience by:
Making it easier for them to enter their building without a key or fob.
Providing simple visitor access solutions, like virtual keys.
Helping them monitor their deliveries and guests from anywhere.
Simplifying how they move around their building, access amenities, and park their vehicles.
How to choose the right smart intercom system for your building
Choosing the right smart intercom system for your building boils down to what you need vs. what is on the market. Pricing and availability are top priorities, but there are a few more things to consider when shopping for an intercom or access control system.
What to consider when shopping for an intercom system:
Built-in camera for video calling
Integration ability with your property management software.
Easy-to-use interface.
Smartphone and touchless access capabilities.
Retrofitting installment requirements.
What is the best smart intercom system?
The ButterflyMX video intercom is the best smart intercom on the market, with a design that is people-focused. Simplified access control is the aim, and this intercom system accomplishes that with its vision of access made simple.
With a ButterflyMX smart video intercom, you can:
Provide virtual keys to service providers like dog walkers and house cleaners.
Open doors and gates with a smartphone instead of your keys.
Enjoy hands-free access to open doors when your hands are full.
See who is at your door through a live two-way video call.
Review time-stamped photos of everyone who accesses the property.
Give unique PIN codes to visitors and guests for easy access.
Takeaways
Smart intercoms make a great upgrade to any apartment or property looking to improve security and access control.
The benefits of an intelligent intercom include increased building efficiency, enhanced convenience, simplified building management, and better tenant experience.
Some things to consider when shopping for a system include integration ability, user interface, smartphone capabilities, and retrofitting requirements.
The best smart intercom is ButterflyMX.