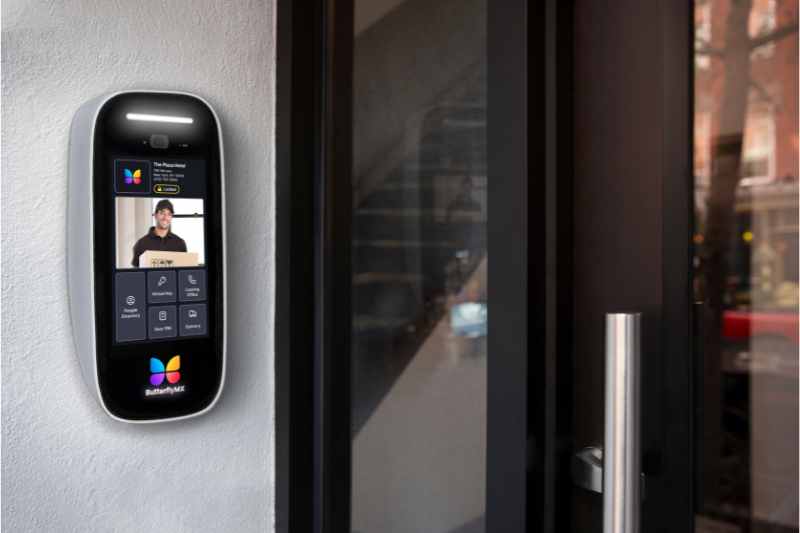 Key takeaways
The best smart video intercom system is ButterflyMX.

Doorbells are used for single-family homes or individual apartments, whereas intercoms are designed for multifamily or commercial properties.
Smart video intercom systems cost $1,000 to $7,000.
A smart video intercom lasts approximately 20 years with proper care and upkeep.
Smart intercoms with video are beneficial in many ways, such as being user-friendly, offering a package delivery solution, and supporting self-guided tours.
Today, proptech is growing exponentially — and you'll undoubtedly benefit from it, regardless of your role in the industry. Whether you're dipping a toe into the world of proptech or diving in headfirst, the smart video intercom is a fantastic solution to implement in your building.
So, read on to discover what the best smart video intercoms are on the market.
This buyer's guide covers the following:
Watch how ButterflyMX works:
5 best smart video intercom systems
Smart intercoms with video cameras are growing in popularity, meaning there are many options to choose from. However, there are only a few that are worth considering.
The five best smart video intercom systems are:
1. ButterflyMX
Established in 2014, ButterflyMX is a cloud-based access control company with a smart video intercom as its flagship product. ButterflyMX has been installed in more than 10,000 buildings with over one million active daily users.
With a dedicated smart video intercom app, ButterflyMX enables tenants to use their smartphones to access the property. Thus, tenants can remotely grant access to visitors, delivery drivers, and service workers. Of course, if tenants aren't home, they can provide their guests or service workers with a virtual key that only works once or for specified times of the day.
Of course, the ButterflyMX smart video intercom benefits property managers and owners through a wide range of features. Most notably, ButterflyMX integrates with many types of property management software and security hardware, allowing properties to centralize their property solutions.
ButterflyMX features
Two-way video calling
IP65 rating to withstand all climates
Third-party hardware and software integrations
Audit trail feature time- and date-stamped photos
Supports smartphone, PIN, and QR code credentials
Deliver PINs for major couriers
Built-in resident directory
Two-year warranty
Pros and cons
Pros:
Integrates with third-party products and works alongside all ButterflyMX products, including the access control system, elevator controls, package room, and more
Property managers can access the web-based dashboard remotely
Cloud-based infrastructure eliminates costly installation projects by eliminating wiring throughout the building
Utilizing smartphones as credentials cuts down on hardware and installation costs
Cons:
Not designed for single-family homes
May not be suitable for buildings with less than 10 units
Pricing
To learn more about the cost of ButterflyMX, reach out to our team to get a quote. We'll connect you with a sales representative who can tell you more about our smart video intercom and pricing.
2. AlphaTouch
The AlphaTouch 7" Touchscreen Video Entry Panel is an IP door entry system for all sizes of commercial and multifamily properties. Moreover, AlphaTouch's smart video intercom is perfect for any number of monitors, doors, or cameras your property may encompass.
By using the video entry panel, guests can make video calls to tenants to request access. Then, using the AlphaTouch mobile app, tenants can speak with guests before letting them inside. Most notably, AlphaTouch integrates with other hardware, such as existing analog systems. That way, you don't have to worry about ripping out your old hardware. Rather, you can keep it and integrate it with the AlphaTouch platform.
AlphaTouch intercom features
IP65 rating for various weather conditions
Single PoE connection
Flush and surface mounting
Hands-free voice operation
Event logs with photos
Ambient LED lighting based on environment
Built-in proximity tag readers
Pros and cons
Pros:
Integrates with legacy and analog hardware
Single PoE connection makes for easy installation
Supports up to five different languages in both audio and text
Provides a community forum for users to discuss issues or troubleshoot
Cons:
Limited to one size
Lack of app functionality is a primary criticism of users
May lack extensive integrations with software and hardware
Pricing
AlphaTouch does not currently have public pricing details for the video intercom. To learn more about the AlphaTouch intercom and how much it will cost your building, contact their team.
3. Aiphone IXG Series
With more than 50 years of experience in North America, Aiphone's IXG Series has proven to be a competitor in the video intercom market. Aiphone's IP Multi-Tenant Video Intercom is cloud-based and features a responsive touchscreen for easily navigating the built-in directory or inputting a PIN code.
Using the mobile app, tenants can grant themselves or guests access. However, The IXG Series only supports one-way video calling, preventing guests from seeing who they're speaking with. Nonetheless, Aiphone's IXG Series supports up to 99,999 devices and apps, such as elevator controls, physical stations, and gateways.
Aiphone intercom features
Built-in HID reader for access control integration
IP65 and IKO8 rated
Mobile app for remote tenant access
Integration with Aiphone hardware
History log featuring video of calls
Pros and cons
Pros:
Suitable for multiple climates with a high impact resistance rating
Capable of supporting tens of thousands of devices and software applications
HID reader support Prox, Indala, iCLASS, and Bluetooth
Supports multiple languages in text
Cons:
One-way video calls
Requires a gateway adapter for mobile app support
Intercom is only available in one size
May have limited integration options with third-party platforms
Mobile app is poorly rated
Pricing
Unfortunately, Aiphone doesn't list pricing on its website. Instead, you'll need to work with a third-party dealer to determine the costs. Keep in mind that hardware costs do not include installation, activation, and monthly service fees.
4. 2N IP Verso
The 2N IP Verso intercom system is minimalistic and sleek for a variety of property types. Available in multiple models, the 2N IP Verso enables users to access the property in multiple ways, such as WaveKey, Bluetooth, mobile access, PIN, or even a fingerprint.
Most notably, the 2N IP Verso video intercom is customizable, allowing you to choose what types of features you want in a video intercom. 2N offers a wide range of modules to include with your system, such as a fingerprint reader, touchscreen, camera, and more.
2N intercom features
IP54 and IK08 rated
Integrates with third-party software and hardware
Supports multiple credential types
Built-in camera with night vision
Customizable modules providing additional features
Pros and cons
Pros:
Optional modules for a specialized solution
There are many ways of accessing the property with various credentials
Mobile phone access
Supports features for those with hearing impairments
Cons:
Vast range of modules can complicate the selection process
No two-way video
Limited design choices of two colors
Pricing
There is no pricing available online for the 2N IP Verso. Nonetheless, costs will vary widely based on the modules you select. Plus, hardware costs do not include installation or monthly fees.
5. LiftMaster CAPXLV
LiftMaster specializes in more than just garage door openers and operators. Since 1967, LiftMaster has offered a wide array of garage door products, but they have since extended to access control products, such as video intercoms.
The LiftMaster CAPXLV is a cloud-based system with a built-in 135° view camera. LiftMaster's video intercom is capable of controlling access to four entryways at a time. Using the built-in camera, tenants can see and speak with their guests from the myQ Community app before letting them inside.
LiftMaster intercom features
10" responsive and easy-to-use touchscreen with customizable background
Two-year warranty
Integrates with third-party PMS
Local system memory allows access when the internet is down
Multiple ways to connect: WiFi, cellular, wired connection, and DSL
Pros and cons
Pros:
Local memory ensures the intercom functions as normal during internet outages
myQ Community app lets tenants see visitors and grant access remotely
Customizable email notifications for events, code usage, and more
Multiple connectivity options for various installation scenarios
Cons:
No two-way video calling
Lack of integrations with third-party hardware
May not support multiple credential types outside of mobile
Large and bulky design with little to no customization
Pricing
LiftMaster does not currently list pricing for their video intercom. To learn more about their hardware costs, contact their team. From there, they'll connect you with a dealer to work with.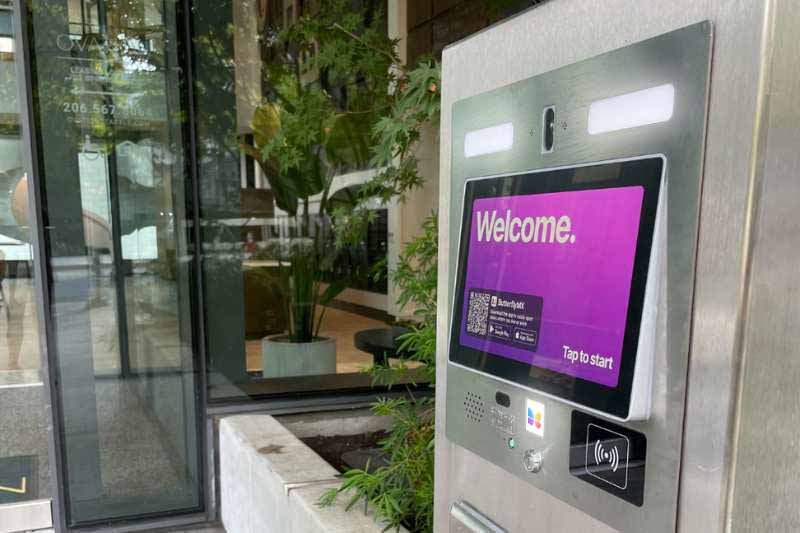 What is the difference between a doorbell and an intercom?
The difference between a doorbell and an intercom is that doorbells are designed for single-family homes or individual units, whereas intercoms are suited for apartment buildings and offices.
Unlike intercoms, doorbells notify the tenant when a guest is outside of their home or apartment. The tenant must also physically answer the door to let the guest inside.
On the other hand, intercoms have a directory for multiple tenants. That way, visitors can notify tenants of their presence from outside the property. Then, the tenant can grant them access remotely from the comfort of their unit.
Intercoms and doorbells differ in other ways too:
| Doorbell | Intercom |
| --- | --- |
| Used primarily for single-family homes or individual units | Designed for commercial and multifamily properties |
| May not support audio or video | Supports two-way audio and video |
| Installed outside of the home or apartment | Installed at the main entryway of property |
| Can't unlock entryway remotely | Unlocks entryway remotely |
| Supports a single resident or unit | Supports multiple tenants |
How much does a smart video intercom system cost?
Smart video intercom prices can range anywhere from $1,000 to $7,000.
Of course, the cost of your smart apartment intercom will not include installation or ongoing fees, such as maintenance or subscriptions.
With that said, the factors that will influence the cost of your intercom system include:
Region
Intercom features
Number of units
Dealer
How long do smart video intercom systems last?
Smart video intercom systems can last up to 20 years with proper maintenance.
Unlike other intercom systems, smart intercoms use the cloud to receive updates and new features long after they've been installed. Not to mention, minimal wiring ensures intercoms require little to no hardware maintenance. As a result, smart intercom systems last longer than traditional options.
What are the benefits of smart video intercoms?
Smart video intercoms have emerged as one of the most popular types of door entry systems because of their capabilities. As a result, smart intercoms offer a slew of benefits for properties to reap.
Benefits of smart video intercom systems include:
Versatile industry applications. Intercom systems aren't just for apartments. Today, smart intercoms with cameras go beyond the multifamily front door, including gated communities, HOAs, senior housing, self-storage facilities, daycare centers, salon suites, and more.
User-friendly. Because video intercoms operate with a device that users are already familiar with — their smartphones — smart video intercoms are intuitive to use. After all, cell phone use is nearly universal in the U.S., with more than 80% of Americans currently having a smartphone and 94% having a mobile phone of some kind.
Package delivery solution. Smart apartment intercoms allow you to grant easy access to delivery people, which means tenants will never receive a "sorry we missed you" note again. You can also add extra security and convenience by setting up a package room with access controlled by a smart video intercom.
Eliminate wiring and in-unit hardware. Since residents and tenants use their smartphones to interact with the intercom, there's no need to install hardware in each unit. As such, you also don't need to run wiring through the building to each unit.
Easy to maintain. Unlike traditional intercom systems, smart intercoms require limited wiring and no in-unit hardware. Plus, the use of the cloud provides smart video intercoms with new features and updates regularly. Thus, smart intercoms require significantly less maintenance than hard-wired intercoms.
Support self-guided tours. Prospective tenants of both commercial and residential properties are increasingly interested in self-guided tours. Fortunately, smart video intercoms can easily support self-guided touring, allowing prospects to easily view units and increasing conversion rates.