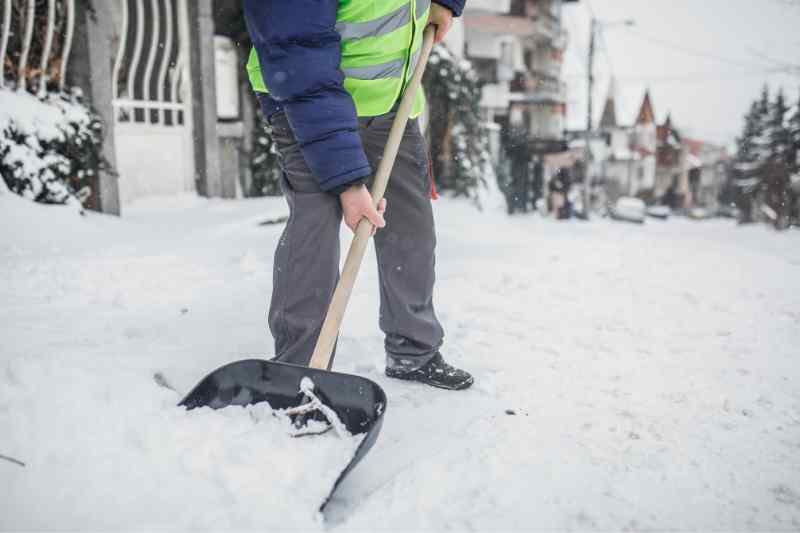 Winter can be a beautiful time of year, with blankets of white snow and holidays sandwiched throughout the season. But winter can also pose hazards to tenant safety around the property. That's why you must create a winter safety checklist as soon as the summer months are over.
To help you, we've compiled these tips to form a tenant safety plan. This plan will help you make sure everyone is on the same page.
In this post, we explain why tenant safety is important, especially in the winter. Then, we outline what it means to winterize a property. Finally, we guide you through creating your own tenant safety plan.
In this post, you'll discover:
Why is tenant safety important?
Tenant safety is important because your tenants are people worth protecting. Additionally, keeping them safe also helps maintain your property's credibility. According to tenant safety laws, you're required to take necessary steps to ensure the well-being of everyone on your property.
Ways to focus on tenant safety:
Conduct property inspections: Inspections are the most effective way to track the progress of maintenance tasks. Inspections should be conducted by a professional, but property managers can bolster maintenance by performing their own as well.
Communicate with tenants: No matter how focused you are, it's impossible to have eyes on all areas of the property. By opening communication with tenants, you'll learn more about what they need, what is broken, and how you can help.
Weatherize the property: Weatherizing your multifamily property will help ensure safety and energy efficiency. This will help your property last longer. Weatherizing includes insulating against summer heat, as well as taking preemptive steps to winterize as it gets colder.
What does it mean to winterize a property?
While winter is the favorite time of year for many residents, and time for you to put on plenty of exciting winter resident events, it's not without its challenges. Once the weather begins to cool down, it's time to begin the process of winterizing. As ice, high winds, and snow hazards are at a seasonal high, take steps to prepare your property to withstand the harshness of winter.
But, as a property manager, what are your responsibilities for winter preparations vs. those of your tenants?
Let's take a closer look at winterization tasks for staff versus tenants:
| Property manager winter responsibilities  | Tenant winter responsibilities |
| --- | --- |
| Remove snow from walkways | Pre-check heaters |
| Salt walkways | Trickle faucets |
| Clean gutters | Winterize balcony |
| Sweep chimneys |   |
| Trim trees |   |
| Check carbon monoxide detectors |   |
Creating a tenant safety plan for winter
To ensure successful property winterization, we recommend writing a tenant safety plan. This plan should not only outline your own goals for winter prep and maintenance but also how you expect your tenants to protect themselves and those around them.
That's where creating a tenant safety plan comes in handy.
Implementing your safety plan is as easy as 1-2-3:
Watch how ButterflyMX improves the resident experience: 
1. Timing your plan
When it comes to winterizing, timing is key. You can't start too early because you have other tasks to maintain. However, starting too late leaves you at risk of being unprepared. That's why you should have a plan carefully timed out.
Property winterizing timeline:
October: Depending on where you live, overnight frosting could be a reality. In this case, it's wise to begin shutting off all automatic water and sprinkler systems so they don't freeze greenspaces overnight. Additionally, begin stocking up on salt and minerals for walkways and steps.
November: In some places, snow and frost make an early appearance. This is why it's important to start setting buckets of salt at strategic points around the property. Leaving it within reach will make it easy for your crew or tenants to quickly salt frozen areas.
December through February: Have snow plows and crews on call. Tenants will become agitated if snow isn't removed promptly. Additionally, snow can be a tenant safety hazard — especially as it melts and turns into ice.
2. Sending newsletters
As stated above, tenants want to know how to winterize their apartments. They also want to know what landlords and property managers do and what's their own responsibility.
Newsletters are a terrific way of alerting residents to what's upcoming and how you expect them to help. You can begin sending preliminary newsletters in October with your winter safety plan. Then, continue to send reminders throughout the months with winterizing apartment tips.
What should be included in winter newsletters:
Reminders to remove snow and ice from personal balconies
Tips to help them reduce heating costs in units
Reminders to leave faucets on when the temperature's cold enough for pipes to burst
Reminders of your responsibilities versus their responsibilities
Parking instructions, if applicable
Rules and instructions for space heaters and outdoor heating elements
Tips for slipping precautions on in-unit flooring
3. Creating a checklist
To have a successful winter season without accidents, you must check off tasks once they're complete. Keeping a checklist close by will also ensure everything is done on time.
What should be on a winter safety checklist:
Check window insulation
Inspect chimneys
Complete HVAC inspections
Salt walkways and parking areas
Reinforce water pipe protections
Insulate exterior and interior doors
Trim the trees
Check generator fuel levels
Clean gutters
Stop automatic water systems
Takeaways
Tenant safety is key to maintaining smooth building operations. This becomes even more important during the winter months.
Once it gets cold, it's time to create a tenant safety plan to protect staff and tenants from winter hazards.
Winterizing a property means preparing it to withstand winter elements such as ice, snow, and high winds.
Winterization responsibilities are split between you and your tenants. These tasks include salting walkways, trimming trees, turning off automatic water systems, and removing snow.
Develop a tenant safety plan by implementing a timeline, sending out tenant newsletter reminders, and creating a safety checklist.