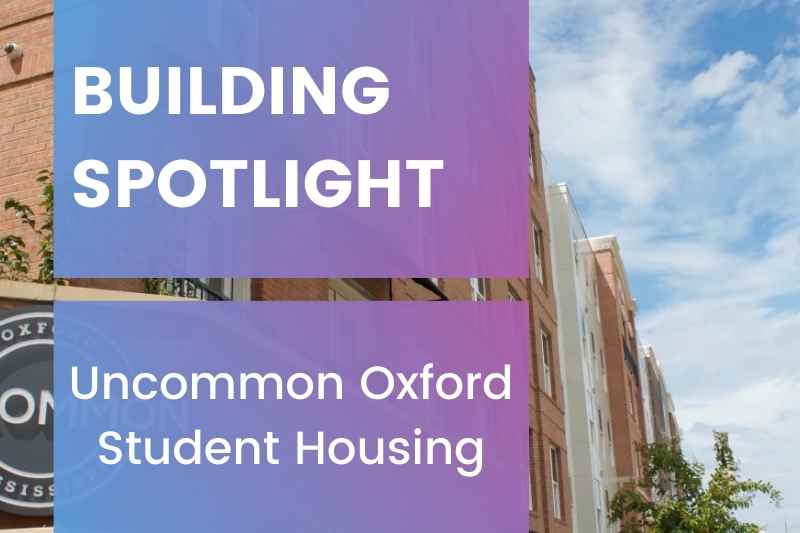 Every year, hundreds of properties join the ButterflyMX community and choose us as their leading provider of property access solutions. In 2015, we started as the only mobile-first intercom company in the industry. But over the years, we've spread our wings — and now we provide access throughout the whole building. We've added front desk stations, package rooms, elevator controls, key lockers, and keypads to our product line. And we're just getting started!
We love highlighting a property that makes ButterflyMX what it is today. In this Building Spotlight, we highlight a student housing community in Oxford, Mississippi: Uncommon Oxford. This luxury building provides a sanctuary from overcrowded dorms for the young students of the University of Mississippi. Best of all, it's located minutes away from Ole Miss, so students also enjoy convenient commutes from and to campus.
About Uncommon Oxford Student Housing
Units: 224 beds
Location: Oxford, Mississippi
Building Classification: Student housing
Project Type: Built in 2017
Developer: CA Student Living, part of CA Ventures
ButterflyMX Product: Video Intercom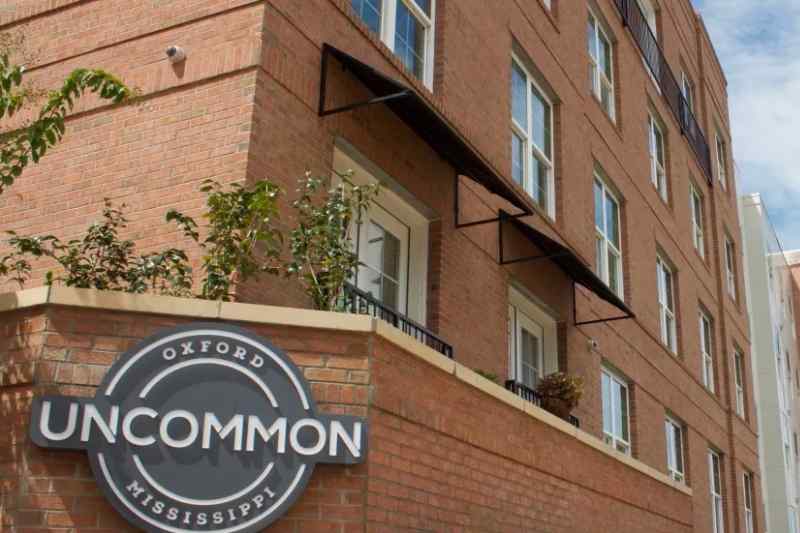 In August 2017, Uncommon Oxford officially opened its doors to the students of Ole Miss, otherwise known as the University of Mississippi. Since then, hundreds of students have enjoyed luxury apartment living that focuses on their safety, academic success, and career aspirations.
"Uncommon Oxford is one of the more refined apartment communities in Oxford, providing a sophisticated alternative to the party atmosphere at other near-campus communities," JJ Smith, president of CA Student Living, told The Oxford Eagle in 2017.
Most importantly, community managers at Uncommon Oxford put students' safety and well-being at the heart of their mission. With 24-hour controlled access and concierge services, the young residents are always in good hands. Even more, resident events focus on healthy study habits, physical wellness, and career mentoring.
Featured amenities at Uncommon Oxford include:
Community-wide WiFi & cable TV
On-site retail
Door-to-door trash pickup
Study lounges with private rooms
In-unit washers & dryers
Fitness rooms
Fully furnished apartments
Outdoor courtyard with grilling stations
Prioritizing students' needs
CA Student Living is one of the leading pioneers in the student housing market. Founded in 2004 as a niche investor and operator of student housing, CA Student Living has since entered over 40 university markets globally. Its clientele expands beyond the United States — across Latin America and Europe.
And Uncommon Oxford stays true to CA's core mission and philosophy. Its close location to Oxford's cultural and economic hub — the "Square" — provides students with unparalleled opportunities often unseen in traditional campus housing. For example, its concierge team provides students with high-touch services, such as finding nearby hotels for their parents and making important appointments on their behalf.
"[Uncommon Oxford] is a unique student housing option," a former leasing manager at the development told a local newspaper. "This opportunity to live on the Square is something that some kids are not afforded, and we offer that. There won't be another apartment complex with this kind of relatable retail space below it near the Square. There just isn't land for it. It's uncommon."
Staying true to the southern hospitality philosophy, the building management staff aims to make Uncommon Oxford a genuine and dear home for Ole Miss students. The maintenance staff even picks up trash from each unit so students can focus on their studies. Additionally, property staff often tailgates at the school's home games to mingle with the community, and attract new prospects, too!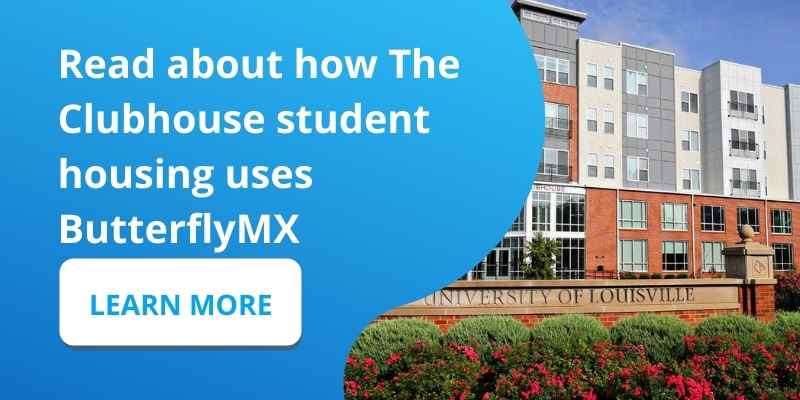 ButterflyMX & Uncommon Oxford
ButterflyMX's world-class video intercom system provides Uncommon Oxford residents with premier security and safety. Property staff shows prospective student residents and their parents the intercom as a convenient amenity and, more importantly, an essential security tool.
Gen Z college students live on their phones and are drawn to cutting-edge technology. And with ButterflyMX, property access is controlled by a robust mobile app. Ole Miss students living at Uncommon Oxford enjoy the familiar video chatting feature — the only difference is that it's on their ButterflyMX app.
Each time a visitor — parents, siblings, classmates, delivery drivers — comes to Uncommon Oxford, the ButterflyMX intercom automatically initiates a video call. This way, student residents can see and talk to whoever is at the door before granting them access.
Watch how ButterflyMX works:
ButterflyMX's commitment to students' safety
With ButterflyMX at Uncommon Oxford, parents have peace of mind that their young adult children live in the safest environment possible. Parents have a laundry list of concerns when sending their kids off to college. But with ButterflyMX, they have one less thing to worry about.
In addition to the video calling feature, student residents can view time- and date-stamped photos of every door entry activity. It doesn't get more secure than that! Students can always prevent unwanted guests from entering.
Uncommon Oxford is one of the hundreds of student housing communities that trust ButterflyMX to protect student residents. Our products protect and provide students with top security and an enhanced property access experience. Parents and families can rest assured that their children are safe at their home away from home when living in a ButterflyMX building.