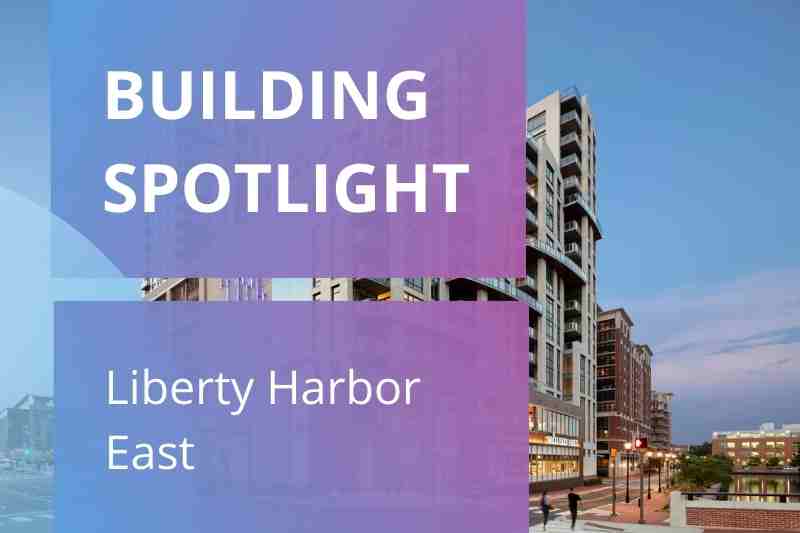 ButterflyMX's products — video intercoms, package rooms, and keypads — simplify property access in thousands of buildings across America, Canada, and beyond. Our property technology (proptech) solutions automate building processes and enhance the resident experience. Also, we've partnered with various property management system providers and other proptech brands to provide seamless integrations that save you time.
In this Building Spotlight, we highlight a multifamily community in Baltimore, Maryland: Liberty Harbor East. The high-rise building has 315 units, 33 of which are condos. In early 2021, the National Association of Home Builders (NAHB) named this property the best high-rise apartment community. The NAHB awards recognize excellence in various categories in the multifamily housing market.
About Liberty Harbor East apartments and condos
Units: 282 rental apartments and 33 condos
Location: Baltimore, Maryland
Building Classification: Multifamily building
Project Type: Built in 2018
Developer: Bozzuto for Harbor East Management Group
ButterflyMX Product: Video Intercom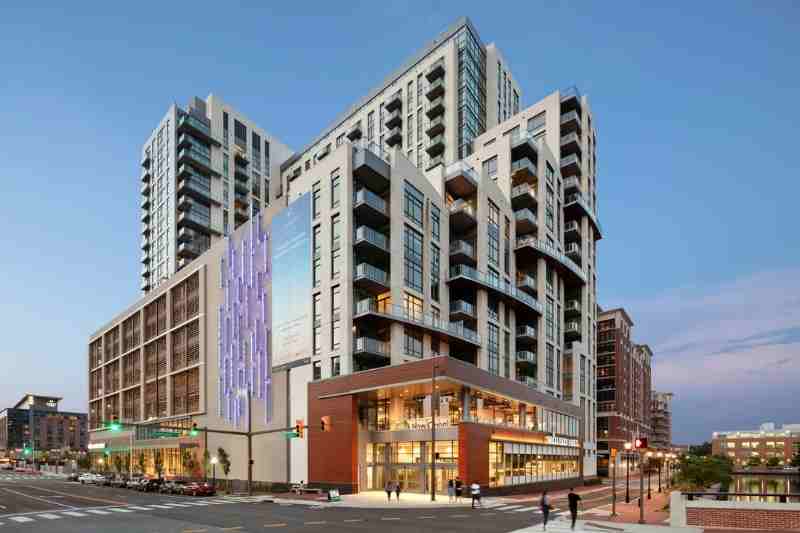 Simply put, Liberty Harbor East exemplifies modern living in the city's historic harbor. The spirit of Baltimore and its ethos are manifested through Liberty's twin towers, perched atop a vibrant, waterfront locale. Imagined by the Paterakis and Bozzuto families, the iconic design of the two buildings pays homage to a lost industrious era of shipbuilding and craftsmanship.
Liberty Harbor East offers the following community amenities:
Study lounge with computer workstations
Library with fireplace
Clubroom with indoor/outdoor bar
Infinity pool deck with grilling stations
Fitness center
Pet park with dog agility and training equipment
Additionally, Liberty Harbor East residents enjoy the ultimate convenience of living atop a two-story Whole Foods Market. Also on-site is Bin 604 Wine & Spirits, Baltimore's go-to destination for exquisite fine wine and liquor collections.
Liberty Harbor East's rich history
With courage and inspiring perseverance, developer John Paterakis sought to redesign Baltimore's Harbor East. After successfully turning H&S into the country's largest privately-owned bakery, John decided to give back to his community by embarking on the Liberty Harbor East development project.
Named after John's sister, Liberty offers studio, one-, two-, and three-bedroom apartments and condos. All units come with quartz countertops, tile backsplashes, stainless steel appliances, and hardwood floors. And some units have balconies or terraces with harbor views. To complement the waterfront locale, Liberty's architecture echoes the geometric shapes of boat sails.
Occupying a whole city block near Baltimore Harbor, the Liberty residences are set to change the trajectory of Harbor East's future. Residents enjoy seamless property access with a keyless door entry system for their units, as well as 24-hour emergency maintenance teams, furnished guest suites, and curated fitness programming.
Against a historic backdrop of World War II, the structure of Liberty Harbor East mimics the powerful, yet elegant, vessels that shaped the maritime era. Through this significant inspiration, the building hopes to pay tribute to the determination and ultimate success of the city's wartime martyrs.
"The innovative building design utilizes transitions in the different building sections and facades, which makes it interesting and unique in the urban landscape," said an NAHB judge.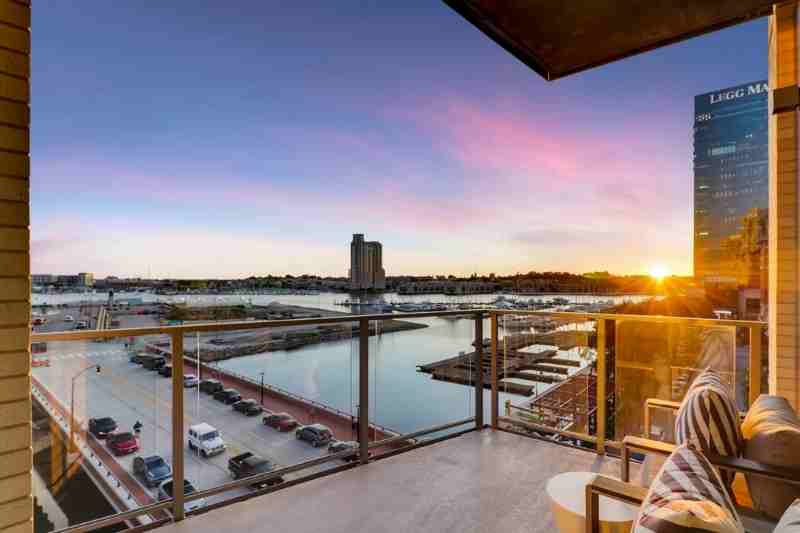 ButterflyMX & Liberty Harbor East
Residents at Liberty Harbor East enjoy easy building access with the ButterflyMX video intercom. Furthermore, they have several convenient ways to open the door: such as swiping on smartphones, tapping on Apple Watches, and using voice controls with Siri and Alexa.
Watch how to open doors with an Apple Watch:
Even more, the highly-rated ButterflyMX mobile app enables residents to assign virtual keys to guests, such as family members and friends. That way, guests can enter the building even if the resident isn't home. Virtual keys are especially helpful for on-demand service providers, like dog-walkers and housekeepers. Most importantly, residents can rest assured that their homes are looked after when they're away.
On top of that, Liberty Harbor East residents use ButterflyMX's latest feature, Delivery Pass, ensuring they never miss a delivery. Delivery Pass is a single-use, time-restricted PIN code that couriers use to safely place packages and food orders inside the building.
ButterflyMX elevates the resident experience at Liberty Harbor East by providing elegant and simple property access solutions. This Baltimore multifamily building is among the 8,500+ buildings that rely on our proptech solutions for security and convenience.