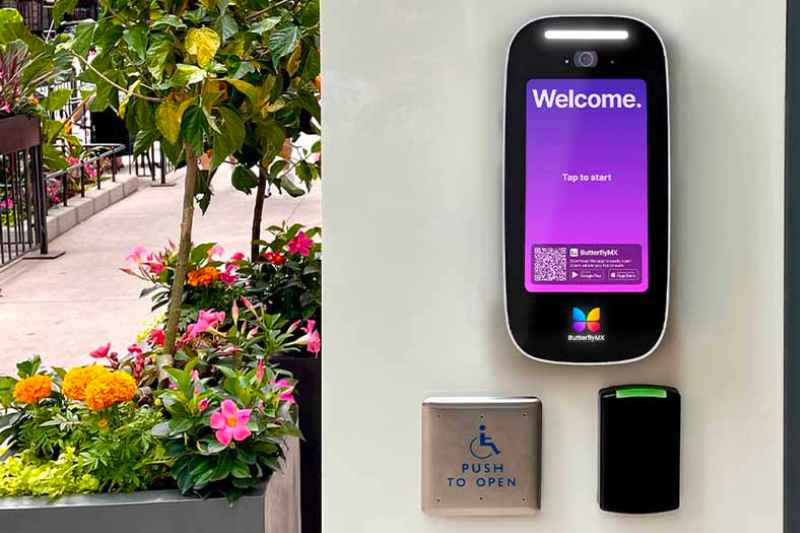 Regardless of the type of property you own or manage, you most definitely need a door entry system. More broadly referred to as a door access control system, a door entry system helps manage who enters your building. For an extra layer of security, a video door entry system is one of the best ways to verify a visitor's identity before granting them access.
Door entry systems with cameras empower tenants to feel safe and secure when letting visitors into the building. But with dozens of video door entry systems out there, it's easy to get overwhelmed. So, read on to learn more about video entry systems, how they work, and how to choose the best one.
This post will cover:
What is a video door entry system?
A video door entry system is a type of building access control system with video streaming capabilities for both commercial and residential buildings. It controls who can enter the building and gives visitors a way to request property access via video calls to tenants.
The video component sets this type of building entry system apart from others. Its camera allows residents to speak face to face through a video call with guests before granting them access to the building. Sometimes referred to as intercom door entry systems, these devices offer residents, guests, and property staff one of the best and most secure access control methods.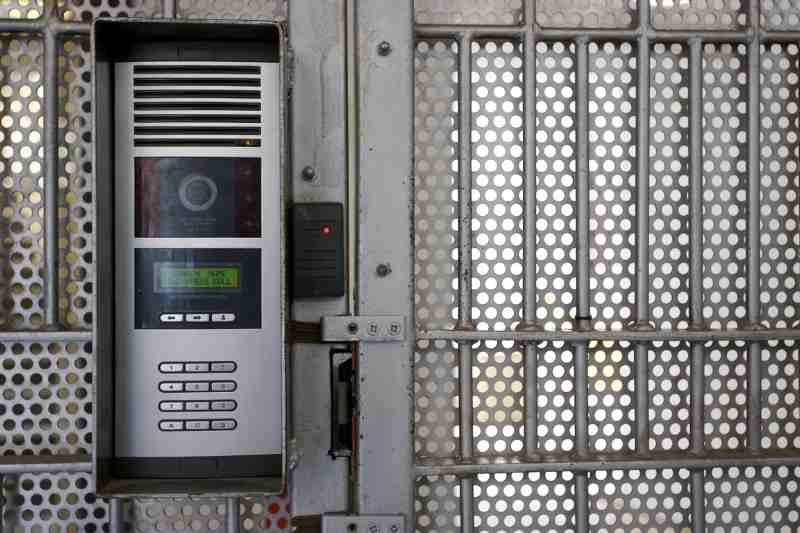 How much does a video entry system cost?
The price of a video door entry system varies, but the average cost is around $3,000-$7,000 per device. There are also additional costs that you must consider, such as installation and service fees. We recommend you get a quote to ensure you know all of your expenses before making a purchase.
How does a video door entry system work?
A visitor to a building looks up a resident in the door entry system's directory and then presses a button to call them. This initiates a video call to the resident. The resident then gets a notification of the visitor's call on either their smartphone or in-unit device and can talk to the visitor. Once the resident confirms the visitor's identity, they press the door release button, which triggers the door to open.
Watch how ButterflyMX works:
Types of video entry systems for doors
There are numerous types of building/ entry systems with video currently available. They all serve a common purpose: allowing property access to authorized guests by verifying their credentials and identities.
The most common types of video entry systems are the following:
Video intercom door entry system
A video intercom system is a modern type of door entry system. It sends video and audio footage between residents and visitors and allows residents to open the door remotely. Video intercoms offer either one-way or two-way video. One-way video allows only the resident to see the visitor, whereas two-way video lets them see each other.
Wireless video door entry system
A video entry system can either be wired or wireless. Unlike wired systems, wireless video entry systems don't require wiring between outdoor and indoor hardware. Wireless systems are much easier to install and are compatible with other Internet of Things (IoT) devices, such as smartphones.
IoT door entry systems with cameras don't need wiring to each in-unit device to enable two-way video calls. Instead, they operate on the Internet Protocol (IP), a set of rules for routing and addressing data so that video data can travel across the internet to the correct destination. Voice over IP (VoIP) technology transmits audio over the internet – even halfway across the world.
Therefore, wireless video door entry systems are also called:
IP video entry system
VoIP entry system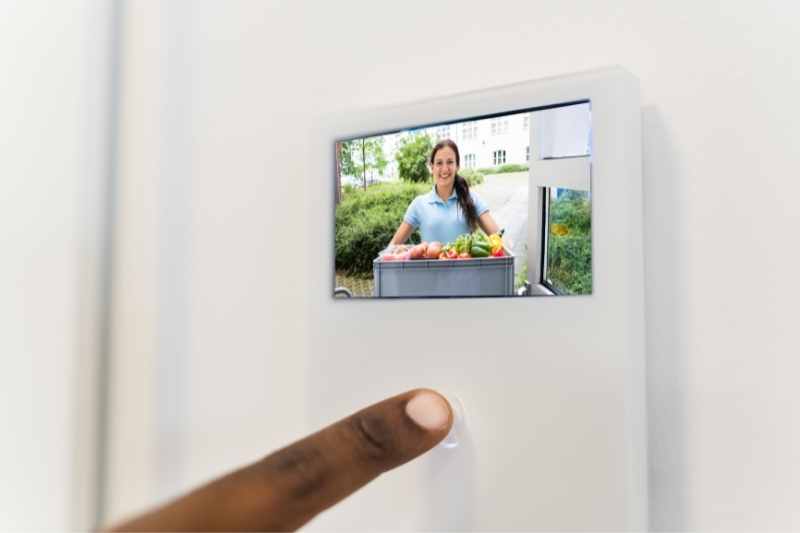 Video entry phone
Video entry phone systems are almost identical to telephone entry systems; the only difference is that there's a camera inside them.
When a tenant receives a call, their in-unit device shows them video footage of the visitor. The resident and the visitor can talk to each other, but since the entryway hardware lacks a screen, the visitor cannot see the resident. If the resident wants to grant access, they press '9' – or a marked 'open' button – to unlock the door or gate for their visitor.
RFID door entry system
Systems based on radio frequency identification (RFID) technology require residents and visitors to swipe an access card or key fob to enter a building.
An RFID tagging system includes: 
The tag itself
A read/write device
A host system application for data collection, processing, and transmission
An RFID door entry system with a camera requires tenants to present their credentials to request access. If the person is authorized to enter, the door will open.
The system's camera records video footage or takes a photo of every door entry event for extra security.
Accessible entry system with a video camera
An accessible entry system connects to an automatic door opener for a touchless entry experience. Buildings built in the past 30 or so years typically have an automatic door opener in compliance with the Americans with Disabilities Act of 1990. Automatic door openers were initially meant for those who use wheelchairs or have mobility issues to seamlessly enter and exit buildings.
Benefits of door entry systems with video
If you're looking for a new access control system, choose a door entry system with video. Having video capabilities makes the door entry system an even more valuable security amenity for residents and property staff alike. To reap the most benefits, choose a video intercom system.
The top three benefits of choosing a video IP intercom as your door entry system include:
1. Cloud-based storage
In an IP video intercom, resident information is stored on a cloud-based system. So if a resident moves in or out, you can instantly update their information in the directory without having to go on-site.
2. Video audit for every entry event
Since all data is stored on the cloud, you can view audit trails of every door entry event anytime from anywhere. Having an audit trail of your building's entrance activities significantly improves security.
3. Virtual keys and delivery PINs
Whether for guests or on-demand services – like Handy or TaskRabbit – residents sometimes need to grant visitors access to their units when they're not home. With virtual keys, authorized visitors have keyless access to your property by scanning QR codes at the door entry system.
Furthermore, delivery couriers can place packages inside your building using delivery PINs. With these features, your residents will never miss a visitor or a delivery.
Watch how ButterflyMX's virtual keys work;
Choose an IP video intercom as your door entry system
Choose a door entry intercom system made with the modern-day in mind: an IP video intercom. As the IoT enables us to live in a technologically advanced society, property access control must follow suit. An IP video intercom system empowers residents to enter their homes and manage visitor access seamlessly. Invest in a door entry system that can withstand the test of time.