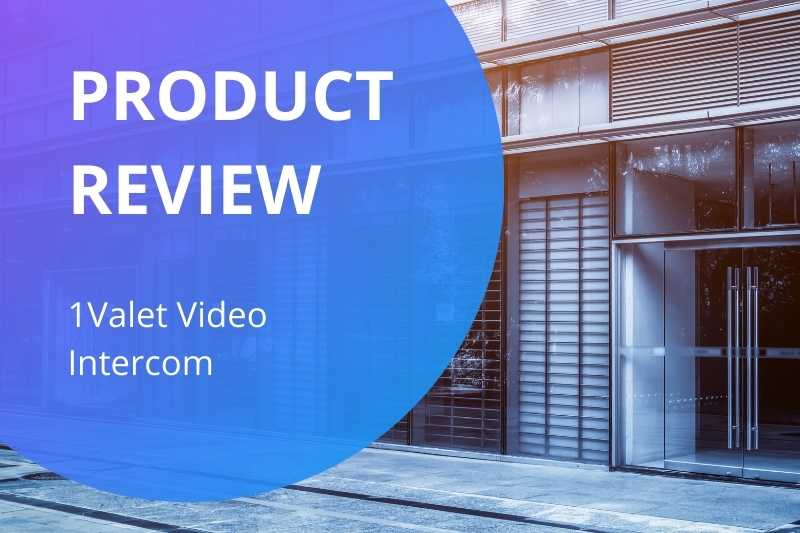 Every multi-tenant building needs an intercom — and video intercom systems are the best entry solution. There are plenty of video intercoms on the market to choose from, but it's important to choose a system that will provide the best possible experience for property staff, residents, and visitors alike. One video intercom you may consider is the Smart Entry System from industry newcomer, 1Valet.
In this post, we take a closer look at the 1Valet video entry system and review its features, pricing, and pros and cons. We also compare how it holds up against the competition.
This review will cover: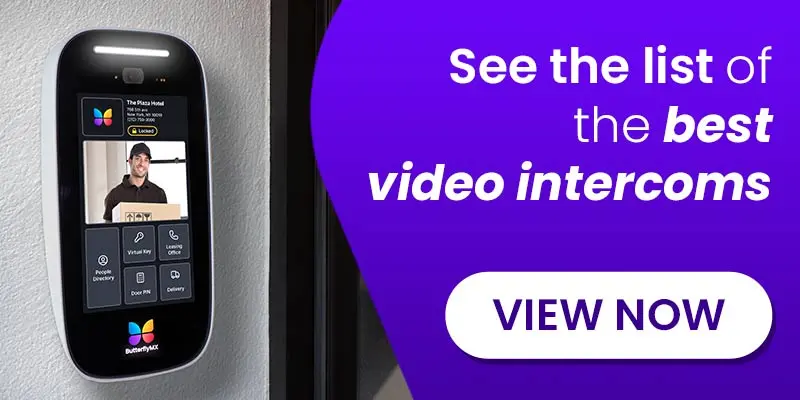 About 1Valet
Founded in 2017, 1Valet is a new company based in Quebec, Canada that develops smart building technology. Their primary product is their Smart Entry System, a video intercom system designed for multifamily properties.
In addition to the Smart Entry System, 1Valet also offers other smart technology products. These include a delivery management platform, a parking management system, a mobile app, and a property management portal. 1Valet also integrates with a few providers of smart locks, property management software, and access control systems.
Overview of the 1Valet video intercom
The 1Valet Smart Entry System is an intercom system with video capabilities built for apartments and multifamily buildings. At the time of this writing, 1Valet only offers an intercom designed for apartments, not commercial or industrial buildings.
The system pairs with a mobile app, which residents can use to open the door and remotely grant access to visitors. It also offers facial recognition technology, a controversial technology that may introduce privacy concerns to many residents.
1Valet's Smart Entry System is especially large compared to most other intercom systems. You can purchase a standing model, which may take up a good deal of floor space, or a wall-mounted model. The intercoms have a large footprint — available in 43", 42", and 22" sizes — which could make them difficult to install in many apartment buildings.
It's unclear whether 1Valet's video intercom is suitable for outdoor use. The company's website doesn't mention whether the system is IP65 rated to withstand various weather conditions such as rain, sun, snow, and cleaning agents.
Watch how ButterflyMX works:
Features
Keyless entry for residents. Residents can unlock the door using their smartphones.
SMS text keys for guests. Residents can send entry codes via text message to guests to facilitate property access.
Facial recognition. Residents can choose to enter the building using facial recognition technology. This feature is optional.
Video calling via a smartphone app. Visitors can use the entry system to video chat with the resident they want to reach. The video call is routed to the resident's smartphone, where they can opt to grant access to visitors as needed.
Delivery system. Couriers can scan the barcodes on their packages to access the building.
Building notifications. Building managers can display news directly on the entry system's interface. They can also send notifications directly to residents' smartphones.
Available in standing and wall-mounted options. This smart entry system is available in a standing version as well as two wall-mounted versions.
Management portal. Building owners and operators can manage the 1Valet system from an online portal. They use this portal to adjust access permissions, update the tenant directory, and manage integrations.
1Valet pricing
1Valet doesn't currently list pricing information on its website. However, the 1Valet blog lists an intercom price range of $5,000 to $10,000.
They encourage customers to book a demo with their team to learn more about pricing. Keep in mind that 1Valet's Smart Entry System may require installation costs and ongoing service fees. Integrating the Smart Entry System with 1Valet's other products may also come with additional costs.
Pros & cons
Pros:
The system allows you to route visitor calls to an offsite concierge team or staff member, so you don't need to have a concierge on-site at all times.
Residents don't need physical keys to enter the building, and they can grant remote access to guests.
Video chat features may allow residents to see visitors before granting them access, which can help them feel safer.
The package scanning feature can create a more streamlined delivery process.
Cons:
The facial recognition technology may create privacy concerns for residents.
1Valet is a relatively new company that isn't as established as other intercom providers.
It's unclear whether 1Valet offers ongoing, live support for property admins.
This entry system appears to be only designed for multifamily residential buildings – it may not currently be equipped for commercial or industrial properties.
The intercom takes up a lot of space compared to other intercoms. 1Valet only offers intercoms in 43", 42", and 22" sizes, which many buildings may not be able to accommodate.
1Valet doesn't appear to offer any additional access control products, such as keypads or key lockers, to facilitate access beyond the front door.
The 1Valet video intercom may not offer or integrate with elevator controls to control access to specific floors within the building.
It may not be suitable for gated properties, as there doesn't appear to be any intercom model that can be installed on a pedestal.
Comparison of 1Valet video intercom system with ButterflyMX video intercom
The 1Valet Smart Entry System may be an effective intercom to control property access. It offers a handful of features that will improve the access experience at an apartment. However, the ButterflyMX video intercom is a more robust system that delivers better value.
Compared to 1Valet, ButterflyMX offers more third-party integrations to simplify access and add convenience for residents and staff. 1Valet does integrate with Yardi and a few smart locks, but the integrations generally seem to stop there. In contrast, ButterflyMX integrates with dozens of the most popular property management software providers, smart locks, and smart home systems.
Watch a live customer review of ButterflyMX:
ButterflyMX also offers additional access control products that 1Valet doesn't. With ButterflyMX, you can control access beyond the front door or gate, while 1Valet limits control to just the front entrance. ButterflyMX's keypads are perfect for auxiliary entrances, amenity spaces, and staff offices, while its key locker enables access to apartment units for visitors, self-guided tours, and more. Elevator controls also let you prevent visitors from accessing unauthorized floors. In contrast, it appears the only hardware that 1Valet offers is its Smart Entry System.
Finally, ButterflyMX simplifies access to more than just multifamily buildings. You can install and use ButterflyMX at offices, commercial buildings, industrial facilities, student housing, gated communities, and more. 1Valet appears to be only designed for apartments.
1Valet vs. ButterflyMX
While the 1Valet video intercom may offer some helpful features for residents and property staff, ButterflyMX's smart video intercom is a more robust product overall. In addition to offering a wider range of features and integrations, ButterflyMX is also designed for easy installation in a variety of settings. It provides all of the same advantages that 1Valet offers, but with more enhanced durability, greater versatility, and a superior user experience.
| Feature | ButterflyMX | 1Valet |
| --- | --- | --- |
| Mobile app & smartphone-based access | Yes | Yes |
| Versatile intercom sizes | Yes | No |
| Video calling | Yes | Yes |
| Additional access control products | Yes | No |
| Elevator controls | Yes | No |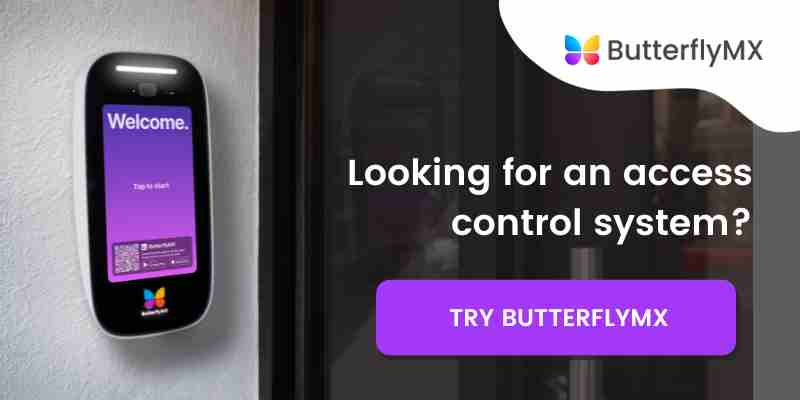 Disclaimer: ButterflyMX provides these blog posts to help our customers and potential customers make the right business decisions for them. Our blog posts are based on the information we have available to us at the time of writing.