Every year presents itself with a unique set of challenges. But despite 2021 being another year of uncertainty and trials, this year has gifted ButterflyMX with extraordinary milestones and achievements.
From launching exciting new products to expanding our talented and passionate team, our company wraps up this year stronger than ever before. And we're humbled and honored to share with you the milestones we achieved in 2021.
ButterflyMX's top five achievements of 2021 are:
Secured $50 million in Series D funding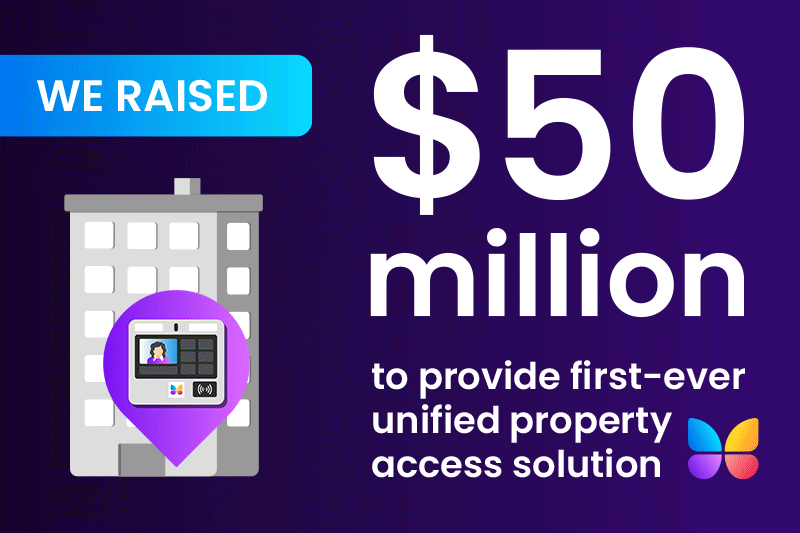 We closed a $50 million growth equity round led by JMI Equity, with participation from current investors including Volition Capital, Egis Capital, and RiverPark Ventures. With this new funding, we introduced the real estate industry's first-ever unified property access solution. This solution empowers property owners and managers to control access into and throughout their entire building from a single, mobile-based platform.
Unveiled a new set of wings

Since we introduced the smart video intercom in 2015, ButterflyMX has been synonymous with property technology. And today, we've grown into much more than an intercom. So to match our growing brand, we unveiled a new logo. We designed this new logo to support our evolving product line and the powerful integrations and features that ButterflyMX offers today. Our new set of wings symbolizes our company's redefined core values and the additional experiences we deliver.
Added many more buildings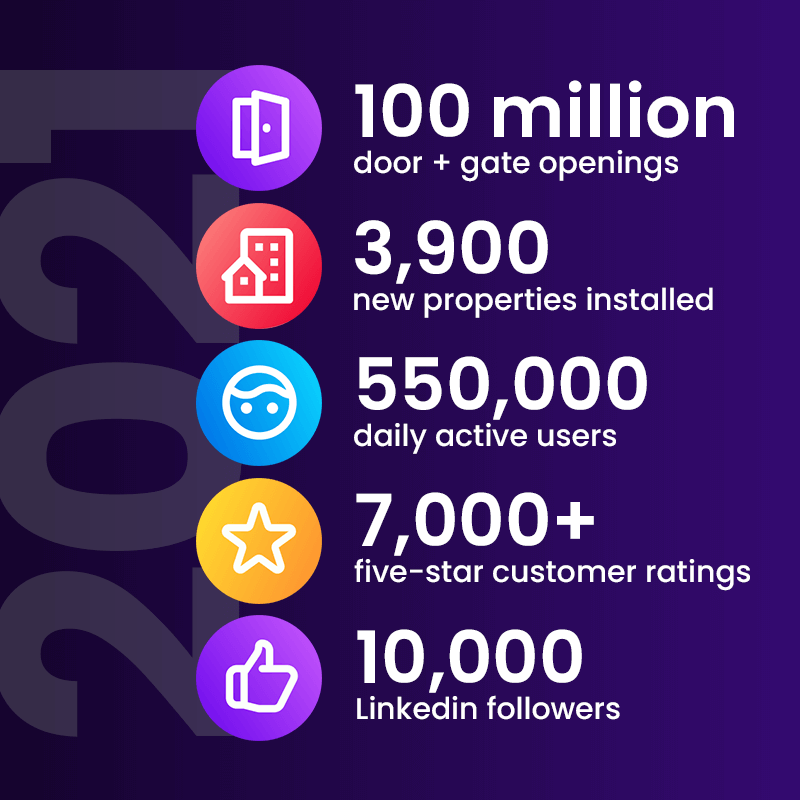 In 2021, we added a tremendous number of new properties into the ButterflyMX ecosystem as well as tens of thousands of active daily users of the ButterflyMX app. Today, our products simplify property access at more than 6,500 buildings and over 650,000 apartments across the country.
Here are some milestones we achieved in 2021:
We reached a total of 100,000,000 door & gate openings
More than 3,900 properties installed ButterflyMX
We now have more than 550,000 daily active users
Reached 7,000+ five-star customer ratings
Grew our Linkedin followers to 10,000
Launched new products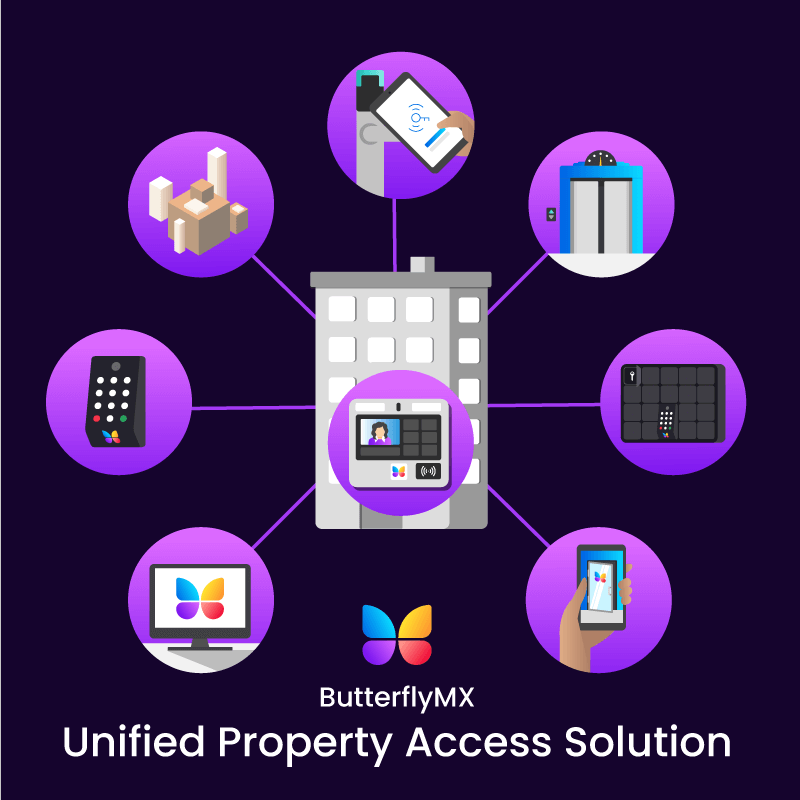 This year, we introduced many new products and features that extended the ButterflyMX access experience from the front door through the entire building. These new products power the real estate industry's first unified property access experience that is easy to install, use, and manage.
Keypad – for smart, simple, and secure access to amenity spaces, auxiliary doors, garages, and more
Self-guided tours – for prospective residents to tour your property on their schedule while keeping your property safe and secure
Key locker – an automated key locker system that allows prospective residents & visitors to access locked amenity spaces and apartment units
Delivery Pass – a simple way for residents to get deliveries safely into their buildings
ButterflyMX OS – an online platform for building staff to seamlessly manage property access and integrate our products with other property management tools and services
Welcomed new ButterflyMX team members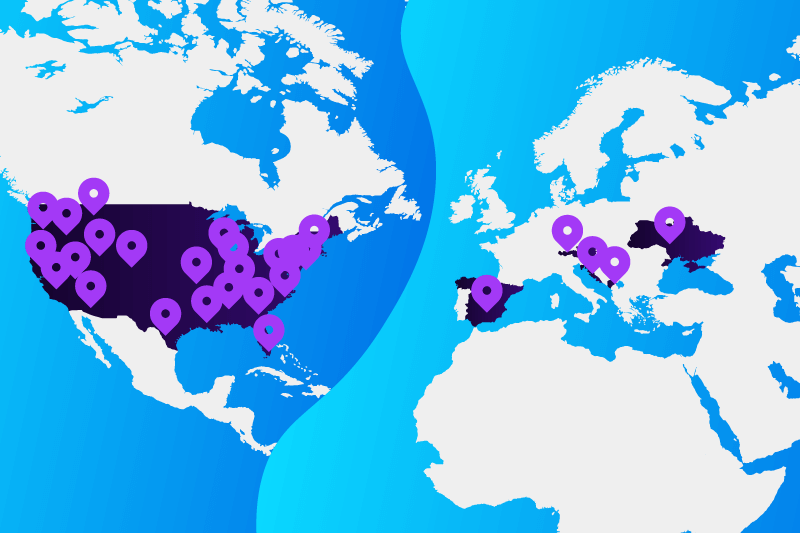 In 2021, ButterflyMX grew internally just as much as we did externally! We welcomed nearly 100 new employees to the company, all of them working remotely. ButterflyMX now consists of 186 talented and hardworking engineers, designers, customer success, sales, and marketing people from across the United States, Ukraine, Croatia, Spain, Austria, and Montenegro.
…and we're not slowing down yet! We're continuing to grow our team with exciting new career opportunities for new roles in each department.
Looking ahead to a bright 2022
This is only the beginning of what ButterflyMX offers the real estate industry. As we continue to expand our products, features, and services, our goal remains to make property access simple. In doing so, we hold true to the experience and values that ButterflyMX is known for: property access made simple for building staff, residents, visitors, and deliveries.