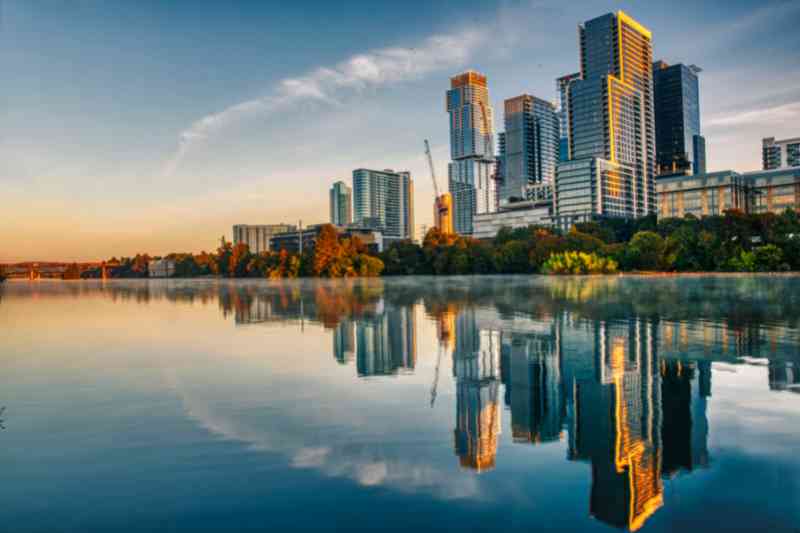 Austin is known for its legendary live music scene and diverse food culture. So, it's no surprise that it's rising in popularity as a great place to live. As a property manager in Austin, you know how important it is to deliver convenient yet secure property access for your tenants. With the right access control system, your residents can focus on exploring Austin's bustling culture instead of keeping up with keys!
This guide to access control in Austin will tell you everything you need to know about access control systems in Texas's capital city. Whether you live in historic Rainey Street or hip South Congress, properties all across Austin need access control. Learn about the best options for access control in Austin, Texas property managers can choose from to please their tenants!
This comprehensive guide includes:
What is an access control system?
Access control systems use credentials like PIN codes, keycards and fobs, or smartphones to open doors and gates. These credentials allow you to track and monitor who's entering your building and when.
What's more, access control systems that use credentials like smartphones are more convenient. In this case, you don't have to worry about constantly replacing lost or stolen keys.
Installing an access control system at your Austin property:
Boosts security by allowing you to monitor and manage access at your property.
Makes it easier for guests and service providers to navigate your building securely.
Reduces the risk of unauthorized visitors entering your building.
Makes granting access to residents practical, convenient, and secure.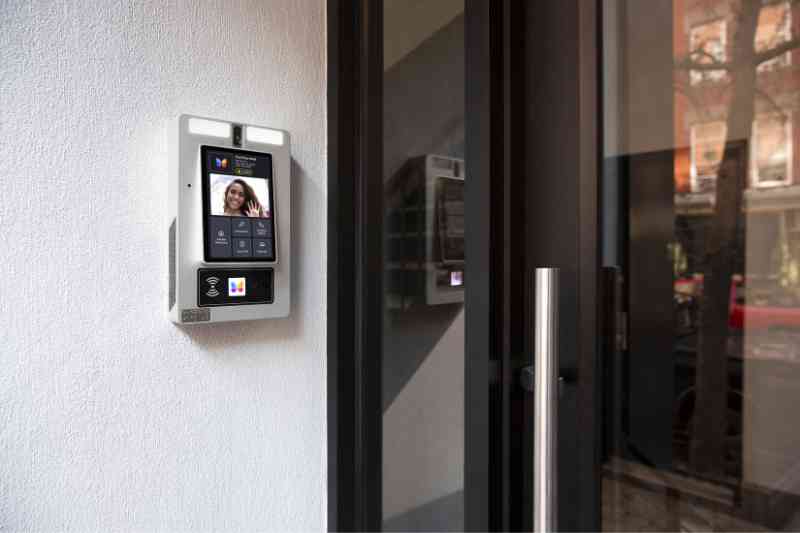 How to choose an access control system in Austin
Choosing the right access control system for your apartment, gated community, or commercial building is crucial. But what kind of access control system is best for your property?
Watch how ButterflyMX works:
Here are a few access control systems to consider:
Video intercom. Video intercoms allow you to visually confirm a person's identity before granting them access. As a result, they're one of the most secure access control solutions. What's more, video intercoms allow you to monitor who's entering your building without needing onsite security officers.
Keypads. More and more apartment buildings are using keypads to control access to shared spaces and amenities instead of physical keys. These systems allow you to assign numerical PIN codes to residents that they can use to enter your property. Keep in mind that keypads may not be the most secure option because residents can share codes with unauthorized guests. However, you can usually change PIN code access permissions if this happens.
Gate access control system. Gate access control systems are ideal for gated communities because they conveniently grant vehicle access to residents and authorized visitors.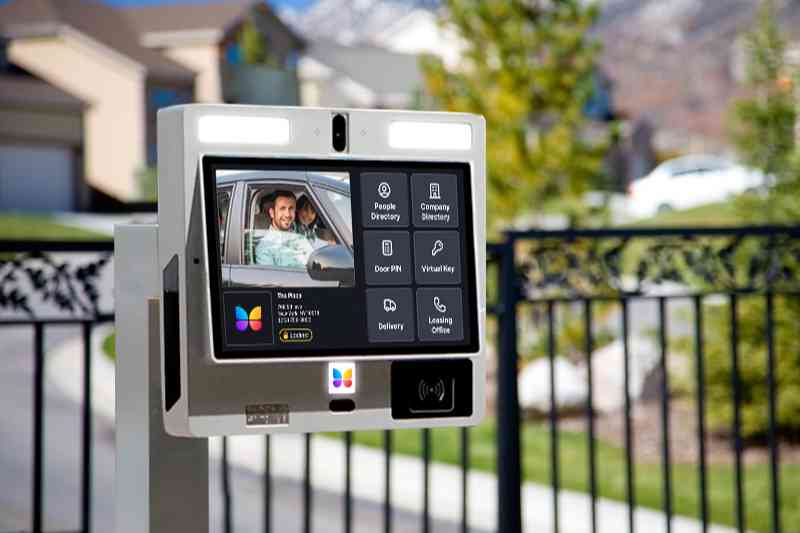 Properties that need access control in Austin:
Student accommodations. There are a whopping sixteen colleges and universities in the Austin, Texas area. So, there are hundreds of student dorms and apartments in need of robust, easy-to-use access control.
Multifamily apartments. It's no secret that Austin is a fast-growing city. But with more than half of its residents living in rented spaces, the need for secure apartment access control is higher than ever. As the number of residents increases at Austin apartments, so does the need for cohesive access control solutions.
Gated communities. One of the things setting Austin apart from other metropolitan areas is its huge number of suburban gated communities. Appealing to the residents of these properties is key to successful property management in Austin.
Industrial complexes. Austin's expansive land gives plenty of opportunity for industrial complexes. As the number of these properties rises, so does the need for complete industrial property access control.
Commercial and retail spaces. One reason more young professionals are flocking to Austin than ever is the vast number of businesses establishing themselves in the capital city. Appealing to these businesses and ensuring they have easy, secure property access is key to helping the city continue to grow and thrive.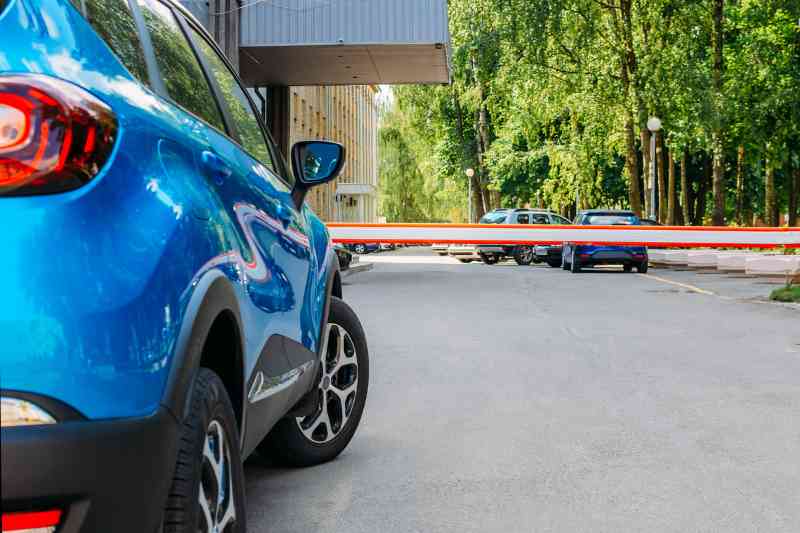 How to find an access control installer in Austin
Austin's real estate industry is booming. So, it's no surprise that there are plenty of access control installers to choose from. But with so many options to consider, you may be wondering how to find the right installer.
Want our advice?
Hire a certified installer through your access control service provider. This guarantees that the installer is familiar with your access control system. Additionally, it ensures that you're getting the highest quality installation possible for your building.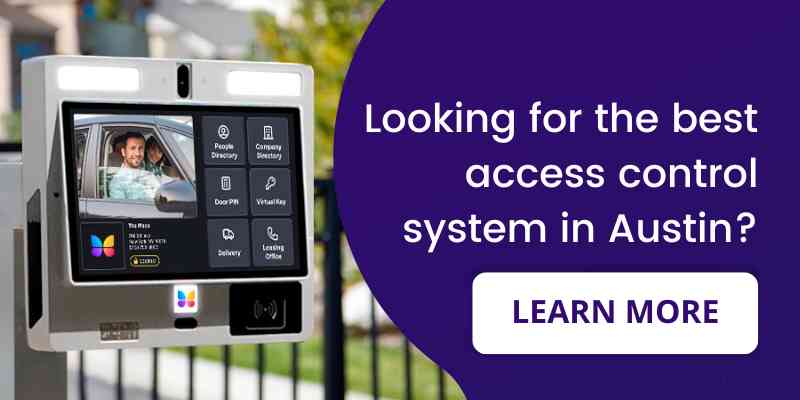 5 Austin access control installers
Austin is currently ranking first in the country for new apartment demand. And Austin's residential properties aren't the only ones feeling the weight of this population boom.
Commercial and industrial properties in Texas's capital are also growing to meet new demands. As a result, you must have a cohesive access control system for residents at your Austin apartment or gated community.
So, are you wondering who to choose to install your Austin access control system?
Here's our round-up of the best access control installers in Austin:
1. Flying Locksmiths
Google rating 4.8/5
Partnered with industry-leading access control companies like ButterflyMX, Nexkey, and Openpath.
Perform security risk assessments for residential, commercial, and industrial properties.
Conduct routine system maintenance.
Offer affordable repairs for gates, doors, and intercoms.
2. Elite Access Control
Google rating 4.9/5
Elite Access Control in Austin offers installation, repairs, and maintenance for service gates.
They specialize in installing cloud-based access control systems.
Install digital locks, keypad door locks, biometric systems, and more.
3. Austin Entry
Google rating: 5/5
Specialize in installing ButterflyMX's line of cloud-based access control products.
Offer repairs for gates and video call boxes.
Offer diagnostic services for troubleshooting.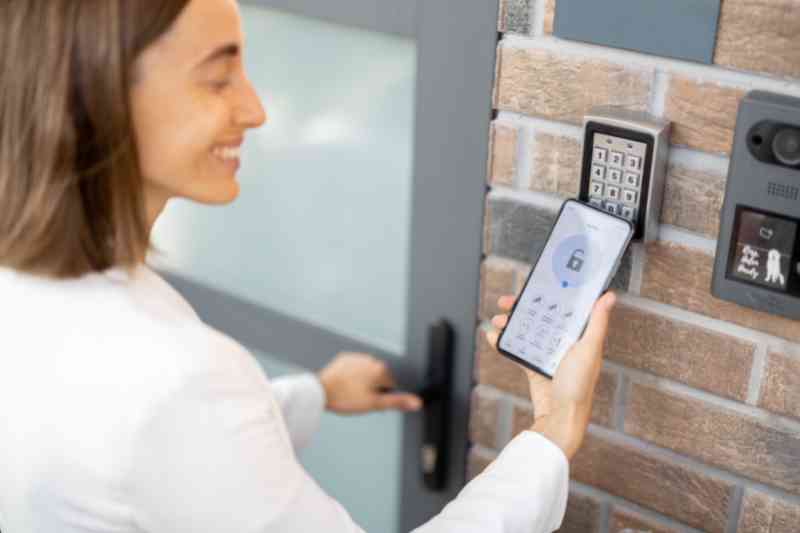 4. Access Controls of Austin
Google rating 4/5
Specialize in installing, repairing, and servicing telephone entry systems, automatic gates, and radio-controlled systems.
Offer free consultations.
Conduct welding services and repair for iron wrought gates.
5. Tetra AV
Google rating 3.5/5
Partnered with the best access control system providers in the business like ButterflyMX and Kantech.
Can customize audio-visual systems for amenity spaces like theaters, game rooms, and business centers.
What's the best access control system in Austin?
ButterflyMX offers several access control solutions like video intercoms, key fob systems, automated front desk stations, vehicle access readers, and keypads. These allow you to remotely manage access at your Austin apartment, gated community, or commercial building.
Our smart video intercoms empower residents to launch two-way calls with visitors so they can visibly confirm their identity before letting them in. Additionally, our video intercoms allow residents and staff to seamlessly open doors and gates with just a swipe on their smartphones.
What's more, our vehicle access readers and windshield stickers allow you to streamline access for cars entering your property with ease.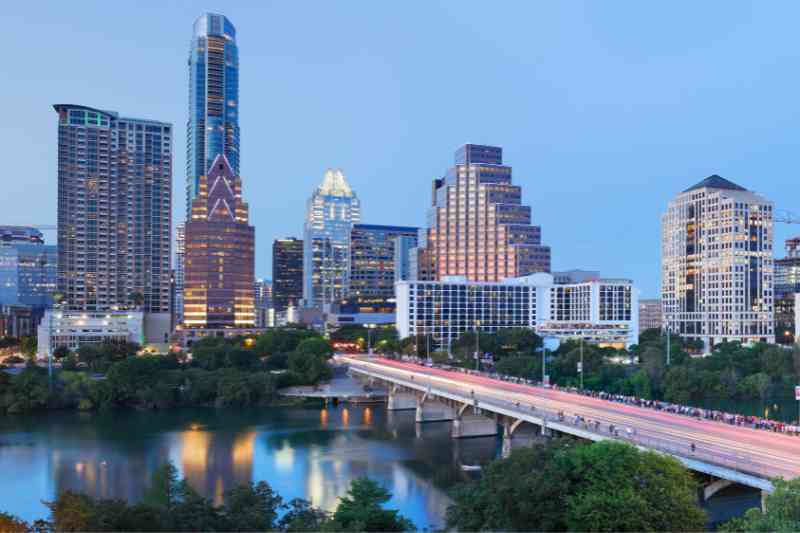 Takeaways
Austin is the fastest-growing city in the country. With this booming population comes the need for robust access control systems at both residential and commercial properties.
Access control systems eliminate the need for physical keys at your apartment, gated community, or commercial offices.
The best access control installers in Austin partner with industry-leading access control companies like ButterflyMX.
ButterflyMX access control solutions are the best in Austin because they allow you to easily manage and monitor access into and throughout your building.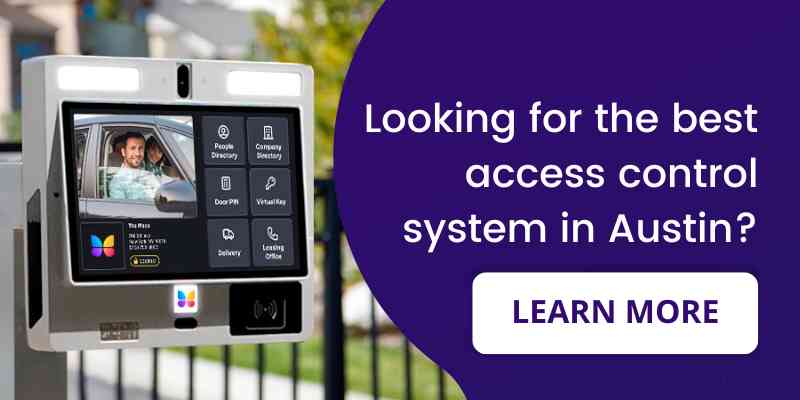 Disclaimer: ButterflyMX provides these blog posts to help our customers and potential customers make the right business decisions for them. Our blog posts are based on the information we have available to us at the time of writing.